Rob Kardashian and Blac Chyna Relationship Summary
The Long, Questionable History of Blac Chyna and Rob Kardashian's Many Makeups and Breakups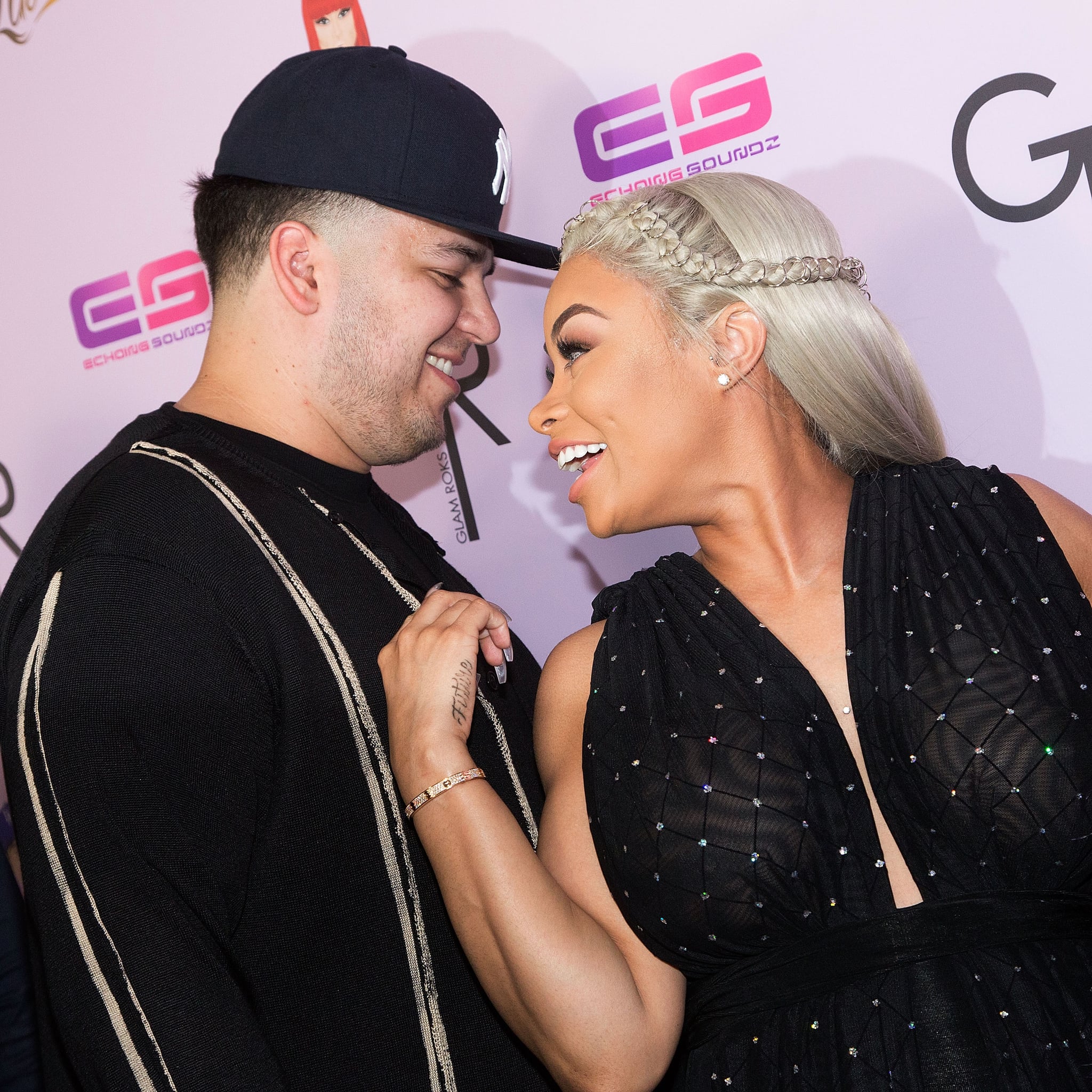 After Rob Kardashian and Blac Chyna welcomed a beautiful baby girl, Dream, in November, it seemed like the soon-to-be-newlyweds' relationship was stronger than ever. Unfortunately Rob and Chyna have hit more than a few speed bumps over the last few months because of issues with Rob's sisters and the fact Chyna's ex is currently dating Rob's sister Kylie, all of which finally culminated in an explosive pre-Christmas spat that reportedly got physical. In light of their latest "breakup," let's take a look at every major milestone in the couple's rocky road to romance.
Whether these are real relationship woes or a ploy to hype up drama for the new season of their TV show, we're hoping these two crazy kids can figure it out.
Feb. 16, 2017: Apparently Rob and Chyna didn't have a very good Valentine's Day, because they split up again two days after the romantic holiday. "Rob thinks it's the right decision," a source told Us Weekly. "Chyna has disappeared for days at a time without communicating or providing any updates. This won't end well." A second source added that their relationship never quite recovered from their fight around Christmas, saying, "[It's the same] with her yelling and screaming about how his family doesn't like or support her, and his insecurities."
April 1, 2017: After a month apart, Chyna and Rob appeared to have gotten back together. Chyna uploaded a series of Snapchat videos of her and Rob hanging out, including one showing Rob giving her a kiss.
July 5, 2017: Following yet another breakup, Rob began to post a series of (extremely) NSFW images of Chyna to his Instagram account (which have since been deleted). He began the photo dump by sharing a video of Chyna kissing another man in bed that she reportedly sent Rob on the Fourth of July, which he captioned, "Hahahaha Chyna just sent me this video saying happy 4th of July what a crazy person. Come spend time with your daughter instead of f*cking me and then this dude right after. U need help." He then posted a number of photos she'd presumably sent him in the past of her naked body and private parts, as well as screenshots of text messages from multiple men sleeping with Chyna who've asked Rob for money.

Rob then accused her of extensive drug and alcohol abuse and revealed that he paid $100K in plastic surgery costs after Chyna gave birth to their daughter, Dream. "Everyone wonders how Chyna lost all that weight after the baby and she lies to everyone but no I'm such a great Husband that on our anniversary I paid 100K to do this surgery to get all everything fixed as much as they could," he captioned a video of her in the hospital. "And then guess what she did after she was all healed when I was by her side the entire time. She left me and my baby which she had out of spite to get back at her other baby daddy. I can't believe u would disrespect me like this." Instagram has since removed the graphic images of Chyna, which can technically be considered revenge porn, and result in legal repercussions for Rob.

July 5, 2017: Shortly after Rob's wave of abusive posts went live, Chyna accused him of beating her via Snapchat. "Rob u did all this but u beat me up and try act it never happen!!!!!" the 29-year-old wrote. "U put hand on me I swear on god!!!! On my kids but I'm supposed to be quiet because you're a Kardashian." In a second message she added, "The light will come to the light."