Royal Butler Quotes About Meghan Markle Being Like Diana
The Heartwarming Way Meghan Markle Is Following in Princess Diana's Footsteps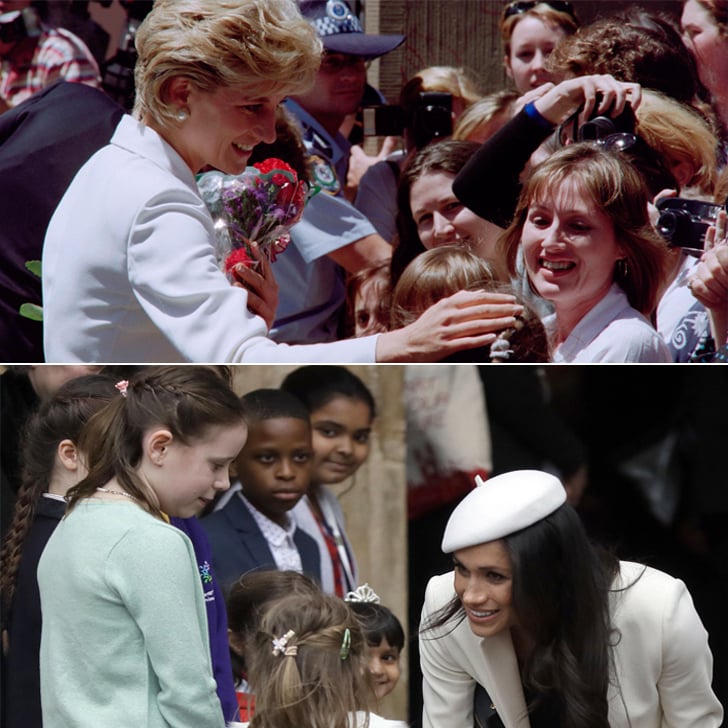 Prince Harry once said that if his mother, the late Princess Diana, were still alive today, she and Meghan Markle would be "thick as thieves." Well, as it turns out, he isn't the only one who thinks so. In a recent interview with E! News, British etiquette expert Grant Harrold, who was previously a butler to Harry, Prince William, Prince Charles, and Camilla, Duchess of Cornwall, opened up about the similarities he sees between Meghan and Diana. Grant said Meghan recently reminded him of Diana when the former actress stopped to talk to a little girl during one of her royal engagements with Harry.
He called the gesture "really, really sweet," adding that it's not "normally" something Queen Elizabeth II would do. "It's something younger people do," he explained. "She's got her own way of doing things. You look at the energy of Princess Diana, and she was very much somebody that would hug people. She was famous for it, wasn't she? None of the rest of the royal family hugged. It just wasn't the done thing. Now the younger royals, Princes William and Harry, you see them hugging, so it's their way of doing it. They are very much copying what their mother did, which is fantastic."
As for Meghan's new royal life, Grant says the former actress will have to follow protocol just like the rest of the British royal family, which means no autographs or selfies. "She has to be careful what she says, how she says it, and how it's taken, because after the 19th of May, it will be very much the reflection of the royal family," Grant said. "It's everyday things — from the way she walks, the way she speaks, the things she does, how she eats, how she holds her cup, how she dresses — everything will be looked at the right way or the wrong way. There will be a lot for her to adapt to."
Given that Meghan has already perfected the curtsy, mastered her royal wave, and developed a British accent, something tells us she's going to be just fine.