Sheikh Mohammed Rescues Tourists Stranded in Dubai Desert
Sheikh Mohammed Rescued These Tourists Stranded in the Dubai Desert and We Kinda Wish It Was Us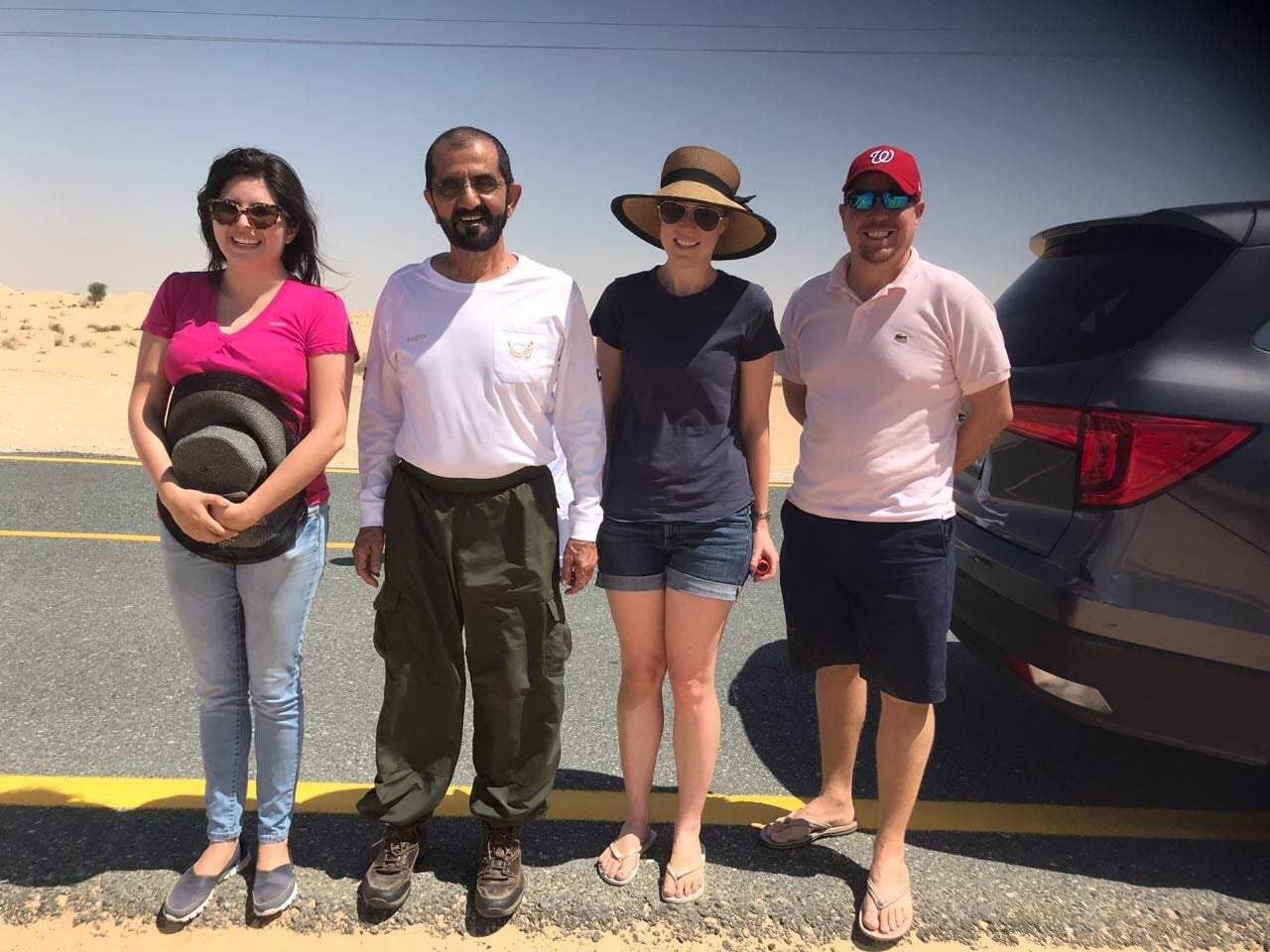 Most tourists and residents in the UAE have gone off-roading in the desert or have at least made plans to. It's one of the attractions of living in a country surrounded by desert. However, if you choose to venture out on your own, there's a chance you could get stuck.
What is a very unlikely is for your rescuer to be none other than the Prime Minster and Vice President of the UAE and Ruler of Dubai, Sheikh Mohamed Bin Rashid Al Maktoum.
And yet, that is exactly what happened to three tourists who found His Highness coming to their rescue when their car got stuck in the dunes.
A Mexican tourist by the name of Hannah Karen Arroyo took to her twitter account (@Hannarroyo), to relay the incident, Tweeting: "My friend and I got stuck on the desert of Dubai, and we have been rescued by His Highness Shaikh Mohammad Bin Rashid." Her tweet was accompanied by a picture of HH Sheikh Mohamed with her and her two friends, as reported by Gulf News.
My friend and I got stuck on the desert of Dubai and we got rescued by HH Sheikh Mohammed bin Rashid. pic.twitter.com/k3r7s0z05D

— Hanna Karen Arroyo (@Hannarroyo) March 17, 2018
Sheikh Mohammed was in his car with a small group when he saw their vehicle stuck in the desert. He reportedly got his assistants to help the tourists, as can be seen in a series of pictures that were published on Arab new site, EremNews, which originally retweeted Arroyo's tweet.
According to the images and the information on EremNews, a man with Sheikh Mohammed was seen pulling a high-strength cable and hooking it up to the famed white Mercedes Benz G-class with the "Dubai No. 1" license plate. Following the rescue, Sheikh Mohamed was kind enough to take a picture with the trio.
This is not the first time the helpful Ruler has been of assistance. In 2017, he was seen in a video, that has been viewed more than 72,000 times, pulling out a truck that was stuck in the desert.
Is it any wonder why we love him?
Image Source: Twitter user Hannarroyo