Toby Keith Performs in Riyadh
Watch Toby Keith Serenade an All-Male Audience at His Riyadh Concert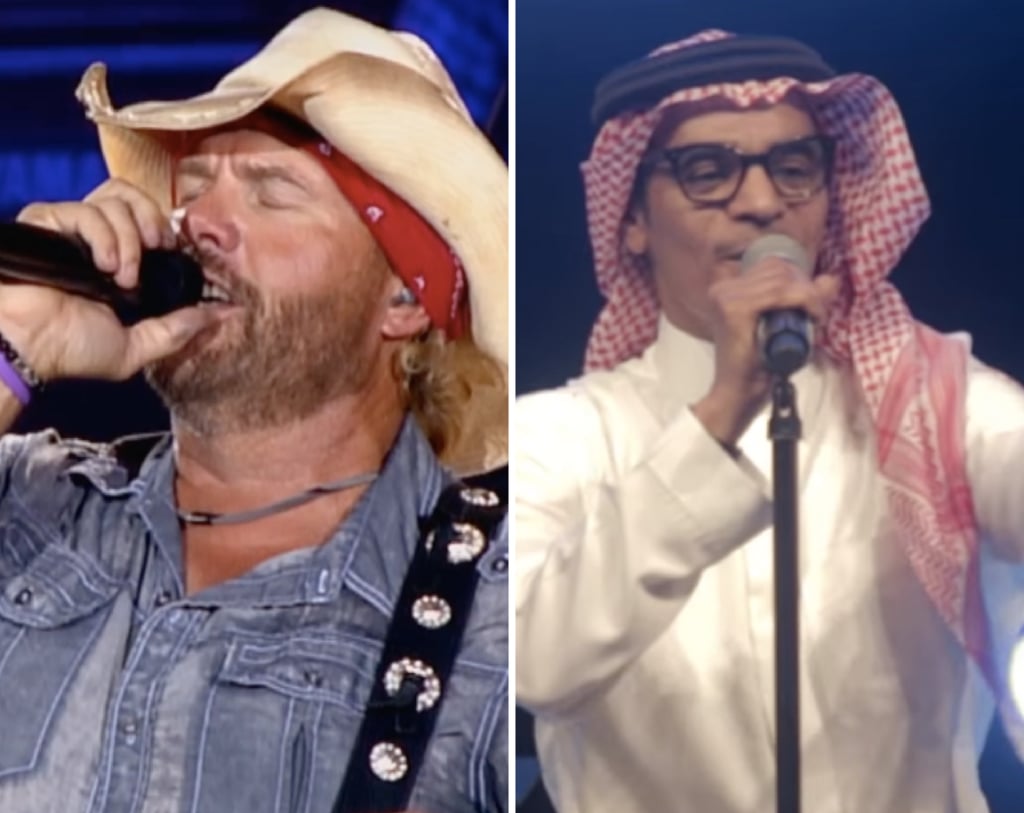 Trump's two-day visit to Saudi Arabia included a traditional Saudi sword dance, a ceremony during which he was awarded with the country's highest honor, and...a Toby Keith concert.
If it sounds like one of these things does not belong, that's because it's true: American country singer Toby Keith has a nearly non-existent fan base in the Kingdom, yet he was the choice to perform alongside Saudi singer Rabeh Saqer in Riyadh last night.
This isn't Keith's first time performing for Trump. In January, he was one of few artists who agreed to perform at Trump's inauguration, despite claiming to "hate politics."
"We've never had a leader in this country that I agreed with across the board on everything they do," he told CNN.
Keith performed a free concert on Saturday night for a male-only crowd, yet someone noted on Twitter that "no one seemed to know who Keith was."
A halalified Toby Keith and Rabeh Sagir. No one seemed to know who Keith was but had fun. Then went nuts for Rabeh pic.twitter.com/Tf7sPpyUha

— taimur khan (@taimurkhan) May 20, 2017
Trump himself only caught a bit of the show--according to HuffPost, riding in a golf cart with his wife, Melania, the president drove past the atrium where the concert was playing on the screen. He was followed by his daughter, Ivanka, and her husband, Jared Kushner, in another golf cart.
Keith's irrelevance in the region isn't the only reason he was an odd choice as performer. With songs titled "I Like This Bar" and "Drunk Americans," Keith often sings about pro-American themes, and once, as someone on Twitter noted, even sang about "bombing Muslims" in a song called "The Taliban Song."
Toby Keith is traveling with Trump to Saudi Arabia. He wrote this song about bombing Muslims: pic.twitter.com/OSziMEy9hB

— CJ Werleman (@cjwerleman) May 20, 2017
Though he may have been an odd choice, it didn't stop the crowd from enjoying the evening. Watch his performance below.