Tristan Thompson Unblocks Kim Kardashian on Instagram
Kim Kardashian Made Tristan Thompson Unblock Her on Instagram, and I'm Cackling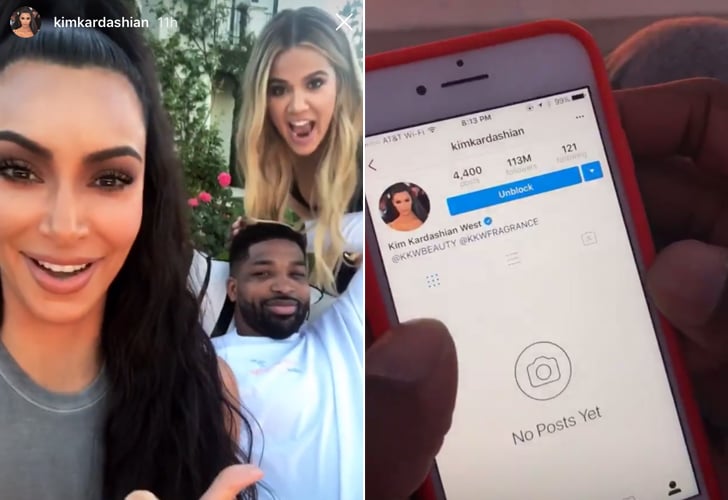 Source: Instagram user kimkardashian
Kim Kardashian is getting her follower count up! After Khloé Kardashian finally broke her silence on Tristan Thompson's cheating allegations earlier this week, it looks like big sister Kim is also ready to turn over a new leaf. While celebrating Khloé's birthday on Wednesday night, the inseparable family got together and Kim took the opportunity to confront Tristan for blocking her on Instagram. We can't tell if we're cackling because it's hilarious or because we're totally uncomfortable, but regardless, Kim has one more person to add to her 113 million follower list.
"Alright, guys, so what do you think? It's Khloe's birthday — do you think I should ask this guy to unblock me?" she asked her followers on her Instagram story. Tristan was totally caught off-guard and gave in to Kim's request. "For Khloé's birthday it's only right," he said. "I got you."
Tristan pulled out his phone to do the deed and it appeared he had quite the list of people he's blocked — including Khloé's best friends Malika and Khadijah Haqq. Exposed! According to E! News, Tristan blocked Kim after she discussed the cheating scandal on The Ellen DeGeneres Show back in April. It's great to see the family all getting along and laughing for Khloé's birthday. Kim said it best to Tristan, "There's no going back." Watch the hilarious videos below.