Truth About Marilyn Monroe and Hugh Hefner's Relationship
The Truth About Marilyn Monroe and Hugh Hefner's Relationship
Hugh Hefner has been laid to rest next to iconic sex symbol Marilyn Monroe, but the real question is: why? Did the two have a steamy romance that no one knew about? Were they friends? Or did Hugh just have a thing for blondes (which we all know to be true)? Well, it's a little more complicated than you'd expect, but the short answer is that Hugh loved Marilyn — even if they never met!
Hugh purchased the crypt next to Marilyn's burial site in Westwood Village Memorial Park back in 1992 for $72,000. It was because of his love of the movie star and her influence on his career, not because they were ever romantically involved . . . or even friends, for that matter. "I'm a believer in things symbolic," Hugh told the magazine back in 2009. "Spending eternity next to Marilyn is too sweet to pass up."
In 2012, the creator of the Playboy empire revealed to CBS Los Angeles that his connection to the Some Like It Hot actress was twofold. "I feel a double connection to her because she was the launching key to the beginning of Playboy," Hugh said, before adding, "we were born the same year," as his second connection. (Hugh was born on April 9, 1926, while Marilyn was born two months later on June 1.)
It's true that Hugh owes the success of Playboy to the blonde bombshell, but their personal lives never actually crossed. When Hugh began Playboy back in 1953, Marilyn was its first cover girl, but she didn't pose exclusively for the magazine. Instead, the Playboy mogul purchased nude photos of the star from a calendar company (for $500). The pictures were taken several years before by a pinup photographer named Tom Kelly (Marilyn was paid $50 at the time).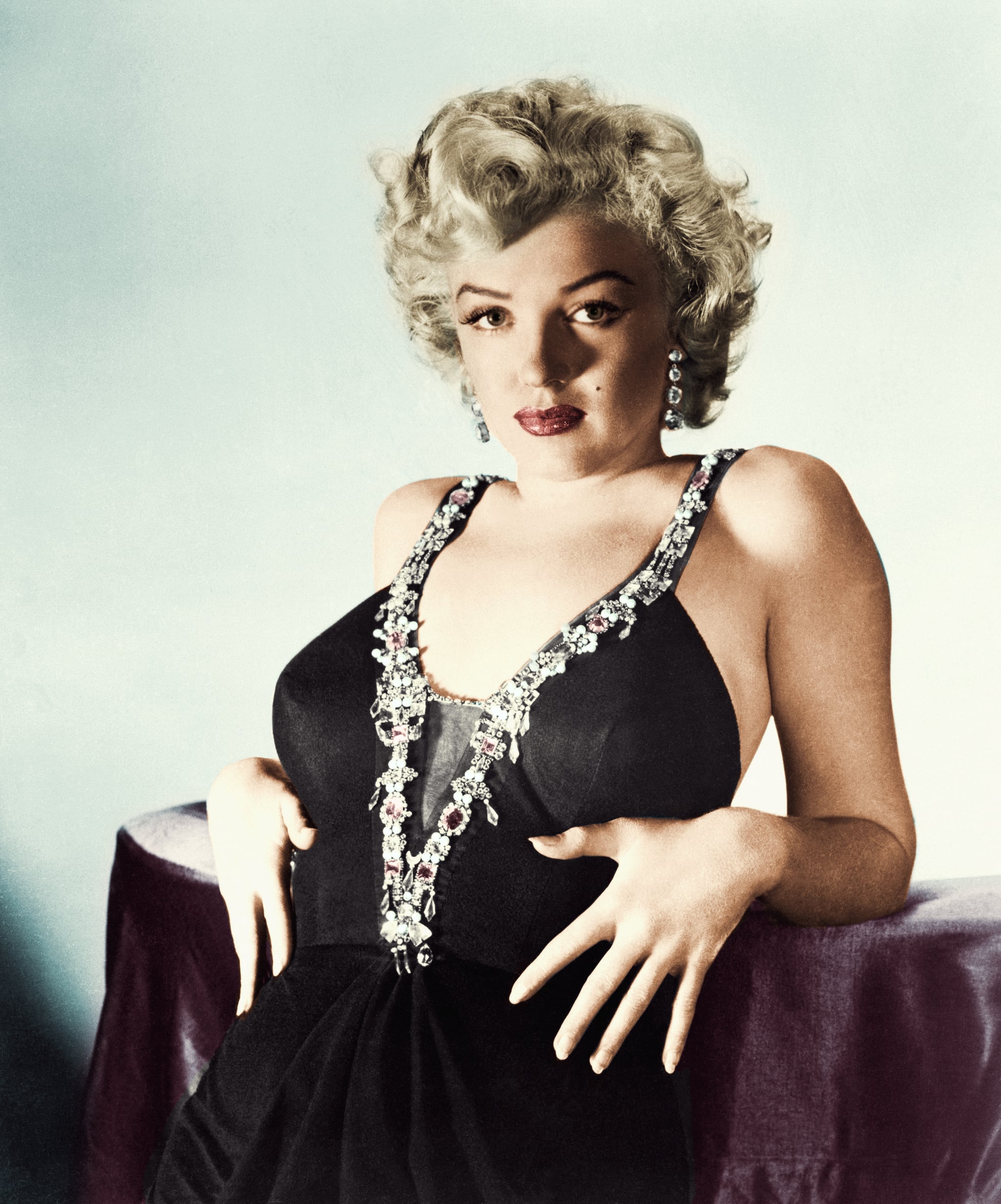 The Gentlemen Prefer Blondes star was Playboy's first centerfold and its first "Sweetheart of the Month," a title now known as "Playmate." Although her initial feature is what helped launch the magazine into an instant hit, Hugh admitted that because he didn't move to Los Angeles permanently — and establish the Playboy Mansion — until the early 1970s and Marilyn died in 1962, he never even met "the ultimate blonde."
"But the reality is that I never met her," he admitted to CNN in 2011. "I talked to her once on the phone, but I never met her. She was gone, sadly, before I came."
There you have it! Hugh was in love with Marilyn and the idea of the original blonde bombshell, but the two never met. They did, however, help each other's careers. Marilyn told George Barris in the book Marilyn: Her Life in Her Own Words (via The Washington Post), that even though she had to buy the magazine herself to see the photos — and didn't even receive a thank you for the millions anyone made off her nude shots — "the fans, my public, cheered when I admitted it was me, and that calendar and that Playboy first-issue publicity helped my career."
Even though the "relationship" was a little more one-sided, their connection will now be eternal — and Hugh wouldn't have it any other way.
"I will be laid to rest in a vault next to hers," he said previously. "It has a completion notion to it. I will be spending the rest of my eternity with Marilyn."
Image Source: Getty / Bettmann