Wedding Music Guide
A Guide to Picking Out the Songs For Your Wedding
Music is a big part of most weddings, and if you've already started planning one, you know there are more than a few decisions to be made. Whether you decide to hire a band or a DJ or provide the wedding's soundtrack with your own iPod, we have a wedding music guide to help you through. Below, you'll find all the major categories for music you'll need to figure out, as well as other parts of the day you may not have thought of yet. Check out the list for guidelines on music you need to think about, whether you're an indie rock bride or a country Western couple.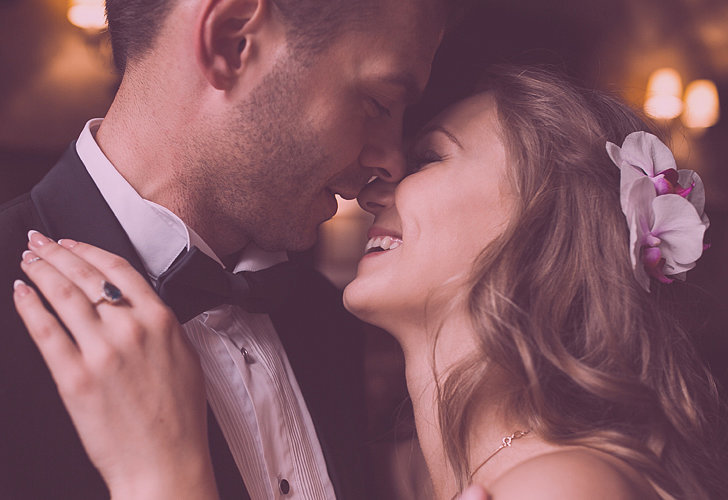 Processional: This is the music that accompanies the walk down the aisle. You'll need to pick a song for your bridesmaids to walk down the aisle to, and then a song for the bride's entrance. There are traditional choices like "Here Comes the Bride," of course, but you can do other classic alternatives like Pachelbel's Canon in D (like in Father of the Bride) or something totally different to personalize it. Love a song but not the lyrics? Have an instrumental version played. We have a few ideas for the processional.
Recessional: The recessional is like the opposite of the processional — it's when you walk down the aisle, but the other way. For your big exit, you could go with something more upbeat because the pressure is off now that you've gotten through the vows. (Think the scene in Love Actually when the band plays "All You Need Is Love.") Here are some ideas for the recessional.
Cocktail hour music: If you choose to host a cocktail hour between the ceremony and reception, it's good to have a playlist of songs to set the mood. The music should be low-key but convivial — you're not trying to get anyone to dance yet, but you don't want to put anyone to sleep either.
Reception entrance: This is a song to mark the bride and groom's entrance into the reception, usually with the wedding party in tow. It should be celebratory, not unlike the recessional song, and it's a good chance to set the tone for the party. If you want to introduce your wedding party first, you'll also need a separate song for them.
The first dance: Yes, everyone knows they need a first dance, but most people struggle trying to find the perfect song. If you don't already have "your song," we have plenty of first dance song suggestions.
Father/daughter dance: Traditionally, the father of the bride takes a spin with his daughter on the dance floor after the first dance. It can be something personal or traditional, and if you need some father/daughter dance song ideas, we've got them. Similarly, some couples also have a mother/son dance or simply integrate that into the father/daughter dance at the end.
Reception music: Whether you pick all, most, or some of your dance music depends on how in control of the playlist you want to be. Even if you give your DJ free rein, you may want to make a Do Not Play list — a list of songs that you really don't want to hear for whatever reason (you might not want your reception to be remembered for trying to bring back "The Macarena"). For songs you do want, though, we have lots of ideas, from fun pop hits to '80s songs. To end the evening, some couples also opt to have one song close out the event (doesn't The Wanted's "Glad You Came" seem perfect for this?).
Cake-cutting: If you make your cake-cutting a ceremonial event, pick out an upbeat song since it is usually a cute, sweet part of the evening. (Tip: if you have a first dance song that you rule out because it's too fast-paced, it might be perfect for cake-cutting.)
Bouquet toss: For this fun part of the wedding, another upbeat song is in order, and since you're commanding the wedding's single ladies to the floor, you can go literal ("Single Ladies") or just pick another fun, romantic song. And if you choose to have a garter toss, the same rules apply.