The Weeknd's My Dear Melancholy Songs About Selena Gomez
So, Which Lyrics Off the Weeknd's New Album Are About Selena Gomez? Let's Investigate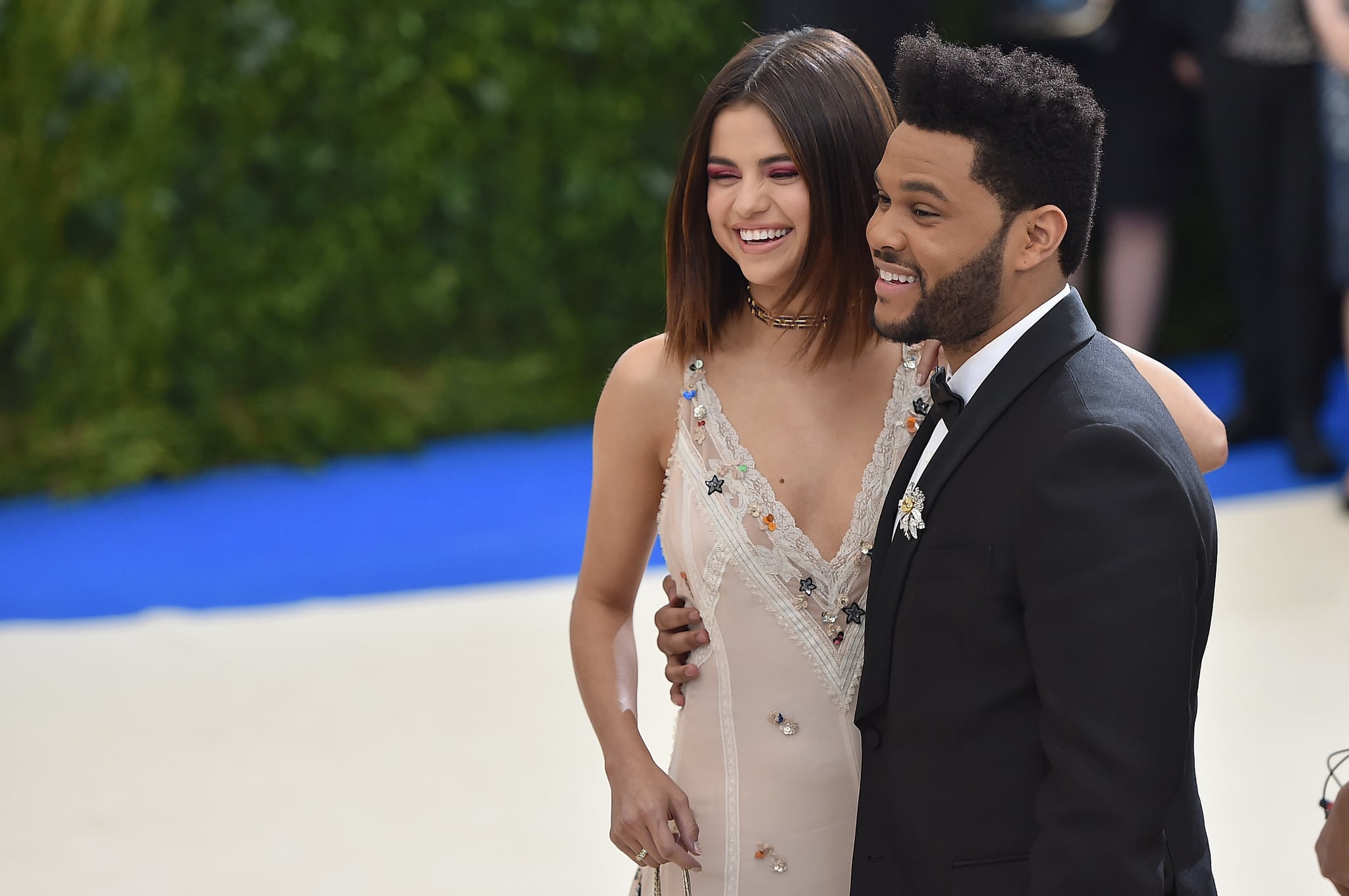 Guys, The Weeknd isn't doing so great. Following his very public romance and shocking breakup with Selena Gomez — who then promptly got back together with Justin Bieber — the 28-year-old singer released an emotional EP featuring several callous disses and references to their relationship, as well as entire songs about his other ex-girlfriend, Bella Hadid. If his 2016 album Starboy was a triumphant tribute to love and life, My Dear Melancholy is The Weeknd's musical descent into bleak heartbreak. Ahead, read all the lyrics that are being linked to Gomez.
"Call Out My Name"
"We found each other / I helped you out of a broken place / You gave me comfort / But falling for you was my mistake."
"I claimed you so proud and openly / And when times were rough, when times were rough / I made sure I held you close to me."
"I want you to stay, even though you don't want me / Girl, why can't you wait? / Girl, why can't you wait 'til I fall out of love?"
"Guess I was just another pit stop / 'Til you made up your mind / You just wasted my time."
Oof. The first song off of My Dear Melancholy really goes for the jugular, huh? The line about helping Gomez "out of a broken place" is no doubt a reference to her ongoing health and mental health struggles, which she's been public about, as well as a nod to her rollercoaster romance with ex-boyfriend Justin Bieber. Apparently linking up with her was a "mistake," though.
"Try Me"
"Don't you mess with me / The way I kissed your scars / The way I fixed your heart / Don't you mess with me, babe."
Kissing her scars? That seems like an obvious nod to Gomez's recent kidney transplant surgery, which left her with a literal scar on her leg.
"I Was Never There"
"Ooh, when no one know what love is / And I know it ain't you for sure / You'd rather something toxic / So, I poison myself again, again
Gomez's unstable on-again, off-again relationship with Bieber has been highly-publicized for years. If the "toxic" shoe fits . . .
"Hurt You"
"And now I know relationship's my enemy / So stay away from me / I'm warning you / You try to fill the void with every man you meet."
"When you're with him, you close your eyes and think of me / Just call me up again."
Since her last break up with Bieber, Gomez was linked to musicians like Charlie Puth, Zedd, and The Weeknd. There's absolutely nothing wrong with dating multiple guys (and who even knows which of those rumored relationships were legit, other than The Weeknd), but we have a feeling that's what he's referencing when he sings "You try to fill the void with every man you meet."
"Privilege"
"Enjoy your privileged life / 'Cause I'm not gonna hold you through the night / We said our last goodbyes / So, let's just try to end it with a smile."
"And I don't wanna hear that you are suffering / You are suffering no more / 'Cause I held you down when you were suffering."
"They said our love is just a game, I don't care what they say / But I'ma drink the pain away, I'll be back to my old ways."
"I held you down when you were suffering" seems to be another nod to how he helped Gomez through some trying times throughout their courtship, while "They said our love is just a game" could be a way to call out the people who speculated that they were only dating for the publicity.