What Is Cleganebowl on Game of Thrones?
Game of Thrones: The Hound's Return Could Mean "Cleganebowl" Is About to Go Down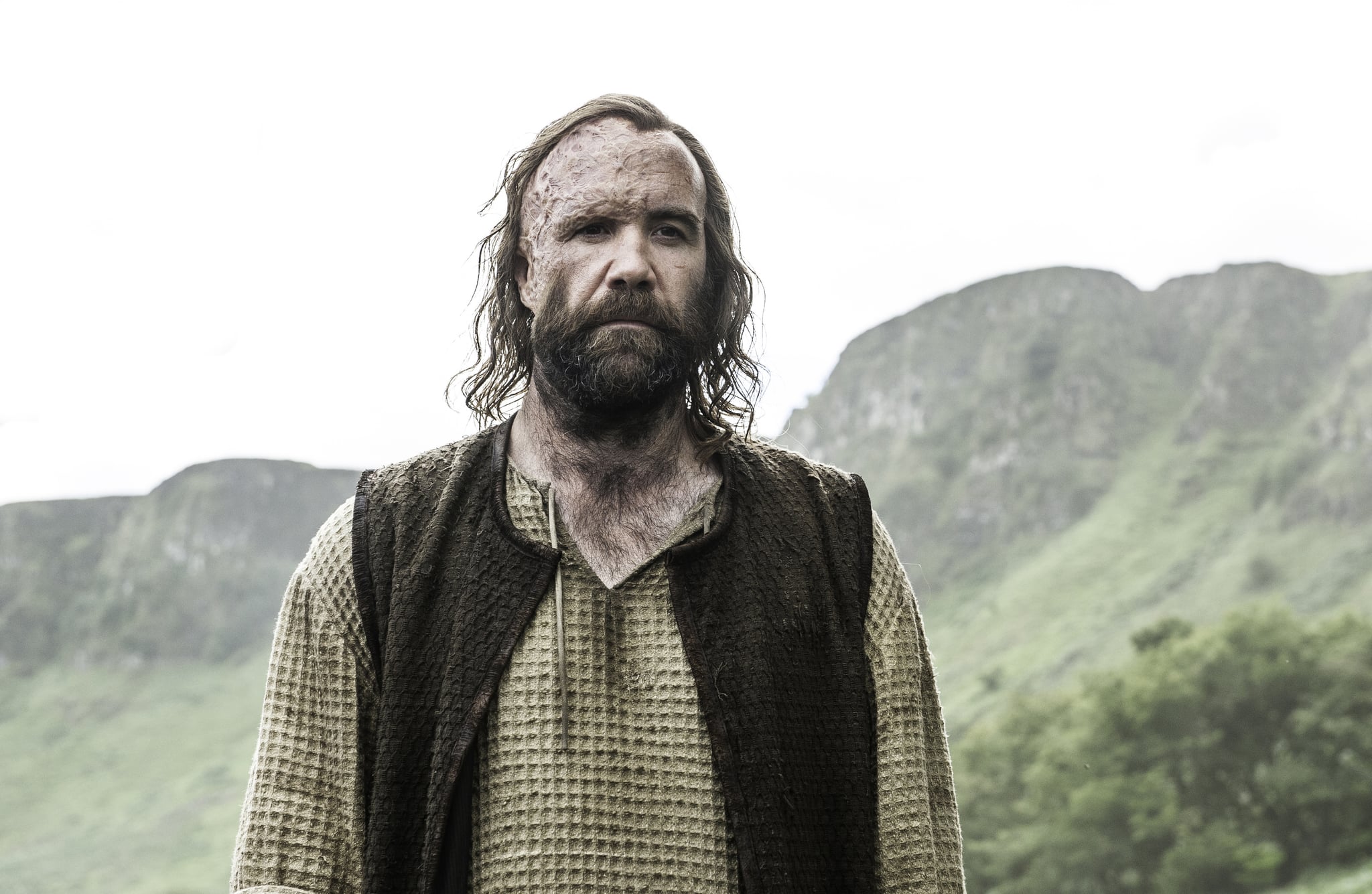 SPOILERS for season six of Game of Thrones below!
Game of Thrones's seventh episode starts with not one, but two shocks. First, we're treated to a cold open, something the show has hardly ever done before. In it, we see a group of men, women, and children working together to construct a church under the keen, kind eyes of a peace-loving priest named Brother Ray (Ian McShane, in a pitch-perfect cameo) in the Riverlands. The camera eventually lands on a man carrying a log, which delivers us shock number two: it's the Hound.
The brutal warrior, neé Sandor Clegane, has been missing from our screens ever since Arya left him for dead in season four following his battle with Brienne, but it appears one cannot simply bite off a Clegane's ear and toss them over a cliff to kill them. It's explained that the Hound was found and nursed back to health by Ray, a pacifist who openly acknowledges his past as a bloodthirsty soldier, and whose influence seems to have greatly, and positively, affected Sandor. Sadly, the Brotherhood Without Banners arrives by the end of the episode and savagely murders Ray and the rest of the congregation while the Hound is off chopping wood, putting him squarely back on a path of violence. While Sandor's reappearance could mean a multitude of things, it strongly suggests that the popular fan theory of "Cleganebowl" is about to come to pass.
Before diving into the theory, it's important to recall the Hound's abusive relationship with his monstrous older brother, Gregor Clegane (aka the Mountain). In the first season, he tells Sansa that the reason behind his disfigured face is thanks to Gregor holding his cheek against burning coals when he was just a boy, leaving him with a debilitating fear of fire and massive facial scarring. Given Gregor's predilection for rape and murder, it's probably not even the worst crime on his list, but it's still horrifying. The last time the two brothers tussled was also during season one, when they faced off in the tournament held for Ned Stark (which was interrupted by Robert Baratheon). Now that the Hound has returned, it seems a rematch between him and his brother is in order.
This suspected violent reunion between the Clegane brothers has come to be known as "Cleganebowl," a long-held fan theory that asserts Cersei will opt for a trial by combat — choosing the now-undead Mountain as her representative in battle since Jaime is away trying to take back Riverrun from the Blackfish — while the High Sparrow will recruit the Hound to represent the Faith. Although the Mountain is now stronger than ever in his zombie-like state, the rage coursing through Sandor might be just enough to overtake him. If that happens, Cersei will find herself in grave danger since losing would mean the Gods found her guilty. With the season finale drawing ever closer, it'll be interesting to see if showrunners David Benioff and D.B. Weiss will give the fans what they've been clamoring for or go in a different direction entirely.