What Happens at the Queen's Christmas Diplomatic Reception?
What Happens at the Queen's Super-Secret Christmas Party?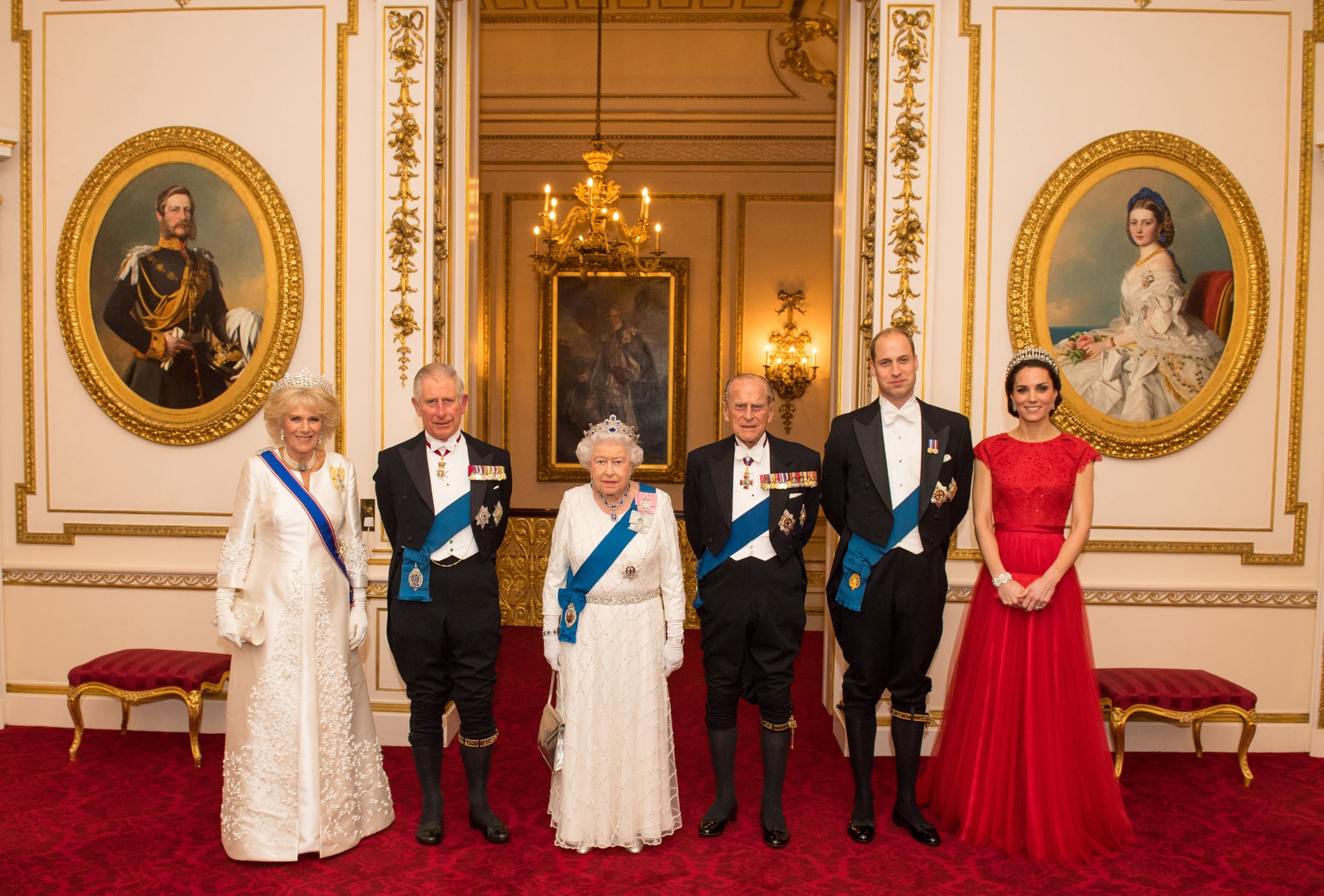 When it comes to the glitziest of glitzy invitations, it's all about the queen's annual Christmas diplomatic reception at Buckingham Palace — but what actually happens inside? There are always pictures of the senior members of the Royal Family snapped through the windows of their cars, but apart from a tiara here and a glimpse of Duchess of Cambridge eyelash lace neckline there, not a lot of information is released, and there are usually no pictures shared from inside the event. So, what's it all about? Let's break it down.
When is it?
The reception always takes place in early December, and is one of the key events of the royal calendar.
Who's invited?
There are over 1,000 guests on the night, including the Diplomatic Corps (a collective body of foreign diplomats including ambassadors and high commissioners), government officials, and senior members of the Royal Family. Because the Diplomatic Corps are accredited to the Crown and not the government, the occasion is a royal one, and held at Buckingham Palace.
What's the dress code?
The official dress code is "white tie," which means it really doesn't get any fancier. Diamonds, tiaras, medals, Royal Orders — if you've received some hardware in a ceremony, basically on it goes. Men dress in a white bow tie, wing collar, and tail coat, while women wear floor-length gowns and jewels. A rare insight was shared last year when Buckingham Palace released a photo from inside the event, showing Prince Philip, Prince Charles, and Prince William sporting their full Garter regalia. However, diplomats are encouraged to dress in their country's national costume, so as befitting a dazzlingly international event, all manner of robes and finery from around the world are also on display.
It's a Christmas party, so they all get to cut loose, right?
Er, no . . . It is a formal occasion, so guests attend a briefing the day before, there's a list of printed instructions about how the evening will unfold, and you need to bring your passport to get through the door.
So, what actually happens inside?
The event is basically a way of honoring the international guests, and they are welcomed into the lavishly-decorated Picture Gallery and six other State Apartments that are hung with priceless art and chandeliers, where they are served with drinks. After they have had the chance to mingle a little, the doors are thrown open and a fanfare is sounded to announce the arrival of the queen and her family. Her Majesty and her party are then shown around the event by their aides, who introduce them to their guests so they can engage in a little chit chat. Everyone present gets to be a part of royal tradition, and take in an experience that only very few ever have the chance to do.