What Are Will and Kate Going to Name Third Child?
Why Guessing Will and Kate's New Baby Name Will Be Way Easier Than You Think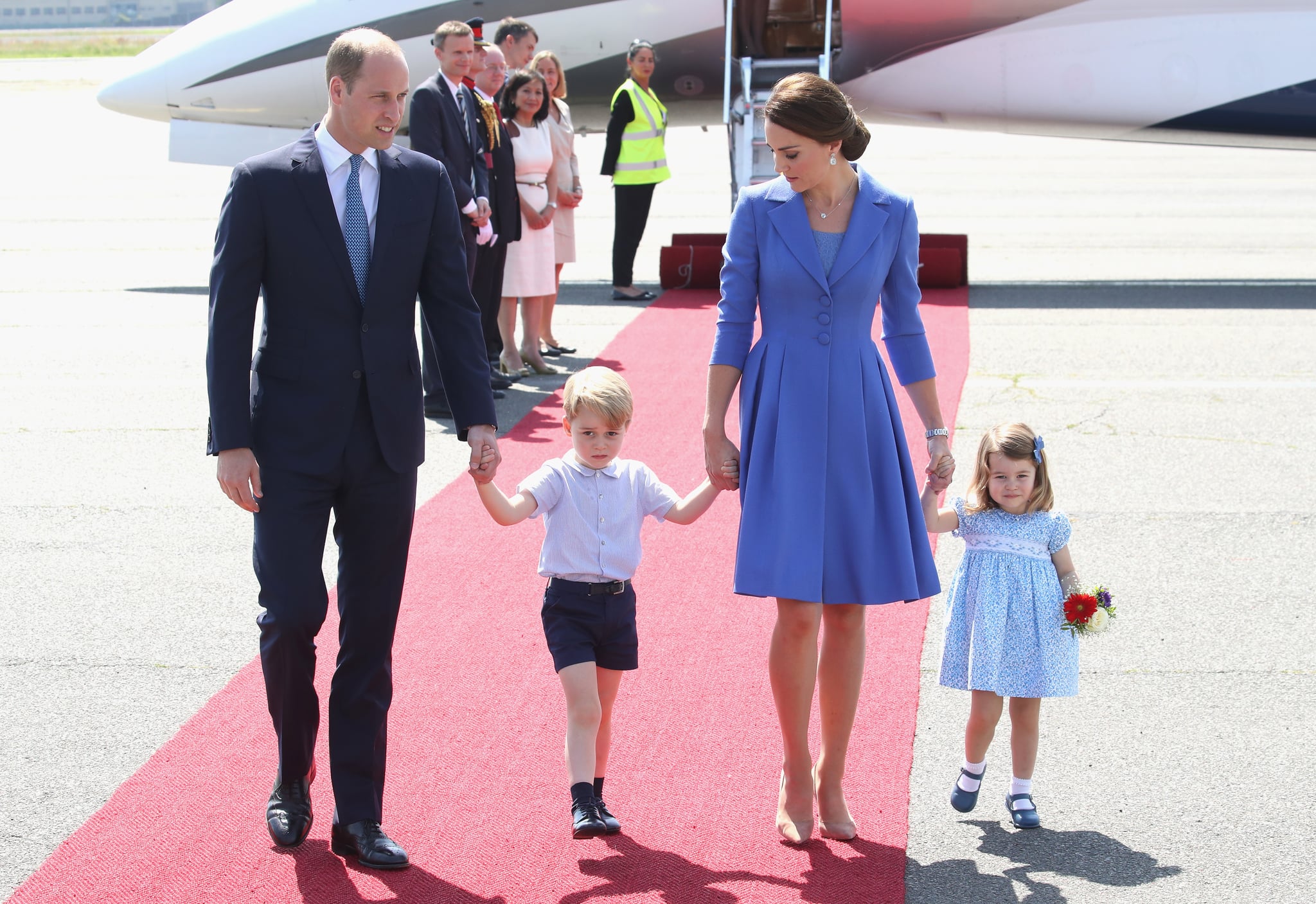 The Duke and Duchess of Cambridge will be adding to their family with a third child in 2018, and there's already plenty of buzz about what name they will choose for the new addition. Will the couple once again opt for a traditional name like George or Charlotte? Or could we see a Prince Westeros or Princess Hermione joining the royal ranks? The short answer is that they would never go for a wacky name — because they can't. Although there is nothing strictly forbidding them from choosing certain names, it's an accepted rule that when it comes to the offspring of senior royal family members, names will be chosen from a very small pool of options.
On offer are a selection of historic royal names, although some have fallen out of favor over the centuries. In Medieval times it was all about the E's – Egbert, Ethelwulf, Edred, and Edwy – but these days, only Edward remains in royal circulation. More likely to be considered are those taken from the last few centuries, which have been recycled time and time again – whether it comes from a monarch, or a prince or princess. Victoria, Elizabeth, Alice, Alexandra, and Anne have been used over and over for girls, while Henry, Richard, Charles, James, and Albert have always been popular for boys.
The reason for choosing a historic royal name is that it perpetuates the notion of stability. In order to evolve and survive, the royal family needs to be reassuringly constant, and taking names from family history helps create a feeling of strength and continuity. Family ties are important to them too, so this is also a way to pay tribute to beloved parents and grandparents, and the people who are important to them.
With the queen, the message couldn't be clearer. Her Christian name was her mother's – although it helped that it also happened to be the name of the iconic Queen Elizabeth I – and her middle names, Alexandra and Mary, were those of her great-grandmother and grandmother, respectively. Prince George was a cast-iron choice too: George V was on the throne during WWI and George VI was on the throne during WWII, and both were strong, popular and reassuring figureheads for the country. Charlotte is a name which has popped up a few times for British princesses, and is also likely to have been chosen as a respectful nod to Prince Charles.
In order to evolve and survive, the royal family needs to be reassuringly constant, and taking names from family history helps create a feeling of strength and continuity.
Middle names can be brought in by the partners who've married in to the family, and are not necessarily from the royal pool. Prince Charles and Prince William both have the middle name Philip, and Charlotte has Diana as one of hers. Middle names are also the place where more left-field choices can be added in, so one of William's is the slightly more unusual Louis, which was selected by Charles as it was the name of his beloved godfather, Lord Louis Mountbatten, who was killed by an IRA bomb in 1979.
When it comes to less senior members of the royal family, creative names are even more possible. Princess Anne named her daughter Zara, which is Greek for "bright as dawn" and was suggested to her by her brother, Prince Charles. Zara named her daughter Mia, and her brother Peter's daughters are Savannah and Isla – all likely to have been chosen purely because their parents liked the name rather than for any reason relating to duty or history (although their middle names paid respects to their mothers and grandmothers, with the multiple appearances of Anne and Elizabeth), As the family fans out, the rules become more relaxed, which means that when it comes to Prince Harry having children, we could see some more unexpected choices. As for William and Kate, the less traditional names will need to be reserved for their pets – hello, Lupo the dog and Marvin the hamster!