Since she initially stepped onto the scene as a model [1], Cara Delevingne [2] stole our hearts in the same way that Margo steals Quentin's in Paper Towns. We're not the only ones enchanted by those brows [3]; the model-turned-actress has been breaking hearts on both sides of the pond since she's come into the public eye. When questioned about her sexuality, the actress has said time and again that she eschews labels and her love is person-specific [4]. Here are all the musicians, actors, and megawatt stars who have been linked to Ms. Delevingne over the course of her career.
Jake Bugg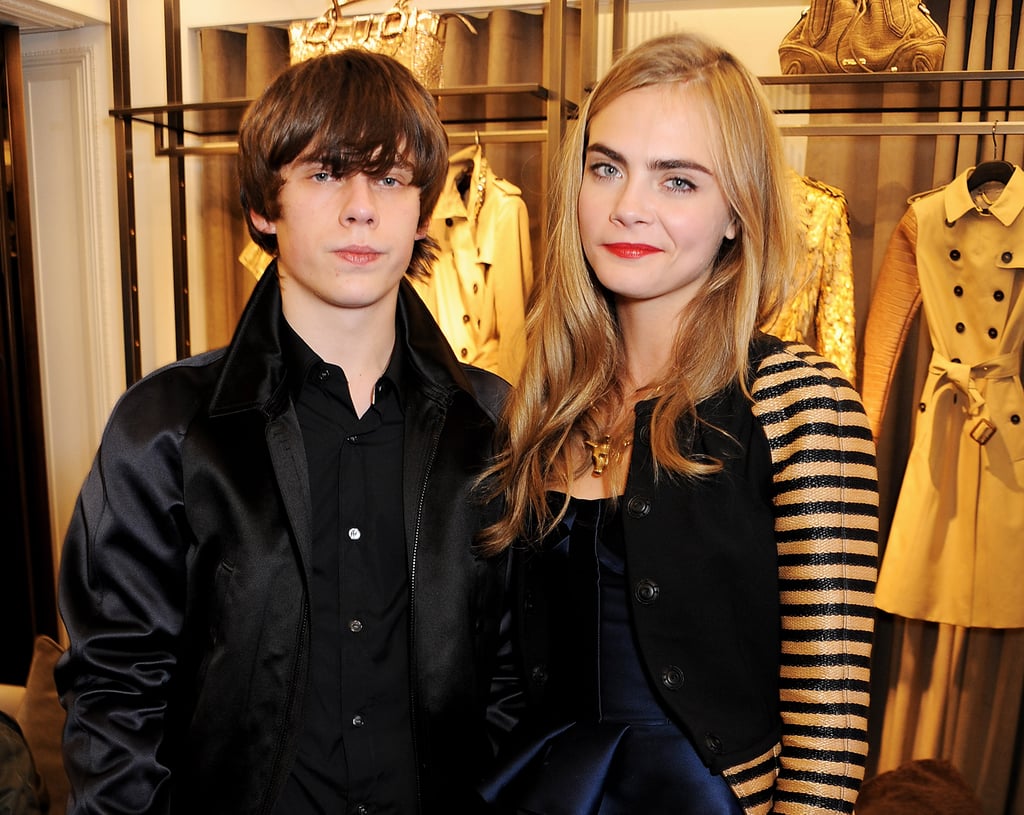 In the Winter of 2013, it was confirmed that Cara was in a relationship [5] with up-and-coming British musician Jake Bugg. That same year, Cara became a full force on the fashion circuit, landing dozens of magazine covers, while Jake landed major US festival Coachella. Their busy schedules seemed to be the cause of their breakup [6].
Leonardo DiCaprio
It's no secret that Leonardo DiCaprio has a strong preference for models of the moment [7], with Victoria's Secret campaign archives reading like his little black book. But maybe that's not Cara's style. Rumor has it that Cara turned down [8] an invitation from the actor to be his girlfriend (or at least go back to his hotel room) in Spring 2013 while both were at Cannes.
Harry Styles
During the Summer and Fall of 2013, the fashion rumor mill swirled about Cara and then One Direction sensation Harry Styles. He did seem to eagerly hit up all of her September Fashion Week shows in support of the beauty [9]. We wonder if that caused any rumored tensions later on down the line during his rumored relationship with Cara's BFF Kendall Jenner [10].
Michelle Rodriguez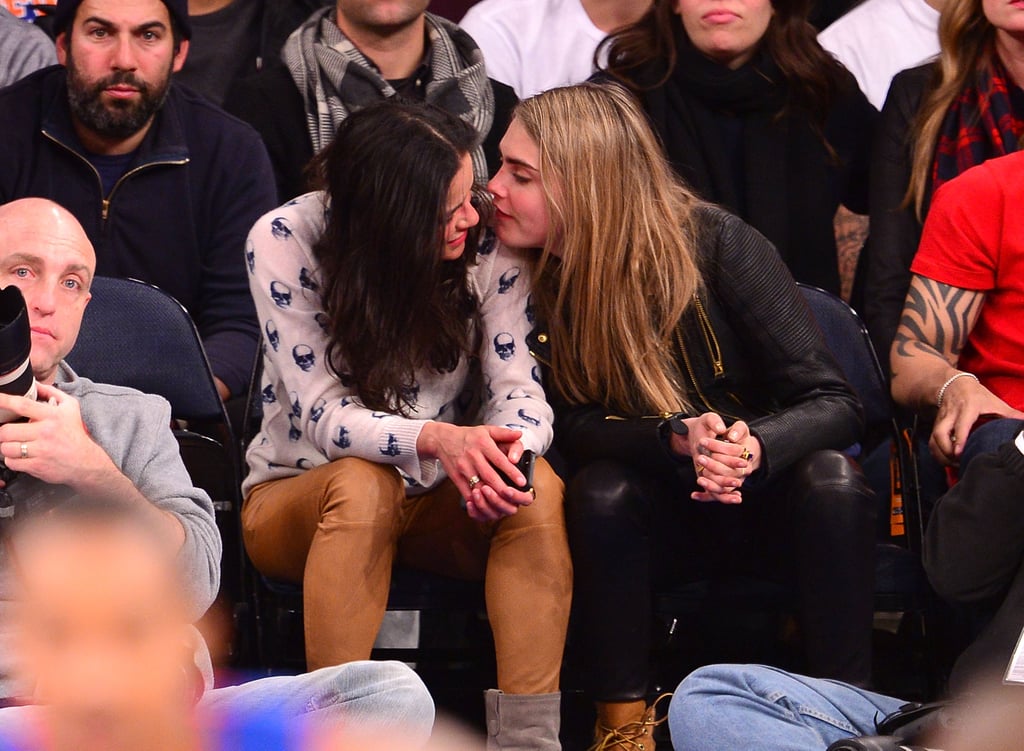 If their relationship was anything like this night at the Knicks game [11], we have a feeling it was a wild roller-coaster ride. The pair dated for several months in the first half of 2014. Michelle Rodriguez confirmed their relationship to The Mirror [12], saying, "It's going really well. She's so cool. When we started hanging out I just thought she was awesome, and we have the best time together. She's hard though. You wouldn't want to mess with her in a fight." Coming from Michelle, you know Cara must be pretty badass.
Jack O'Connell
The former Skins actor and Cara got together in late 2014 after getting close on the set of their film Tulip Fever. While neither ever confirmed or denied it, many fans took Cara's Instagram [13] post of Jack O'Connell's (fans sussed that out by the identifying moles) possibly hickey-ed neck with the caption "Love bites ❤️ #fittybum [14]" as all the confirmation they needed.
Miley Cyrus
Cara and Miley Cyrus [15] have been seen together multiple times, sharing a French kiss on social media in 2013 [16]. They could be just friends — neither ever confirmed anything romantic — but it's up for interpretation.
St. Vincent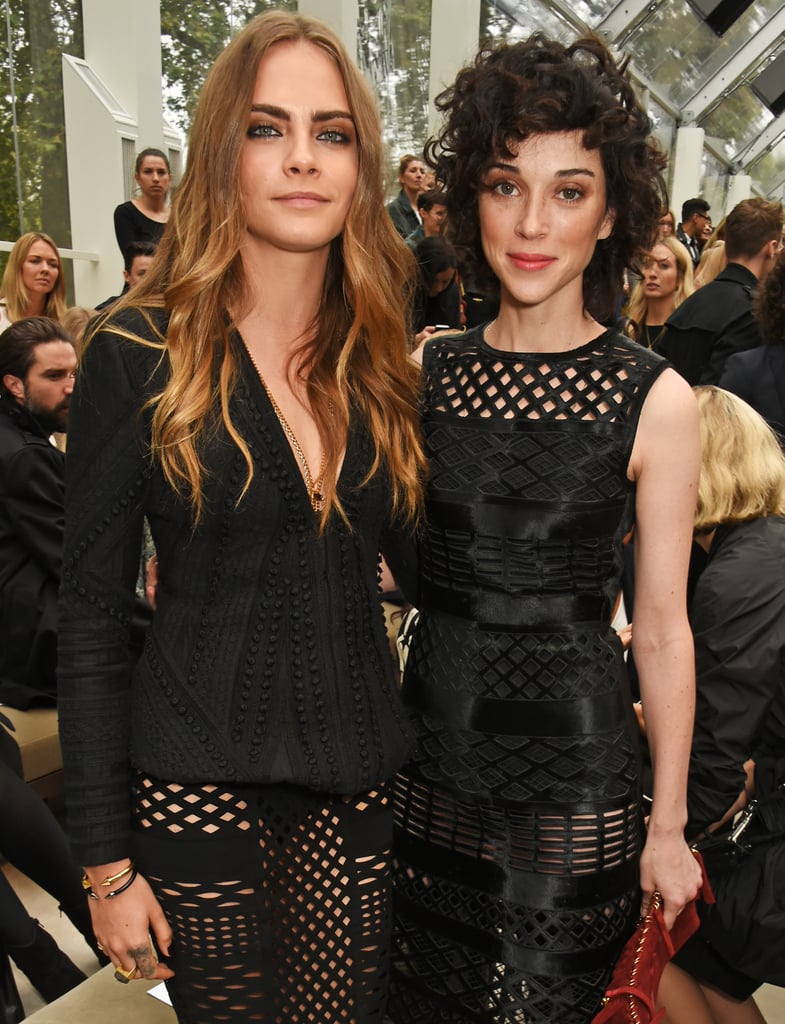 This could be Cara's most serious relationship thus far. She gushed to Vogue magazine about how meeting St. Vincent [17] led to a newfound understanding of the true meaning of love. The two dated for about 18 months from 2015 to 2016. One of their first public outings together was Cara's home away from home, the Burberry show [18] during London Fashion Week in September 2015.
Cara's crazy fame and conflicting schedules were rumored to be the causes of their breakup. While both have moved on, they cite nothing but love and positive energy between them [19].