Who Is Princess Michael of Kent?
Get to Know the Princess Who Thought It Was OK to Wear a Racist Brooch to Meet Meghan Markle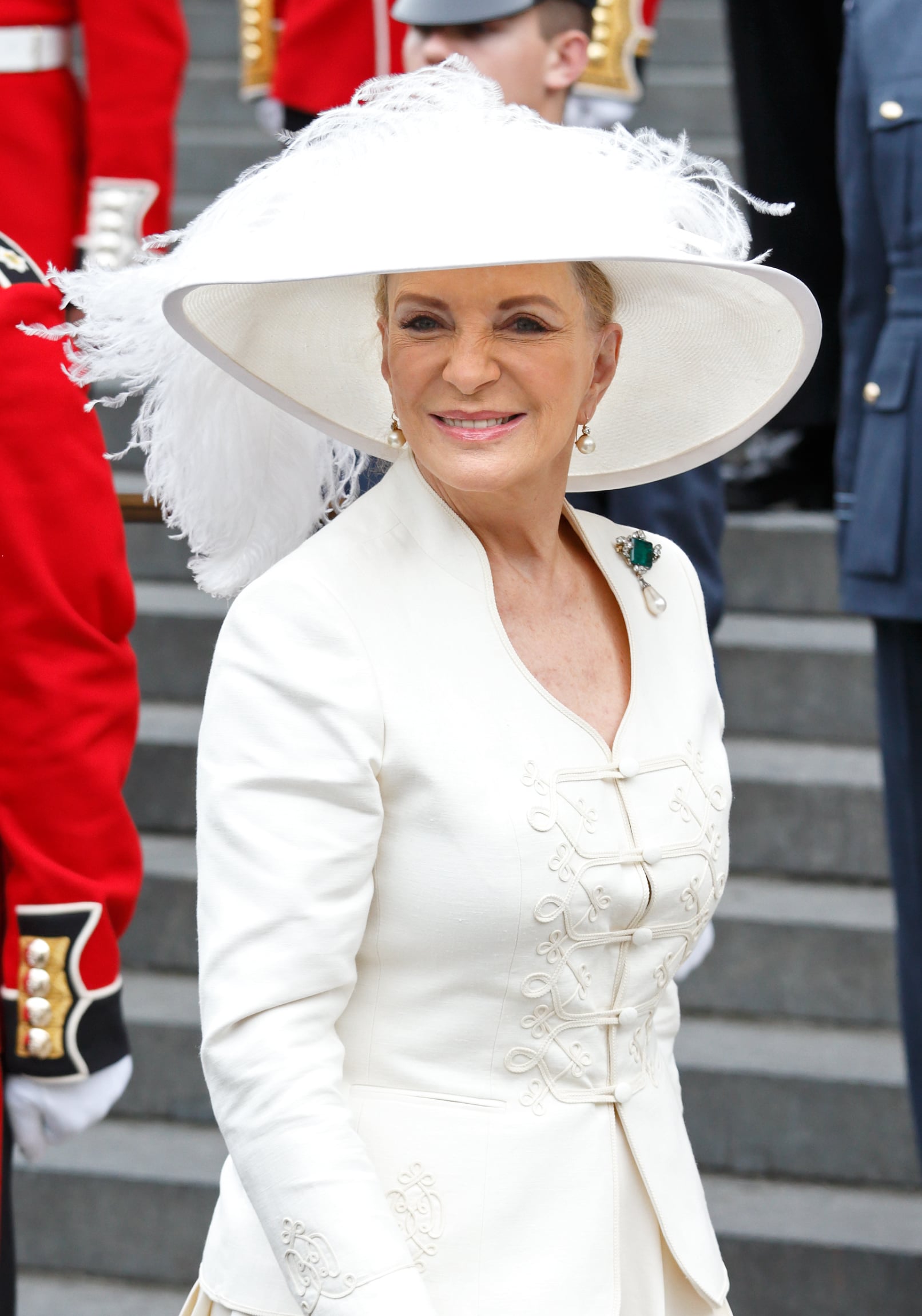 Prince Harry and Meghan Markle's exciting engagement news has clearly brought out the best and worst in people; the fact that Meghan Markle is biracial — her father, Thomas Markle, is white, and her mother, Doria Ragland, is black — has many people cheering the British royal family for their steps toward a more diverse and inclusive monarchy but has also spurred racist comments from the public. Unfortunately, the latest offensive gesture comes from within the family itself.
While arriving for Queen Elizabeth II's annual pre-Christmas lunch for extended members of the royal family this week, Princess Michael was photographed wearing a gaudy and historically racist brooch in her car with husband Prince Michael of Kent. The 72-year-old royal adorned her white coat with a blackamoor pin; blackamoor is a genre of art or jewelry that depicts men and women with dark black skin and is symbolic for fetishizing slavery. This depiction of black people can be traced back to 18th century Europe, but also made its way to US in the with perceivably racist figures like Aunt Jemima and Uncle Ben and culturally insensitive forms of entertainment like blackface.
Keep in mind that Meghan Markle attended the same lunch with Prince Harry, and according to reports, it was her first time meeting many extended members of the royal family — including Princess Michael of Kent. Princess Michael's choice of accessory was not just ugly in looks but also in spirit: meeting one of the first black women to marry into the British royal family and you're going to wear a blackamoor pin? While it's very hard to believe that her actions were unintentional, Princess Michael of Kent issued an apology for wearing the brooch, saying that she is "very sorry and distressed," and that the pin is "a gift she's worn many times before, without controversy." A source connected to Kensington Palace told TMZ that the princess didn't mean to insult Meghan or people of color and that she is "going to retire the brooch for good."
So, just who is Princess Michael of Kent? Here are a few things to know about her (besides her questionable taste in jewelry).
She comes from noble blood. Born Baroness Marie Christine von Reibnitz in January 1945, she is of German and Hungarian descent. Through her mother, Countess Maria-Anna-Carolina-Franziska-Walpurga-Bernadette, Princess Michael is descended from Diane de Poitiers, Henry II of France's mistress.
Her father was a Nazi officer. Baron Günther Hubertus von Reibnitz served as a sturmbannführer (major) for the Nazi party during World War II.
She's married to Queen Elizabeth II's first cousin. She married Prince Michael of Kent in 1978, which resulted in the loss of his right of succession because she is a Roman Catholic. Michael was later given back his place, thanks to the Succession Act of 2013, which says if you marry a Catholic, you can keep your spot in line as well as your title.
Like Meghan Markle, she is also a divorcée. Princess Michael's first husband was English banker Thomas Troubridge, whom she married in 1971. They separated two years later, and their divorce was finalized in 1977. It was also officially annulled by the Pope.
This isn't her first (or second, or third) brush with controversy. In 2004, Princess Michael was accused of insulting a group of black diners at a restaurant in NYC by reportedly telling them to "go back to the colonies" because they were being loud. She was also alleged to have referred to them as "a bunch of rappers" — interesting considering the diners were actually an investment banker, a music executive, a fashion correspondent, a lawyer, and Extra host A.J. Calloway.

When explaining the incident in a televised interview, she brought up her past travels throughout Africa, saying, "I even pretended years ago to be an African, a half-caste African, but because of my light eyes, I did not get away with it, but I dyed my hair black." She went on, "I traveled on African buses. I wanted to be a writer. I wanted experiences from Cape Town to right up in northern Mozambique. I had this adventure with these absolutely adorable, special people and to call me racist: it's a knife through the heart because I really love these people."

She hasn't had the nicest things to say about the royal family, either. During an interview in 2014, Princess Michael called the older generation of royals "boring for most people." She also shared her thoughts on the late Princess Diana, whom she called "uneducated," and posited that she had a "much harder" time coping with her royal status because she didn't grow up with a mother. She is also said to have remarked that she has "more royal blood in her veins than any person to marry into the royal family since Prince Philip."