Who Is Taylor Swift's "I Forgot That You Existed" About?
Calvin or Kanye? Fans Guess Who Taylor Swift's "I Forgot That You Existed" Is About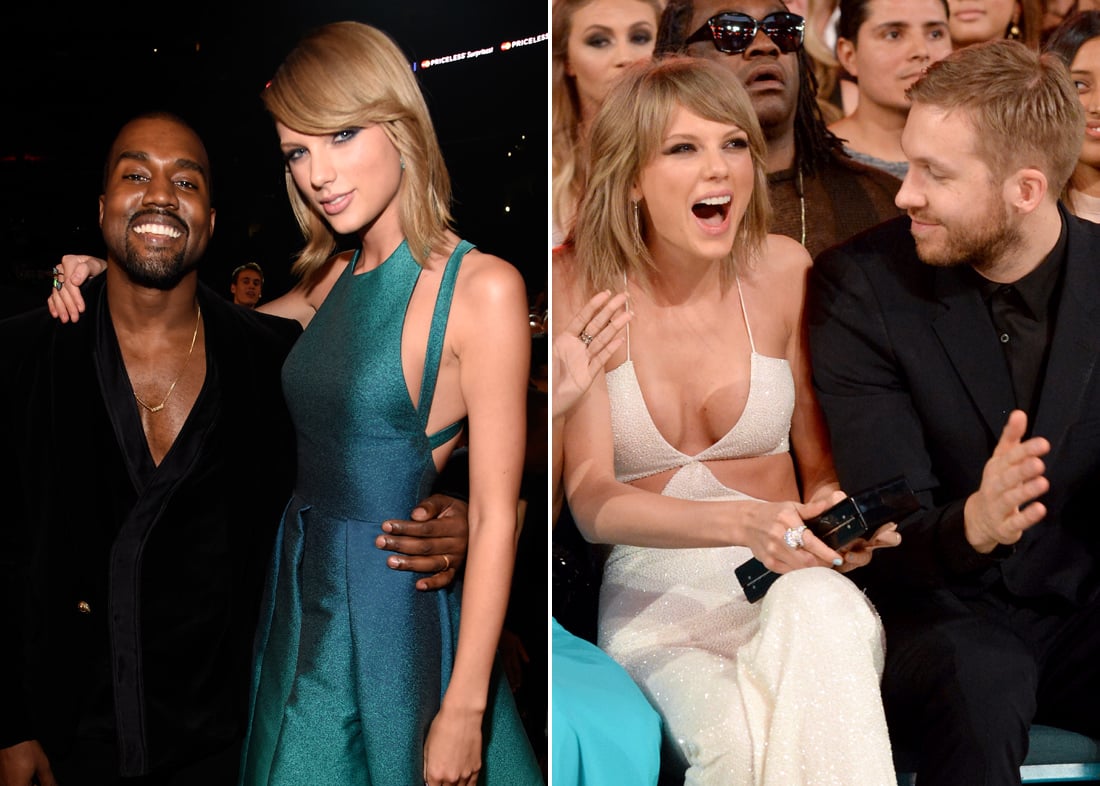 I wasn't quite sure how Taylor Swift was going to go from dark snakes to beautiful butterflies in her Lover album, but the first track, "I Forgot That You Existed" is a perfect transition. As Swift sings about her crumbling reputation in 2016 and the darkness she felt during that time in her life, she also sings about how one day she came out on the other side and found a way to move on. So, just who inspired the opening track on Lover? Well, fans are pretty divided.
Is Taylor Swift's "I Forgot That You Existed" About Kanye West and Kim Kardashian?
In the first verse, there are some obvious references to Swift's feud with Kim Kardashian and Kanye West. At one point, she talks about obsessing over how someone did her wrong, which could be a reference to her "Why She Disappeared" poem, which was about wanting revenge after Kardashian leaked a phone call between her and West in 2016. Another lyric about living in someone's shade that they were throwing is also reminiscent of Swift's other infamous Kanye West diss track, "This Is Why We Can't Have Nice Things" in which she sings about West losing other friends because he's so "shady."
Is Taylor Swift's "I Forgot That You Existed" About Karlie Kloss and Lorde?
Of course, it's the second verse that could be interpreted in many different ways as Swift sings not about her enemies, but about a bystander that reveled in her demise. On one hand, it could be about one of Swift's close friends who didn't stand by her side during her darkest times. Shortly after the release of her "Look What You Made Me Do" music video, rumors of a rift between Karlie Kloss and Swift began to circulate as fans noticed that her name was missing from the singer's Junior Jewels shirt. A few months earlier, Lorde (whose name was also missing from the Junior Jewels shirt) also made headlines for comparing her friendship with Swift to an autoimmune disease. While Kloss attended Swift's Reputation tour and Lorde later apologized for her comment, neither of the ladies appear to be as close with Swift since "LWYMMD" was first released.
Is Taylor Swift's "I Forgot That You Existed" About Calvin Harris?
But then, a few lyrics down, Swift sings about how she would have been front row for someone's show if only they didn't take part in her public takedown. While she could still be talking about Lorde here, it makes me wonder if she's actually talking about her ex-boyfriend Calvin Harris. Shortly after their split in June 2016, the DJ went on a Twitter rant about the singer as he addressed their musical collaboration on "This Is What You Came For." In addition to making reference to her relationship with Tom Hiddleston, who she began dating almost immediately after their split, Harris even brought up her then-feud with Katy Perry. "I know you're off tour and you need someone new to try and bury like Katy ETC but I'm not that guy, sorry. I won't allow it," he wrote in since-deleted tweets. Perhaps "I Forgot That You Existed" is Swift's way of saying she would have had Harris's back if he didn't publicly drag her on social media?
Regardless of who the song is actually about, it's clear that Swift is stepping into the daylight and letting those petty feuds go once and for all.
Image Source: Getty / Kevin Mazur / Jeff Kravitz / BMA2015