Dubai Ruler Releases Video Focused on His Love for Horses
If You're A Fan of Horses, You're Going To Love HH Sheikh Mohammed's Latest YouTube Video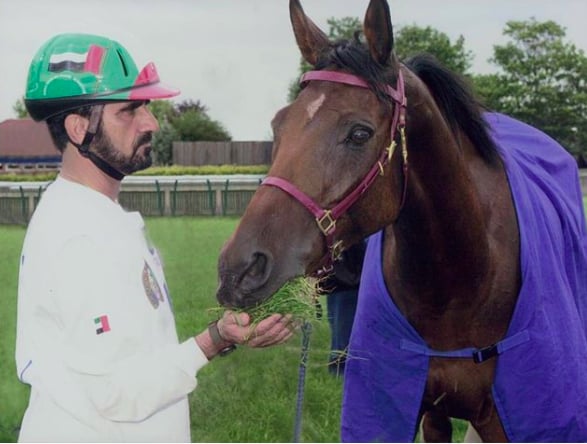 If you've ever wondered how His Highness Sheikh Mohammed bin Rashid Al Maktoum, Vice President and Prime Minister of the United Arab Emirates and Ruler of Dubai, love of horses started, wonder no more.
Using narratives and archive clips, the Dubai ruler has given fans an in-depth look at how his love of horses started in his latest YouTube video. In the just under the seven-minute-long video, the Dubai Ruler introduces fans to his very first horse, Umm Halaj, who Sheikh Mohammed describes as sparking his love for the stunning creatures and his passion for equestrianism.
Fans of his son, His Highness Sheikh Hamdan bin Mohammed bin Rashid Al Maktoum, Crown Prince of Dubai and Chairman of Dubai Executive Council, would be happy to note that the Crown Prince also makes an appearance in the video, which is available to watch on the streaming platform.
This isn't the first time that the Vice President of the UAE has talked about his love for horses. In 2019, the beloved ruler published an entire book of poems dedicated to the mesmerizing creatures. For the Love of Horses, contains 18 poems, each of which chronicle his love and a life-long passion for horses. Poetry aside, the book also features photographs of Sheikh Mohammed riding horses, as well as attending equestrian events worldwide. It also features paintings and sketches of the Dubai ruler, created by local Emirati artists.
Click here for more celebrity news, interviews, and features.