Michelle Obama Talks Dating Advice on Her Podcast
Michelle Obama's Latest Accomplishment? Shelling Out Spot-On Dating Advice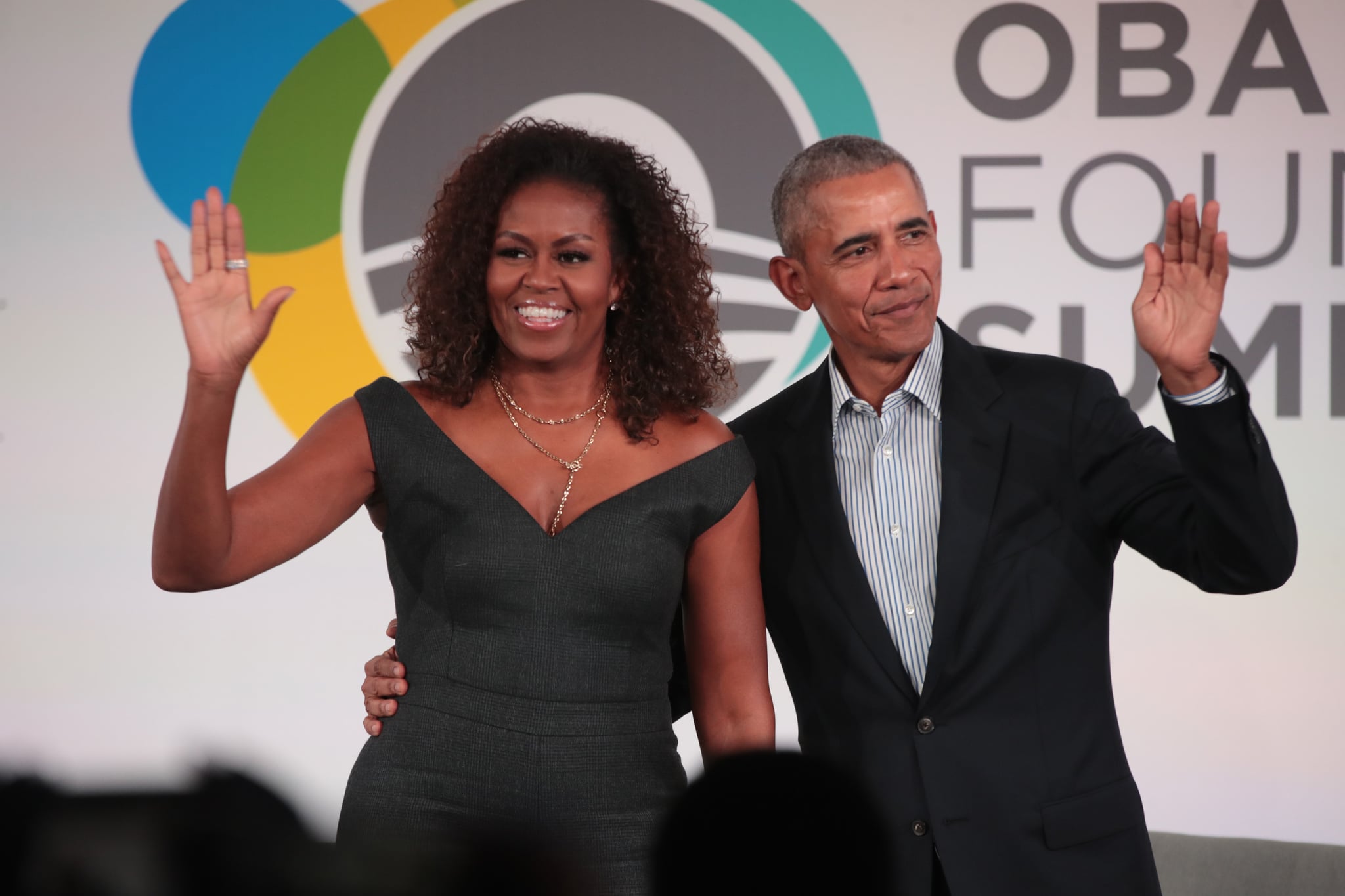 Dating is just like basketball, right? You've got your starting lineup, the superstar, and occasionally, some benchwarmers, and Michelle Obama is all about waiting for the stars to align before drafting the perfect superstar — or you know, the ideal partner. During the latest episode of her Spotify podcast, the former first lady sat down with Conan O'Brien to talk relationship advice, dating app culture, and how they knew their spouses were the one. Yes, she said it herself: Barack Obama is Michelle's LeBron James.
The two kicked things off by talking about how the timing truly has to be right for both people before starting a serious relationship, and Michelle doubled down on the idea that you have to really know yourself before you can let someone else into your life wholeheartedly. "I think a man's inclination to wait and go out there and search and get himself ready is a good instinct that more young women should think about," she said. "Because you have to know who you are to know who you're looking for. I always thought if we approached marriage and family like we approached, particularly men, like you would picking your basketball team we'd have better marriages."
She added, "Because if you're looking at a team, the people you want to win with, then number one you want everybody on your team to be strong." Michelle explained that you don't want someone who "only dribbles" or only contributes certain aspects of the game — you want an all-around team player to equally complement how you are as a team player. "If we looked at marriage as a real team, you want your teammate to be a winner, you want LeBron," Michelle said.
But no matter who your co-captain is on this journey we call life, marriage is hard work, and Michelle is not afraid to admit that. We've been gushing over her and Barack's relationship for years — how they speak so highly of each other, respect each other, and love each other endlessly — but life has its ups and downs and it's about working through those things as a unit. "People aren't perfect. Marriage is hard. It's a struggle for everyone," she said. "But the question you have to ask is do you want to spend this life with somebody? Do you want to build something with someone?"
"You can't Tinder your way into a long-term relationship."
Michelle said there's no "magic way" to make this happen, it's about going through the motions together. "[It's] the basics of finding somebody, being honest about wanting to be with them, to date them seriously, to plan on making a commitment, to date them, seeing where it goes, and then making it happen," she explained. "There's work and practice that goes into, 'I'm going to get off the apps and I'm going to actually ask this girl out . . . and then I'm going to see where that goes. And if it doesn't go anywhere, then OK, we'll break up.' Because that's what dating is. You can't Tinder your way into a long-term relationship." Sure, these are difficult conversations to have, but transparency is key in relationships, and it's especially key in finding the Barack to your Michelle.
Listen to the entire sixth episode of The Michelle Obama Podcast ahead to hear Michelle and Conan discuss relationships, and check back on Spotify every Wednesday for new podcast episodes.
Click here for more celebrity news, features, and interviews.