POPSUGAR Middle East Interview Abir
Meet ABIR – The Moroccan Singer Determined to Change the Outdated Narrative of What it Means to be an Arab Woman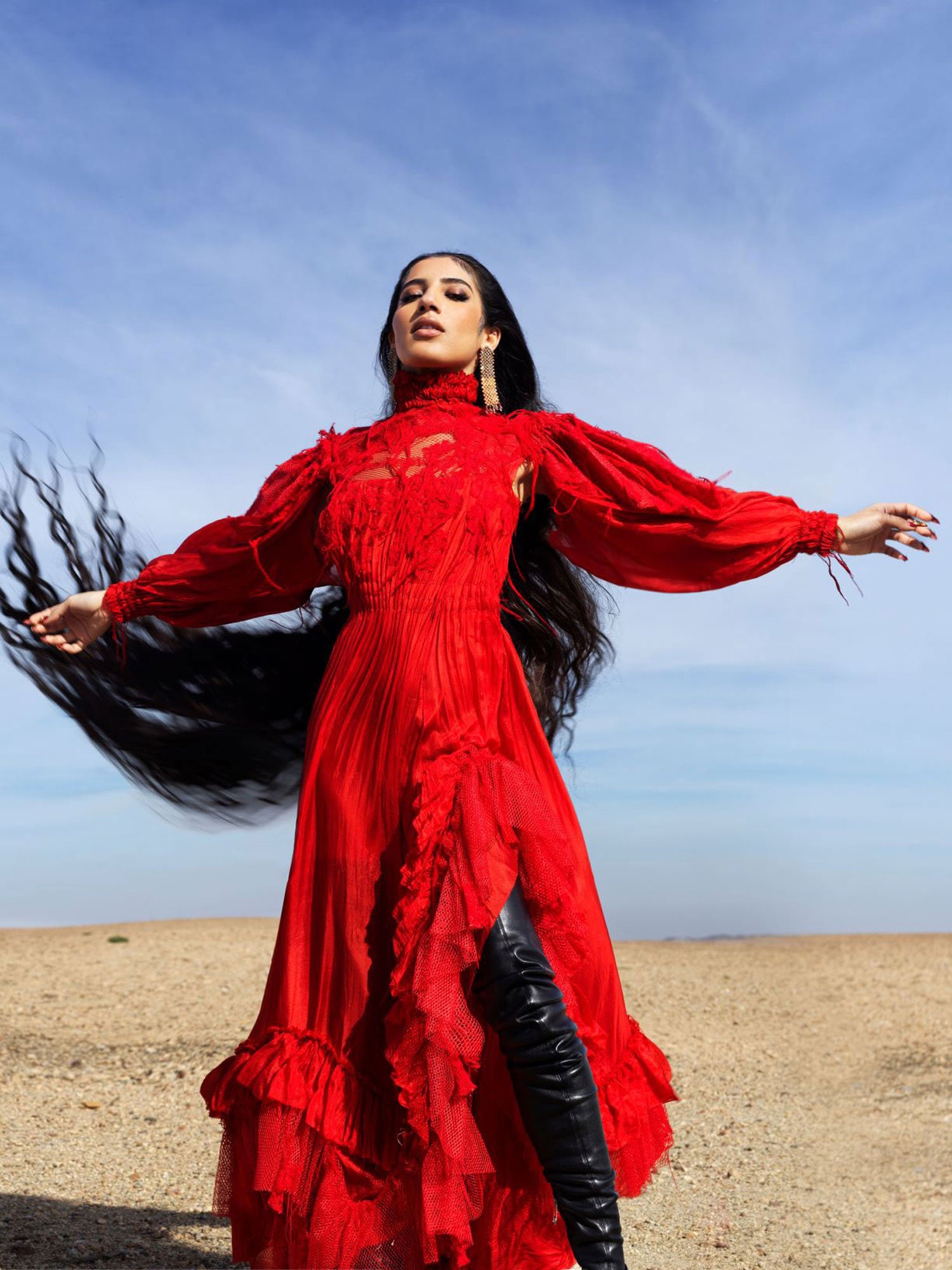 We'd be lying if we said that we didn't have a girl-crush on Moroccan singer, Abir. At just 26-years of age, the US-based star, who is ready to shed light on what it means to be a modern-day Arab woman, has time and time again proved that there's so much more to the region than what's depicted on main-stream media.
Determined to prove just that, the "Finest Hour" singer has spent the last year and a half, reconnecting with her roots and culture, as well as reflecting on what makes her happy and what it means to be an Arab woman in the 21st century.
With her latest track "Inferno" launching across all streaming platforms just hours ago, we sat down with Abir to chat music, culture, and the power of self-discovery.
Hi Abir, thank you so much for taking the time to chat with us, we know you've been very busy with the launch of your latest track "Inferno", can you tell us a bit about it?
To be honest, I'm really tired of hearing the same old narrative when it comes to Arabs, more specifically Arab women. You know? The ones that claim that all Arab women are oppressed or that they don't work. It's not true, and it's so boring hearing it all the time. It's so inaccurate! There's so much more to the Arab identity and the Arab perspective than people really know about and to what is portrayed in mainstream media – especially in the US. So, I decided that I wanted this project to be all about celebrating what it means to be a modern-day Arab woman and to really just shine a light on Arab talent.
The teaser for your new music is incredible tell us, why did you choose the theme of "Rebirth"?
My parents gave up a lot when we moved to the US. We relocated for the same reason many people do – to have a chance at a better life, and I'm incredibly grateful to them for all that they sacrificed for myself and my two sisters. I choose to kick-off my upcoming music with a short teaser called "Rebirth", because, for the past 18 months, I feel as though I have been reborn. I spent that time reconnecting with my roots, my heritage, and really just looking deep within myself to find what truly makes me happy and what makes me, me.
With "Rebirth", you are taking on and tackling many key misconceptions about Arab women, which is by no means an easy thing to do – how did you find it?
Have you ever noticed how with comedy, a lot of key issues and politics are addressed, but people still digest and relate to what is being said? I've found that it's the same with music. You can address critical issues and events as they happen, but it's easier to swallow than, for example, someone openly stating that your views are wrong. With everything happening in the world right now, that is our current, much-needed shift towards celebrating diversity and inclusivity; people are opening up to new perspectives. I'm really excited and really inspired to see how things are changing. Not just for Arab artists but for artists from across the globe – just look at how many Latin musicians are dominating radio stations, or how much love dance hall is getting. It's truly inspiring.
We couldn't agree more, and we're so happy to see how the music industry is diversifying. You mentioned Arab artists, who are a few on your radar?
So many! So, so many. If I had to name a few, I would start with Lolo Zouai. She's French-Algerian. There's just something about her – she's crazy talented, and I really love her stuff. My girl, Wafia, is another. She's from Australia, lives in the US, and has Syrian-Iraqi origins. Her music is so dope. She talks about things that many in the Arab world still consider a bit sensitive, but the fact that she does that makes me love and respects her. Music aside, I worked with a ton of Arab creatives from all over the globe on this video. The director, Sharif Ab Del Mawla, really helped bring an interesting perspective to the visual and the way he captured everything really took it to the next level.
Word on the street is that you're releasing a new EP… is that true?
It is! It's called "Heat". It's based on the teaser that I released, "Rebirth", and it will come out on August 9. I'm super excited.
"Heat", that's an interesting name, why that one?
During the entire creative process of this EP, I felt like I was in the desert. The sounds, rhythms, and melodies, have a way of transporting you there. This is going to sound a little weird, but I have this perception that red light stimulates my mind – I don't know if it actually works, but it helps me. I also love sunsets. I find the entire color palette stunning – you will see a lot of red and orange hues in all of the artwork and videos for the EP. When people listen to "Heat", I want them to feel like they're driving in the desert at sunset or, at the beach, coasting. I also choose "Heat" because I'm obsessed with the concept of combustion: water and fire meeting. I think of myself like that. I think of challenging these notions that you can only be one thing and not the other – which is not true because you can co-exist. Like, I can be an Arab, Muslim woman from Morocco and rock a crop top and sing about love and freedom. The idea of co-existing is very much a part of me. I grew up in the States, and I have an American mentality, but I also grew up in a household that celebrated our Muslim faith and our Arab culture.
Having spent more than half of your life abroad, how did you manage to keep in touch with your Arab roots?
I was six when we moved to Virginia. To be honest, I had a great time. Virginia is really diverse – I met people from all over and many friends from Morocco. Everyone was and is still very respectful of where I come from. Fortunately, my parents love and enjoy being in America – I would feel so bad if they left their lives in the hopes of giving us a better one – only for them to be unhappy. It's much easier to keep your culture and roots close to you when religion is a part of it. Growing up Muslim, you celebrate Eid, Ramadan, and other key religious events. You have your family around you, celebrating as well. Every Eid, my mom makes a big feast, using recipes that her mom and sisters would make. So, religion is one way that my parents kept our culture and heritage strong in our household. Another way was through music. Music was always playing in our house. Cheb Mami, Umm Kulthum, Fairuz – their music was constantly playing in our home. We have this joke that if Umm Kulthum is playing, it's time to do some chores [laughs], that used to happen every Saturday.
With such a strong message, you must have some equally strong inspirations – can you tell us a bit about your musical inspirations?
Growing up, I was very inspired by artists like Whitney Houston, Etta James, Beyoncé, and Michael Jackson. Now, I'm constantly inspired by new artists. I recently discovered Maria Callas, and I'm so thankful to my late-vocal teacher for encouraging me to research her. From the way she speaks to her body language, everything about her just exudes confidence. If I could be anyone in the world – I would be her. Umm Kulthum is another musician who inspires me. Not just musically but as an individual. If you see interviews or live performances – you will notice how the entire room stops and takes in her divine aura. That is what I call star power.
Speaking of divine aura, we'd be lying if we didn't think that you were one of the coolest people on our radar, were you always so sure of yourself?
I haven't always been this in-tune with myself. It really just took the last year and a bit to discover who I am. Self-discovery is a continuous journey, as they say. I've always been such a deep thinker. I'm one of those people you see, sitting in the corner of a room, analyzing what caused someone to say what they said. Once I've analyzed it, I do some soul searching and try to connect my experiences with theirs. That's what "Rebirth" is all about. It's about tapping into yourself and being able to say, "who I am is epic." It takes a mentality to live a life that makes you happy truly.
We completely agree. So, what triggered your "rebirth"?
It was my first EP "Mint", which is an homage to Moroccan mint tea – something that is more about gathering and "spilling tea" than about drinking it. As fun as the experience was, the songs on the EP were so out of touch with the person I feel I was becoming. I'm 26 now. I'm experiencing life, I'm learning about new things, I'm being challenged with new things daily and, the only way to survive and to be happy is to evolve. Not only evolve but come out of it, stronger. In the music industry, for example, everyone has an opinion – which is great. I love people with opinions – provided that their opinion is informed. At the time of writing and producing "Mint", I feel maybe I was too open-minded. I was so open-minded that I found myself not having an actual opinion of my own if that makes sense. Realizing that is what triggered my need to take a step back and look into the things that I actually liked and the things that made me happy as well as the things that feed my soul.
If you go back in time, what advice would you give to your six-year-old self?
Do your research. Find out what you like, what makes you happy, and have an informed opinion. If you do that, your possibilities are endless. It's easy to lose yourself in the noise and opinions but, if you know who you are and what you want you, there's nothing you can't do.
Preach! Is that the same advice you would give to young artists looking to follow a career in music?
As cliché is it sounds, and trust me, I know it sounds cliché, but there's a reason so many people have said that "you have to stay true to yourself." If you stay true to yourself, you will, I believe, live a life that makes you happy. You will be able to sleep at night, not worrying about being someone you're not, just because you want to make the people around comfortable. I say this, but it is something that I still struggle with, which is why I'm constantly re-evaluating, learning, and growing. For me, being who you are and accepting who you are is the ultimate key to happiness.
Lastly, we can't wait to see you live in concert, do you have plans for touring once it's safe to do so?
Of course, I miss touring so much! Hopefully, once coronavirus decides to leave, I'll start touring again, and I hope that music festivals come back because this project is something that I've wanted to do all my life. If not, I will definitely start hosting virtual concerts, taking people on a trip to the desert or beach at sunset through my music.
Click here for more celebrity interviews, features, and news.