POPSUGAR Middle East Interview Asmaa Galal
We Want Asmaa Galal To Be Our Best Friend and, After Reading Our Exclusive Interview with the Actress, You Will Too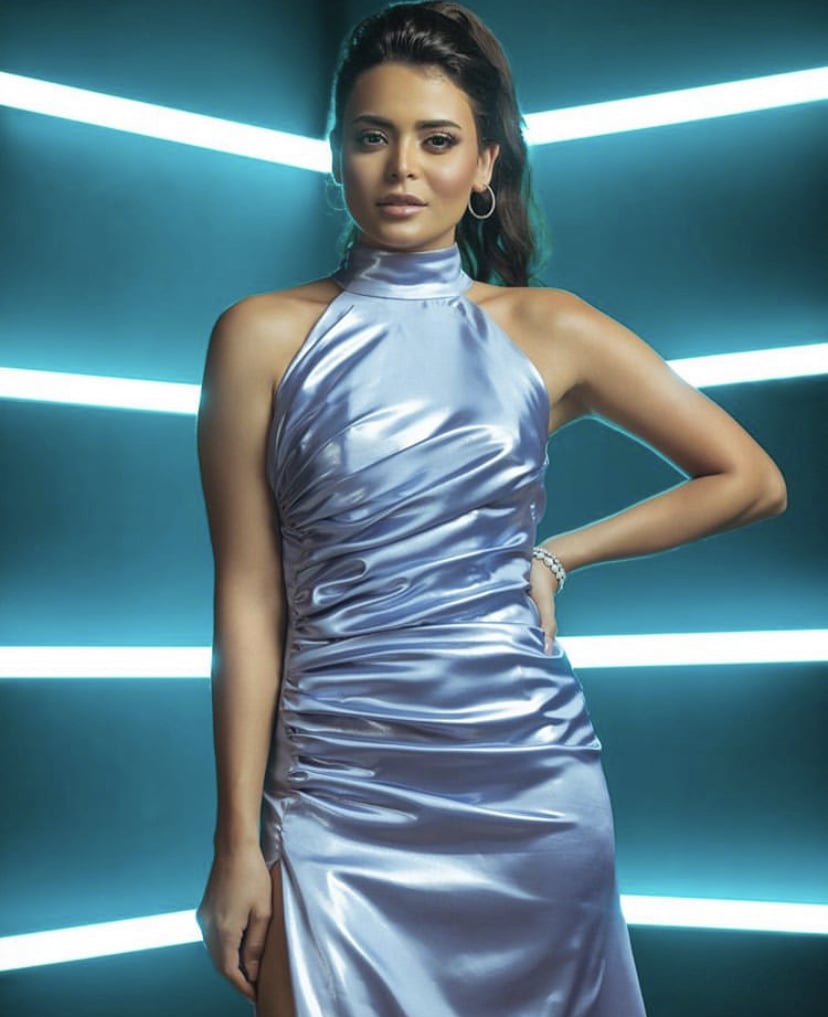 When it comes to Middle Eastern talent, Asmaa Galal is one name that certainly tops our list. Skyrocketing to fame in 2017, after starring in The Godfather, the 25-year-old actress is now one of the most sought-after actresses in the businesses. Determined to find more about the star, who boasts an equally impressive fan following of over 2 million, we reached out to Asmaa, to chat humble beginnings, fame, passions, and dream roles.
During the span of our three-hour-long chat, a few things became crystal clear. One, Asmaa Galal, is destined for global domination. Two, she is as well-spoken as she is talented, and three, she is the best friend we've always wanted.
Thanks for taking the time to chat with us, we know you have just wrapped filming "Le3bet El Nesyan", alongside Dina El Sherbiny, how did that go?
It was an incredible experience. Dina is adorable, one of my favorite people, ever. Filming in these times was challenging, but we managed to pull through and create something that I am both really proud of, and proud to be a part of.
With films like The Godfather to your name, did you always know that you wanted to be an actress?
I did! When I was four, I watched an Egyptian TV show called Yawmyat Wanees. I wanted to be one of the characters on screen… I used to watch it with my dad, who always encouraged my dream of becoming an actress. He passed recently, but his support, love, and nurturing still keeps me going strong today.
We've heard that acting, especially for women in Egypt, can be a bit hard for families to accept, tell us, how did yours react when they found out?
They actually found out by accident. Haha. I was studying Mass Communication at university, but I really wasn't connecting with it. So, I took some acting workshops on the side and eventually started going for auditions. One day, I auditioned for a small role in the Arabic version of The Godfather in 2017, and I got it! I was incredibly happy because, I had never auditioned before, so I was making it up as I went. Once the film released, it came with a lot of responsibility and, to be honest, a few challenges.
In the Middle East, Egypt, specifically, acting is still considered a career that is best suited for men. So, when my family first saw me on TV, they weren't as supportive at first because they knew of all the added responsibilities and societal pressure that comes with it. But they became more accepting as I booked more roles, and they could see how happy it made me. Acting still has its challenges, I have to prove that I can do many different roles, and I need to work hard to prove myself, but I am ready. Always have been and I always will be.
We're more than ready to see more of you on the big screen! Tell us, how are your fans? Do they approach you? Like on the streets or in shopping malls? A name and face like yours, we'd imagine fan photo requests are quite common.
The first time a fan came up to me and asked for a picture and autograph, I was honestly shocked. I kept looking around, asking if she was sure that she wanted a photo of me. I must have looked so confused. I still laugh about it today. These days, I'm better at believing that people actually want a photo with me.
We're just imagining that now, but it's not hard for us to believe, given that you've inspired many young women and men to follow their dreams over the last three years. Do you have any actresses that you look up to?
I'm in love with Marion Cotillard. There's just something about her… The way she connects with everything around her while she's acting. Her eye contact. The way she speaks. Her body language. She's incredibly elegant and just radiates such a strong energy. I learn a lot from watching her movies.
Some of my favorite films starring Marion, would have to be Allied and The Immigrant. If there were to be a movie about my life, I would love for her to play me. She would just have to learn Arabic, but given that she can speak many languages already, I don't think that that would be too much of a problem for someone as talented as her.
We'd watch it – more than a few times! Which other actresses do you admire?
Marion aside, I'm a massive fan of Jennifer Lawrence. She has to be one of the funniest, most down to earth actresses in the business. I love how she carries herself and the fact that she's so carefree and clumsy – makes me love her even more. She's not only funny, but she can really act. I loved her in Mother!. The baby scene, although uneasy to watch, was so strong. So powerful. It made me angry, which is what acting is all about, making your audience feel something.
Anne Hathaway is another actress I admire. She's an incredible chameleon. From Devil Wears Prada to Les Misérables, she's one actress that can make me both cry and laugh – sometimes, at the same time.
Sherihan is another. She's not only incredible on-screen but she can sing, and is a classically trained dancer, talk about being a triple threat. The best part is that she makes it seem so effortless.
My list wouldn't be complete without mentioning Natalie Portman. I love her. The first movie that I ever watched, starring her, was Léon: The Professional. She was incredible. So professional at such a young age. Everything about that film was iconic. From the lines to the acting, and the clothes. It's such a beautiful movie. A true timeless classic. Plus, it also starred Jean Reno – his film, The Pink Panther is my favorite movie. I love that movie so much! Till this day, I can't place a hamburger order without mimicking Steve Martin.
We still turn to Portman's character, Mathilda, for fashion inspiration. Playing her in Léon: The Professional would be our dream role, which would yours be?
Black Swan. I would love to act in a movie as powerful and inspiring as that. Hopefully, one day. I'm hoping that people will be on board with change and that Middle Eastern film rules would loosen a bit. We still have a lot of restrictions and stereotypes that we to break. We have so much potential, and the region has many messages that are begging to be voiced. So, I'm hoping that it happens sooner, rather than later.
We're sure that things will change soon. Change, as they say, is inevitable. When it comes to passion, which are the three you are most passionate about?
Acting is my biggest passion. It's my happy place. When I'm acting, nothing can harm me. Nothing bothers me. All my worries just fade away. It's the same, when I watch films. My mind is at ease. It's sort of like therapy for me.
I'm also an animal lover. I'm very protective of them, as well. Growing up in a country where animal rights is still quite new, I try to educate and inform as many people as possible on how to be kind and loving towards them. Of course, some think I'm a bit strange for doing so, but I'm ok with that. No matter how wild or intimidating an animal can be, it is still a living, breathing thing that deserves to be loved, as much as you and me.
Travelling comes in at a close third. I love exploring new countries. Not only because I love experiencing new things but because I learn about myself as a person. I'm exposed to a lot of different things that I may never get to see in my home country. I would definitely love to continue traveling as much as I can.
We can't wait to travel again… to hear the phrase "can I see your ticket, please," we're counting down the days. With so much uncertainly in the world right now, how are you keeping calm and positive?
To be honest, it hasn't been easy. I'm still a bit confused about it all. Much like everyone else, some days are good, and some days are bad. I recently tried meditation for the first time. It was actually very relaxing and possibly the first time in a long time, where my body and mind were perfectly calm.
Filming at a time like this must have been tough… how did you find it?
The thought of catching the virus and passing it on to those I love and those who I may meet on my way home scares me – a lot. So, I follow the COVID-19 safety rules. I wash hands thoroughly and regularly. I avoid unnecessary contact and interactions. When I get home, after a day on set, I wash my hands, shower, change my clothes, and then only go to greet my family. I owe it to them to take responsibility for my career and for everything that comes with it. It's a hard time for everyone right now, but I believe that together, we will get through it.
What would you say to those looking to go out and explore during a time like this?
Take responsibility. While I understand that life does have to go on, and people cannot stay home forever, you still owe it to those around you to be safe. Take safety precautions and safety guidelines seriously – they are there for a reason.
Wise words. If a young girl were to approach you for some acting advice, what would you tell her?
My advice to anyone, be it young women looking to act or those looking for life advice, would be to respect how you feel. Your body has a way of telling you things, long before your mind can process what is happening around you. Listen to it. Another thing would be to remember that you don't find a happy life – you make it. You have to take control of the things you want. If something is making you unhappy, only you can change it.
Asmaa, this might sound weird, but we think you might just be the best friend, we've always wanted… if you're ever in Dubai, would you like to hang out?
I was just thinking the same. I would definitely like to hang out. Soon hopefully!
Click here for more celebrity interviews, features, and news.