Taylor Swift Announces New Album, Folklore
OK, So Taylor Swift Is Releasing a New Album and It's Coming Out Soon — As In Sooner Than Soon, As In Tonight Soon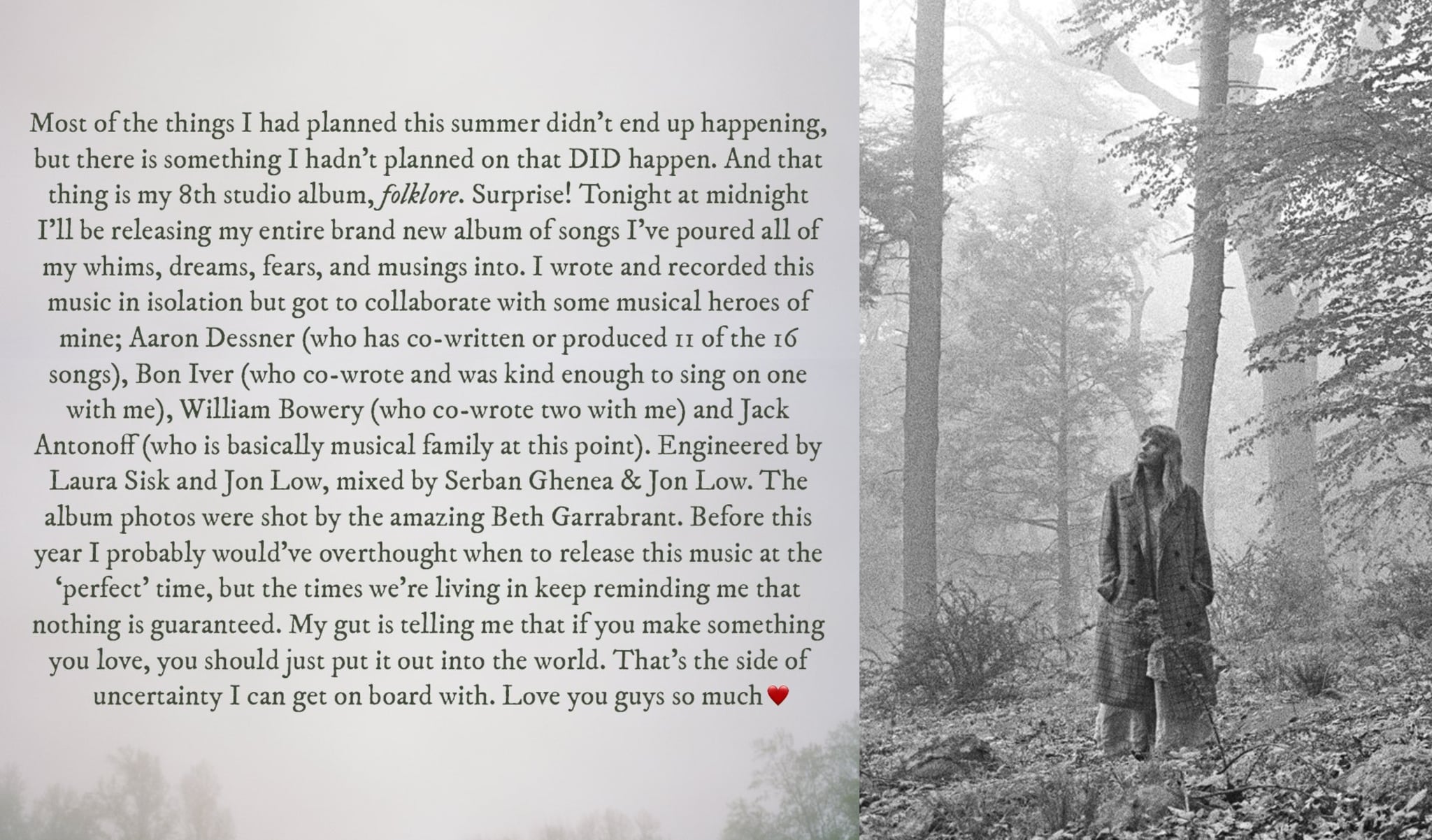 OK, so we don't want to freak anyone out but TAYLOR SWIFT has just announced that she's releasing a brand new album TONIGHT!
You read that right. The mastermind behind some of the biggest and best love and breakup songs is releasing her eighth-studio album, folklore in the US at midnight.
If you don't believe us, check out her tweet that was posted just minutes ago.
Surprise 🤗 Tonight at midnight I'll be releasing my 8th studio album, folklore; an entire brand new album of songs I've poured all of my whims, dreams, fears, and musings into. Pre-order at https://t.co/zSHpnhUlLb pic.twitter.com/4ZVGy4l23b

— Taylor Swift (@taylorswift13) July 23, 2020
We know — EXCITING!
The 30-year-old singer andsongwriter took to Instagram to elaborate on the exciting news.
"folklore will have 16 songs on the standard edition, but the physical deluxe editions will include a bonus track called "the lakes." Because this is my 8th studio album, I made 8 deluxe CD editions and 8 deluxe vinyl editions that are available for one week😄 Each deluxe edition has unique covers, photos, and artwork," Swift wrote on Instagram alongside the cover art.
The good news doesn't stop there though. The award-winning singer also announced that she will be releasing a music video for a song called "cardigan," which she reveals, she wrote and cordirected tonight, as well!
Right, please excuse us while we scream at the top of lungs, run around the house blasting her hit-songs, and then cry a few more tears of joy!
Click here for more entertainment news, features, and interviews.