Who Is Miley Cyrus's "Midnight Sky" Song About?
Miley Cyrus Seemingly Makes Reference to Her Publicized Romances in "Midnight Sky"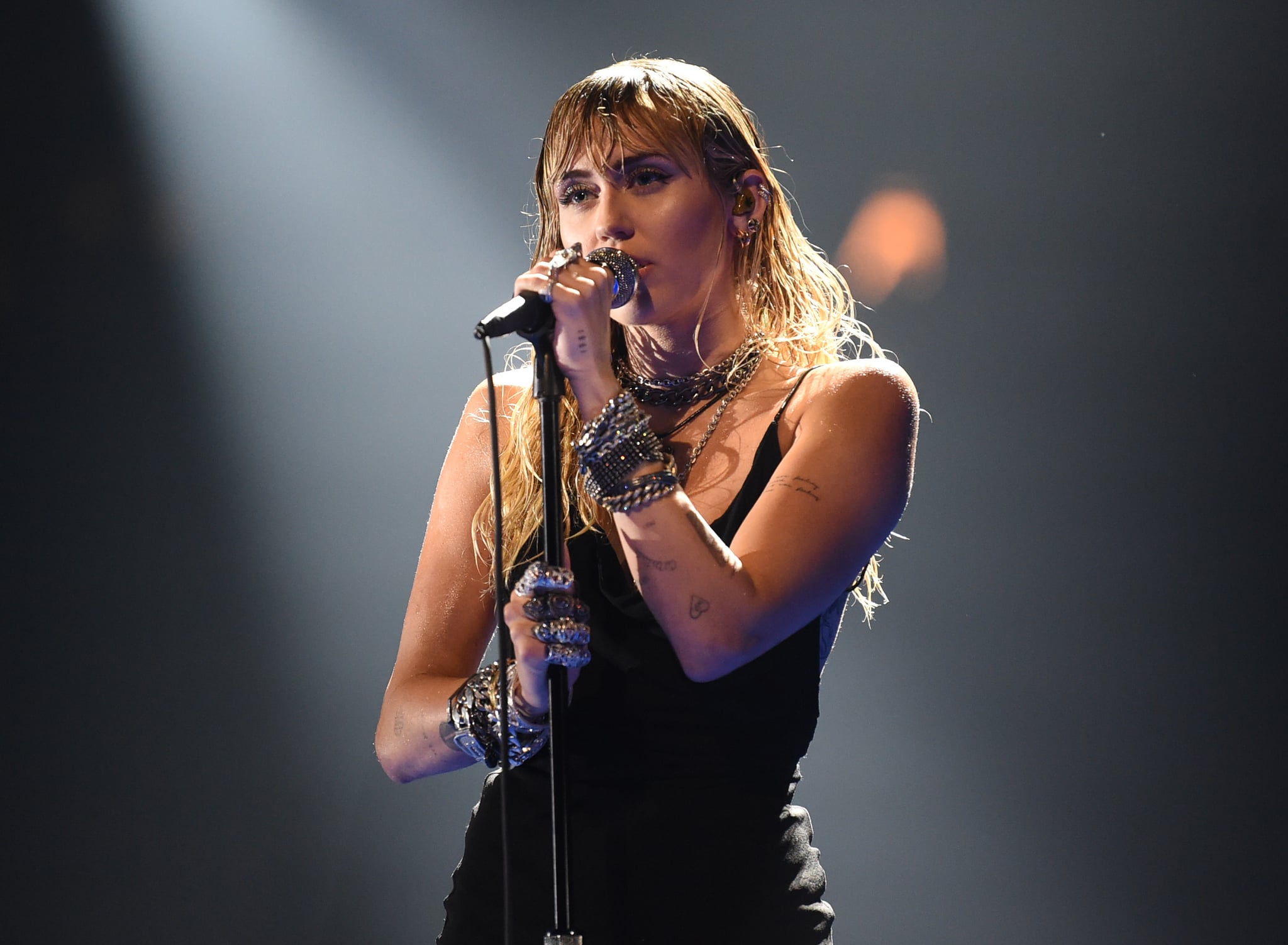 Miley Cyrus is back with new music! On Thursday night, the 27-year-old singer dropped an empowering anthem called "Midnight Sky," which is all about embracing the single life. In the first verse, Cyrus sings about feeling tied up by a relationship, before stating that she's going down a different path. "I was born to run, I don't belong to anyone, oh no / I don't need to be loved by you," she sings in the chorus.
Seeing that the song dropped just a few hours after it was announced that Cyrus split from boyfriend Cody Simpson, it didn't take long for people to make assumptions about who the song is about. As the song progresses, the lyrics seem to chronologize her dating life after splitting from ex-husband Liam Hemsworth in October 2019. In the song's chorus she sings, "See his hands 'round my waist, thought you'd never be replaced, baby," which seemingly references her 10-month romance with Simpson.
However, Cyrus adds that the song is about much more than relationships. During an interview with SiriusXM Hits 1, the singer explained that her sobriety actually inspired her new song. "One thing I have grown into is that when I feel one thing is right for me never preach that it's right for everybody else," she said. "You just definitely want to feel like you are just in control of your own life and not trying to control anyone else's. So for me to be able to really have a good, clear understanding of the last two years, which there was some traumatic experiences — losing the house in Malibu and going through a really public breakup — I think I just really needed some clarity."
"So it was just really important to me to be able to like really sit with my thoughts," she continued. "And I think one thing that's been really cool about this time that we've all had is, I think originally we all started literally cleaning house. And then once you couldn't do that anymore, you had to go into your own self and start cleaning out what you've been holding onto for too long — things that belong to you, and things that don't, and things that no longer serve you. And that was really, really healthy for me."
"If you claimed something to be forever and you fail, then you're a failure. And I just don't think that."
She added that she feels the song is about her stigma with the word "forever" and how not all relationships are meant to last. "That 'forever,' if it's not successful or if you claimed something to be forever and you fail, then you're a failure. And I just don't think that. I think we're kind of set up for devastation — in that, from the time we're little kids, we're taught to claim other humans as our best friends forever. And you just don't know who you're going to be sitting with here right now. You never know who you're going to evolve to be and who they're going to evolve to be. So I think that we, especially as women in relationships, a lot of the time we can get villainized when 'forever' doesn't happen. And I think that you're just really setting yourself up to kind of be disappointed — and not from a bitter or resentful way, but from a realistic and logical standpoint, especially in modern society."
Click here for more entertainment news, features, and interviews.
Image Source: Getty / Jamie McCarthy/VMN19