Storm Reid Interview on Children Mending Hearts August 2019
How Euphoria's Storm Reid Is Inspiring Positive Change: "Listen to Our Young People"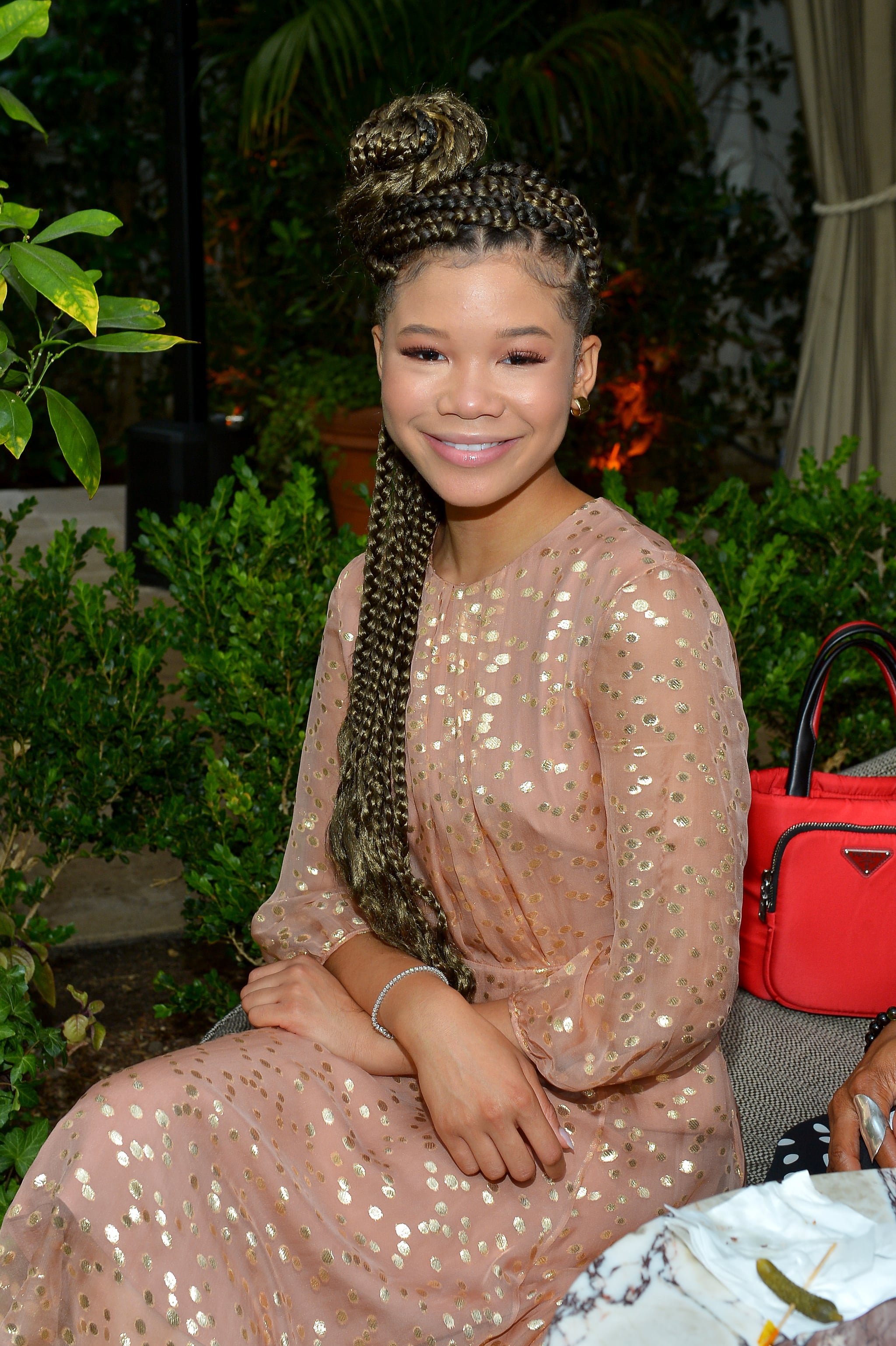 Several young celebrities are making it their mission to inspire positive change in the world, and 16-year-old actress Storm Reid is certainly one of them. The Atlanta native has helped cultivate important conversations about topics such as addiction, race, and familial relationships through her roles in HBO's Euphoria and Netflix's When They See Us, as well as 2018's A Wrinkle in Time. But her efforts to make an impact go beyond acting, as the rising talent is making moves off the screen to support social causes.
Storm recently became an educational ambassador for Children Mending Hearts, a nonprofit organization that aims to end bullying by encouraging kids to express themselves and practice empathy through service-learning programs. The organization's latest initiative involves young fans submitting videos that show how they're doing good in their communities. During the upcoming school year, Storm will pick some of her favorite clips, and at the end of it, she'll choose one lucky winner to be flown out to LA for a meet and greet with her.
While chatting with POPSUGAR earlier this Summer, Storm opened up about her undertaking and why she's thrilled to be a part of Children Mending Hearts. "I can't wait to see the ideas that [the children] have because it is important to listen to our young people and our generation," she said. "Sometimes we feel neglected and feel as though older people are not listening to us. So to listen to them and try to make a change with them is important to me. I'm excited to be a part of such an amazing organization."
One of the reasons the organization tapped Storm as an educational ambassador was because of what she's already accomplished through her #Bamazing campaign, which she launched in 2018 with the help of her mom, Robyn Simpson. Storm used #Bamazing to uplift fans and promote self-love through social media. "It's empowering young people — specifically, young girls — through positive self-declarations," she said. "They are worthy of being seen and being heard. They can be perfectly imperfect. There are young people who feel like they have to conform to what society wants them to be or how society wants them to look, and we just want to let them know that they can be themselves."
Because Children Mending Hearts focuses on putting a stop to bullying, Storm believes that teaming up with the organization is a great way to synthesize its mission with her goal of championing confidence. "I've never been a person to not stand up for what I believe in, and this is a way to stand up for people," she continued. "I'm telling you that you can be amazing and that you are perfect just the way you are, but also educating young people about bullying and how they can prevent it or how they can help themselves."
"Create and consume pieces of art that evoke a conversation and that have an impact on a global scale."
In addition to citing Euphoria castmate Zendaya and Grown-ish star Yara Shahidi as two of her inspirations, Storm went on to share that she practices what she preaches in her own life by doing things as simple as telling her social media followers to have a good day, posting dance videos, or sharing fun moments. This allows her to "combat the darkness" that permeates the internet and bring some light into people's lives.
And that light will continue to shine brightly through Storm's work, as she plans to keep pushing for social betterment. "The ACLU covers a lot, so I would love to touch on women's rights, immigration rights, and equal rights for African Americans," she said. Although those are tough issues to tackle, the actress is ready to do what she can to help — something she advises every young hopeful to do. "Keep on going, whether you want to go to the moon one day or be in the entertainment industry," she said. "Create and consume pieces of art that evoke a conversation and that have an impact on a global scale. It may sound hard, but if you have that goal, you'll be able to do it with the resources. And be a good person; that will get you to where you need to go."