The resurgence of '90s trends [1] has made us so thrilled, it seems, that we're not interested in letting the decade go when it comes to getting dressed. While recent seasons have given rise to '80s influence [2], too (hello, neon shades and kitschy heart earrings!), these days, we seem to be combining some of our favorite old-school styles for a look that's vintage, plain and simple. But if you want to know which silhouettes, denim washes, accessories, and iconic moments actually date back to the '90s, we gathered the most prominent answers ahead. You'll find a mix of original examples and modern-day twists, so buckle up in your time machine and let the inspiration take hold. Everything you see here is still to-tal-ly cool.
Versace Girls
Back in the '90s, it was all about Gianni Versace's bold prints, curve-hugging dresses, and supermodel magnet status. He had all the A-list catwalkers, from Claudia to Carla to Karen.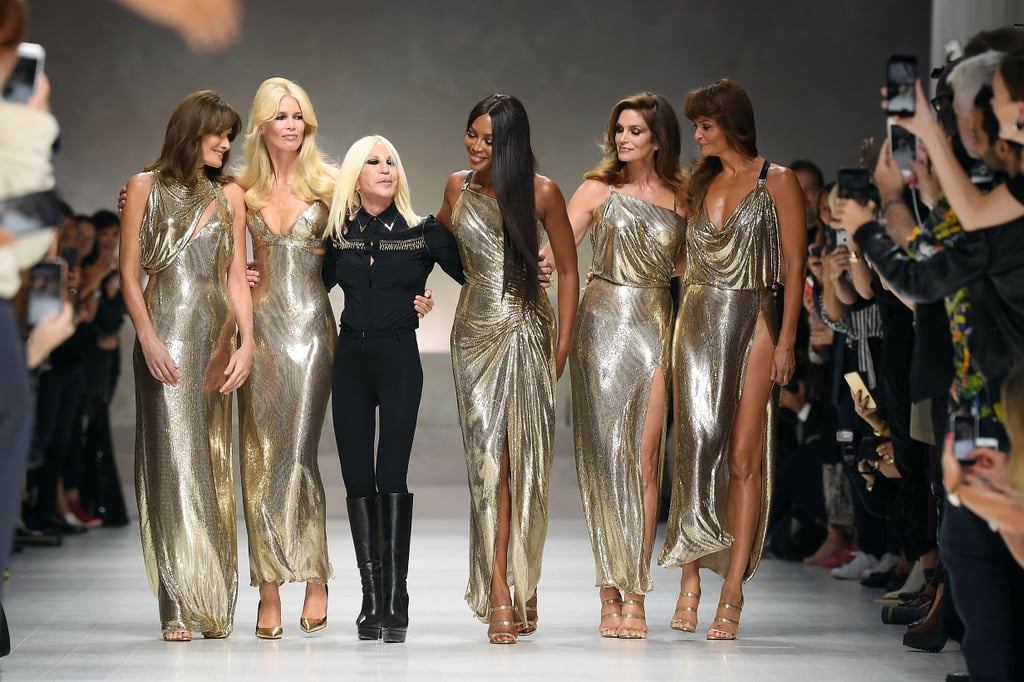 Donatella Versace brought back the iconic supermodels [3] who walked the Versace runway in the '90s with her Spring 2018 collection. Cindy Crawford [4], Naomi Campbell [5], Claudia Schiffer, Helena Christensen [6], and Carla Bruni were all in attendance for the major moment.
And now, it's a BIG deal to be included on the runway. Even Emily Ratajkowski walked for Spring 2019 [7] in a slinky LBD. And, Kaia Gerber is following in her mom's footsteps [8] with Versace appearances, too.
Fanny Packs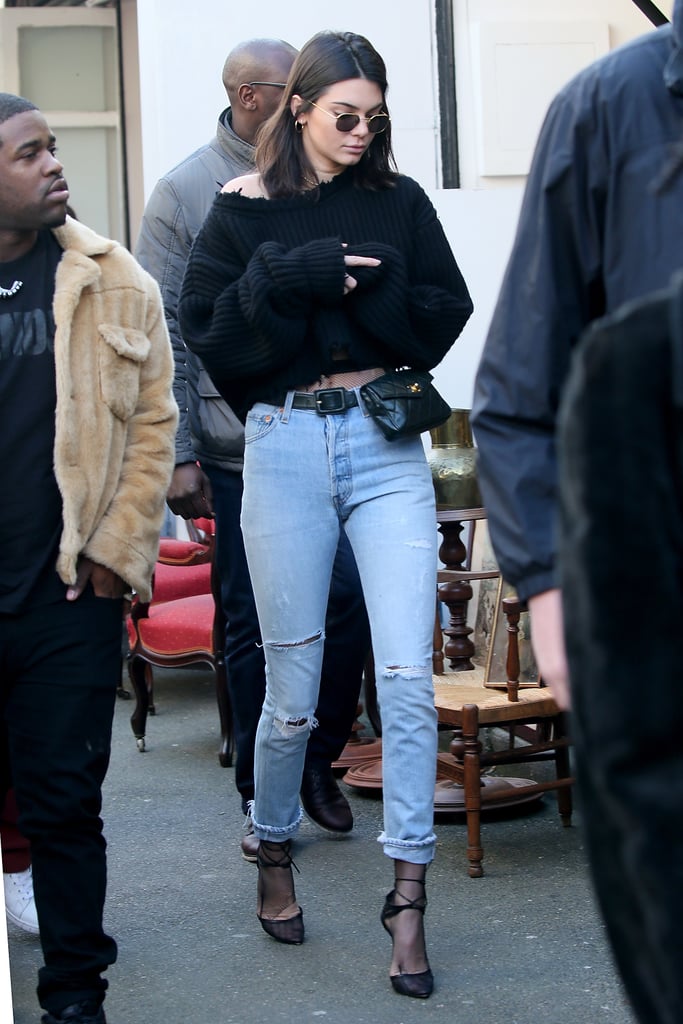 Kendall styled her Chanel waist bag with fishnet tights [9] and an off-the-shoulder sweater in Paris. These are all over the street, and Kendall happens to be a big fan [10]. Women are even swinging them over the shoulder.
Chokers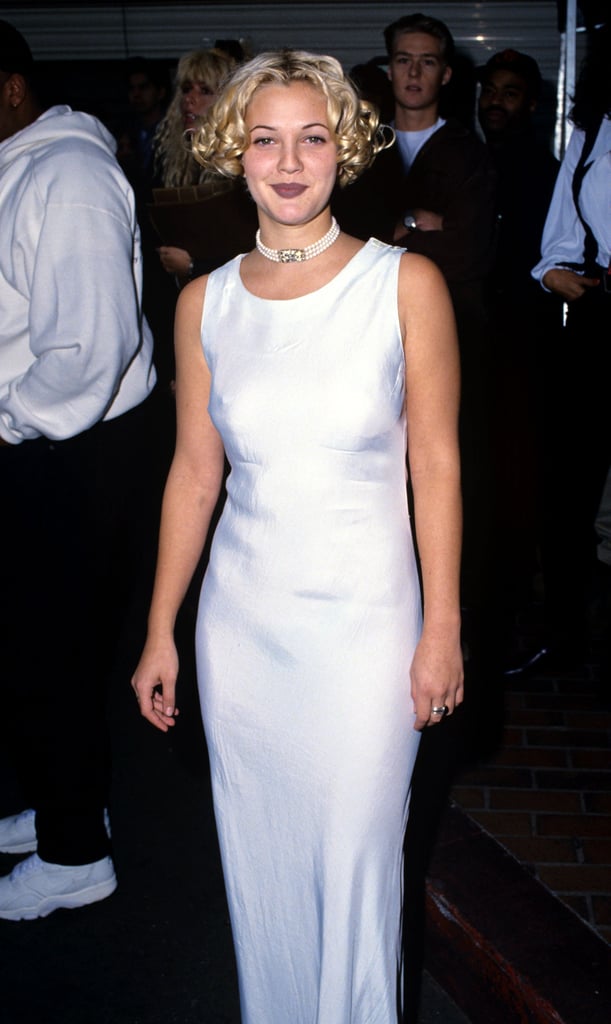 Like Drew Barrymore [11], seen here in 1993, we were way into our choker necklaces.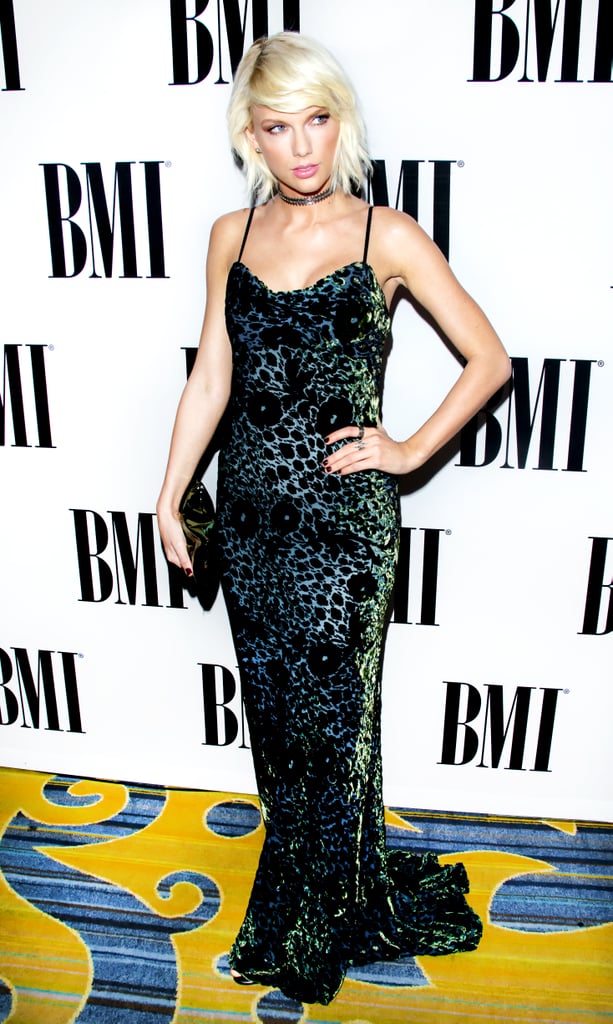 Taylor Swift [12] is one of the women today who can't get enough. While we've retired the more casual stretch chokers, incorporating them into red carpet style is becoming the norm.
High-Waisted Jeans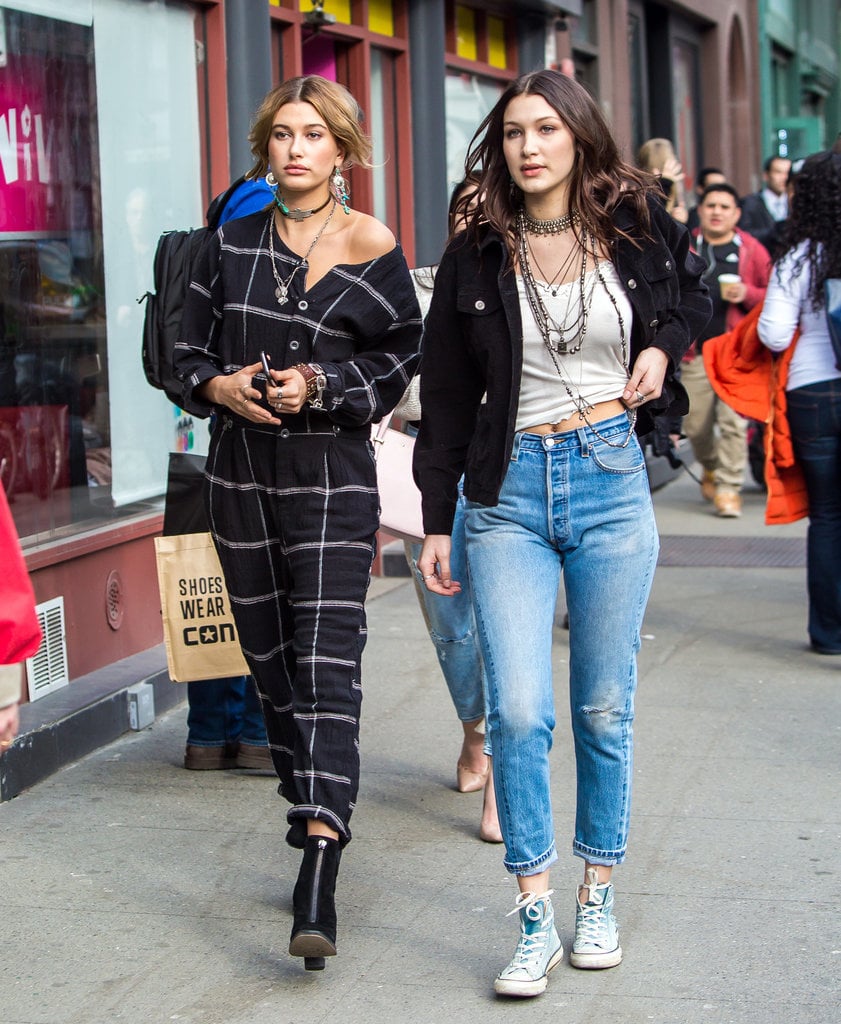 Today's high-waisted styles have some fit improvements over their predecessors from the '90s. We've come along way, after all, and it's safe to say we learned our lessons (mainly, pay attention to back-pocket placement). Toss out super-low-rise fits, and try today's version of the mom jeans [13].
Calvin Klein Jeans Ads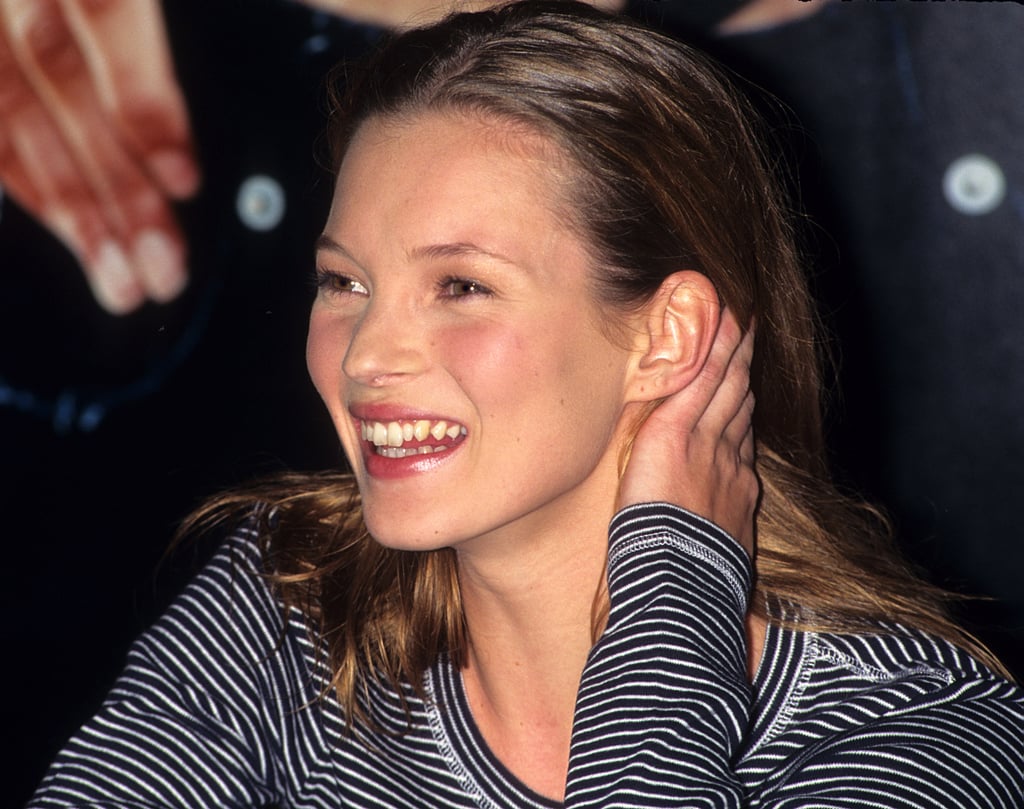 The ads for Calvin Klein Jeans launched Kate Moss [14]'s international career in the early '90s. Soon enough, his racy black-and-white commercials gave way to the "heroin-chic" runway phenomenon. Now, the Kardashian-Jenner clan stars [15] in the brand's 2018 campaign, which is still just as iconic.
Scrunchies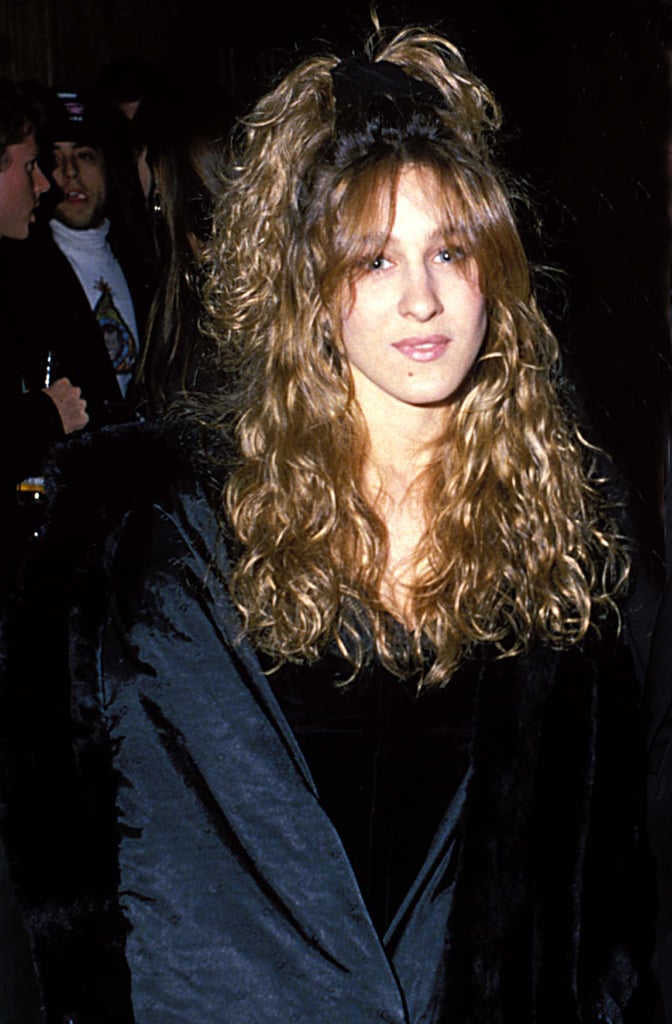 For some of us, one scrunchie just wasn't enough. They also looked great when worn as an impromptu bracelet. Selena Gomez has been wearing hers [16] with romantic wrap dresses, and Hailey Baldwin even styled one [17] with a bikini.
Reebok
The sneaker brand is just as popular to collect from now as it was in the '90s. Today, Gigi Hadid is one of the faces of the brand's empowering campaigns [18].
Mini Backpacks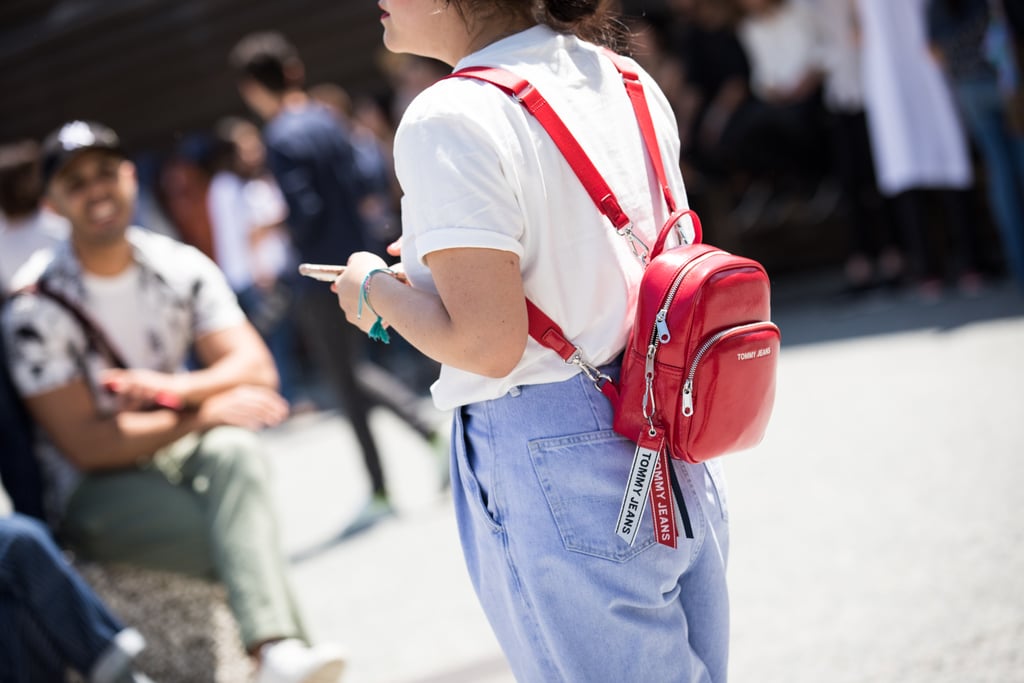 In the '90s, we were collecting these in iridescent colorways (remember Lisa Frank?). Bold pops of color like cherry red are still a popular way to rock this trend.
Denim Overalls
You better believe women are still wearing their overalls, rolled and cuffed to show off a flashy pair of sandals.
Vests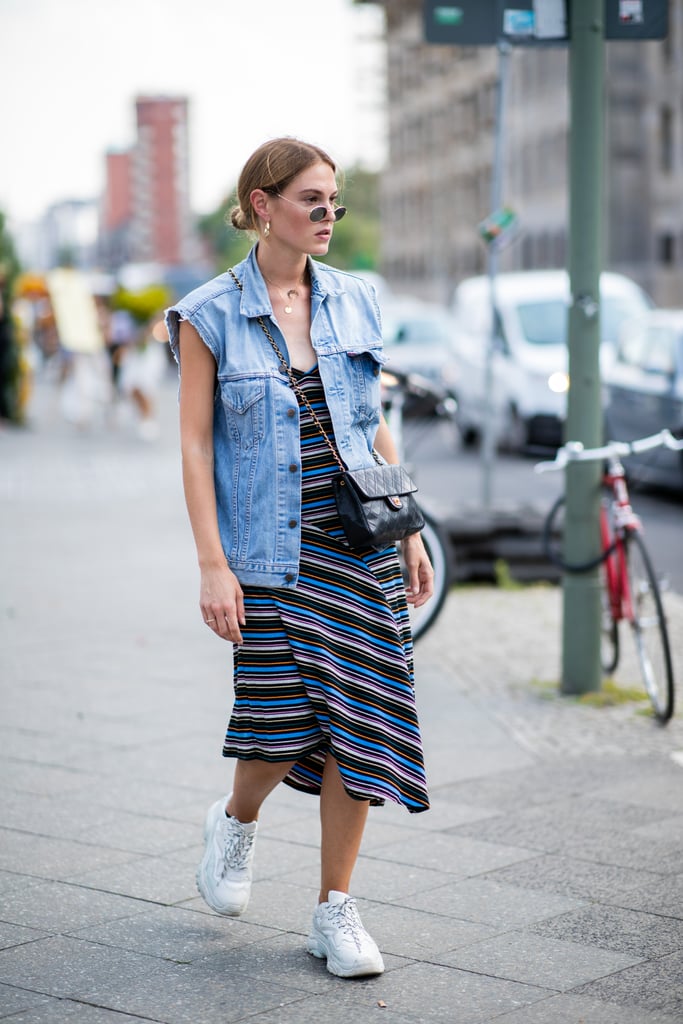 Oversize denim vests help achieve a certain type of grunge, even when worn with flowy maxi dresses and sneakers.
Stirrups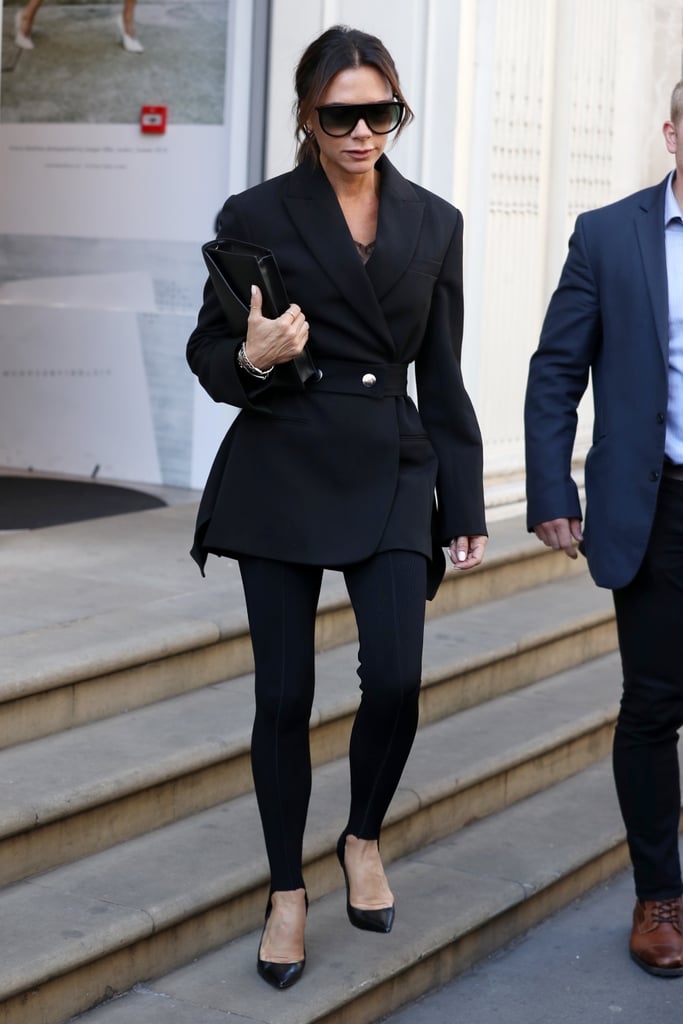 Victoria Beckham [19] is one of the trend's biggest supporters. She incorporated her stirrup pants into a crisply tailored suit while out in London.
Dr. Martens
Whether worn in combat boot form [20] or loafer-style, these ground out menswear-inspired looks and feminine dresses alike.
Cher Horowitz Plaid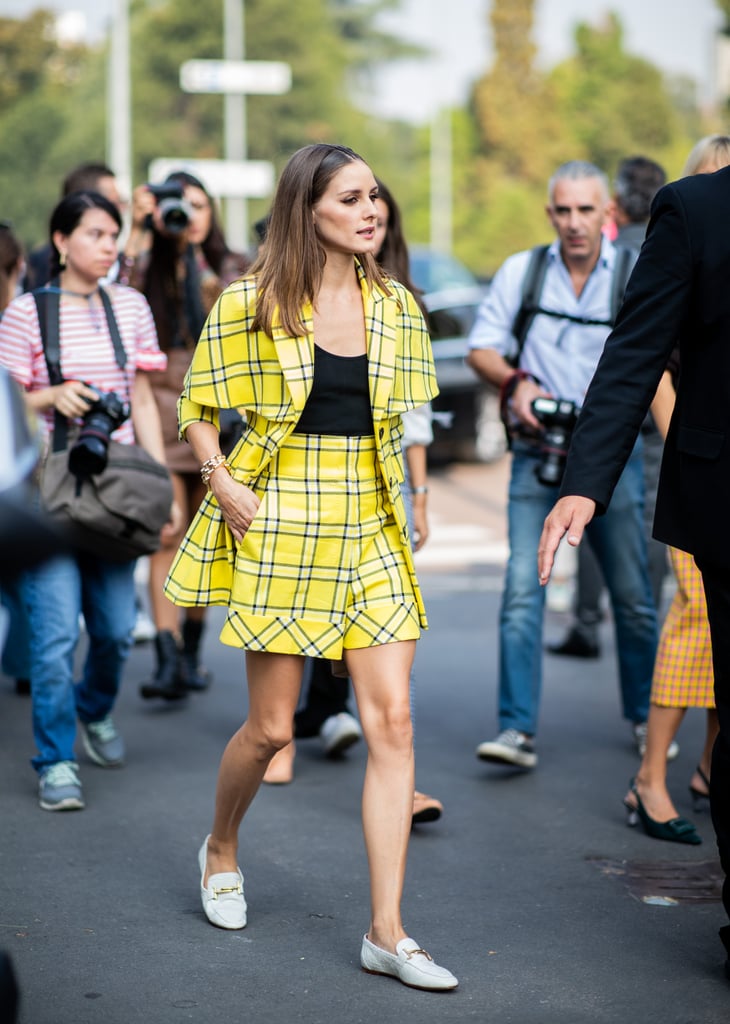 The iconic yellow pattern is everywhere [21] — Target even got on board with a new collection [22]! Olivia Palermo sported her own take on the trend in Milan.
Chunky Platform Sandals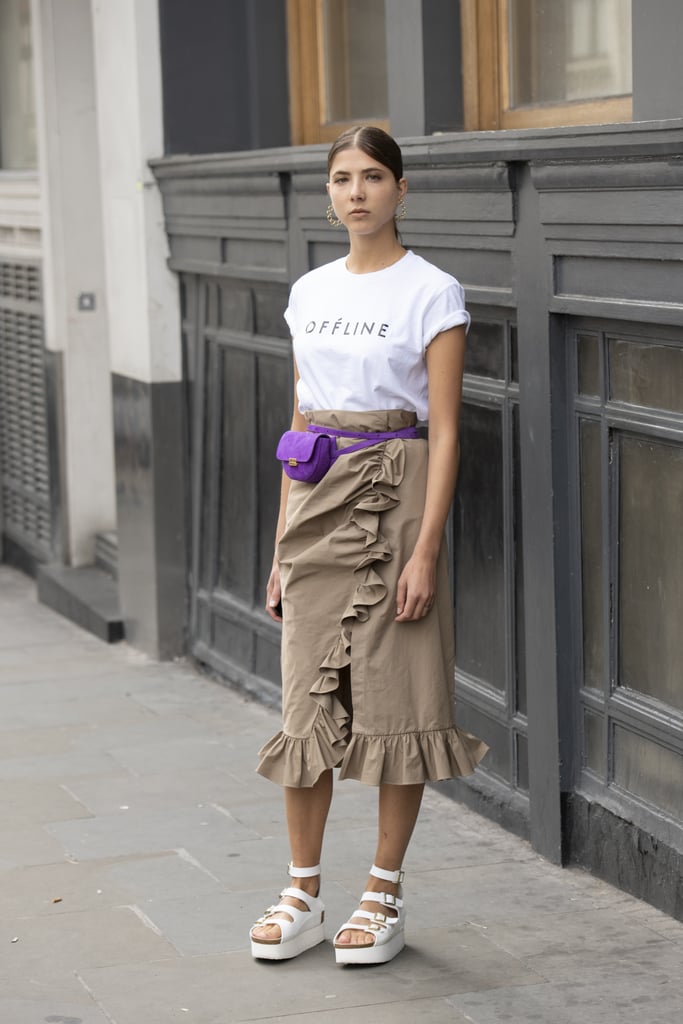 Combine multiple trends and opt for a style with Birkenstock-like buckles. Worn with a graphic tee, the look is "so '90s."
Tracksuit Street Style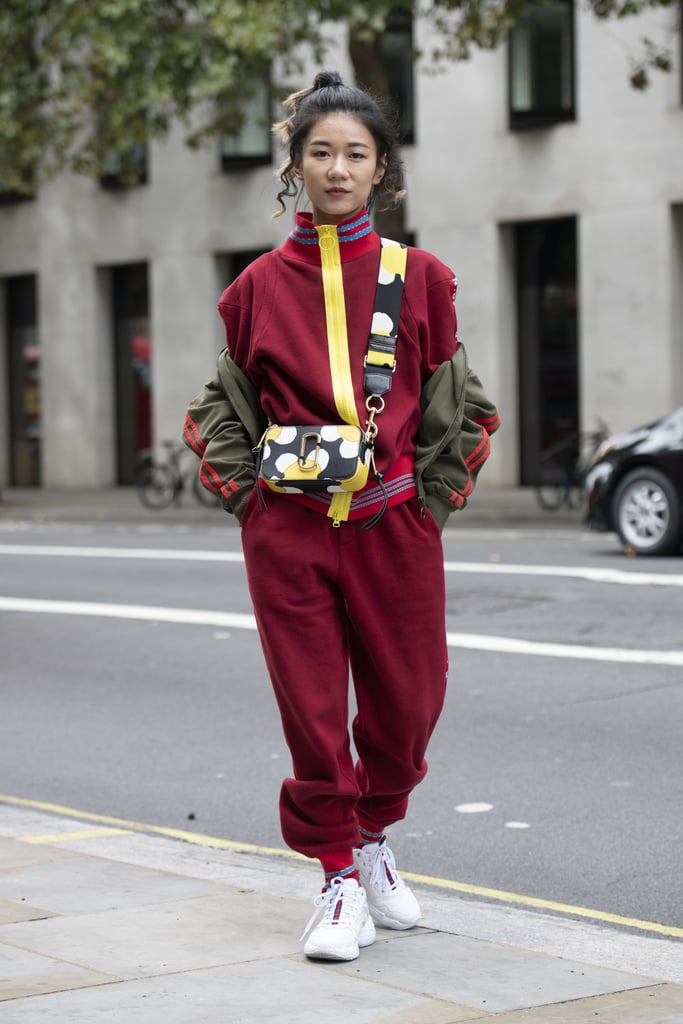 Because tracksuits aren't only for the gym.
Shoulder Pads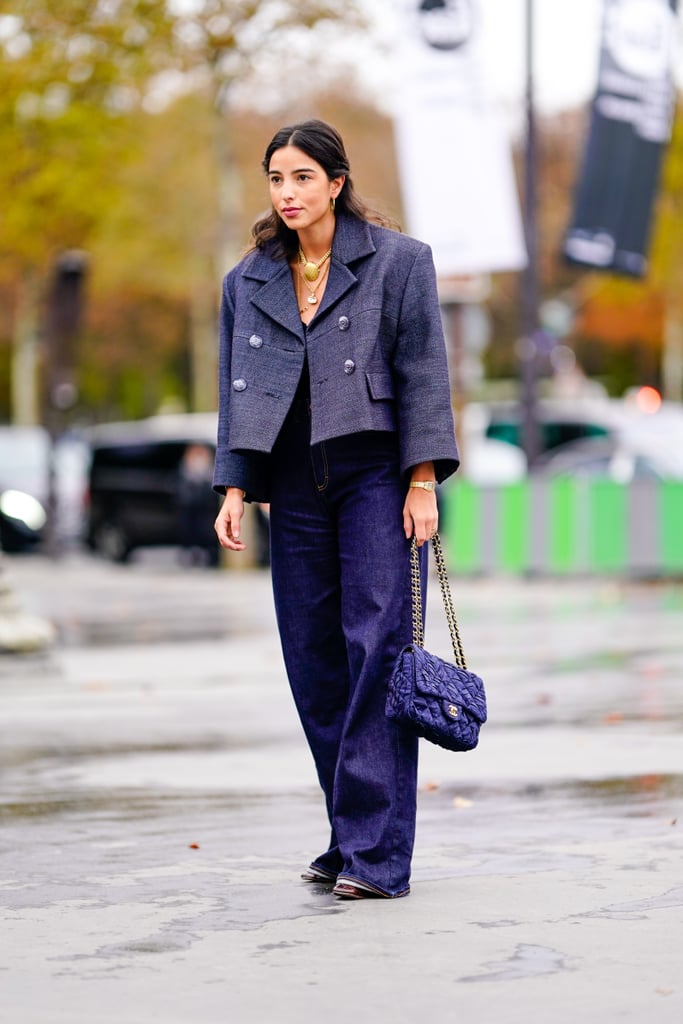 While the shoulder pad blazer rose to popularity in the '80s, the waist was often cinched with a belt to really define the figure. In the '90s, these cropped styles completed skirt suits, and the look is cool with relaxed jeans these days.
Knee Socks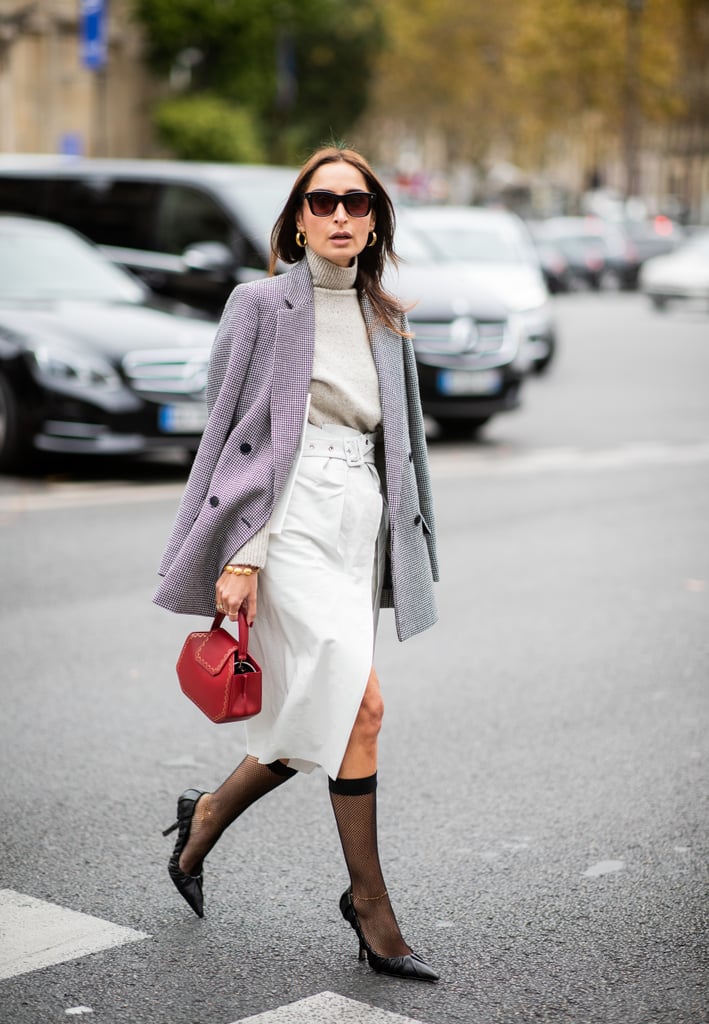 Selena Gomez sported the look with the Fendi logo [23], but we're seeing stockings and heels or stockings and sandals complete slitted skirts. There's major sex appeal here!
Corduroy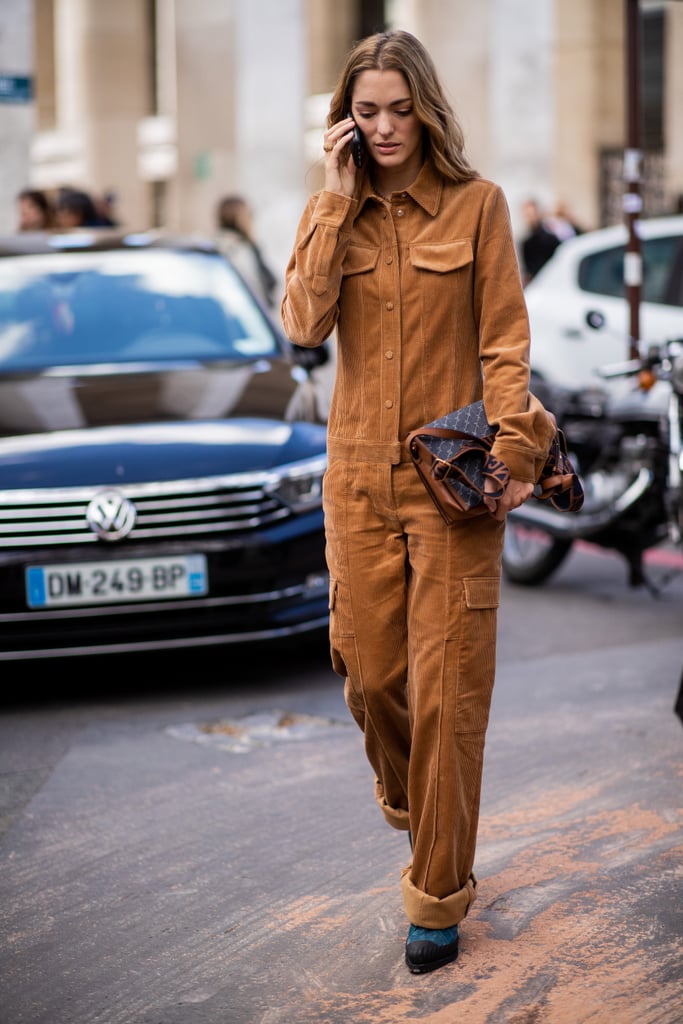 Invest in the fabric in boiler suit form [24], and you'll really be on trend.
Ruched Crop Tops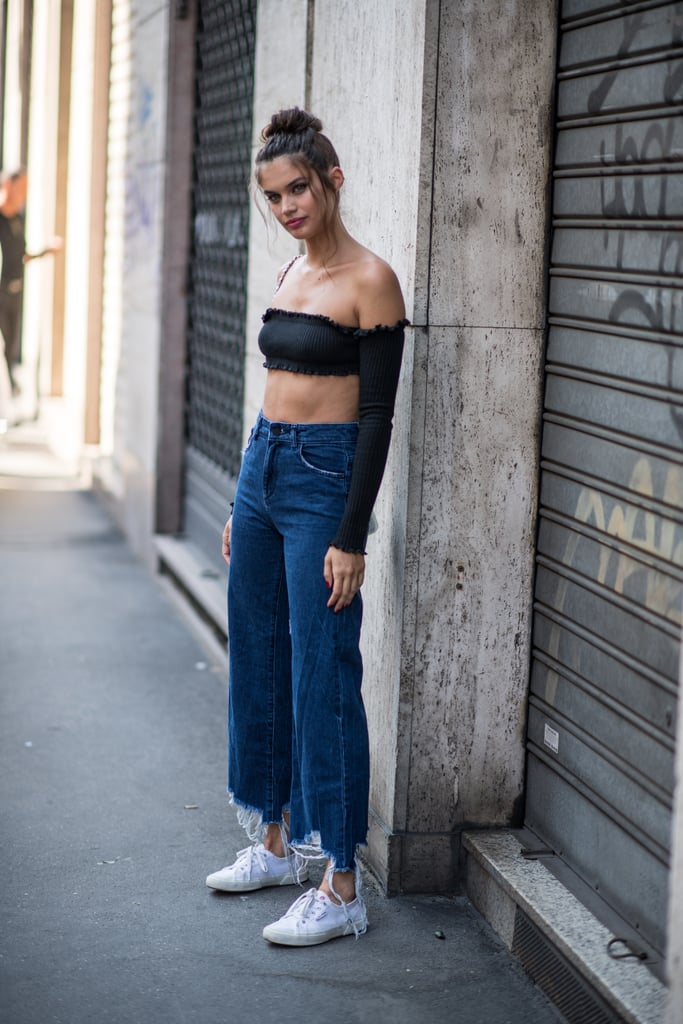 Sara Sampaio showed a sleeved version off on the streets of Milan, complete with denim and low-top sneakers.
"Friendship" Jewelry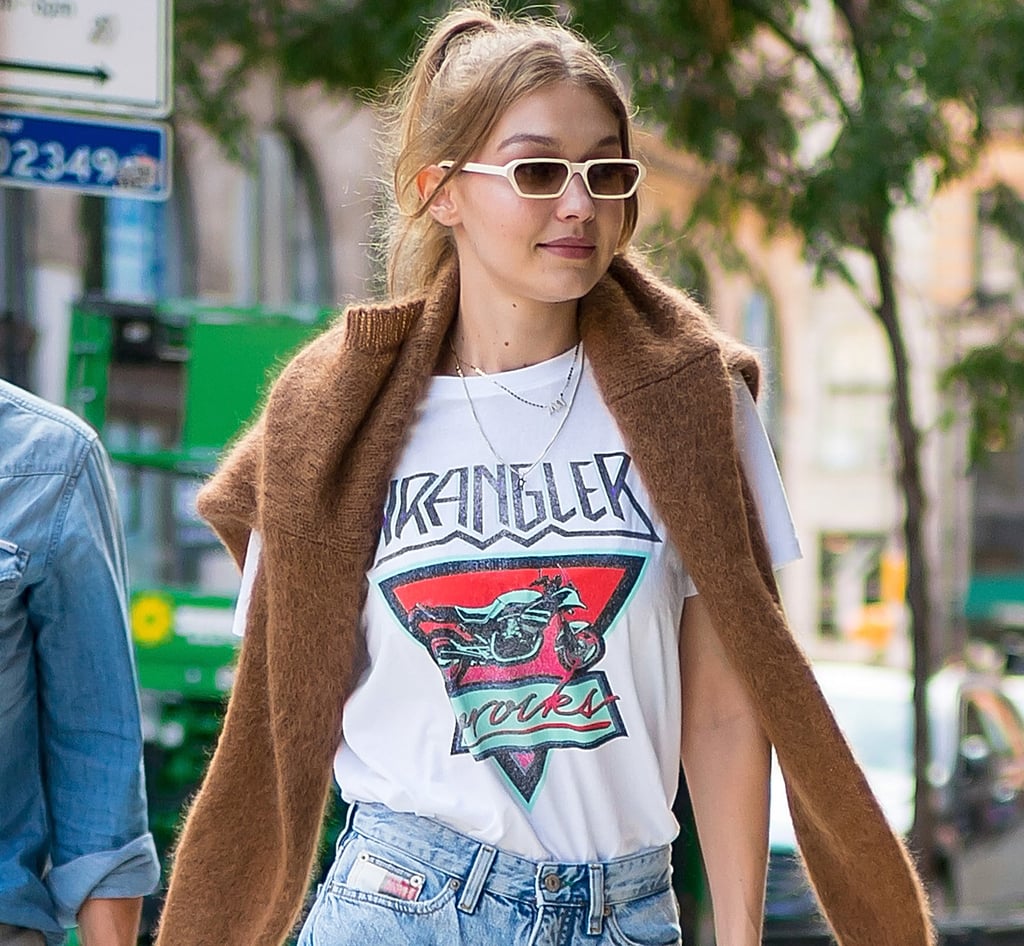 Gigi Hadid's been wearing her "Zayn" necklace [25] to flaunt her love for her boo. You'll find tons of "BFF" hardware at your favorite jewelry retailers too.
Mom Shorts
Kendall has been wearing her distressed mom shorts [26] in typical '90s fashion: with a fitted tee or oversize plaid blazer. But, adding Western Fendi boots is the more modern touch.