When you're thinking about what to wear on a flight, comfort is obviously the first thing to consider. But that doesn't necessarily mean you have to sacrifice your personal style. After all, they don't call it a runway for nothing. Thanks to the celebrities who know they'll be photographed on their way through LAX or London Heathrow, "airport fashion" has become a huge thing, and while some of the A-list looks are probably best left to those who fly first class, you can borrow plenty of tricks from Hollywood's frequent fliers. Whether it's dressing up your ath-leisure look with designer accessories or braving the terminal in your highest heels, these stars make sure they arrive at their destination in style. Keep reading for 50 looks you can copy next time you're headed to the airport.
Rania Fawaz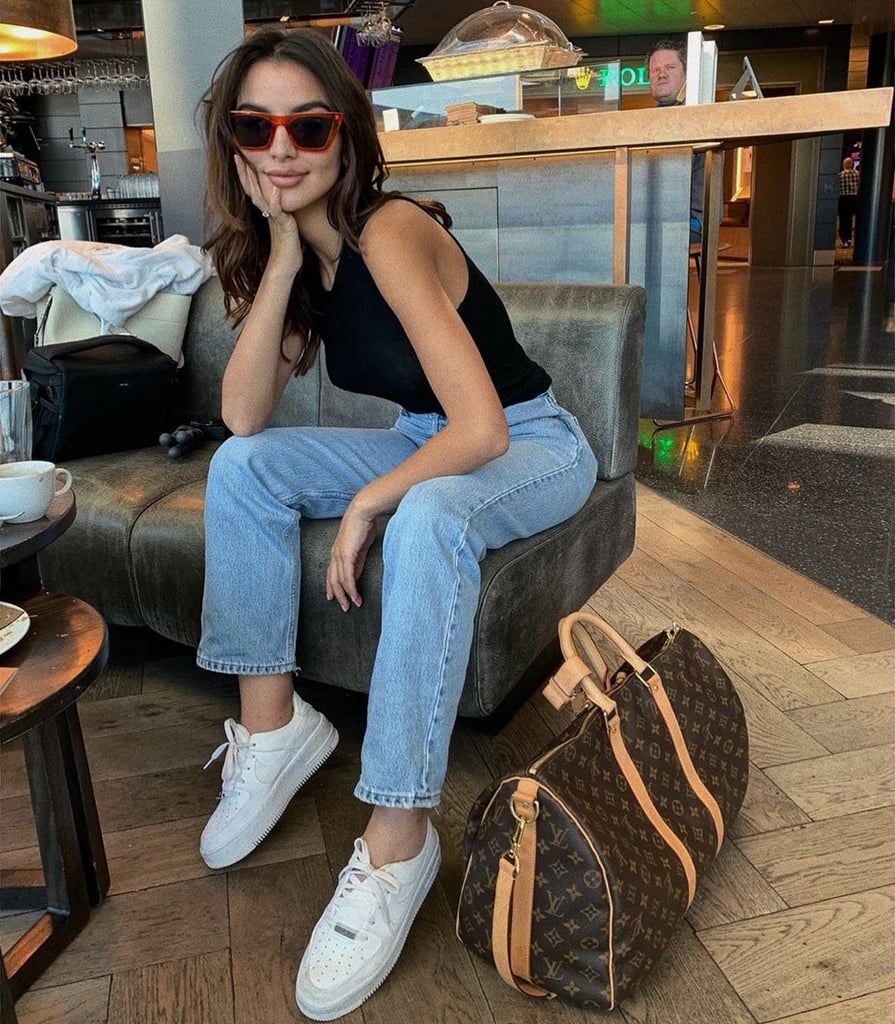 Rania's simple ensemble of a pair of jeans with her black tee topped off with some unique shades is the perfect combo of comfy and stylish.
Ola Farahat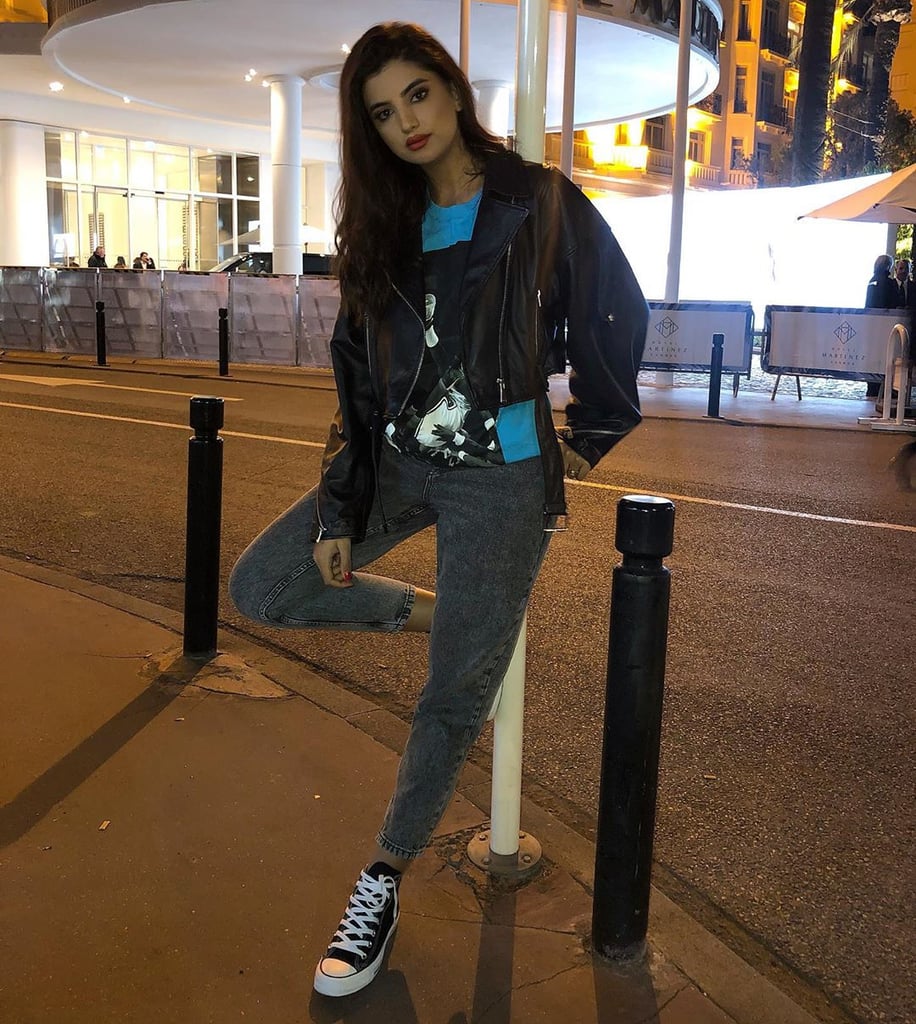 Rocker chic? We love. The fact that Dubai-based influencer Ola Farahat opted for the attire for a flight? We love, love.
Mona Kattan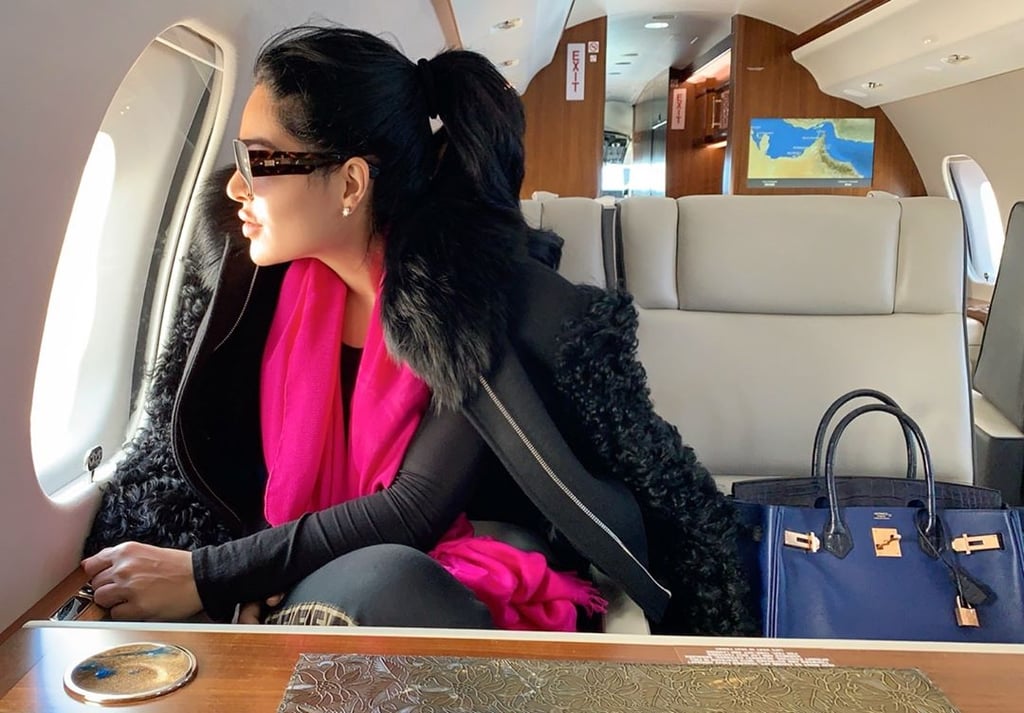 Mona paired her fluffy jacket with a stunning pink scarf, that we jus can't take our eyes off of.
Lana El Sahely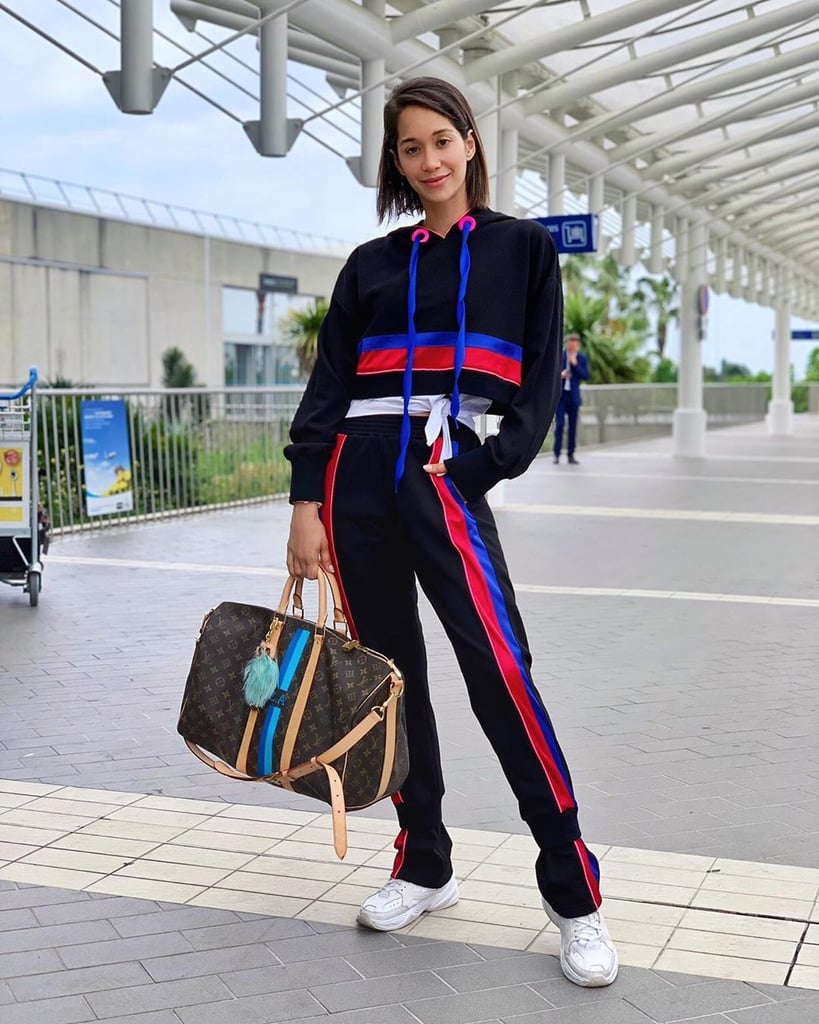 Stripes are the black and, Lana's outfit is the perfect example of how to do it right.
Nancy Ajram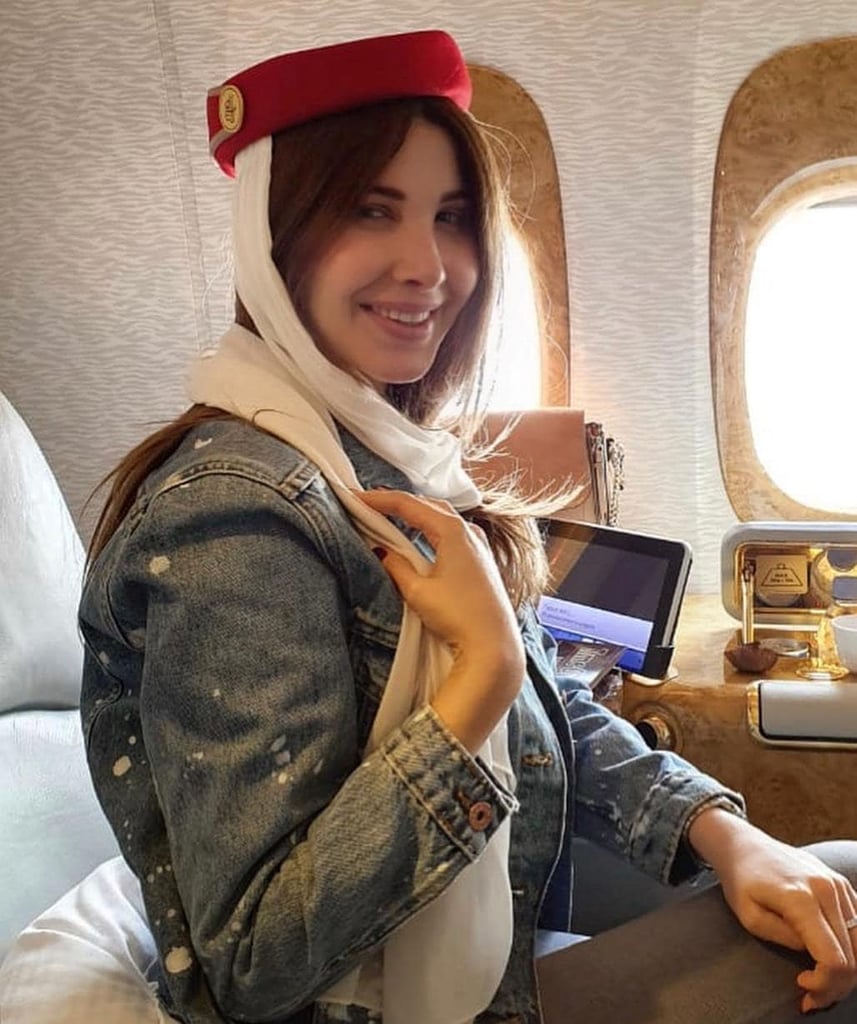 Lebanese singer Nancy Ajram frequently opts for denim during her travels - and, we can't blame her. It's both comfy and sensible. Also, how cute is that hat? We want it.
Jessica Alba
Never considered velvet for travel before? Let Jessica persuade you. After all, it's soft, silky, and incredibly cozy.
Kate Hudson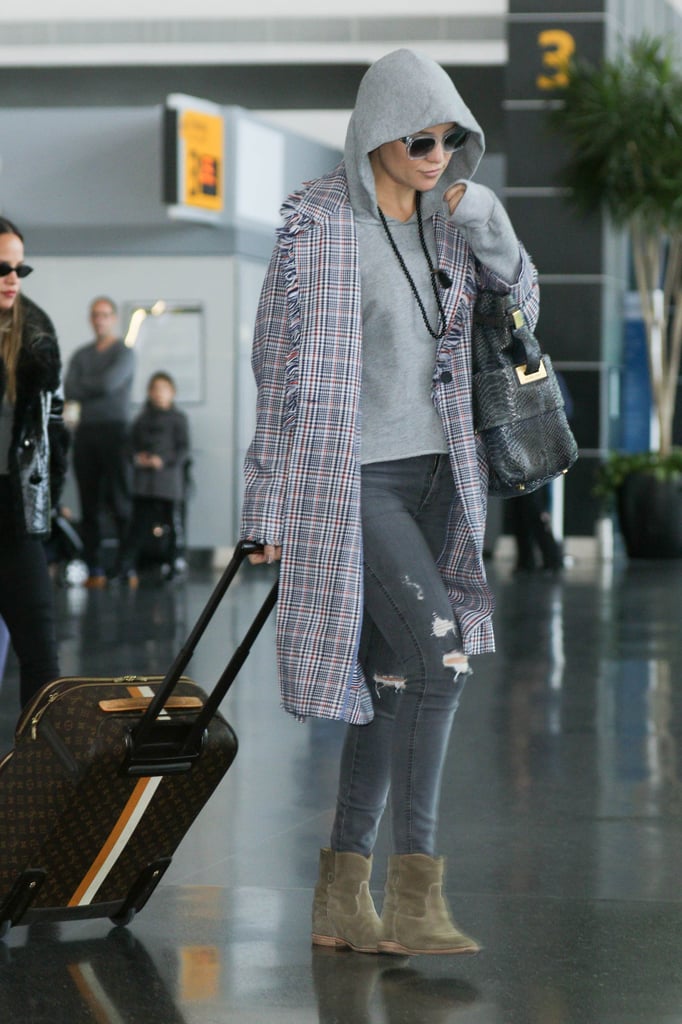 In cold weather, layer your outerwear for an outfit that feels as cozy as it looks. A hoodie is totally appropriate at the airport.
Priyanka Chopra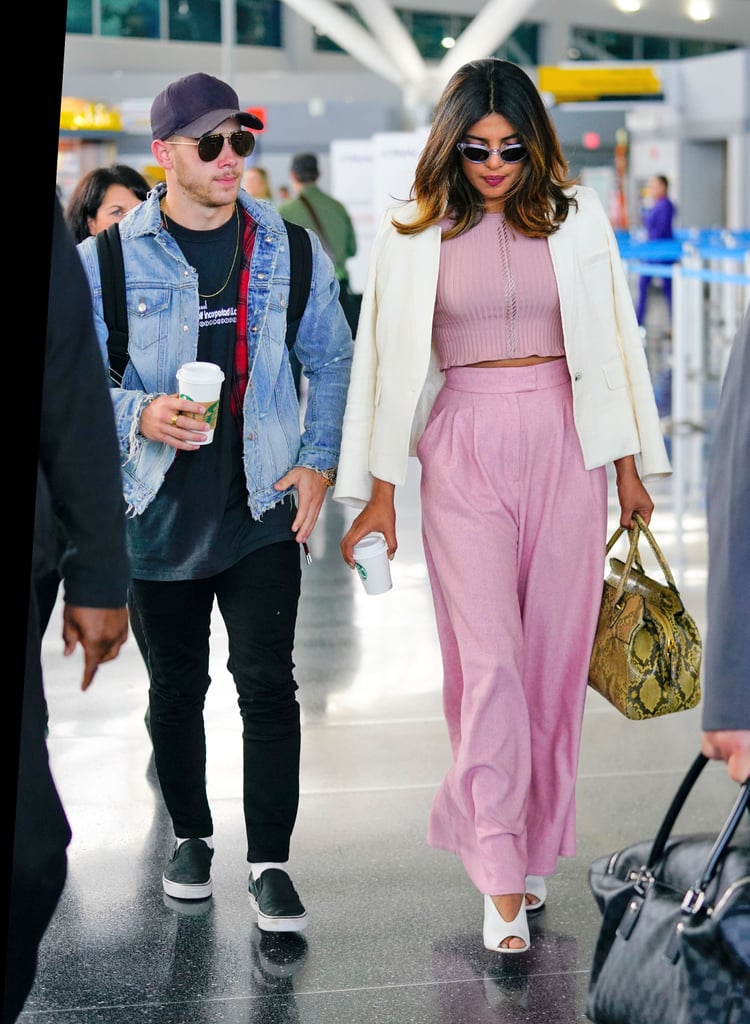 Priyanka's bubblegum-pink co-ord and white jacket may look high maintenance, but her loose, high-waisted pants are probably really comfy on long flights. Those white mules, not so much, but this outfit would look just as good with your old faithful Adidas Stan Smiths.
Lupita Nyong'o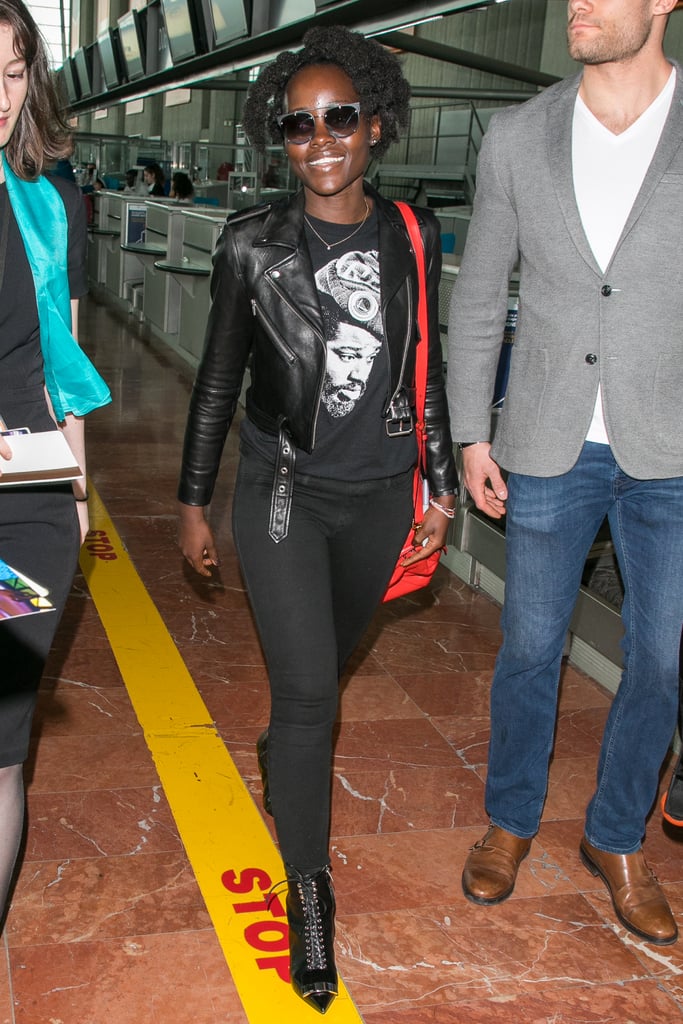 Lupita opted for the tried-and-true airport combo of skinny jeans and a leather jacket but took it to the next level with lace-up booties and statement sunglasses.
Sienna Miller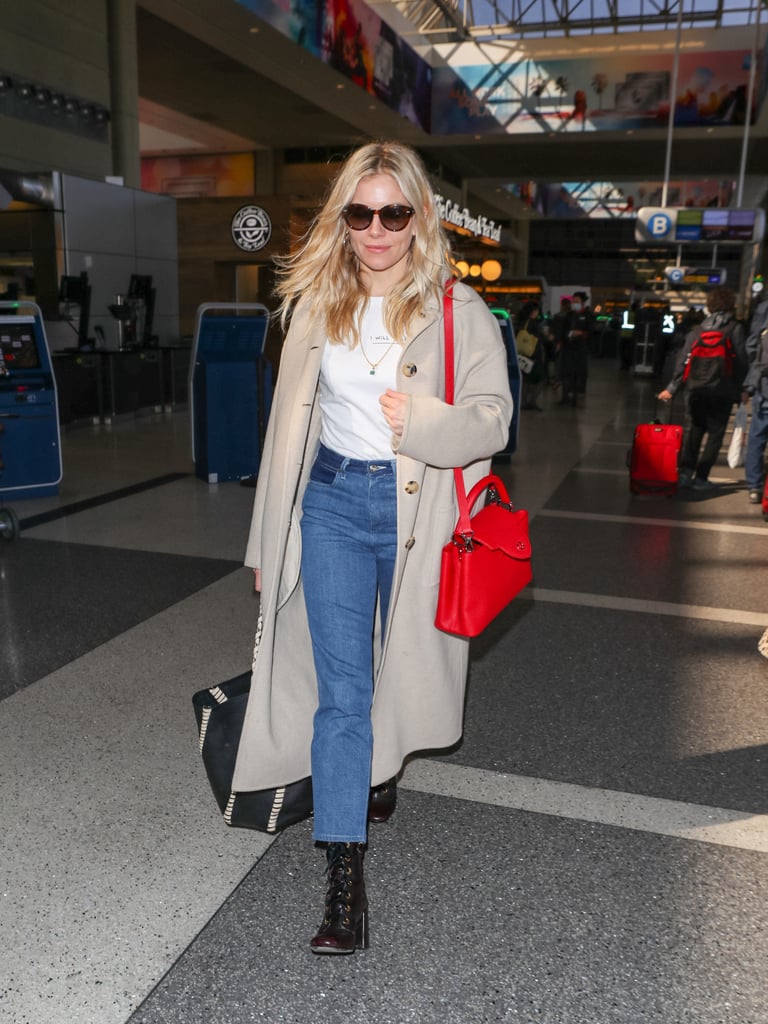 Sienna hot footed it through the airport in lace-up, heeled boots, a trench coat, and a statement handbag. Sometimes the classics are all you need.
Rosie Huntington-Whiteley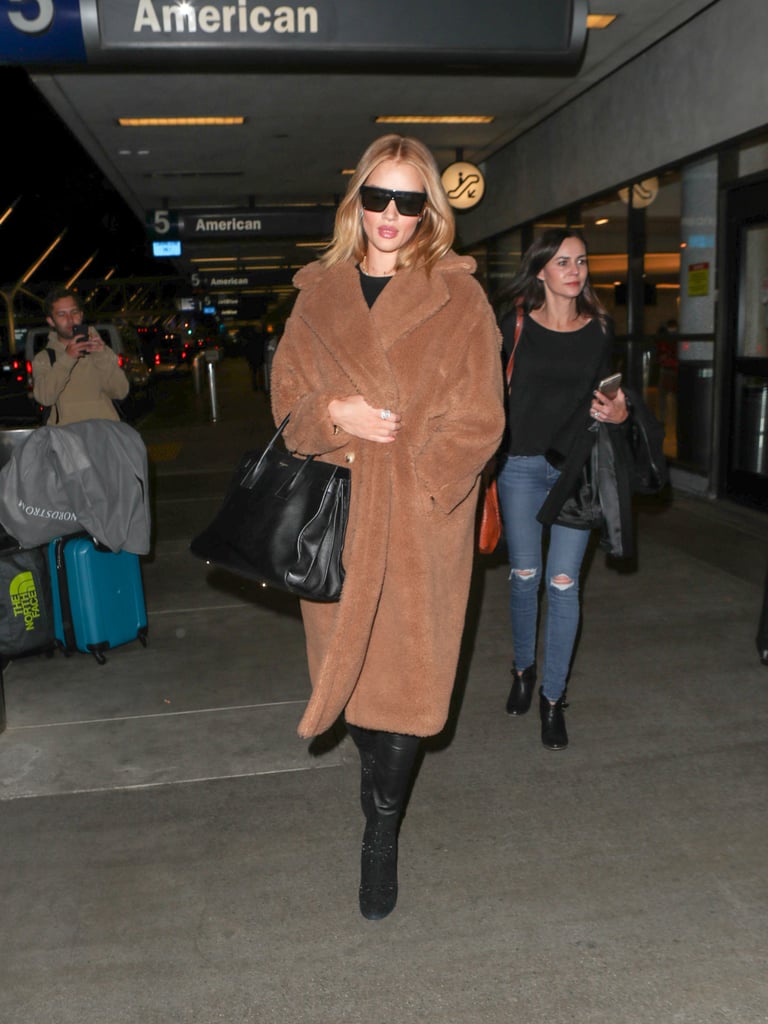 If you're traveling to a place of cold clime, there is nothing better than a giant, cozy teddy bear coat. Just add designer accessories for that "first class" touch.
Kate Bosworth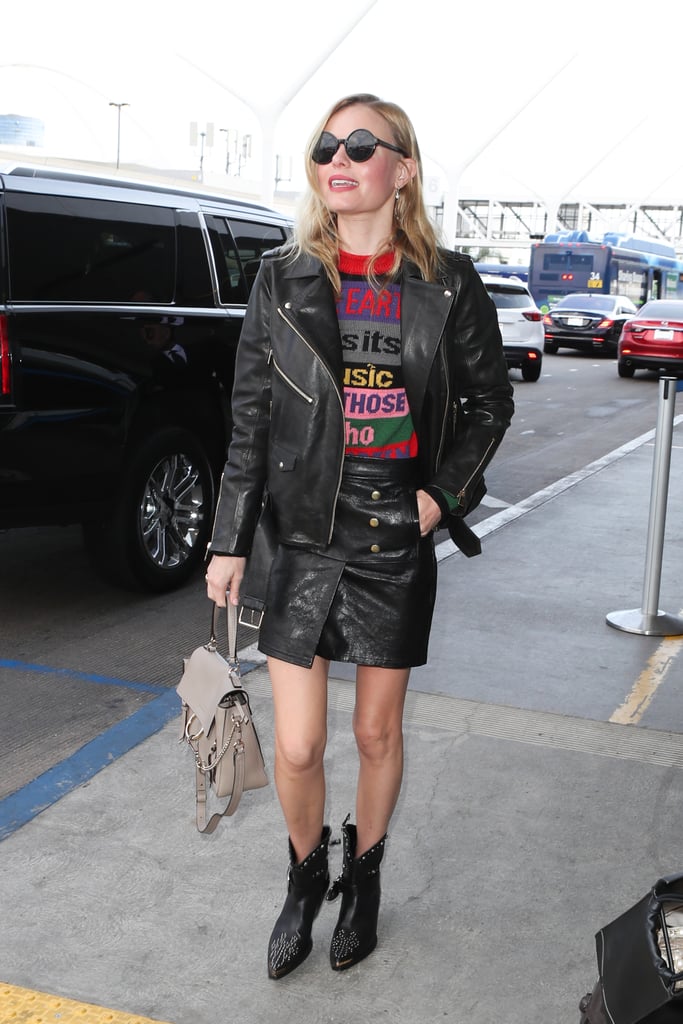 Leather is warm, practical, and rarely creasing, making it perfect for flights. Layer yours over a statement knit for an extra layer of in-flight warmth.
Cate Blanchett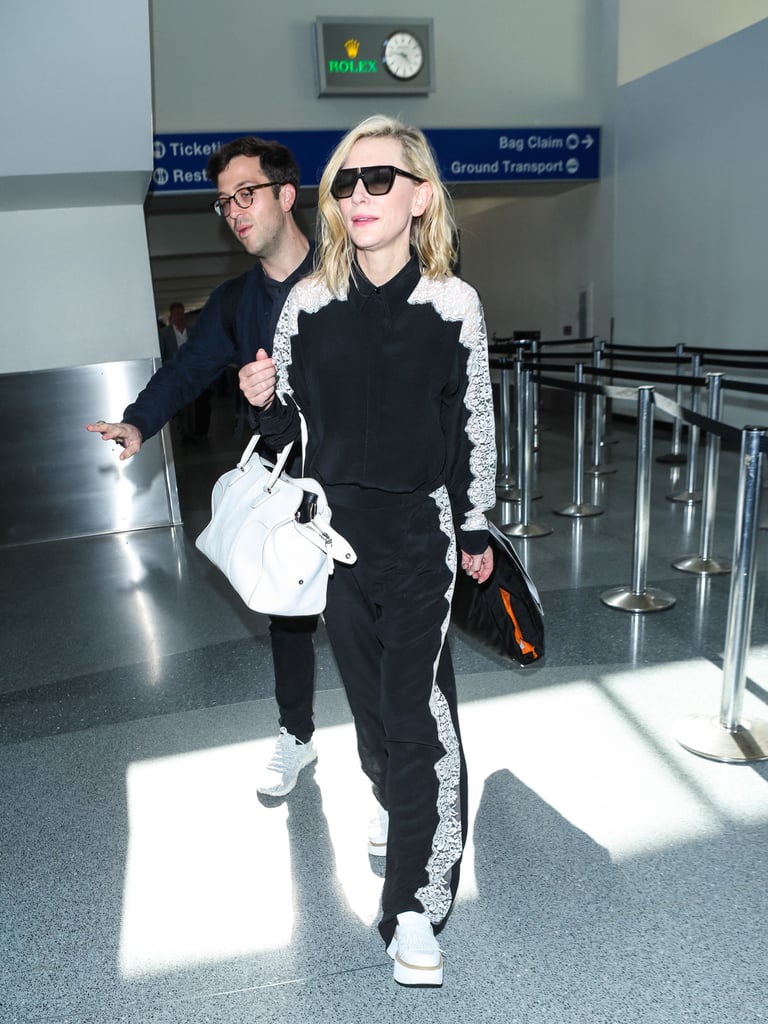 Only Cate could make a tracksuit look like couture. But if you follow her styling tricks, you can turn this sportswear look into something far more stylish. Look for lace trims to get this look.
Gigi Hadid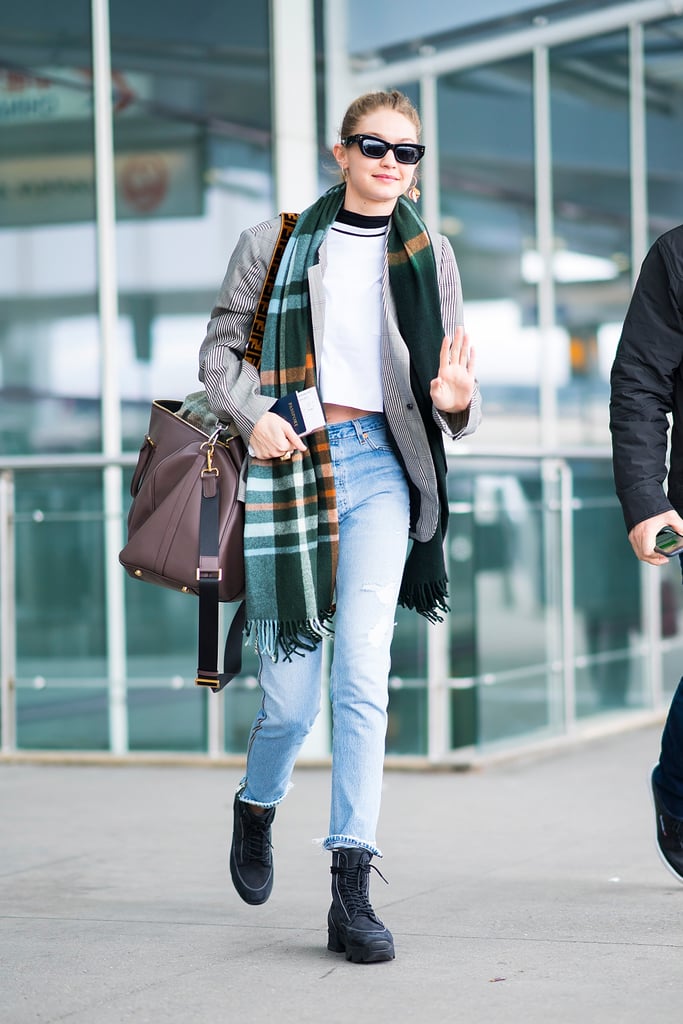 Gigi's trick to traveling in style? Crop everything! Jeans with a raw edge and a slightly cropped sweater gave this laid-back look a touch of sexy edge.
Nina Dobrev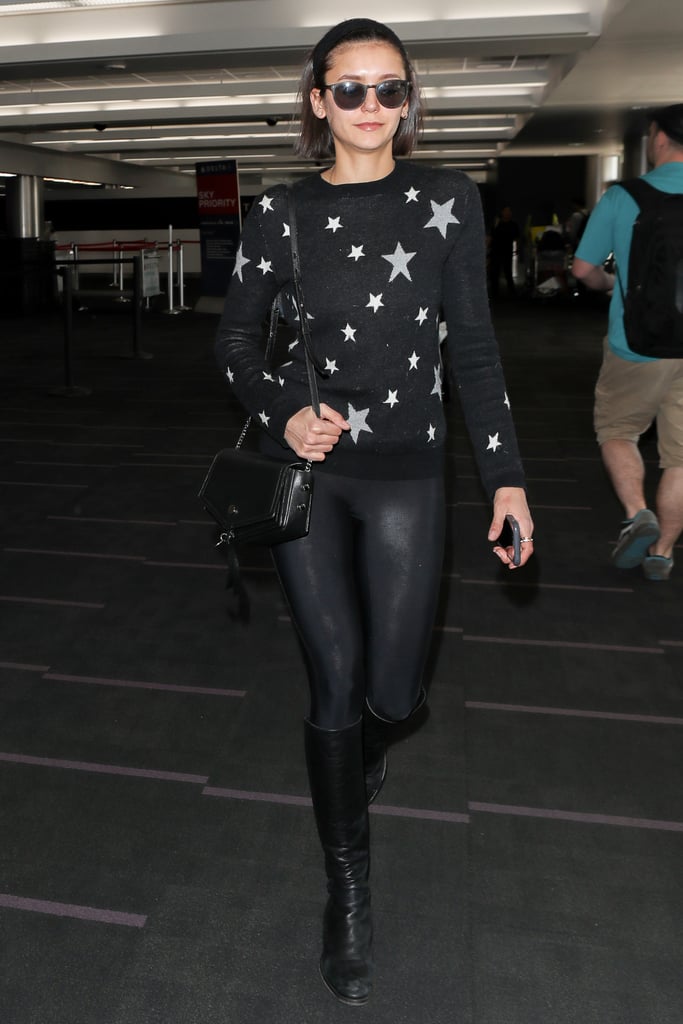 Leggings are always a practical choice for travel, but they need some smart styling to look chic as you make your way through departures. Think like Nina with a cozy sweater and knee-high boots.
Jenna Dewan
Jenna's cropped flares allowed her cute boots to take center stage, and tucking her soft sweater also showed off her designer belt. Once again, it's all about the details.
Diane Kruger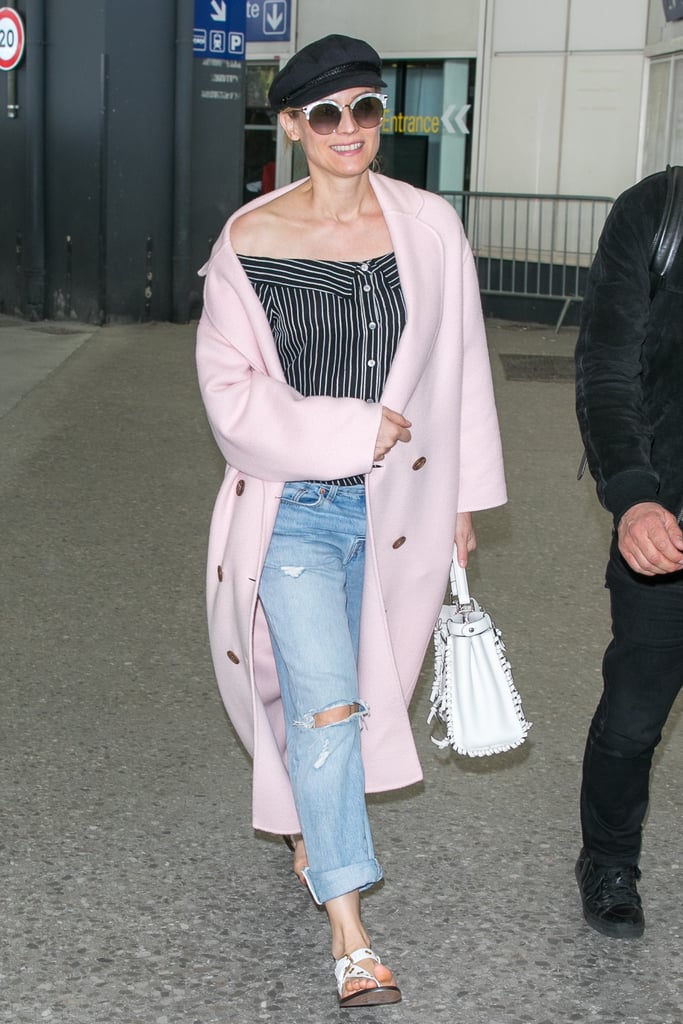 Pick a coat that's as close to a blanket as you possibly can, and team it with your most worn-in, slouchy boyfriend jeans for the comfiest flight of your life.
Emma Roberts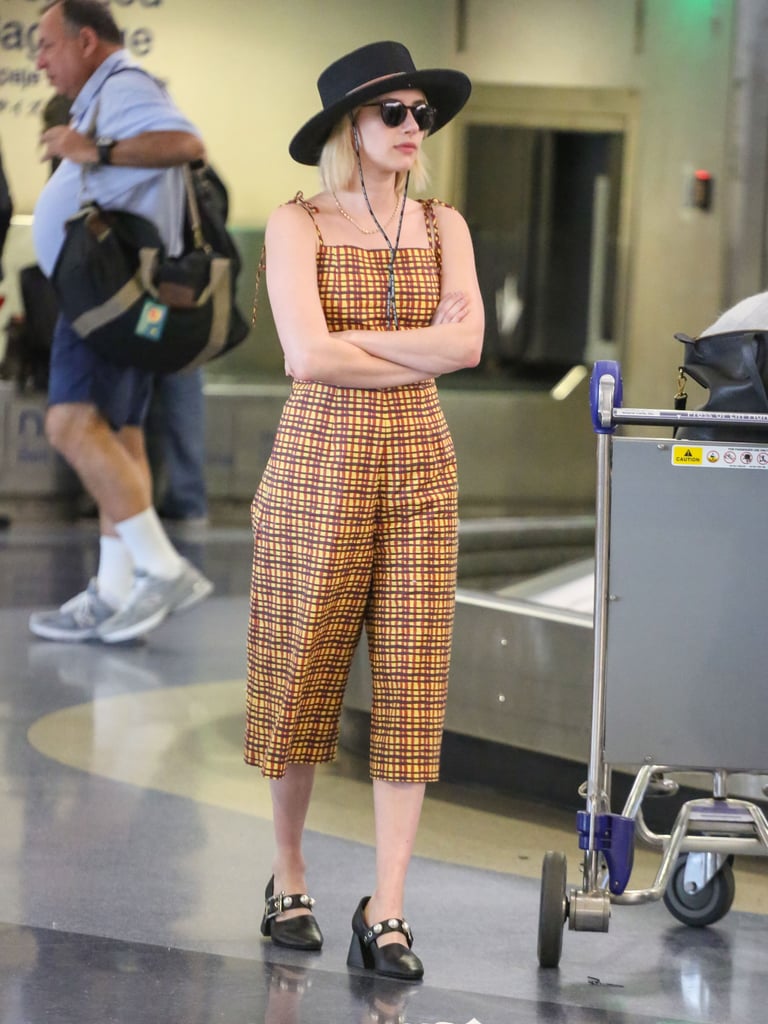 Think carefully before wearing a jumpsuit or romper for a long flight (nobody wants to get half-undressed in an airplane bathroom). However, if you're only taking a short flight, Emma's statement look couldn't be better. Hat optional, of course.
Lucy Hale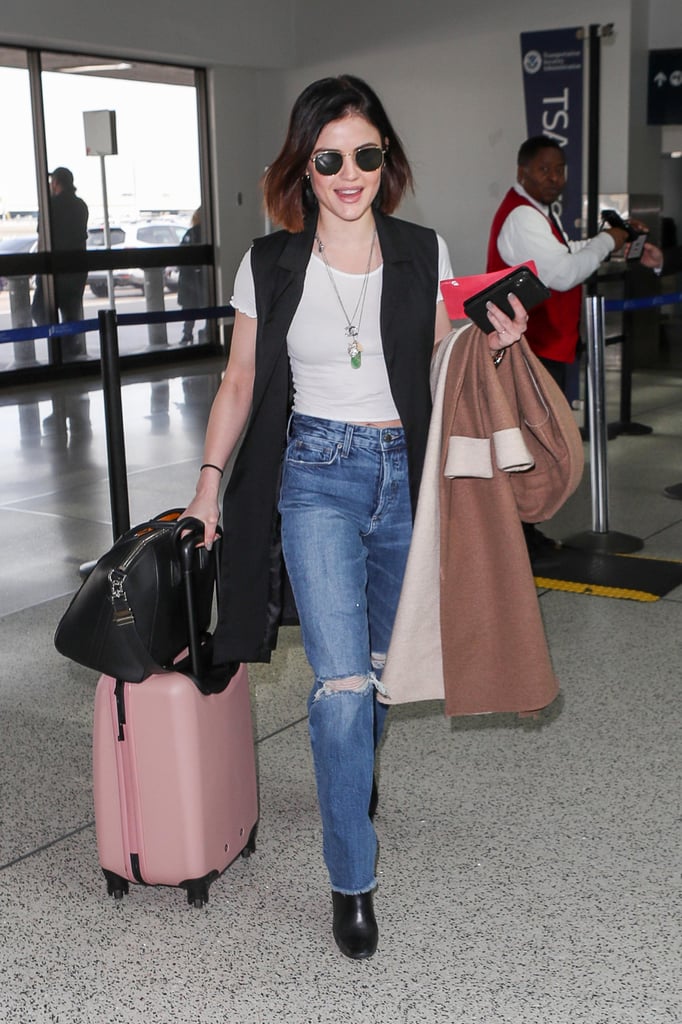 Lucy's look is a lesson in chic layering, right down to her pretty pendant necklaces. You simply can't beat worn-in jeans and a t-shirt if you're taking a trip.
Thandie Newton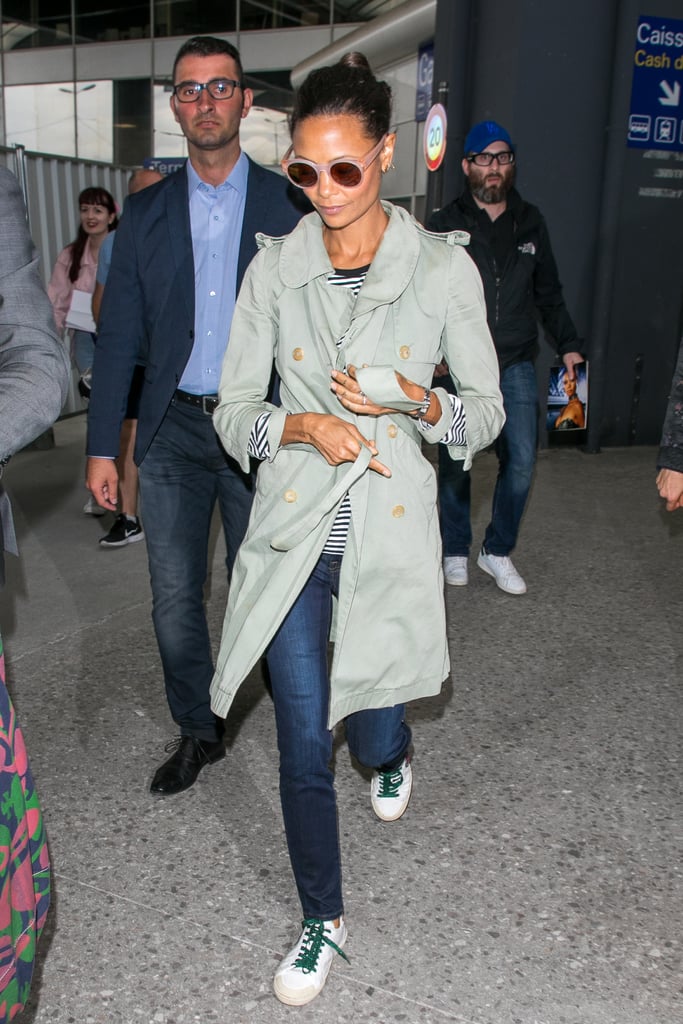 Is there anything that's not instantly elevated with the addition of a classic trench coat? Thandie's mint hue gave this look a fresh new feel.
Olivia Culpo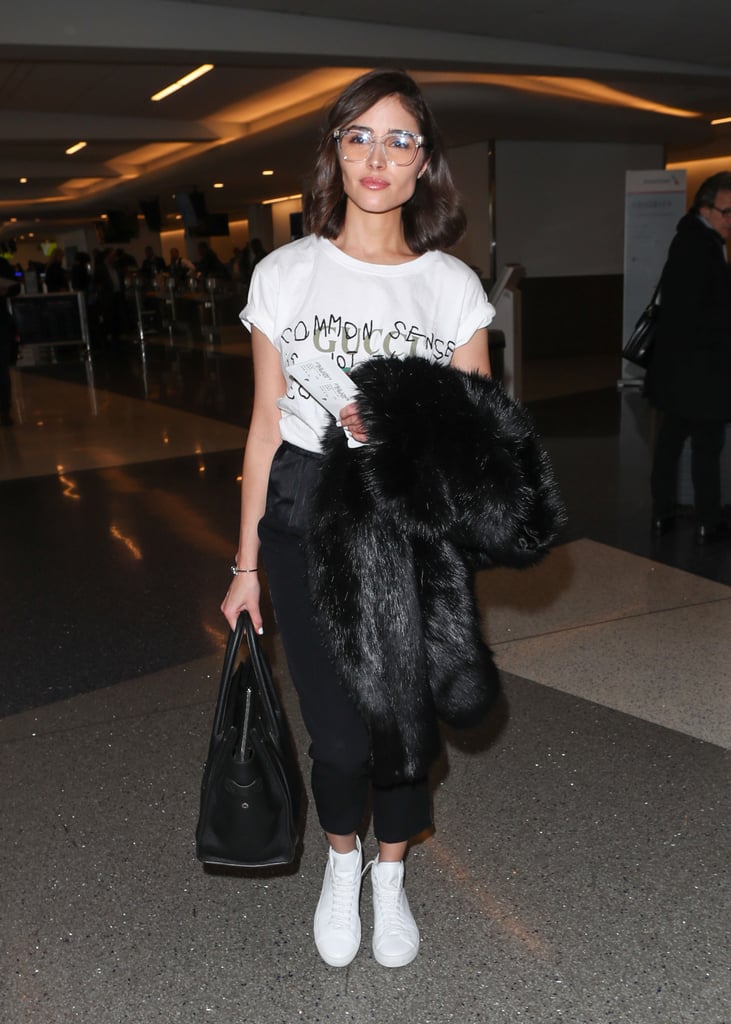 How to take a simple tee-and-sneakers look to the next level? Make it Gucci and add a faux-fur topper.
Kendall Jenner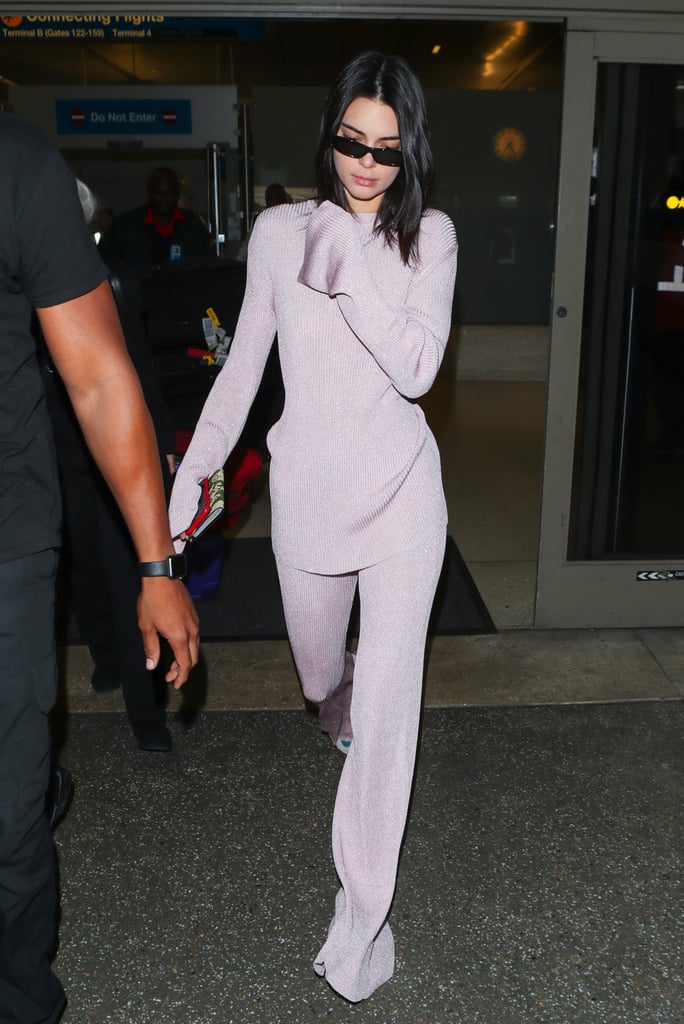 Plissé is a fabric made for travel, as those tiny pleats never lose their shape. That means a simple co-ord like Kendall's looks as good when you land as it did when you left the house.
Elle Fanning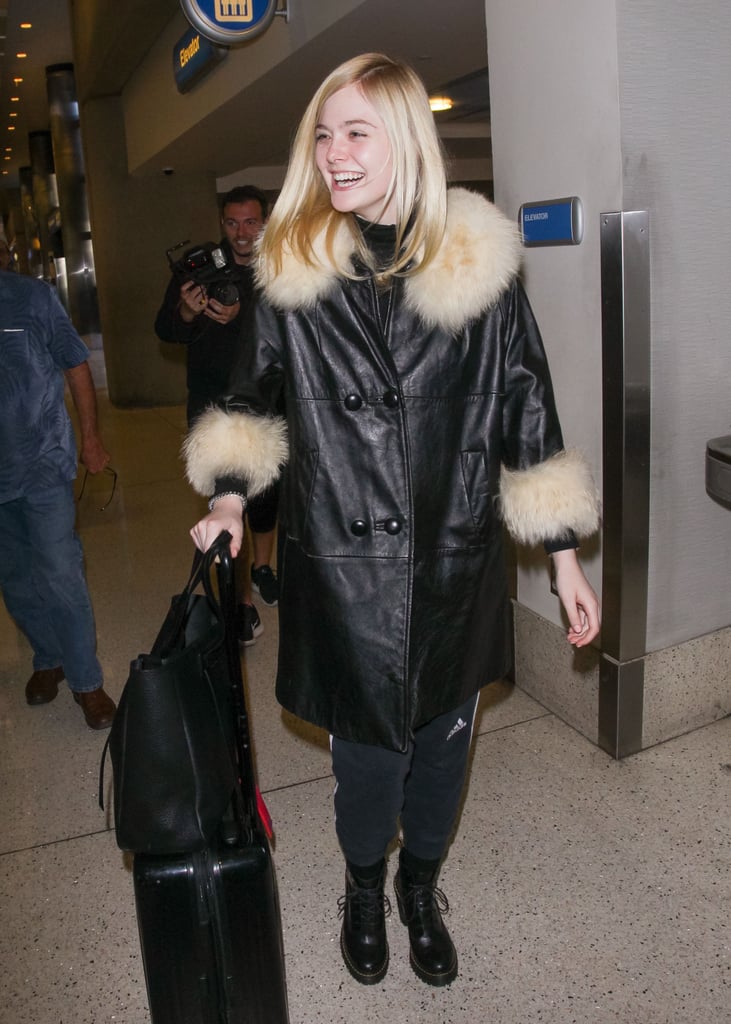 Sometimes, all you need to travel chic is a serious statement coat.
Chrissy Teigen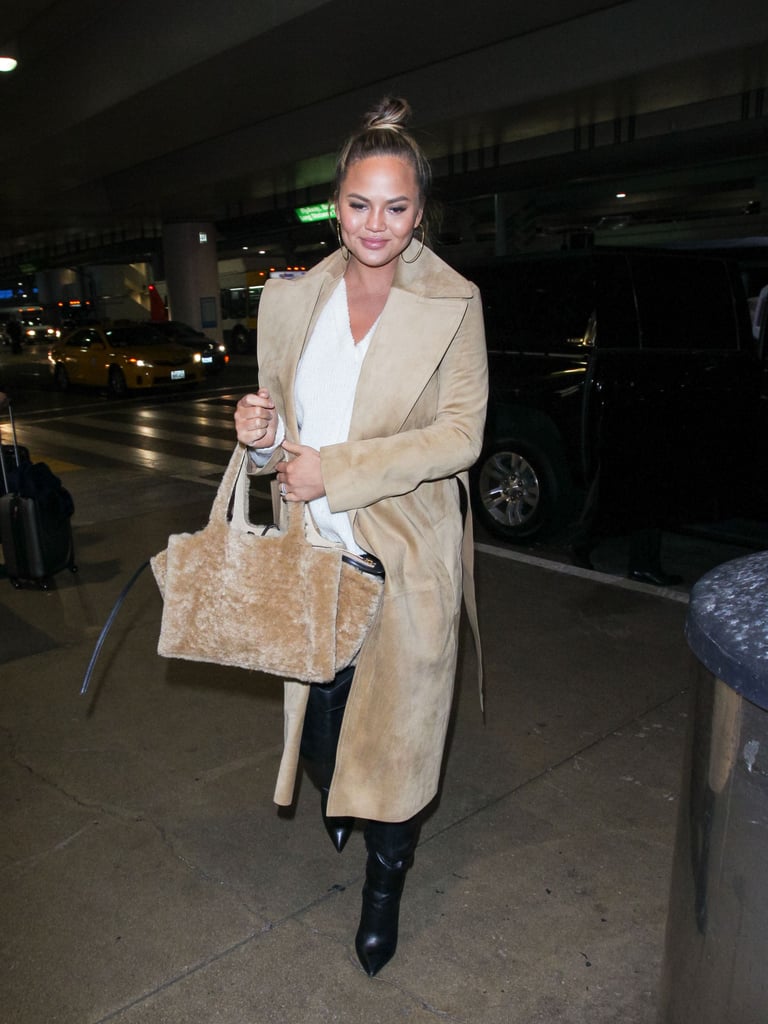 Chrissy's another star who likes to wrap up warmly at the airport. A long belted coat doubles as a blanket on the flight, and a big cozy bag will hold all your in-flight must haves.
Jessica Chastain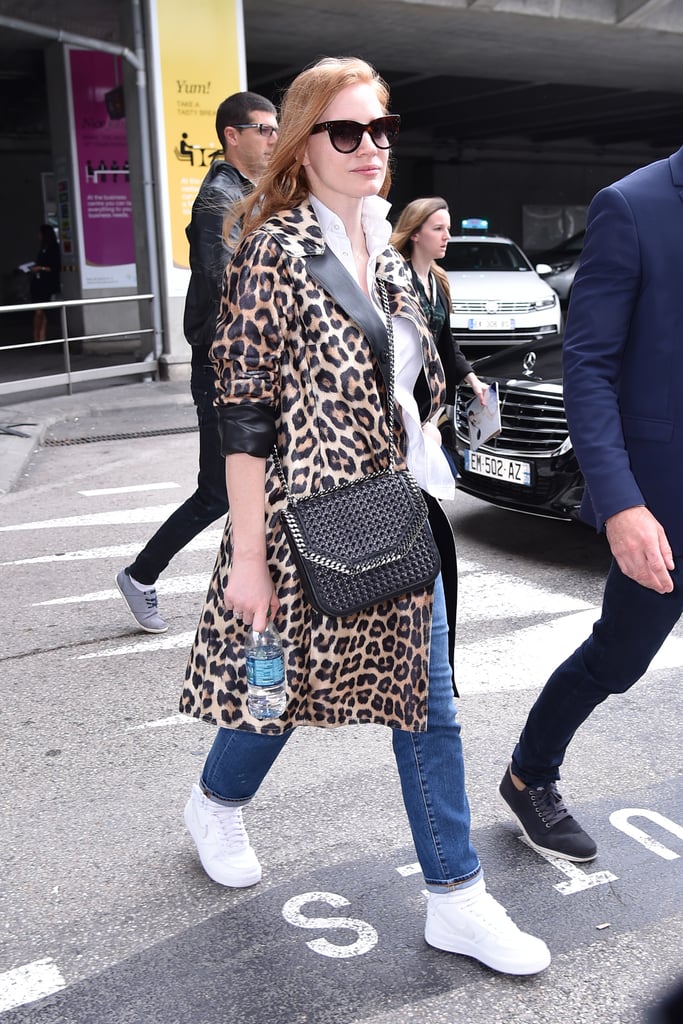 Whoever popularized the "sneakers with everything" trend, we thank them. Jessica's look is chic up top, comfy on the bottom, and perfectly designed for making that connection in 30 minutes.
Janelle Monáe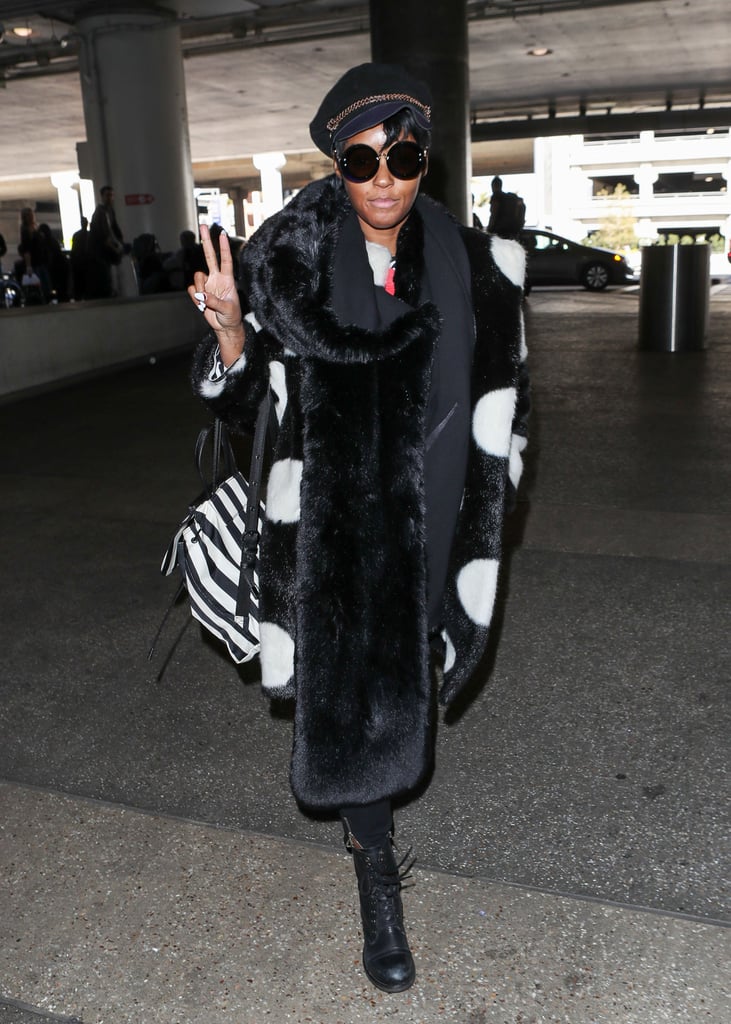 Janelle doesn't let a long flight stop her from showing off her signature style. She rocked her trademark black and white at the airport, just like everywhere else.
Kate Beckinsale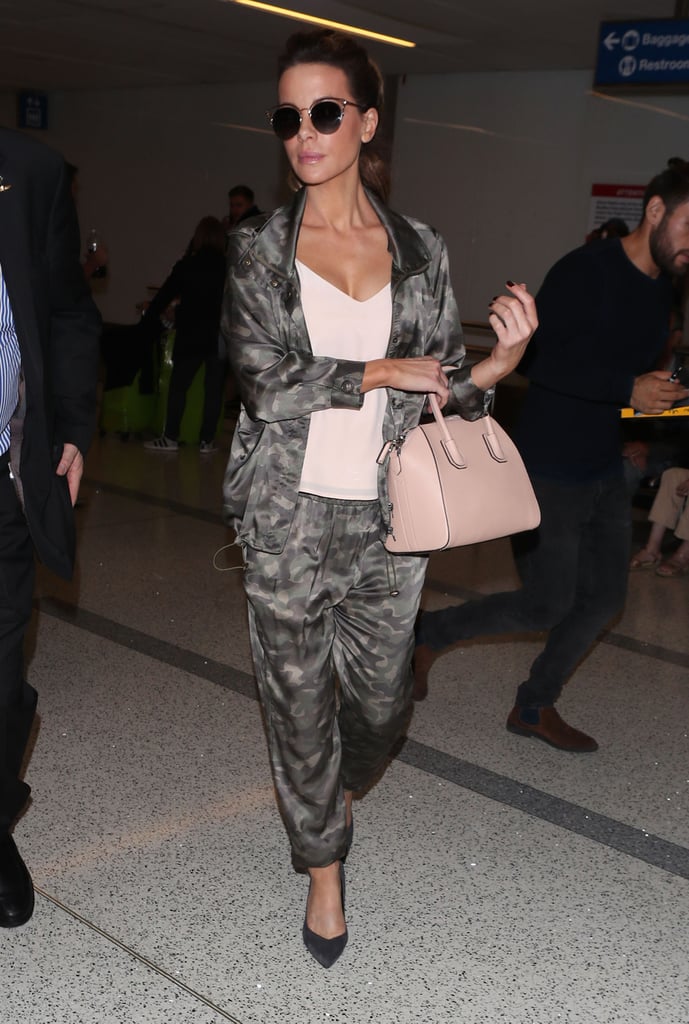 Kate's silky camo co-ord teamed with heeled pumps shouldn't work, but somehow it did. This really is the ultimate "celebrity at an airport" look, right down to the designer shades. The best bit? It's so easy to emulate.
Barbara Palvin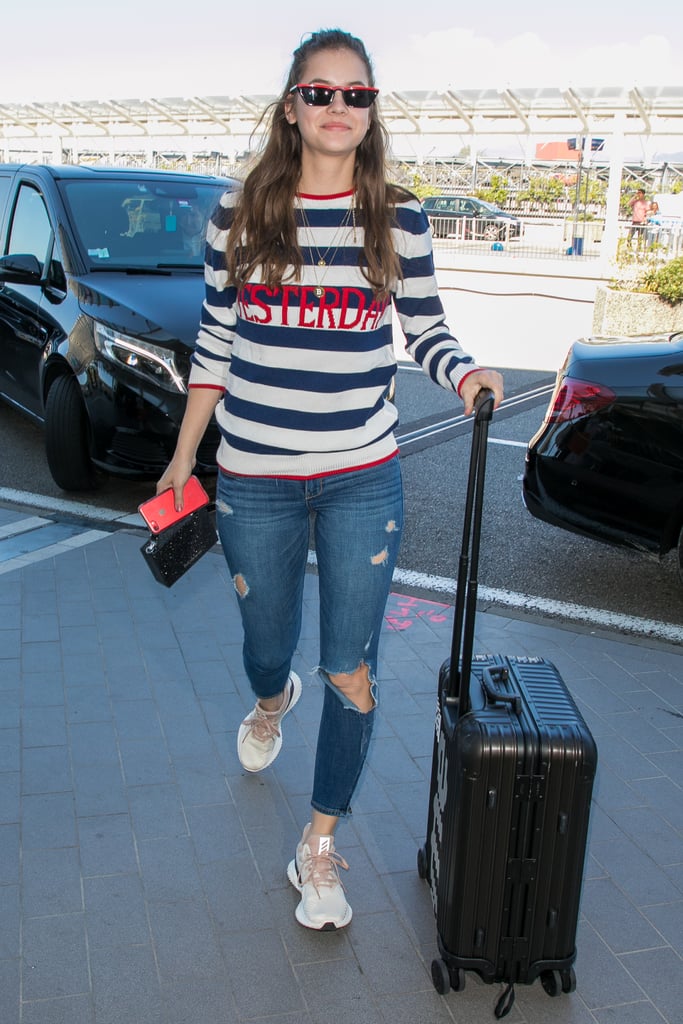 Never thought of matching your sunglasses to your sweater? Perhaps you will now!
Clémence Poésy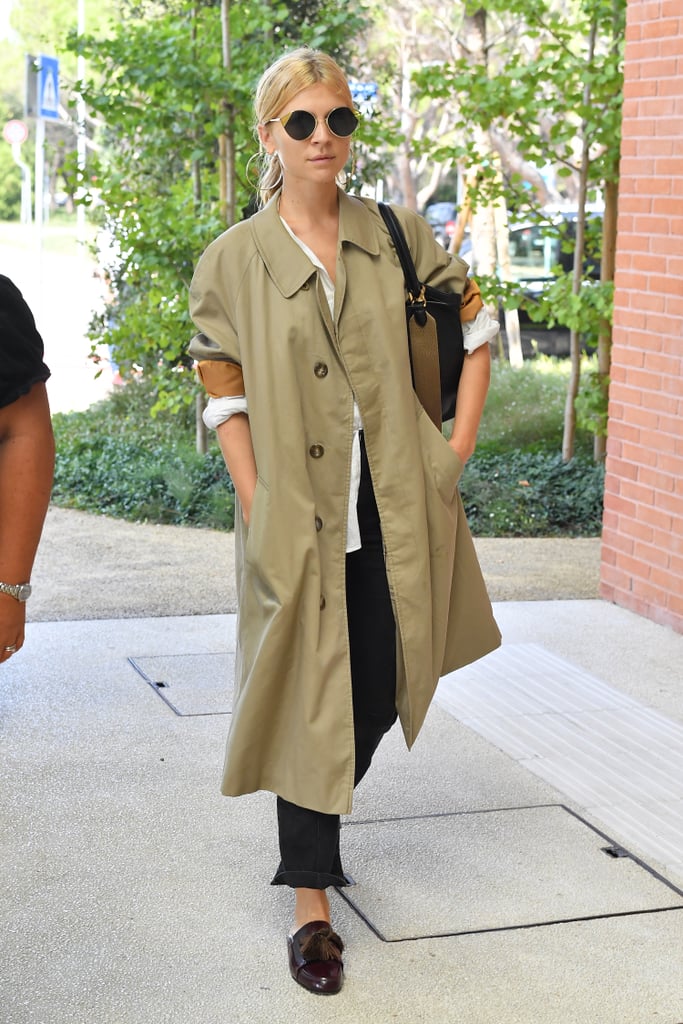 It'll come as no surprise that the French-girl airport outfit features chic flats, slim black pants, and a trench coat.
Jade Thirlwall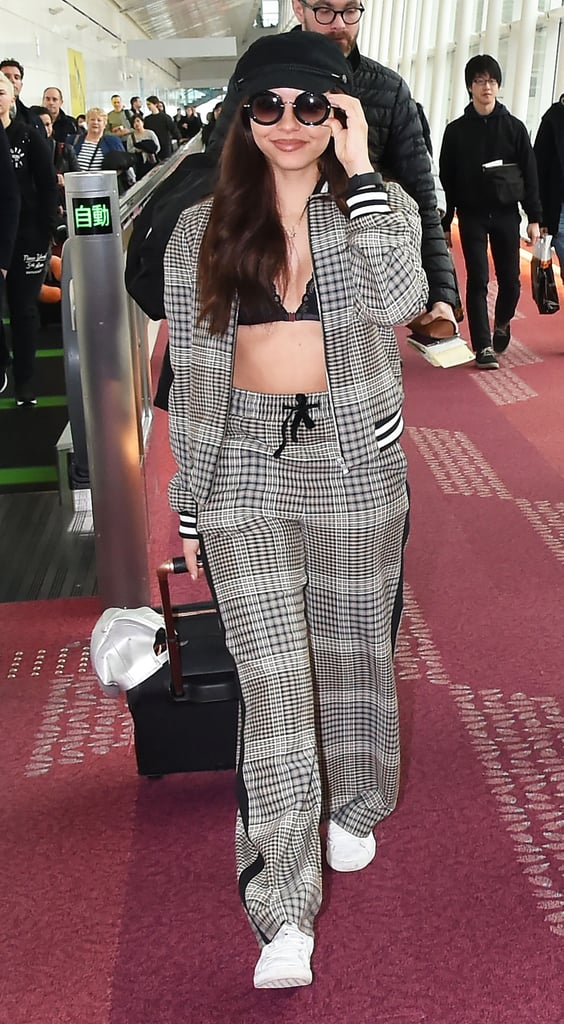 Jade probably put her bralet on display minutes before landing (you know there's a hoodie in that carry-on), but the rest of her outfit looked perfect for the airport. This is how to do co-ords for comfort, with an adjustable waist and elasticated trims.
Milla Jovovich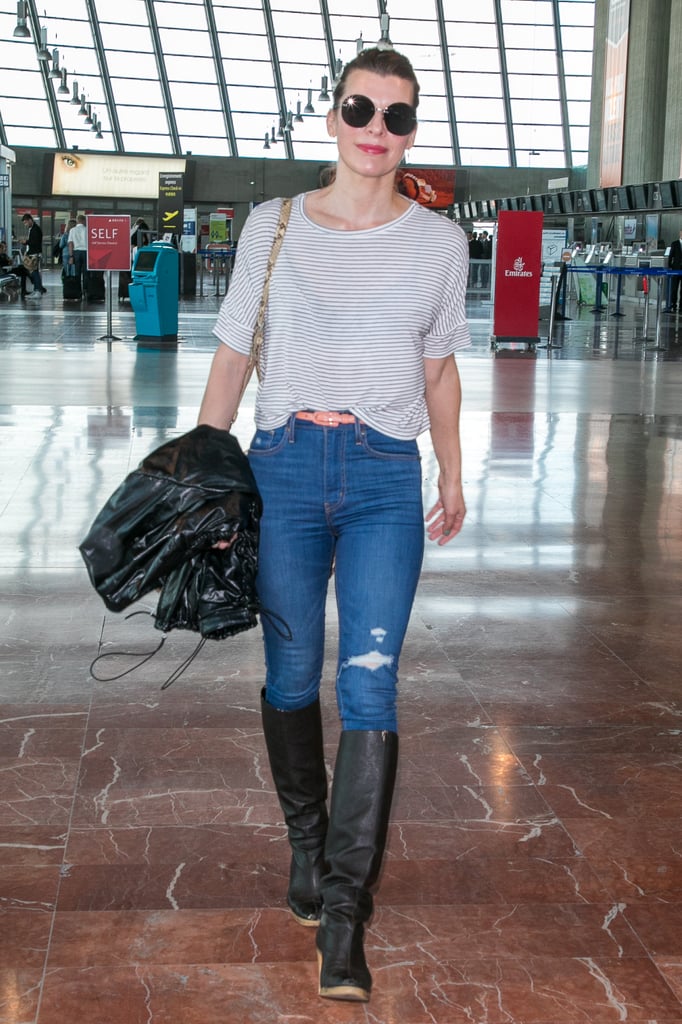 Milla put a fashion spin on the classic combo of jeans and a striped tee by paying attention to the details. From her skinny belt to her slouchy boots, she turned every accessory look into a statement.
Emmy Rossum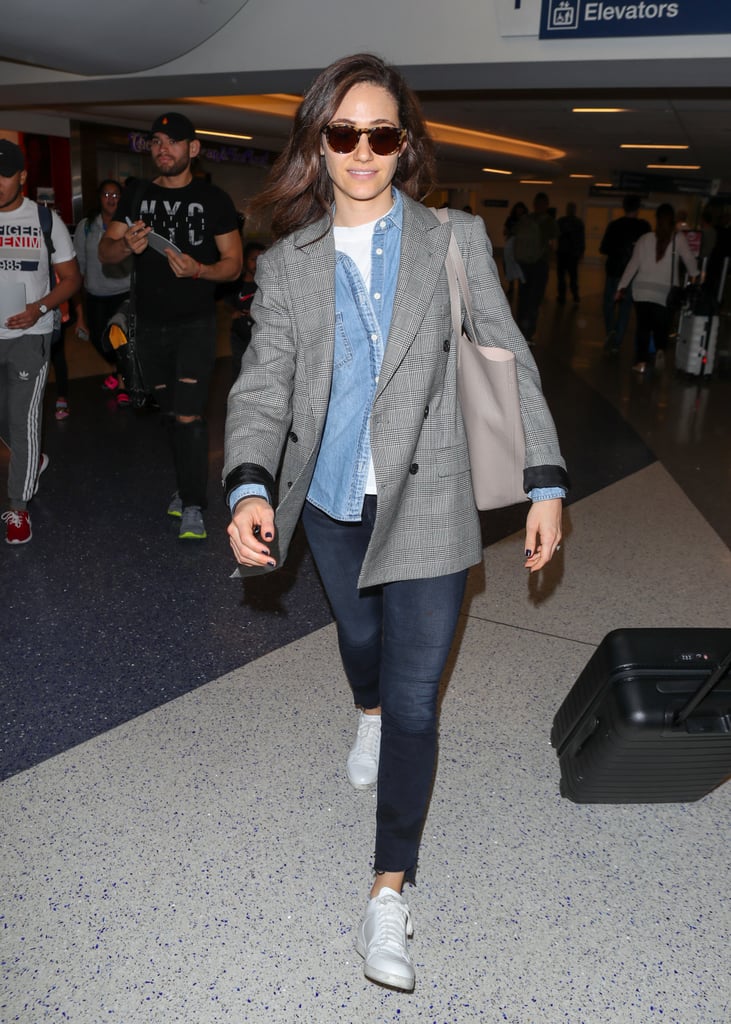 Double denim never looked as chic. Layered under a sharp blazer, Emmy elevated her casual look just enough.
Vanessa White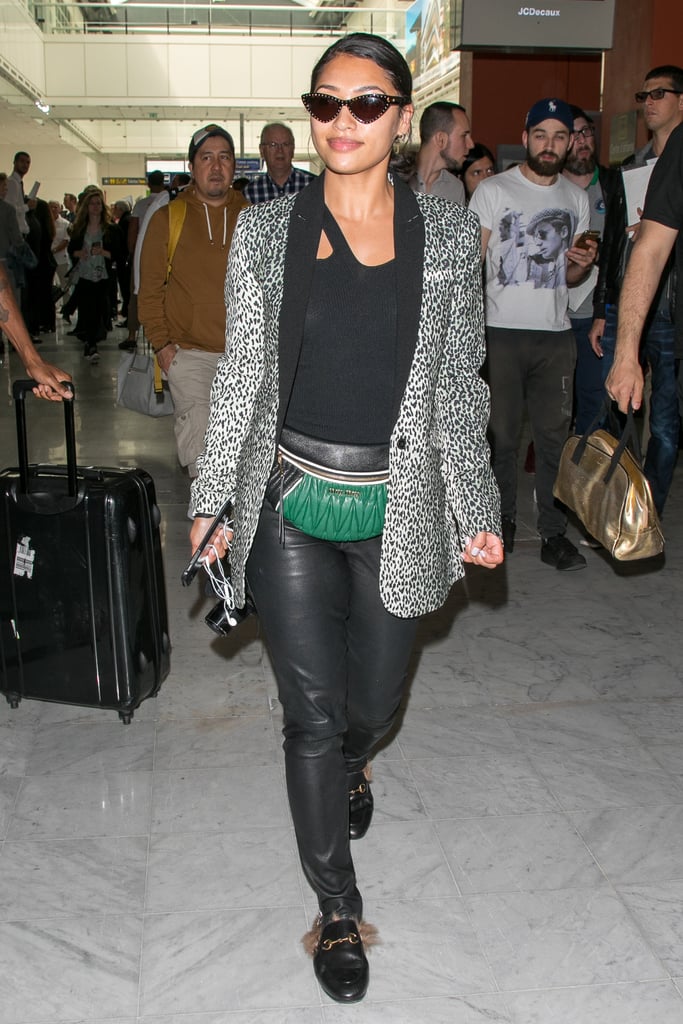 May we all be blessed enough to be able to take a flight with only a fanny pack full of belongings.
Winnie Harlow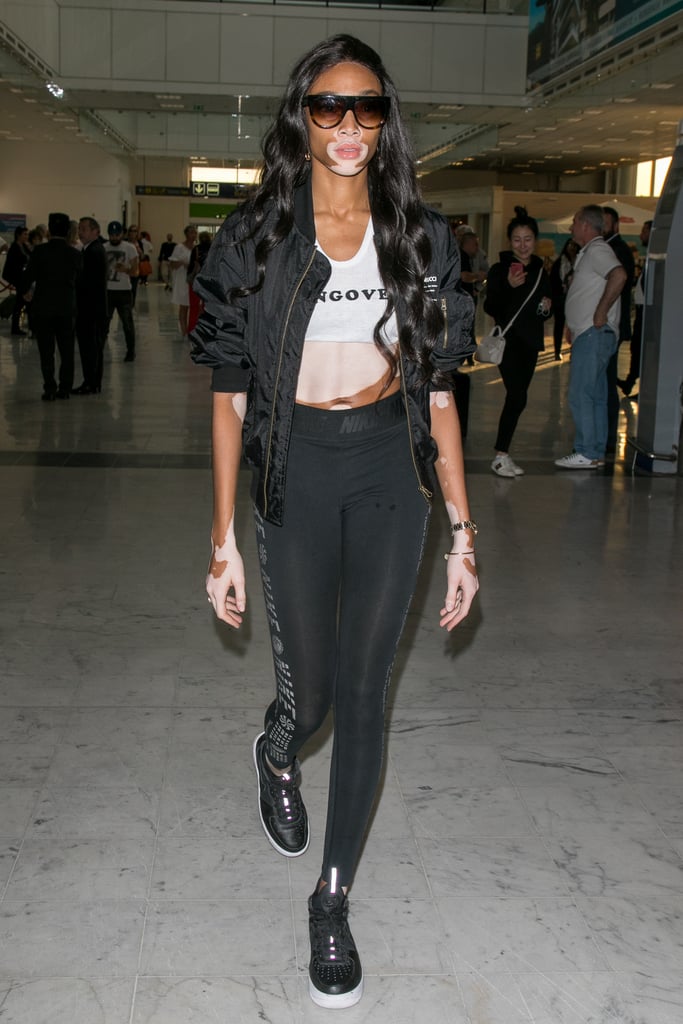 Athleisure at the airport is always a good idea, and Winnie added a touch of "don't you know I'm a model" with her sheer shirt.
Laura Harrier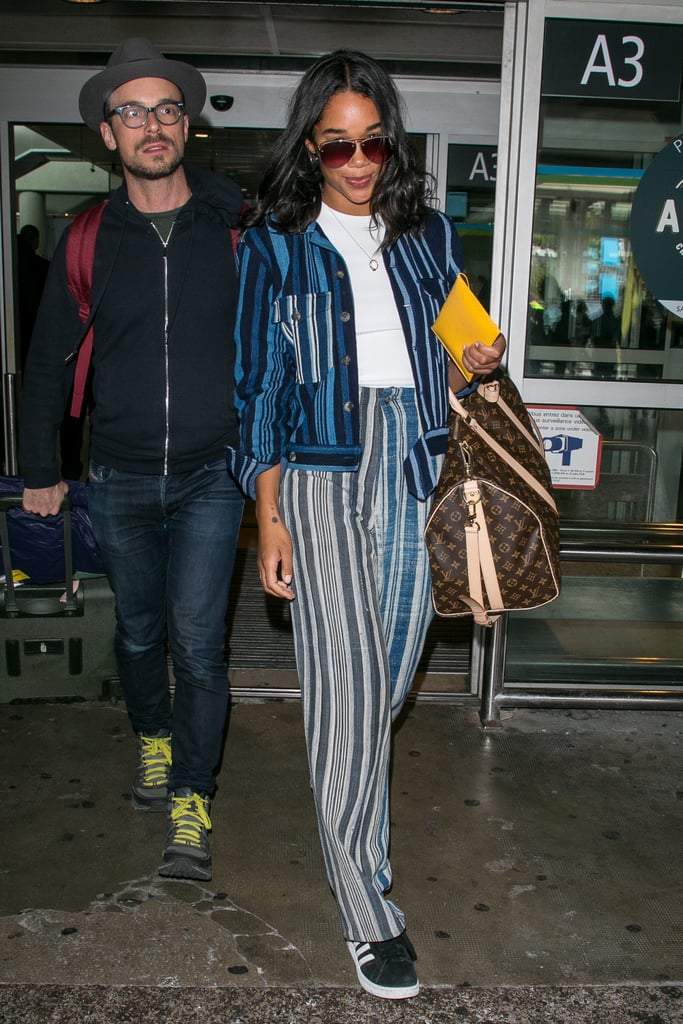 If vertical stripes make you look taller, does that mean wearing this outfit might result in the check-in staff taking pity and assigning us an exit-row seat?
Irina Shayk
Irina's look is the closest you can get to wearing PJs to the airport without actually doing it. Roll up the sleeves and master the perfect tuck to keep it from looking too lazy.
Jennifer Connelly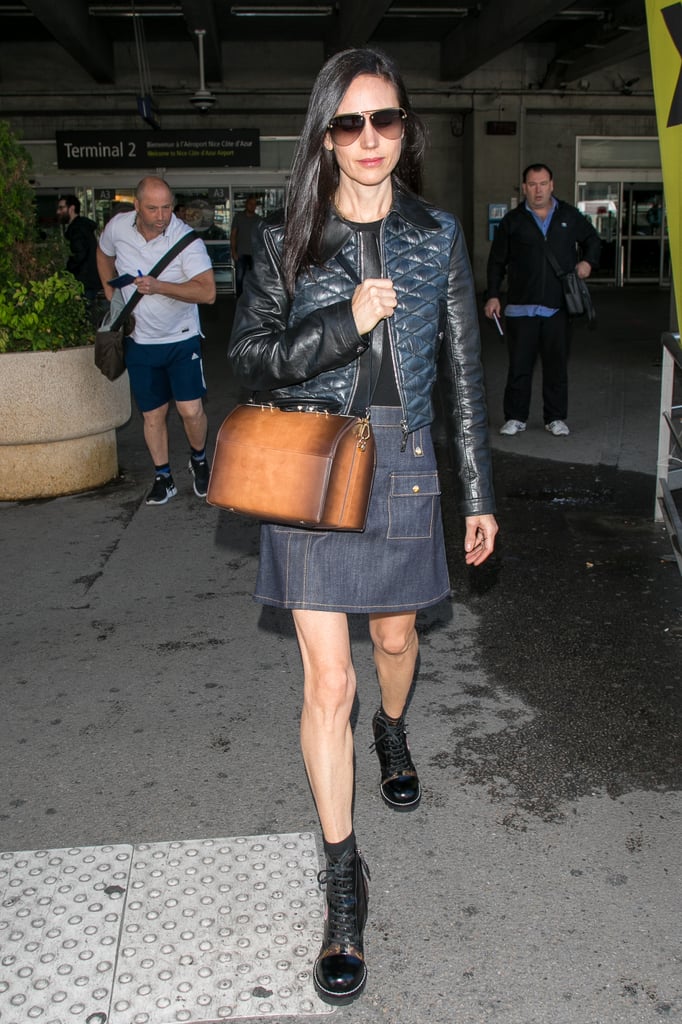 Taking the term "runway" literally, Jennifer wore a Louis Vuitton look that could easily be adapted on a budget. All you need are a denim skirt, a leather jacket, and a pair of biker boots.
Leona Lewis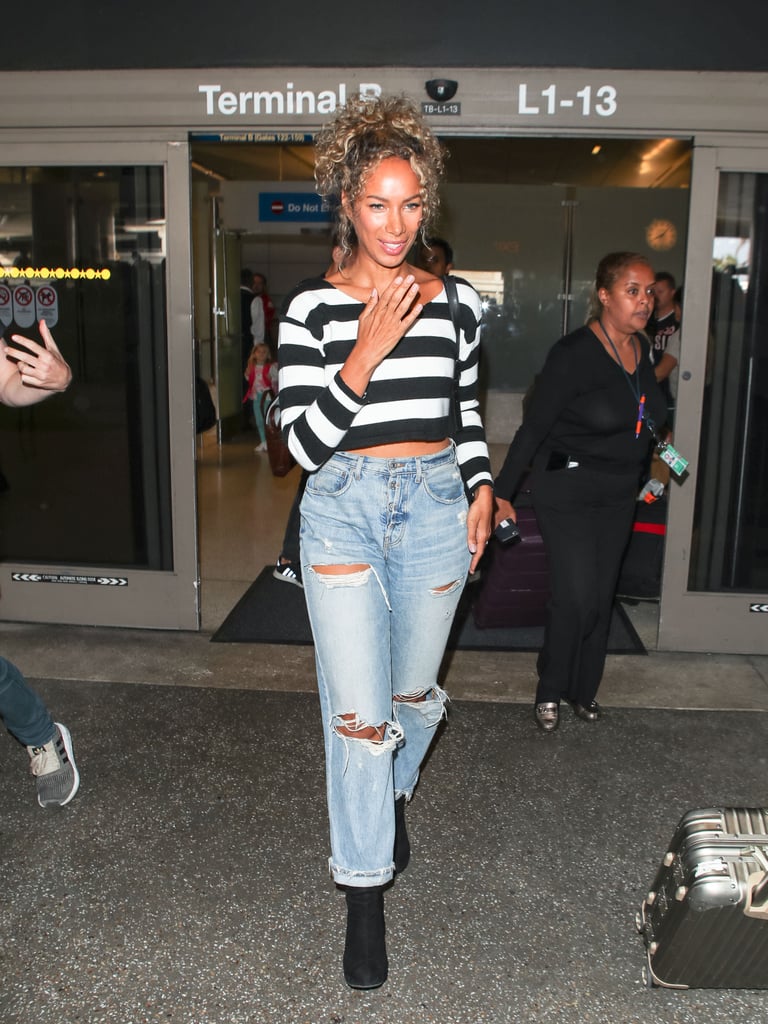 Boyfriend jeans, check! Cropped sweater, check! Ankle boots, check! Leona's definitely been doing her research into cute airport outfits.
Bella Hadid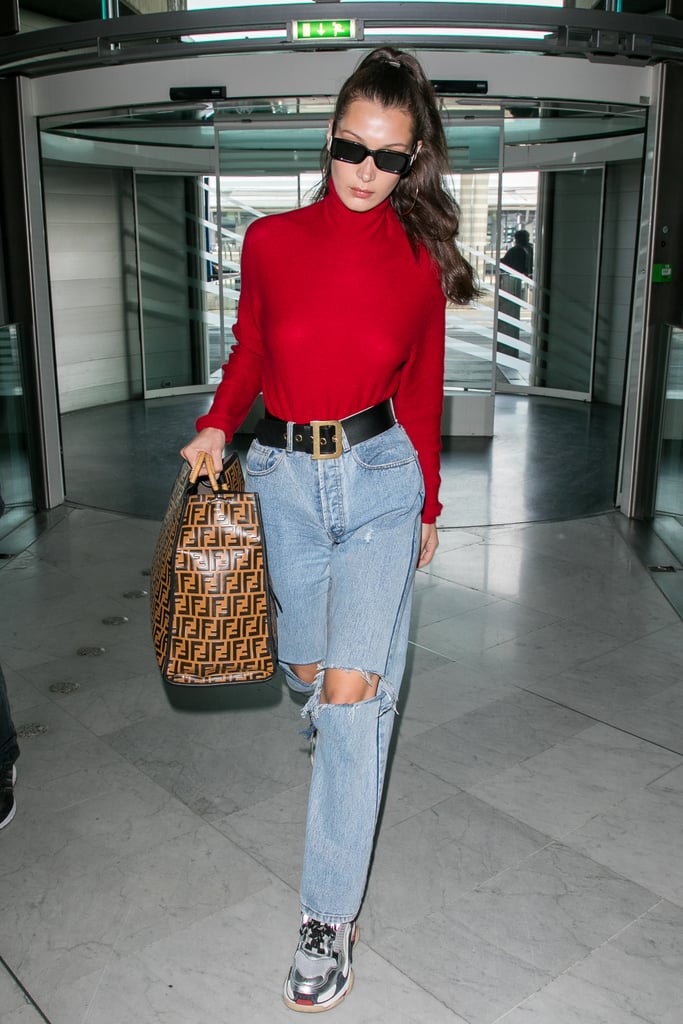 Bella put a '90s twist on everyone's go-to airport look by choosing high-waisted jeans with a chunky belt and retro footwear.
Rita Ora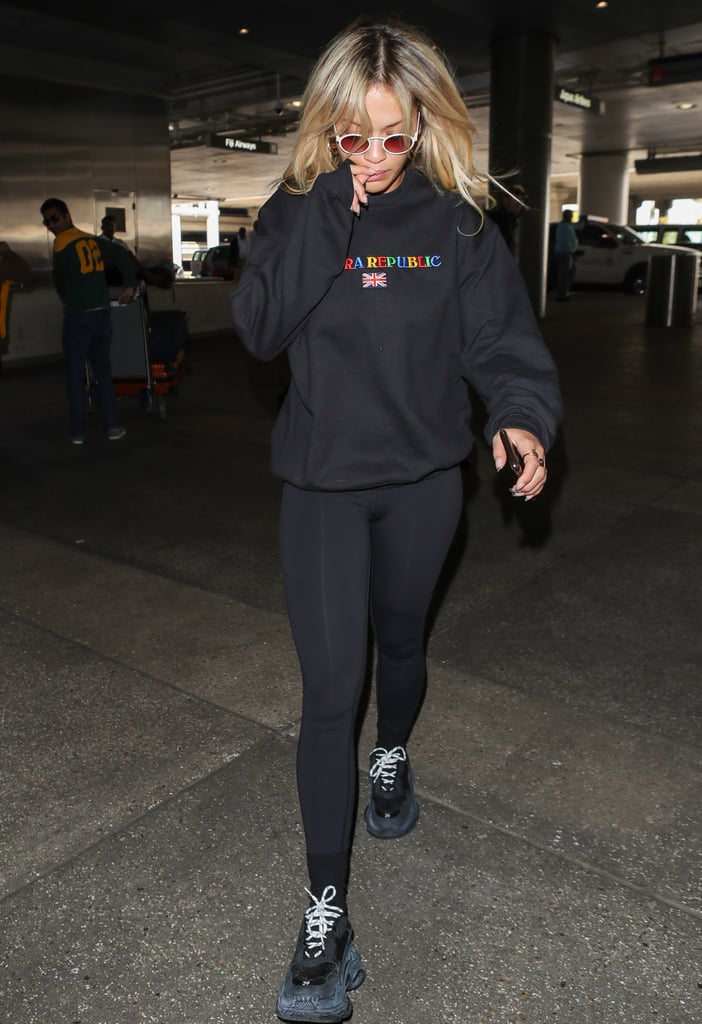 Rita had the long-haul look down in leggings, a hoodie, and sneakers. But she upped the cuteness level with some personalizing: her hoodie was from her own merchandise collection. You might not have your own range of clothing, but you could easily iron on some patches or letters to turn a plain black hoodie into something a bit more special.
Jessica Alba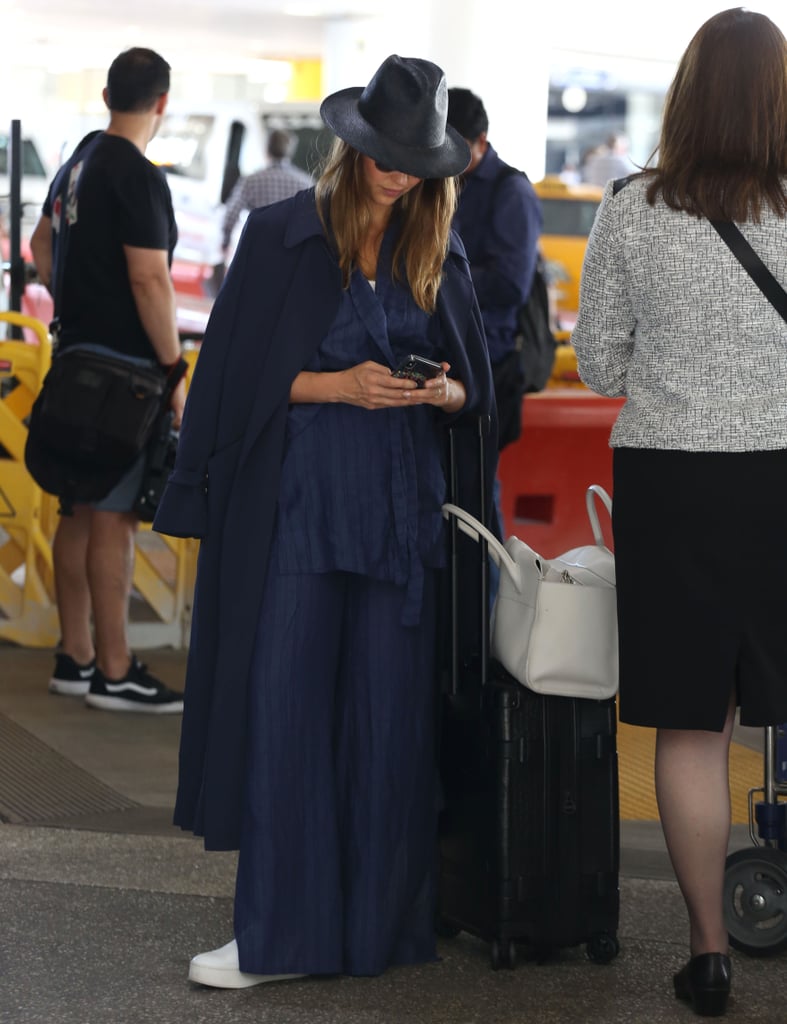 Jessica clearly loves loose-fitting navy clothes for her trips to the airport, and this crinkle-finish co-ord was another winner. You'll be the envy of everyone struggling to get comfy in their skinny jeans.
Koh Joon-Hee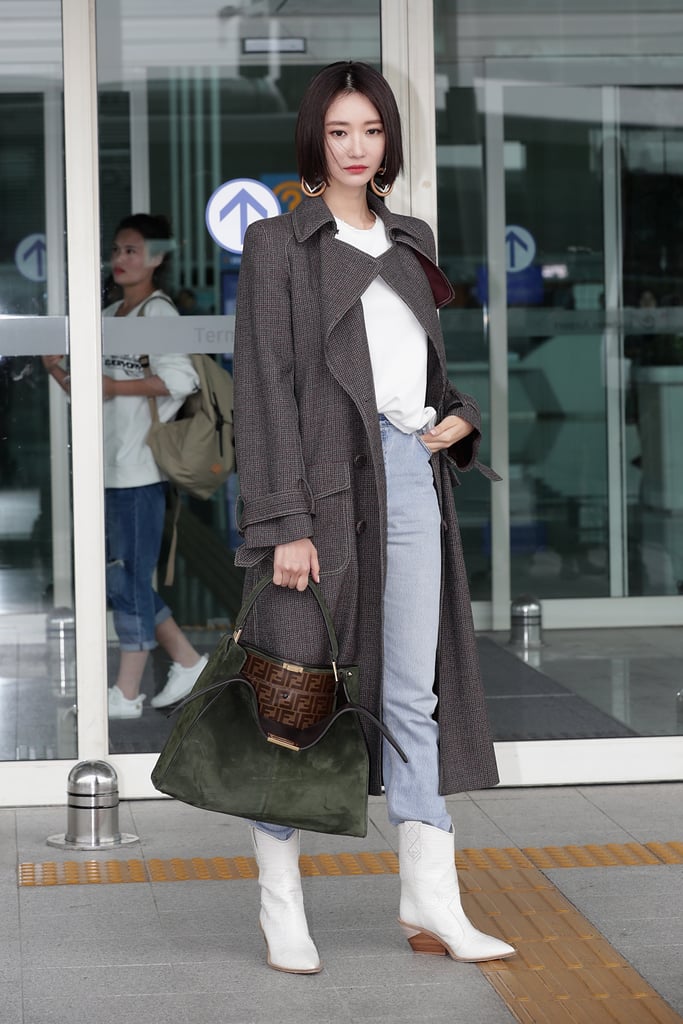 Wondering why so many stars wear cowboy boots, slip-on ankle boots, and slouchy knee-highs on flights? Because they're far easier to slip back onto swollen feet than tight shoes! Turn your practical choice into a fashion statement with a bright white pair.
Emily Ratajkowski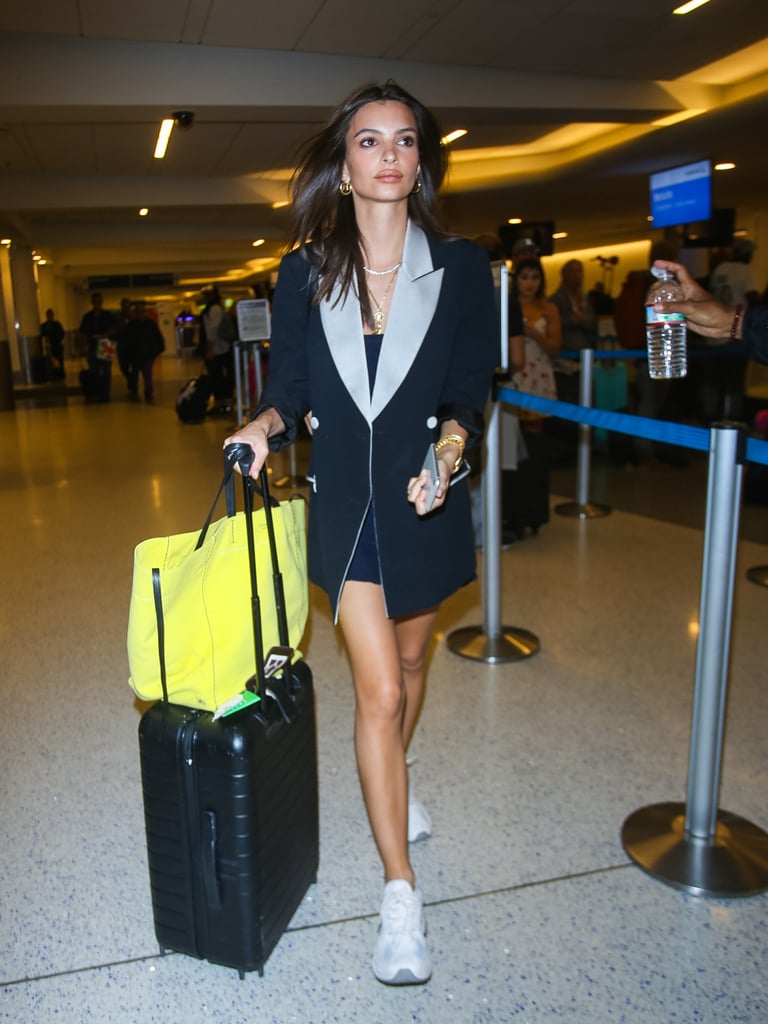 Emily managed the near-impossible: looking sexy at the airport. Copy her look with bike shorts, an oversize blazer, your favorite sneakers, and a good dollop of self-tanner.
Jennifer Connelly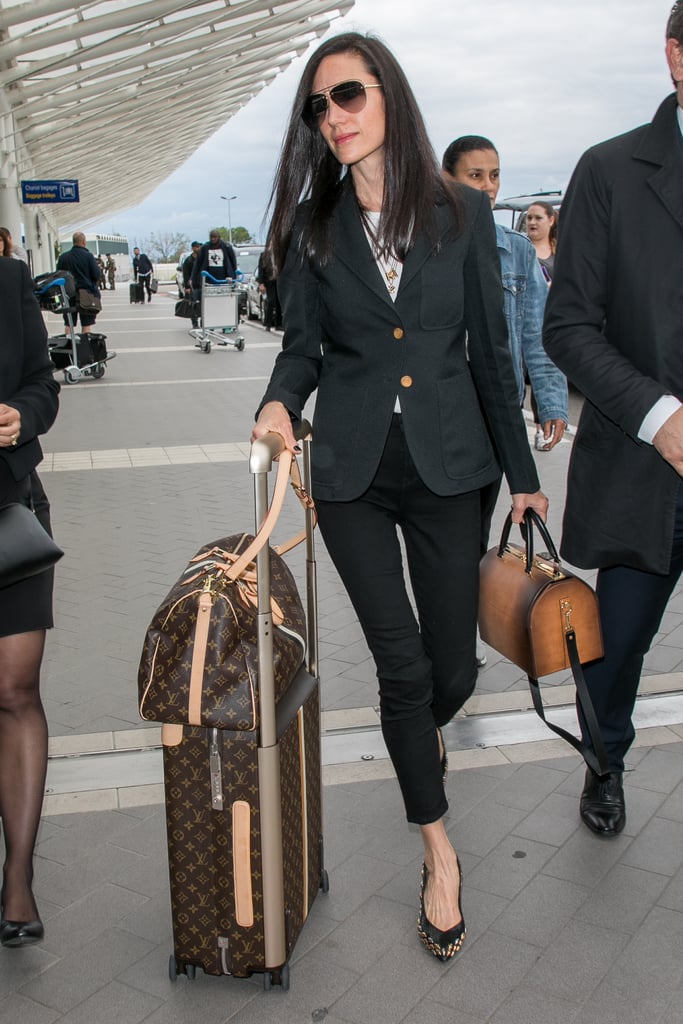 Another chic airport look to adopt from Jennifer, this one featured black skinny jeans (choose ankle-grazers to show off your statement shoes) and a classic black blazer. The Louis Vuitton luggage is optional.
Rosie Huntington-Whiteley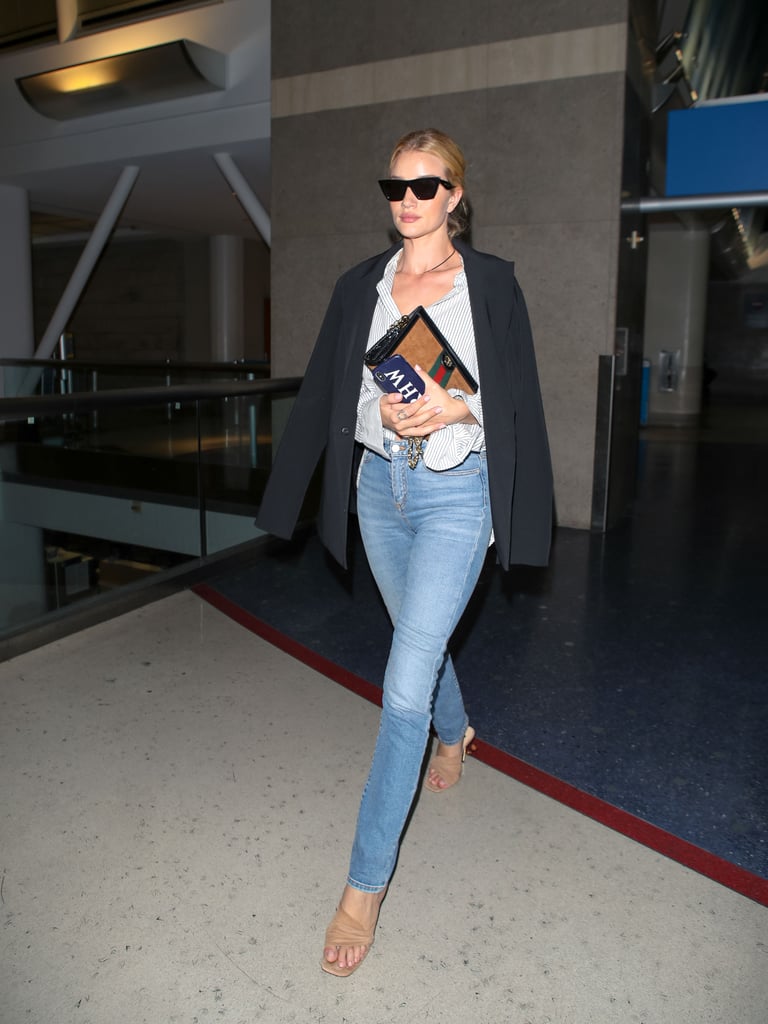 If you can bear to walk through the terminal in your highest heels, it'll instantly lift your look. You can always pack slippers in your carry-on.
Karen Gillan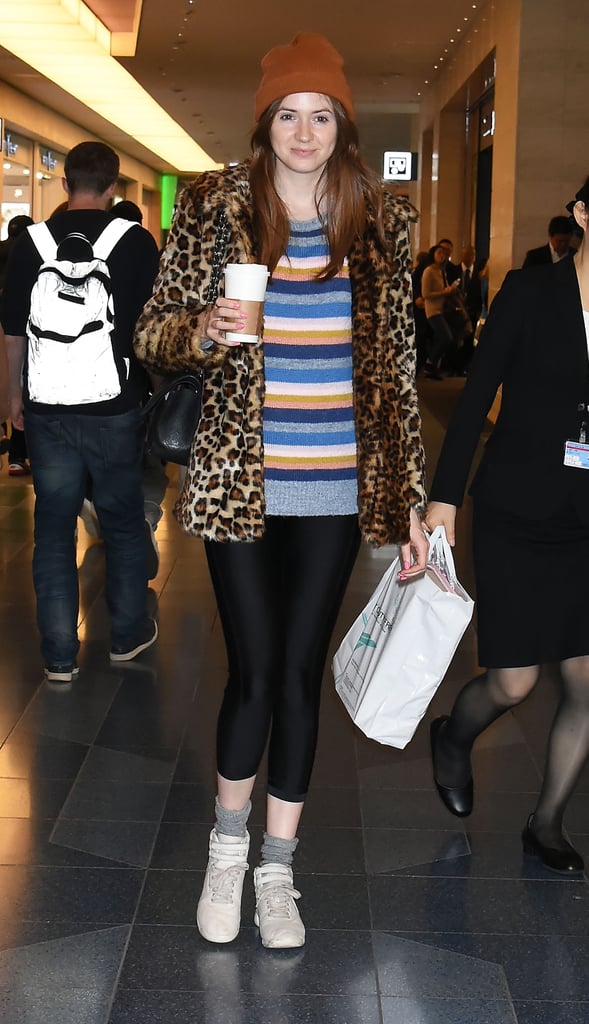 Karen is a girl after our own heart, rocking the ultimate airport outfit: mixed prints, a cozy coat, leggings, and sneakers, a coffee in hand. You know you've flown in this exact look before.
Sophie Turner
Borrow your boyfriend's bomber jacket, slip on your favorite workout leggings, and you're already halfway to off-duty Sansa Stark.
Priyanka Chopra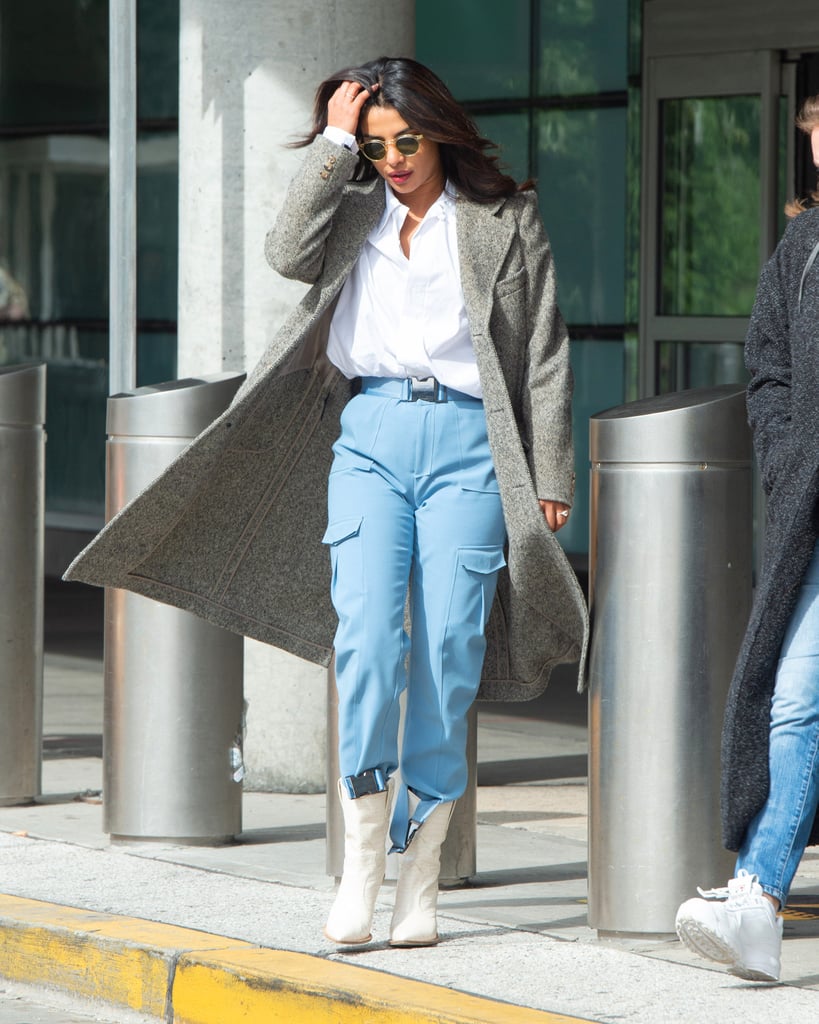 Priyanka's also a fan of the jeans-tucked-into-white boots look; this is another fashion-forward airport look.
Evangeline Lilly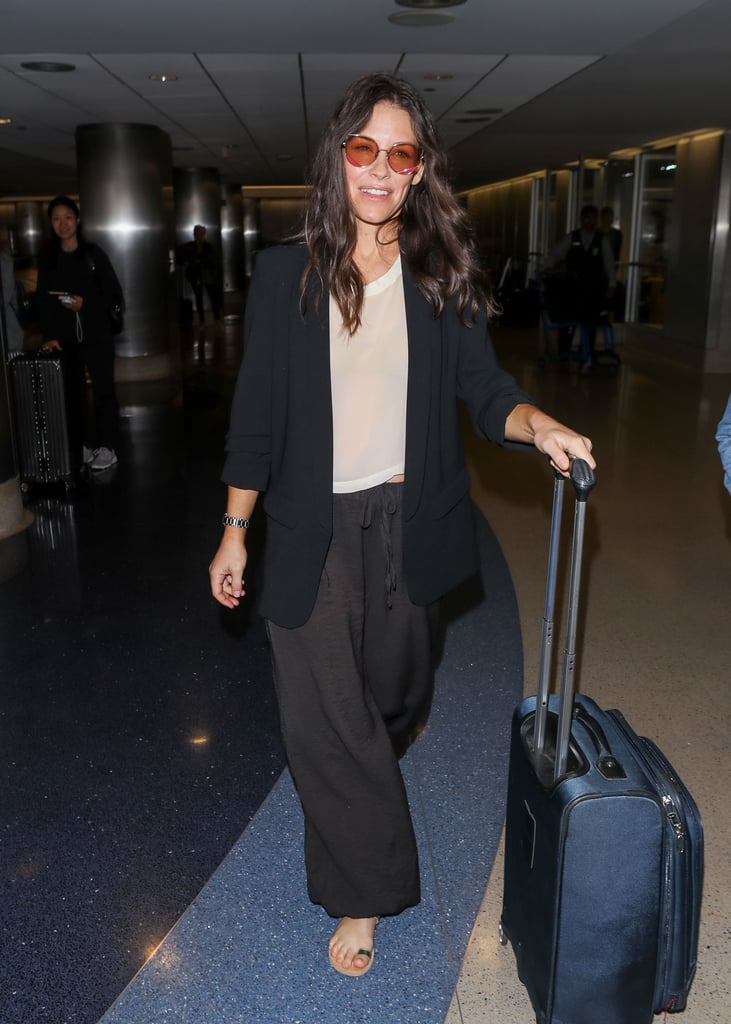 A blazer instantly turns a casual look into something upgrade-worthy. Follow Evangeline's lead and pick a slightly oversize fit with cropped sleeves, which will work with just about every outfit you'll wear after you land.
Chloë Sevigny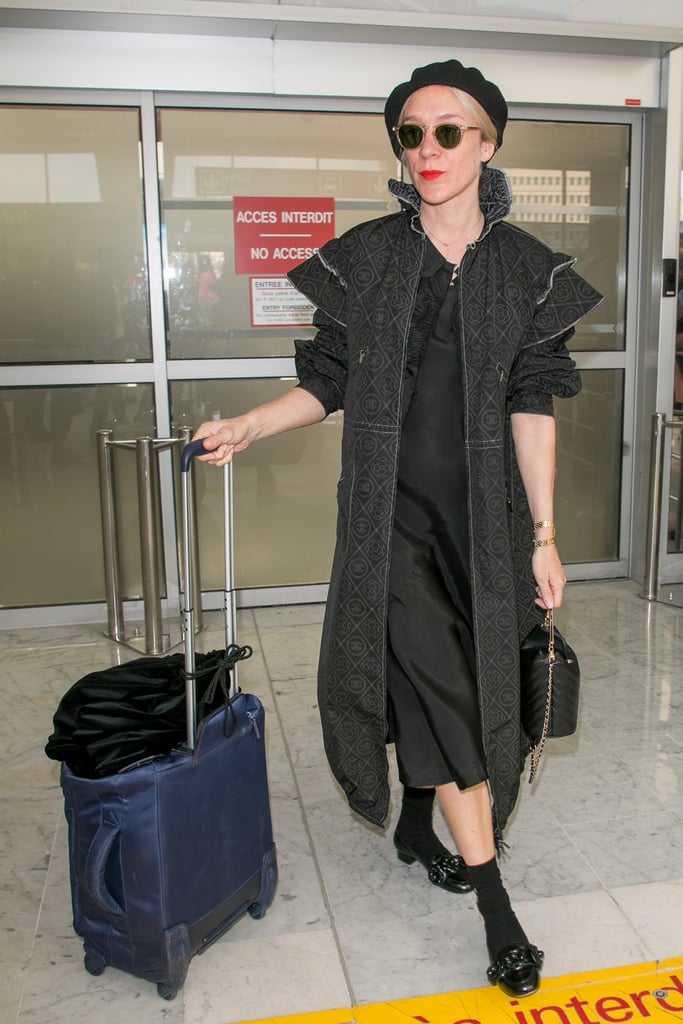 Who said pants are the only option on a flight? Chloë rocked a layered coat and dress like a pro.
Gigi Hadid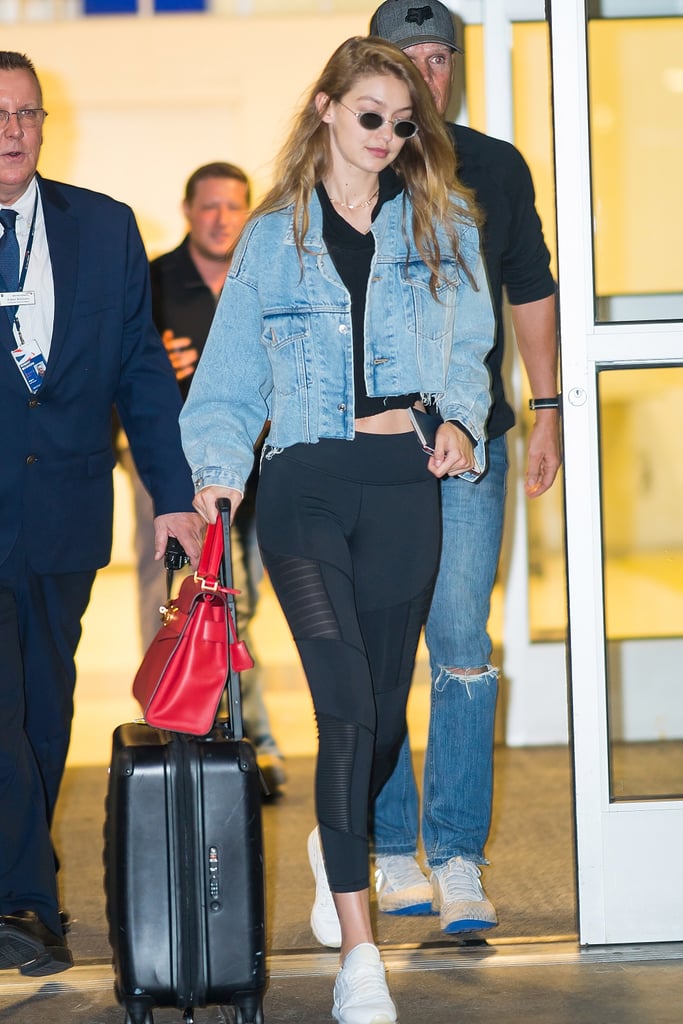 Gigi's another star who's not afraid to fly in her athleisure favorites. A '90s-style jean jacket completed this laid-back look.
Dakota Johnson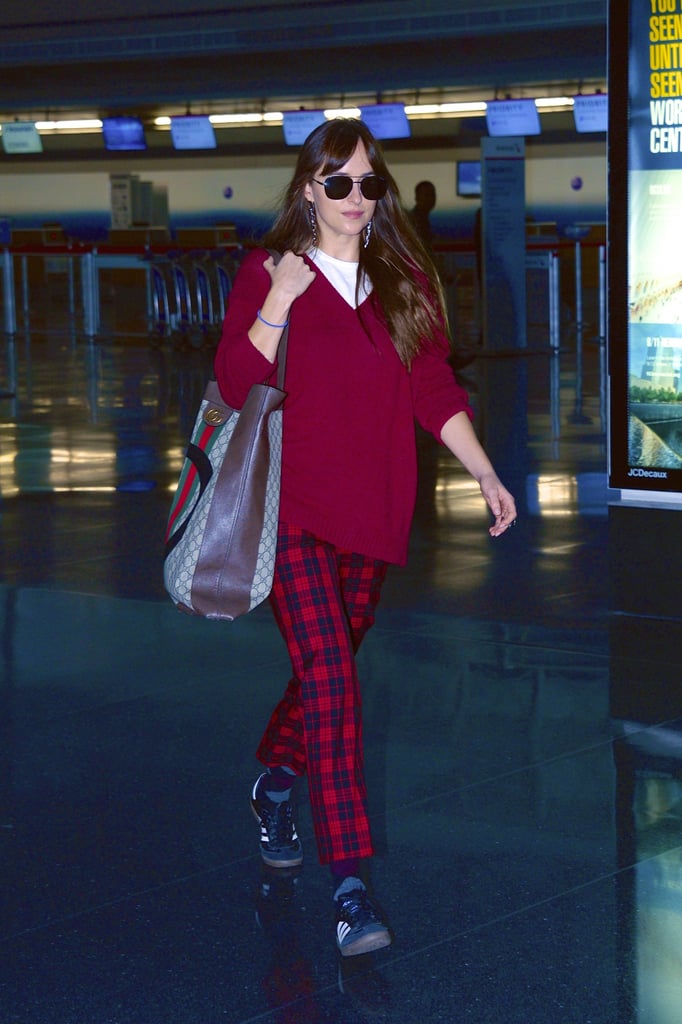 While most stars fly in neutral colors, probably so they blend in at the airport, Dakota proved that warm Fall hues look just as stylish.
Olivia Munn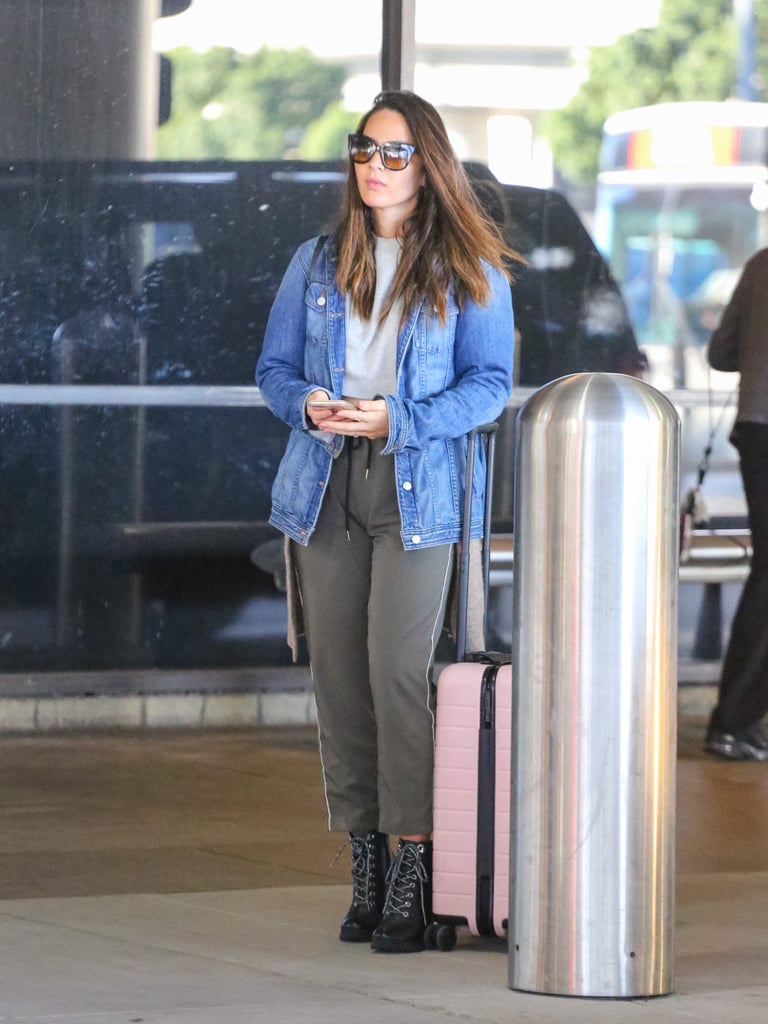 Like so many celebs, Olivia's trick to turning a casual outfit into something more special comes with the footwear, in her case a pair of chunky, high-heeled, lace-up boots.
Taylor Hill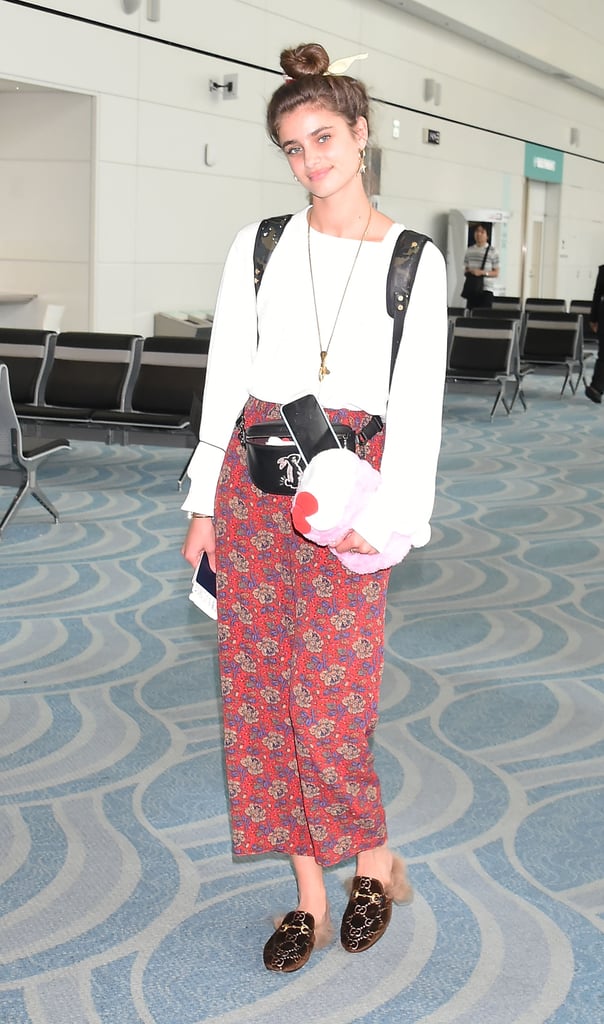 In case you were wondering, this is what those fur-trimmed Gucci loafers were designed for!