How Does Wearing Heels Make You Feel?
I Wore Heels to Work For 2 Weeks — and I Paid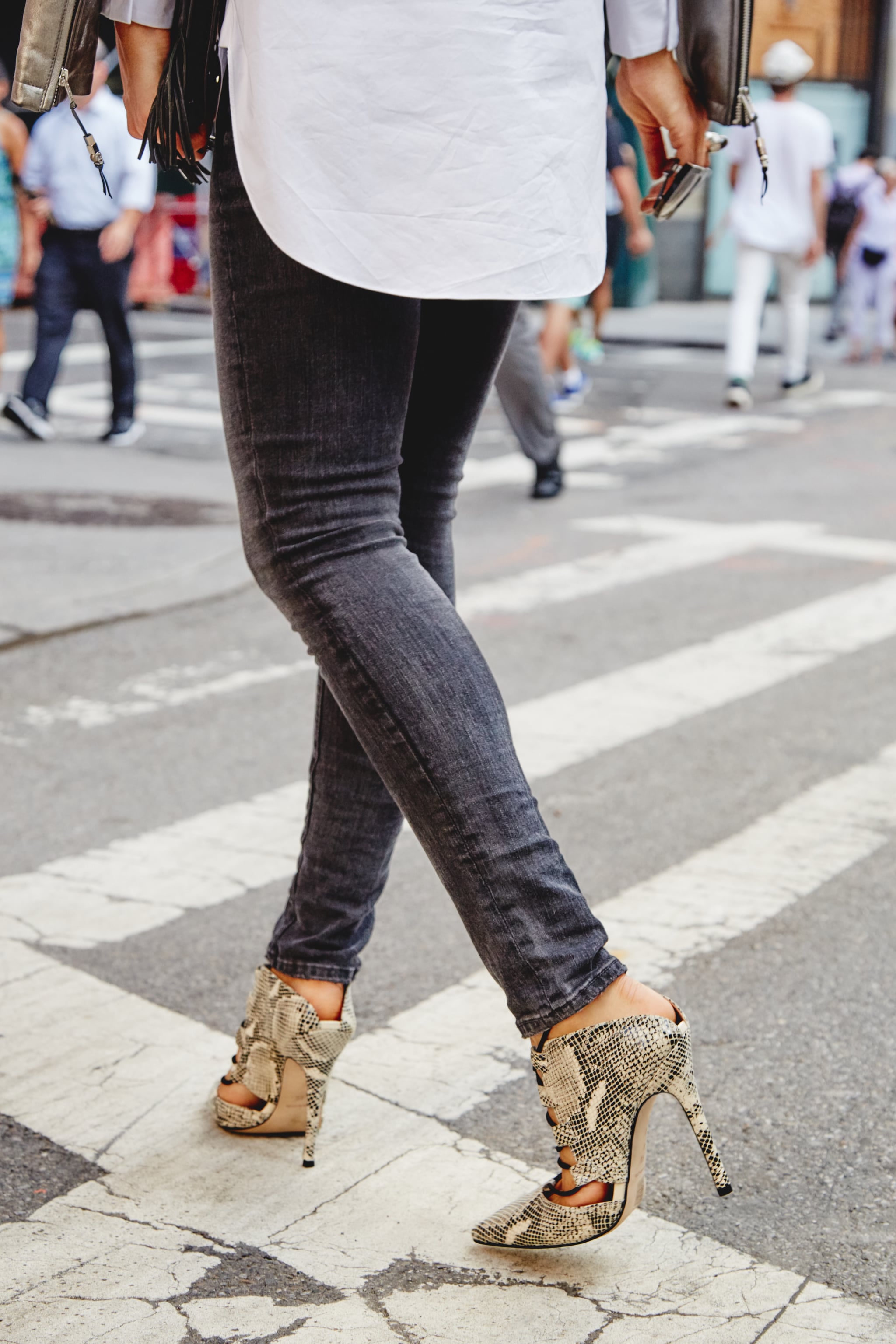 Once upon a time I lived in the corporate world and wore LBDs and stilettos to work every day. No blister or frigid trek across the Manhattan tundra could reverse the spell that heels had on my heart. And then one day like a fairy godmother, a career change rescued me to a land where everyday was casual Friday.
The reality is, my about face hasn't only been from nine-to-five. Thanks to more accessible trends like athleisure and dressy flats, my style has relaxed for night and weekends too. Am I more comfortable? Yes. Do I miss feeling fancy? Maybe. So when I challenged myself to wear heels to work for two weeks, I went all in. That meant no cheating — no extra change of shoes in my tote bag, no spare pair in my desk drawer. I would be wearing them to and fro for ten weekdays straight. My own personal exposure therapy, if you will.
The first thing I remembered wasn't the physical pain — anyone who's ever worn heels knows that comes much later down the road — it was the emotional pain of always being late. As a punctual person living in a mass transit world, I always factor extra time in the morning for the joyous experience that is my daily subway commute. But power walking six blocks to the N train is slower going when you're packing heat in your feet. I adjusted my alarm clock accordingly, but the time started adding up.
If I was considering stopping home to change between work and dinner I'd have to account for the walk both ways. If I was debating going on foot rather than taking the train I'd have to leave early. If I wanted to run down the subway steps I'd have to hold onto the railing. Which brings me to my next point: I'm a recovered heel addict but a struggling germaphobe. A pro subway surfer, some say. But if I'm wearing heels, I'm holding onto the pole — and carrying hand sanitizer in my bag (along with a fresh supply of Band-Aids and Blister Block).
And then there were the Uber bills. I'm won't blame heels entirely, but they definitely helped swing the pendulum in those moments when you're on the fence between being a responsible adult and saving money and not really caring about being a responsible adult because you're tired, or cold or your feet really, really hurt. In a perfect storm of running late, aching bones and suede-destroying downpours, I took a car home from work one night for a price which we shall never speak of again.
But the biggest shock came on day one. When I walked to my desk, admittedly with the extra burst of confidence that can only come with two and a half extra inches, I remembered why I was addicted to heels in the first place — those three magic words: "love your outfit." Throughout the week I realized that not only did my footwear upgrade basics, it encouraged me to play with new pairings and rediscover old favorites. Why should my feet have all the fun?
But there was something else behind the compliments. If you've ever dressed up for a job interview and left early for a "dentist appointment," you know what I'm talking about. Questions like "Where are you going?" and "What's the occasion?" made me feel an uneasy combination of flattered and awkward.
I hadn't realized how long it'd been since I wore heels to work. I hadn't realized how long it'd been since I put much effort at all into getting dressed for work in the morning for that matter. There's a fine line between relaxed and sloppy and as the weeks went on I realized I may have crossed it. Casual Fridays are fun, but they're more thrilling when scattered among down-to-business Wednesdays.
It turns out wearing heels for two weeks taught me more about the state of my mind than the state of my feet. It was a sudden and gentle reminder of the images we put out into the world — and it had nothing to do with my shoes. It had everything to do with my attitude! To answer an earlier question, I didn't miss heels, I missed feeling fancy. And I had no excuse. I could easily devote the extra pockets of time I put aside for walking in heels these past two weeks to putting outfits together in the morning or the night before — topped off with loafers, ballets or slides.
When the period came to a close my feet — and my calves — were more than happy to revert. Flats had become my uniform and I had no plans of packing in my Stan Smiths. Stilettos are no longer my reality, just a glamorous vacation. And at the end of the day I look at heels as just that: a nice place to visit, but I wouldn't want to live there.