How to Go Braless
I Channeled Kendall Jenner — and Went Braless at Work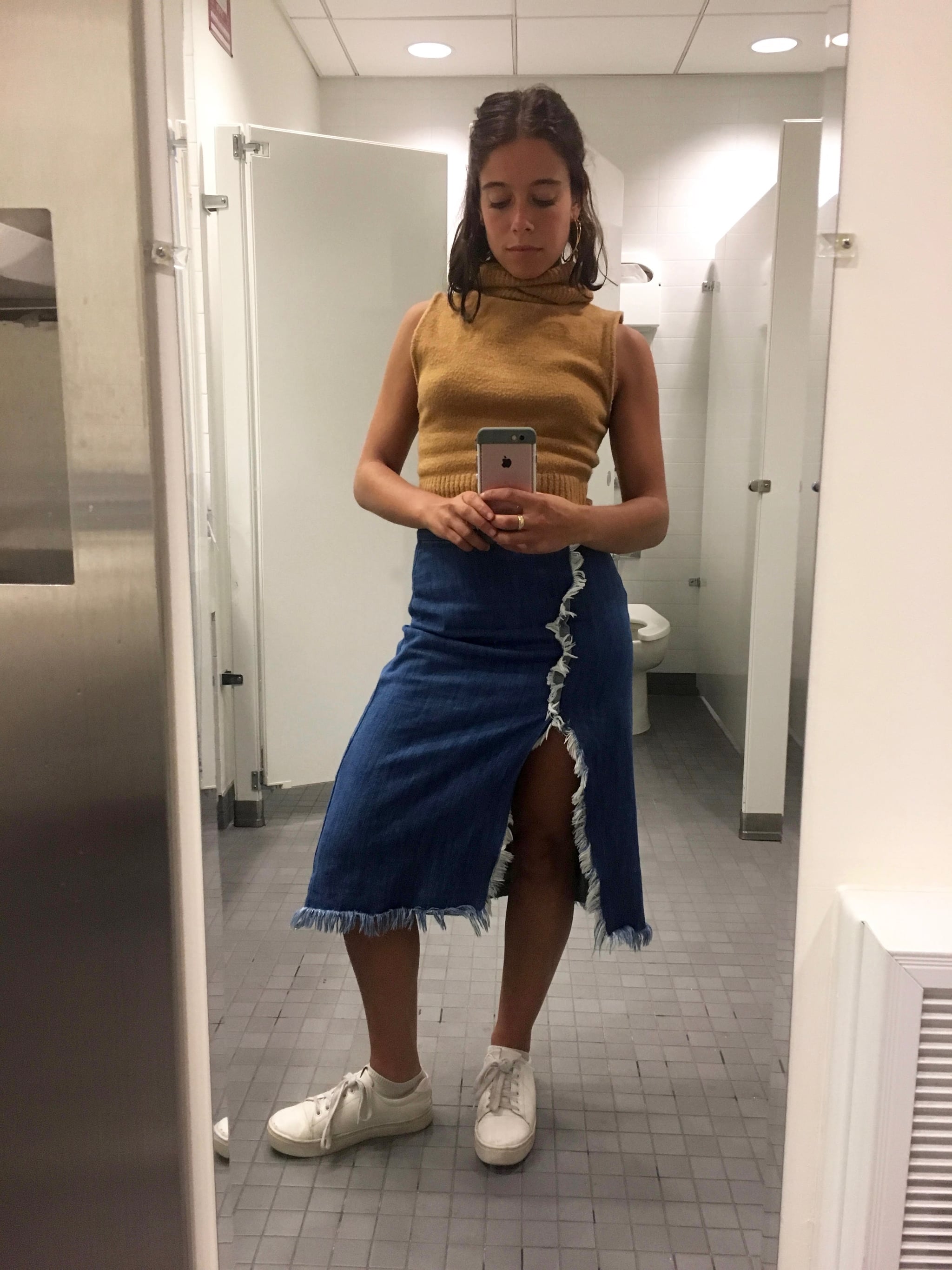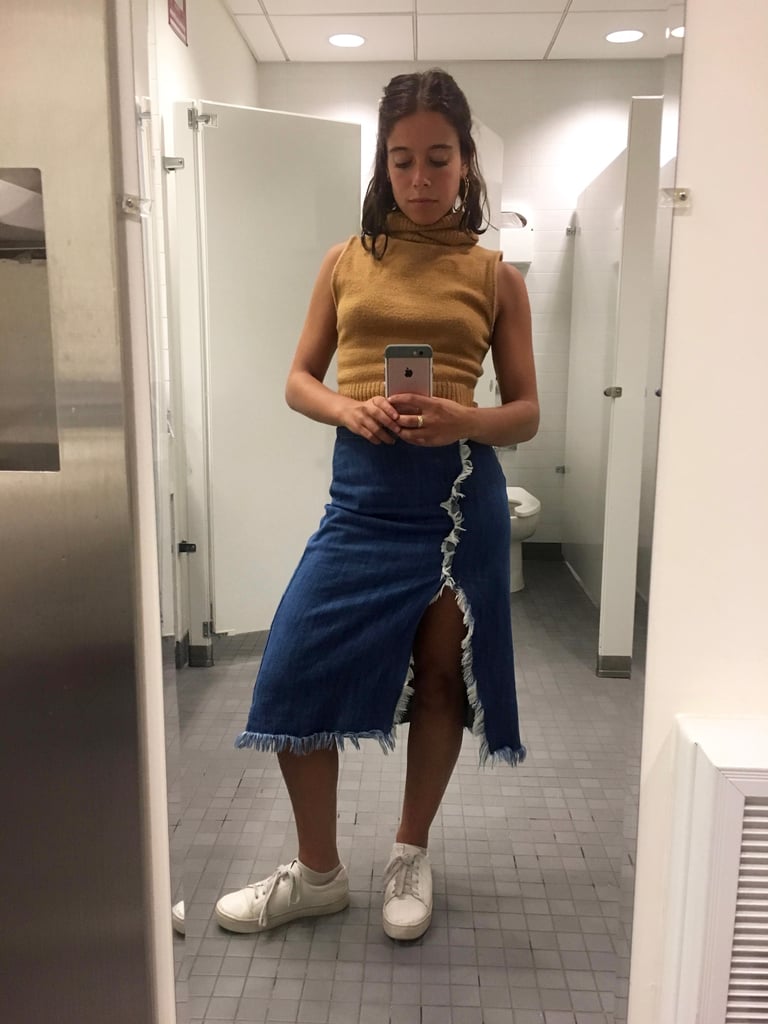 I hopped off the bus in Times Square and started to walk toward the office. That's when he saw me — the very homeless, very drunk man looking as disheveled as you can imagine on a sweaty, humid morning at 8:30 a.m. I had never gone braless to work before, but I had a feeling this dude had definitely been drunk at 8:30 a.m. before. He shook his head back and forth slowly as he stared down at my chest. "Why do you do that?" he moaned very loudly. Yes, seriously. I sped up into a walk-run, suddenly feeling extremely self-conscious.
I was wearing a sleeveless turtleneck in a fuzzy mustard-colored material so as to distract from my nipples as much as possible. Clearly, it wasn't really working. Plus, a bathroom selfie I had taken in the mirror that morning confirmed it was definitely easy to make out the shape of my boobs. But when I left the house, I had been comfortable. There were no bra straps to slip off my shoulders or underwire to adjust when it dug into my skin. Honestly, I kind of liked the look. I thought my outfit — the aforementioned turtleneck plus a denim skirt with a pair of sneakers — appeared effortless. I added a pair of gold hoop earrings too, which said "polished" but my nipples were just like "whatever." "Is this how it feels to dress like a French girl?" I wondered.
But you should know the reason why I decided to ditch a bra in the first place. During a brainstorm with my coworkers, I came up with the idea as an "editor experiment" based on the fact that Kendall Jenner has been all about wearing sheer tops that expose her nipple ring this Summer and supermodel sisters Bella and Gigi Hadid have followed suit. (The Hadid sisters don't have nipple rings, but they do have nipples.) And even though these ladies are more well-endowed than I am, they seem very nonchalant about going braless. When I look at their street style shots, I want to put on an outfit that appears to be so easy. "So who's going to try it?" I challenged, looking around the room during our meeting. "Why don't you do it?" someone said. Right. I had unknowingly volunteered myself to go braless, and at that point, I couldn't turn back.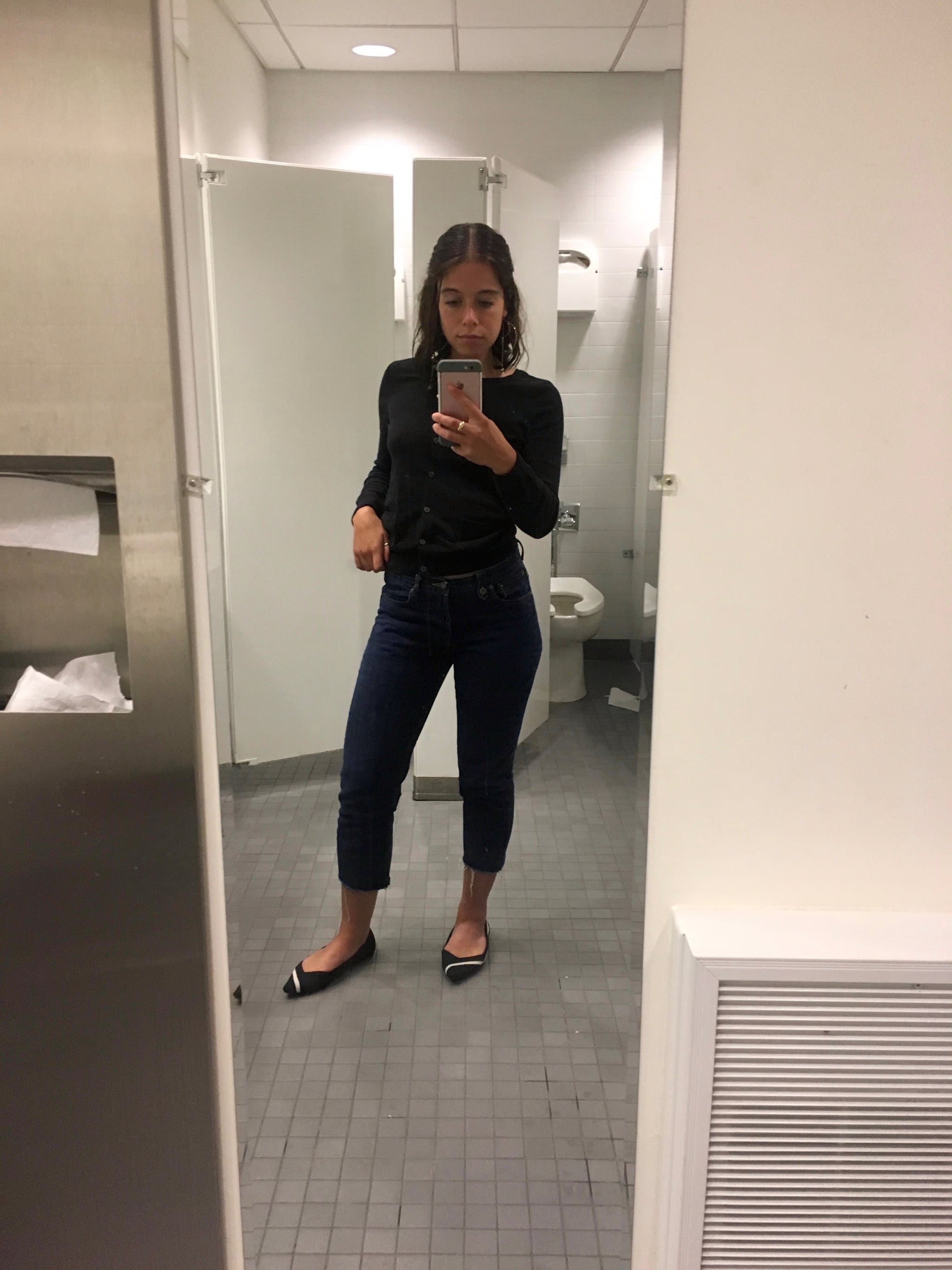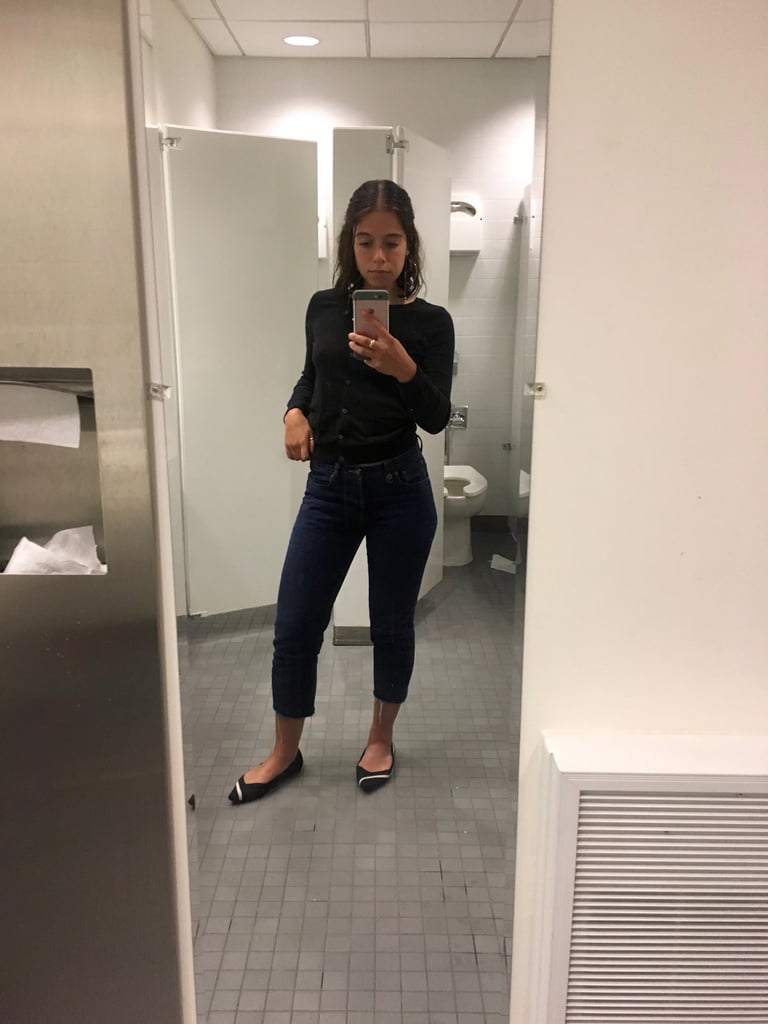 So there I was the next day in a black button-down cardigan — one I usually wear with my Victoria's Secret Bombshell push-up bra. But on this day, there was more of just a sag situation going on. I styled my sweater with cropped high-waisted denim, pointed-toe flats, and artsy earrings I always get compliments on. I wasn't trying to distract from my breasts, but I was, perhaps, trying to channel Audrey Hepburn.
"I can totally tell you're not wearing a bra," my mom blurted out at dinner on this night, as we sat around the table with my cousin who was visiting, my boyfriend, who probably doesn't love that I'm writing a Tale of Two Titties to be posted online, my sister, my grandma, who doesn't even remember where she keeps her bras or what they're for, and oh yeah, my dad. "Yes, I guess that's the point." I said, again feeling sort of uncomfortable that everyone was now staring at my chest. We're a supercasual family, so it's not like this was such a big deal. But I guess I was surprised by how often people were taking note — even when I was wearing black.
I took a final stance on going braless when the weekend came, and I was able to style my "going out" outfits more easily. Since a night out to dinner with Bae called for a pretty little sundress with complicated bow straps, it felt like such a relief to not have to worry about the placement of stick-on boobs, or as some girls call them, "chicken cutlets." There was zero panic about those guys peeking out from the sides or the top of my dress, and no chance of them slipping down when I started to sweat (partly because it's Summer and partly because the Cioppino sauce was supposed to be spicy).
Later that night, I changed into a floral tube top that cinches into a bow at the front and would absolutely have revealed all different smidgens of my bra or bralette if I had attempted to wear one. I threw on the flirty top with cutoffs and sandals and danced the night away. It felt so easy! "This is it! I am French!" I thought to myself as I kicked it to "Despacito" at the bar. Some of the people I am friends with and spend time with on the weekend did notice I wasn't wearing a bra. Jokingly, they called me names like "Titties McGee" which felt a little bit demeaning to me, but in their defense, I told them all about my experiment, and they were very supportive.
All in all, going braless is far less manageable at the workplace. I couldn't help but feel uncomfortable when I was sitting in meetings, the AC was blasting, and my nipples were the most excited things in the room. But going braless on the weekend? Now that I can get behind — I even think it looks more elegant to make the move with a fancy gown at a wedding. Because really, messing around with boob tape is never fun, and it can cause wardrobe malfunctions and straight-up inconvenience when you're just trying to enjoy the shrimp cocktail instead of having to run to the bathroom every five minutes.
That said, going braless isn't for everyone. There are women who truly need the support of a bra on an everyday basis, and luckily for them, the look is definitely more sleek, polished, and clean. Nevertheless, I don't mind a good fashion experiment every now and then. I could have done without the 8:30 a.m. comments from one inebriated individual, but it did help me to draw conclusions about how I felt without a bra on. I do think going a full week without one helped me feel more confident in my own skin.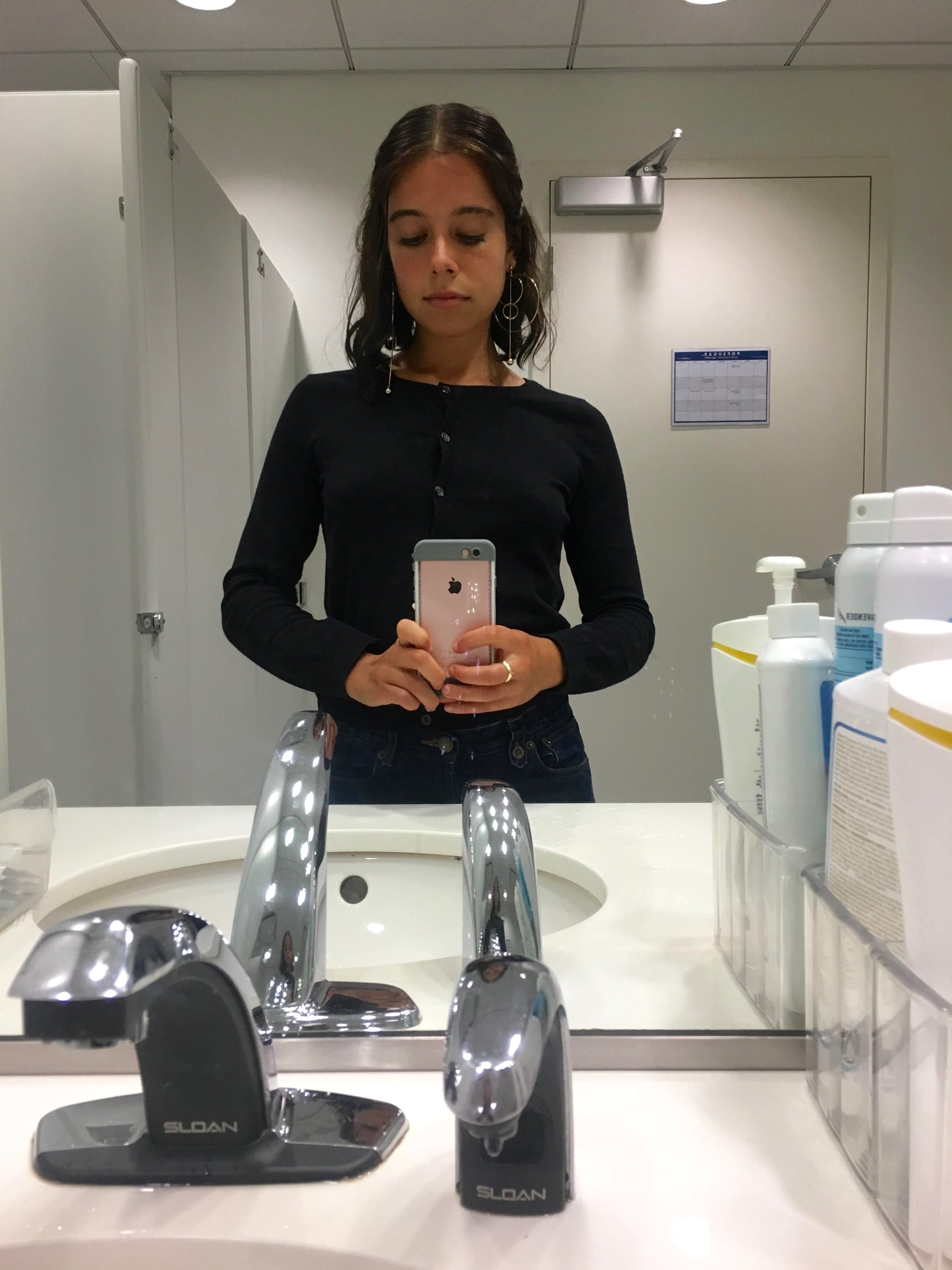 Not that bra size is of much importance to me, but as a 32A, I wouldn't mind being, like, one cup size bigger. It'd be nice to fill out a bodyhugging top with a plunging neckline, instead of swimming in the material or having to secure a safety pin behind my neck to hold things in place. And I'd love to wear one of those retro-style swimsuits with a half-moon cup and underwire that provides lift. Unfortunately, I don't really have much of anything to "lift." Even so, my boobs became more visible to me during the week I went braless. As soon as I took off my shirt at the end of the day, there they were!
I discovered the natural shape of my boobs, too, because I was always staring right at them when I looked in the mirror. It turns out, my boobs aren't perfect mini-circles, as they appear to be when I'm wearing a bra. Without a bra, I had to support my own breasts, and I did this by wearing my head high and shrugging off the double takes and widened eyes of the people I passed on the street. I did this by paying attention to my posture. Instead of slouching, I stood up straight. Instead of hunching over at my desk, I perked my head up and rolled my shoulders back. The whole week was a sort of lesson in poise for me, and I'm proud of myself for sticking through it. I'm proud of my boobs, too.
Image Source: POPSUGAR Photography / Sarah Wasilak