Every time Kerry Washington [1] steps onto a red carpet, you know that you are going to see her in something jaw-dropping. She loves to take risks, like rocking thigh-high, fire engine red boots or a star-studded version of a classic little black dress. Needless to say, Kerry's style is one of the things that makes her stand out among the crowd. She did tell POPSUGAR in 2017 that she gets inspiration "from all over — from travel, from magazines, from movies, music videos," so it makes sense that her choices are all so varied. Keep reading to see how often she likes to step out of the box!
Kerry Washington Wore All the Fabrics at the 2013 Emmys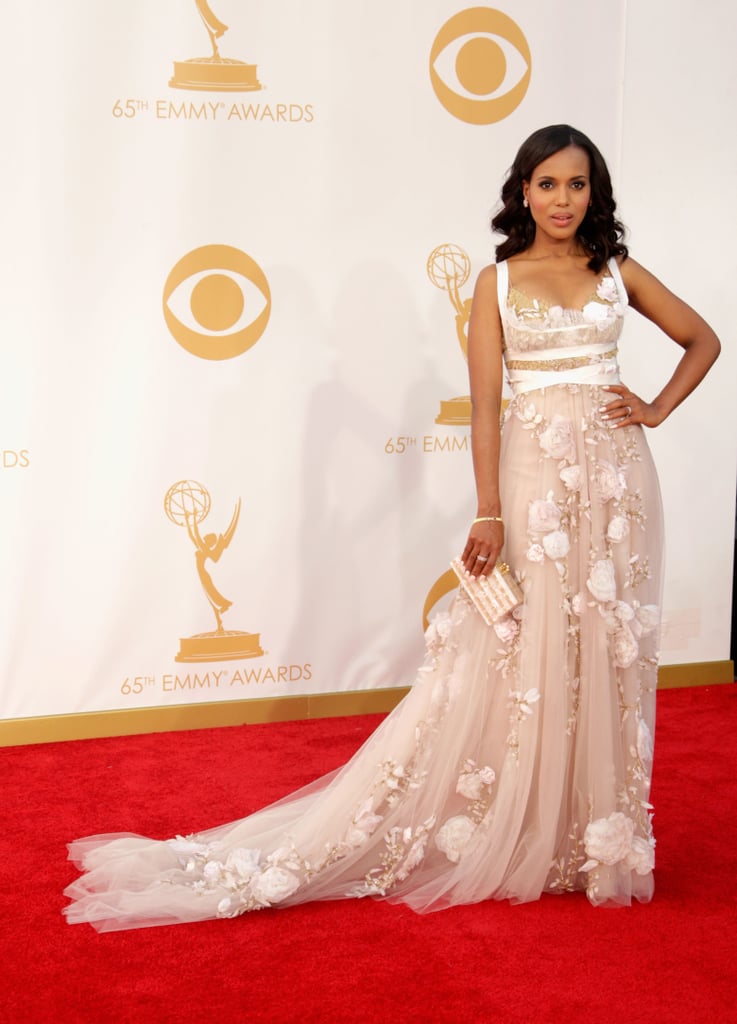 She took our breath away in this Marchesa gown because of all the different details. It had flowers, tulle, and gold lace — the trifecta of elegance.
She Wore a Play on the Classic LBD at the 2015 Film Independent Spirit Awards
This Balenciaga dress was black and blue with gathered sleeves. All the details came together beautifully to make Kerry look like a boss!
Kerry Wore a Body-Hugging Gown at the 2015 Vanity Fair Oscars Party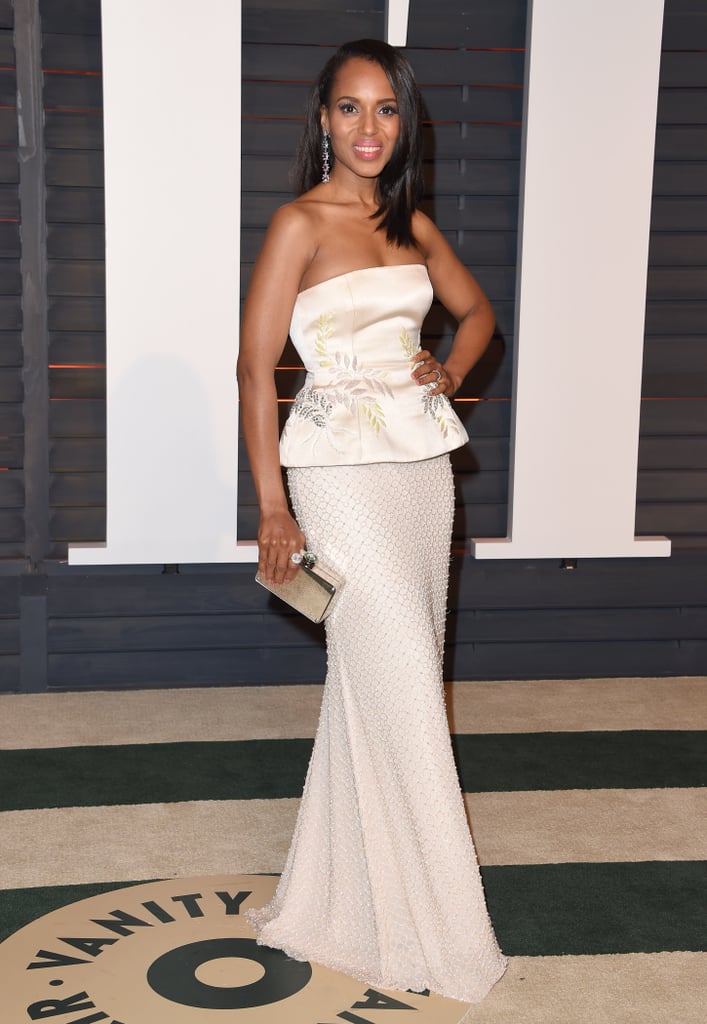 Her Miu Miu dress was all business with the peplum top and party at the bottom with the embroidered skirt.
She Mixed Up Her Accessory Game at the 2015 Met Gala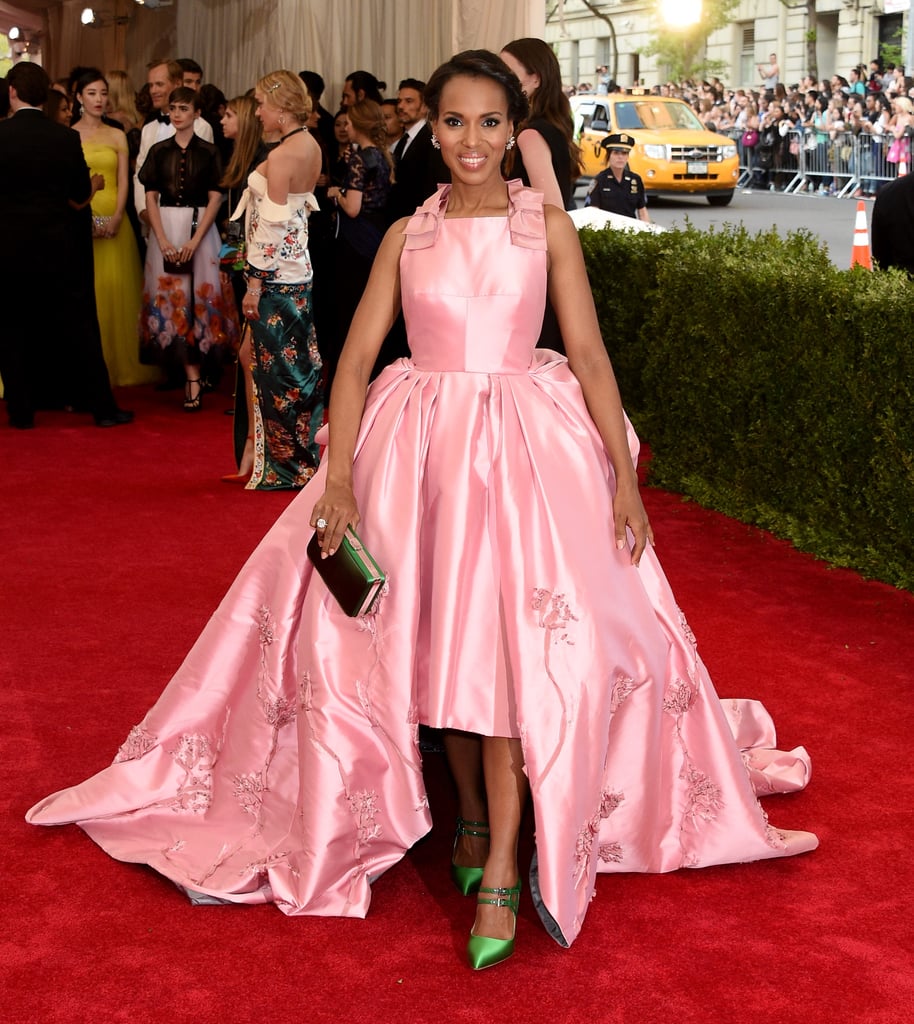 Kerry did the damn thing in this Prada ballgown and wore emerald accessories that contrasted perfectly.
She Rocked a Crop Top at the 2015 Glamour Women of the Year Awards
Wearing a David Koma two-piece ensemble, Kerry looked like a CEO ready to handle some fancy business.
Kerry Wore a Sheer Ballgown at the 2015 Baby2Baby Gala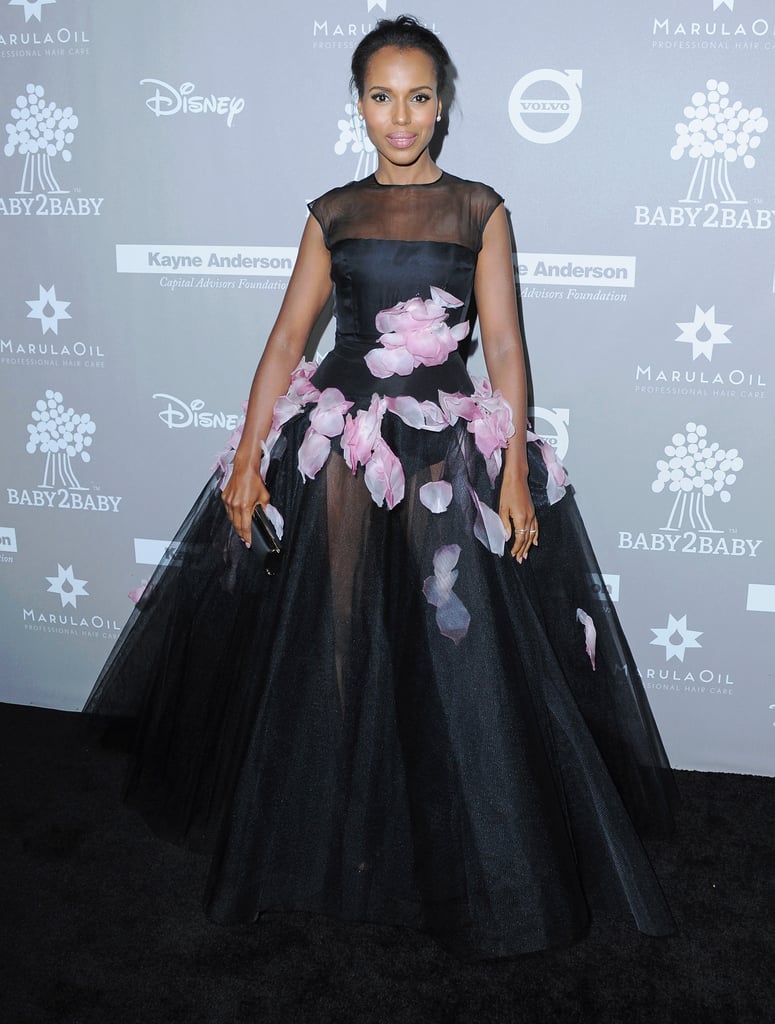 The petals on this Giambattista Valli Haute Couture dress were gorgeous, but if you look closely, it's the sheerness of her dress that will make you swoon.
She Embodied a Disco Ball and It Worked at the 2015 Emmy Awards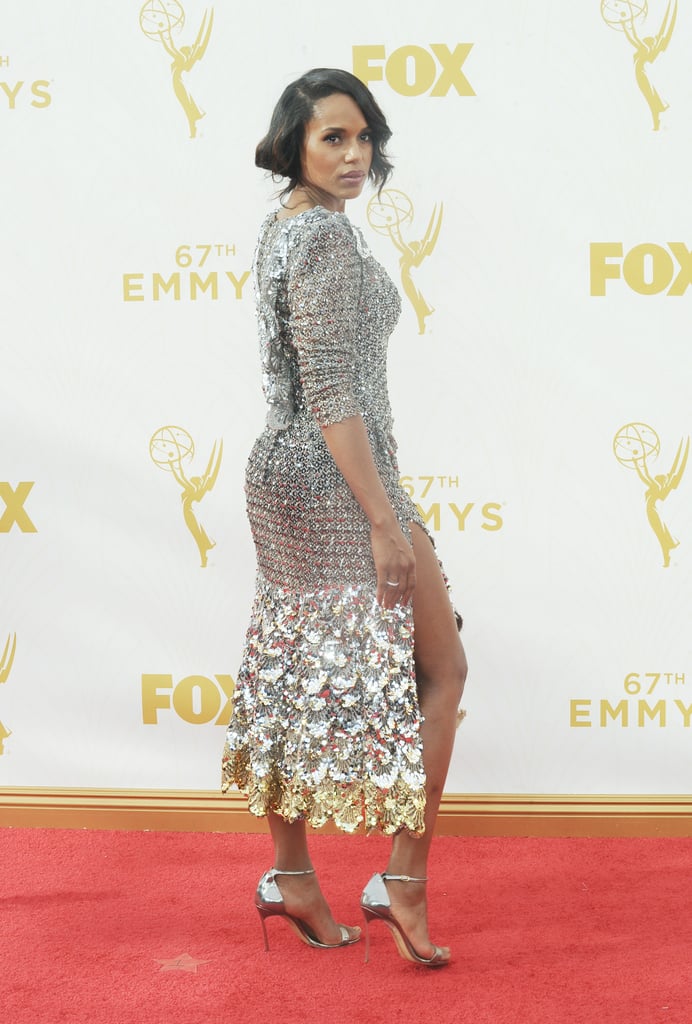 The star stepped out in a dazzling Marc Jacobs dress with different patterns and metallic colors all throughout.
She Gave "Mix and Match" a Whole New Meaning at the 2016 Oscars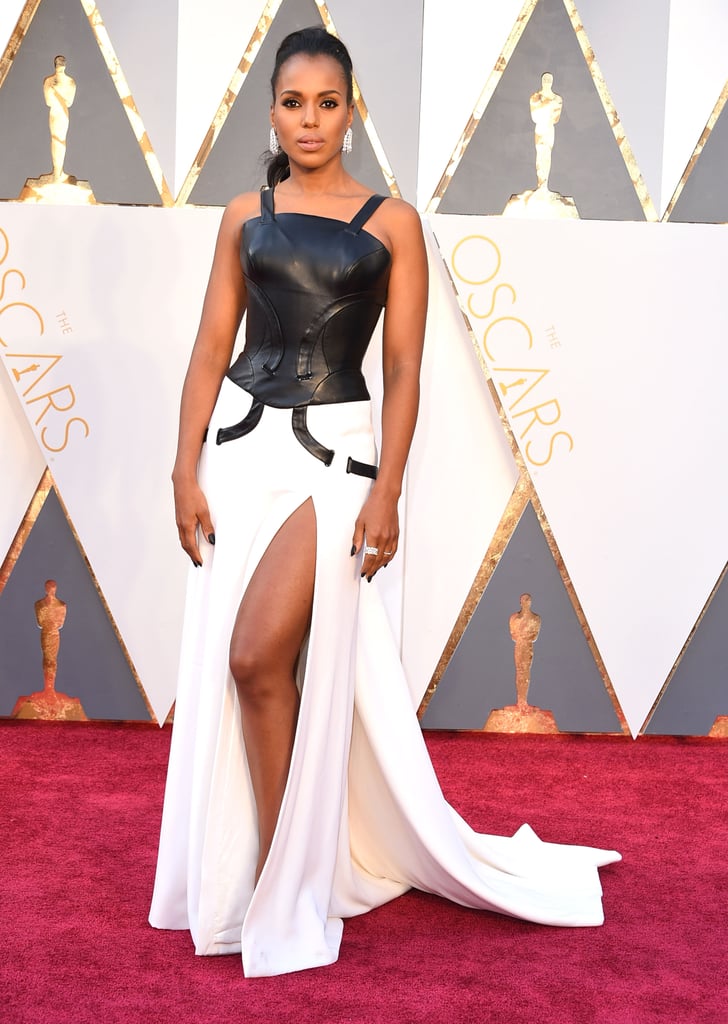 The leather in the corset top and the flowy white fabric on her Atelier Versace gown made the perfect combination.
She Took Drama to New Heights at the 2016 Emmy Awards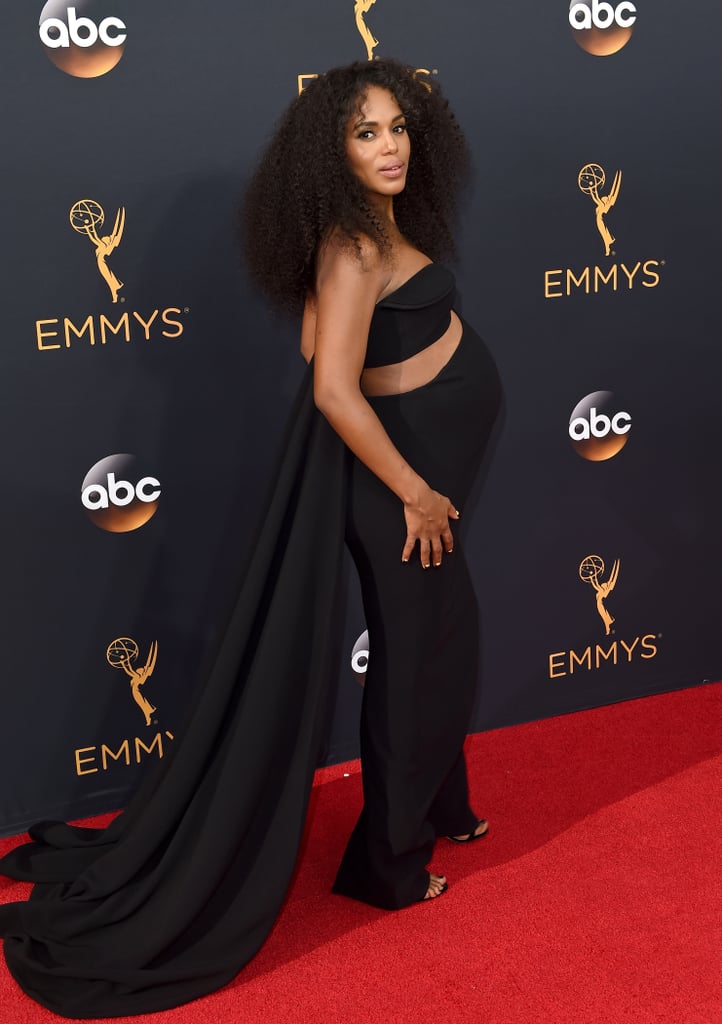 The sexy slits on the side and the cape in this Brandon Maxwell number added the perfect level of oomph to the outfit.
Kerry Rocked All Sorts of Details at the 2017 Golden Globes Netflix Afterparty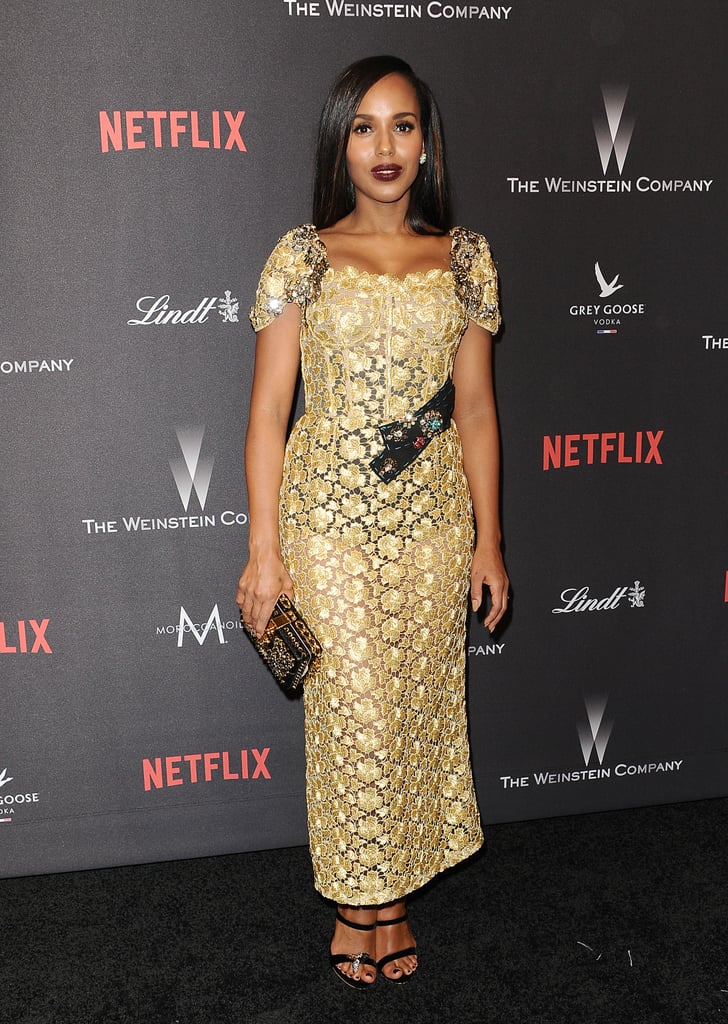 This Dolce & Gabbana dress was sheer, had rhinestone embellishments, and featured an adorable bow with different pins at the waist. It was a true work of art.
She Wore Animal Print in the Most Subtle Way to the 2017 SAG Awards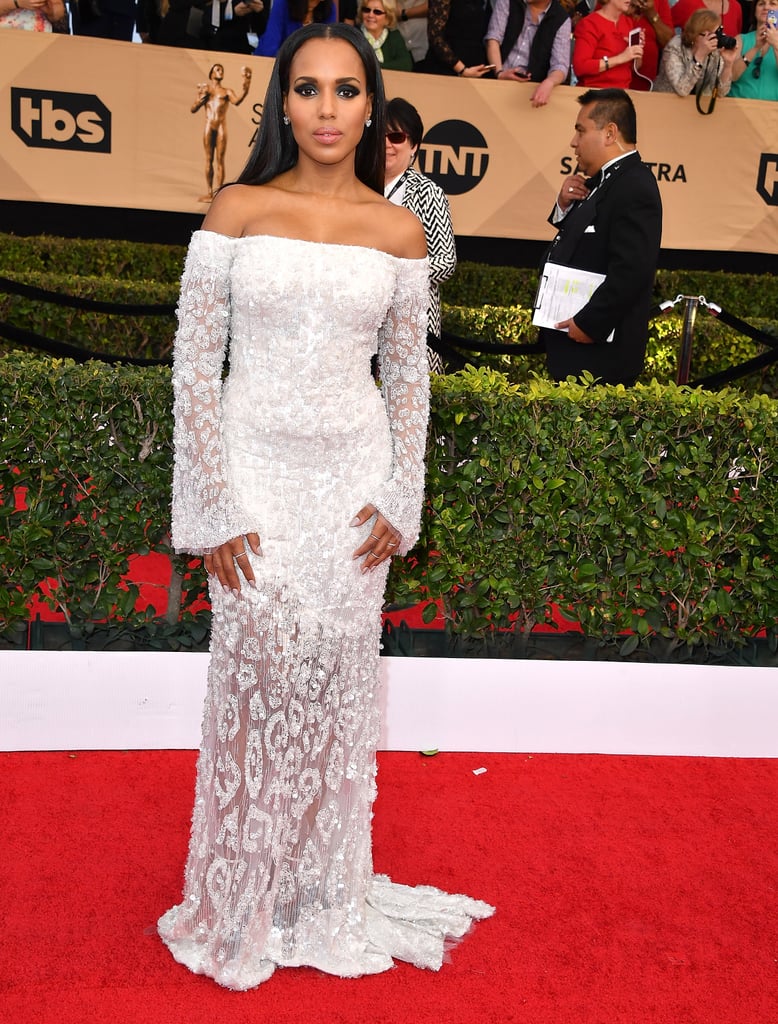 Kerry rocked an off-the-shoulder Cavalli Couture gown that looked like a masterpiece. If you look closely, you can see the leopard print all throughout.
She Wasn't Afraid to Wear Different Fabrics at the 2017 Producers Guild Awards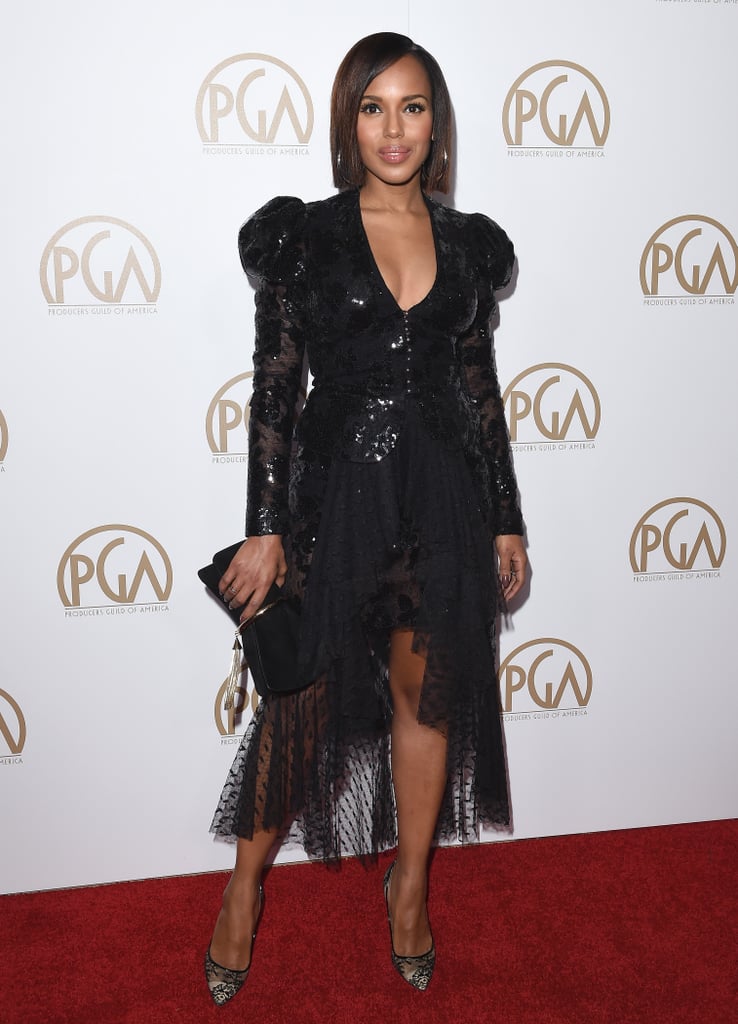 Kerry took a walk on the vampy side with this Rodarte dress. It had lace sleeves, puffy shoulder pads, and tulle running down the front.
She Looked Like a Sexy Robot at the 2017 Met Gala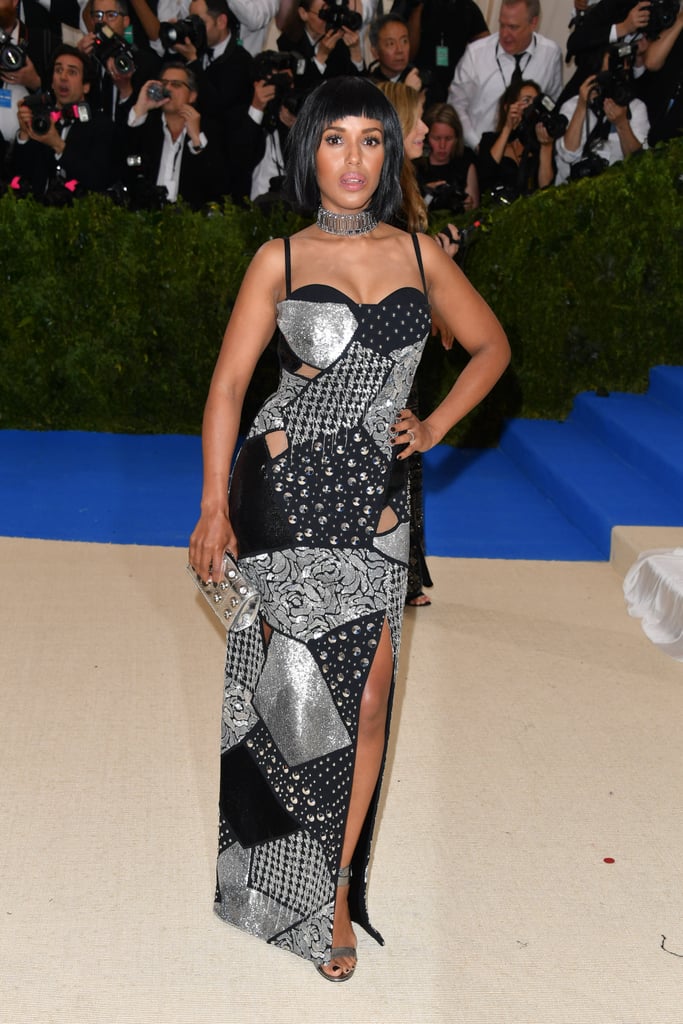 The 41-year-old rocked this Michael Kors dress with slits and bold mixed prints.
Another Outfit That Proved Kerry Means Business Was This Look at the 2017 Forbes Women's Summit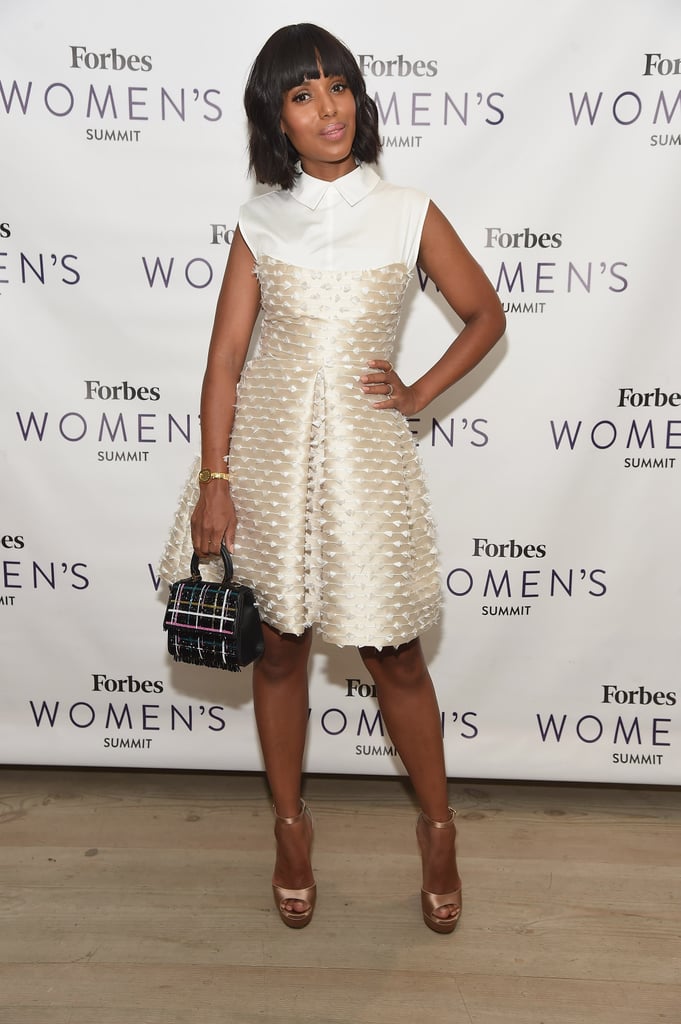 Kerry loves wearing florals, and it showed in this Lela Rose dress.
Kerry Took Contrasting Prints to a New High at the 2017 Women Making History Awards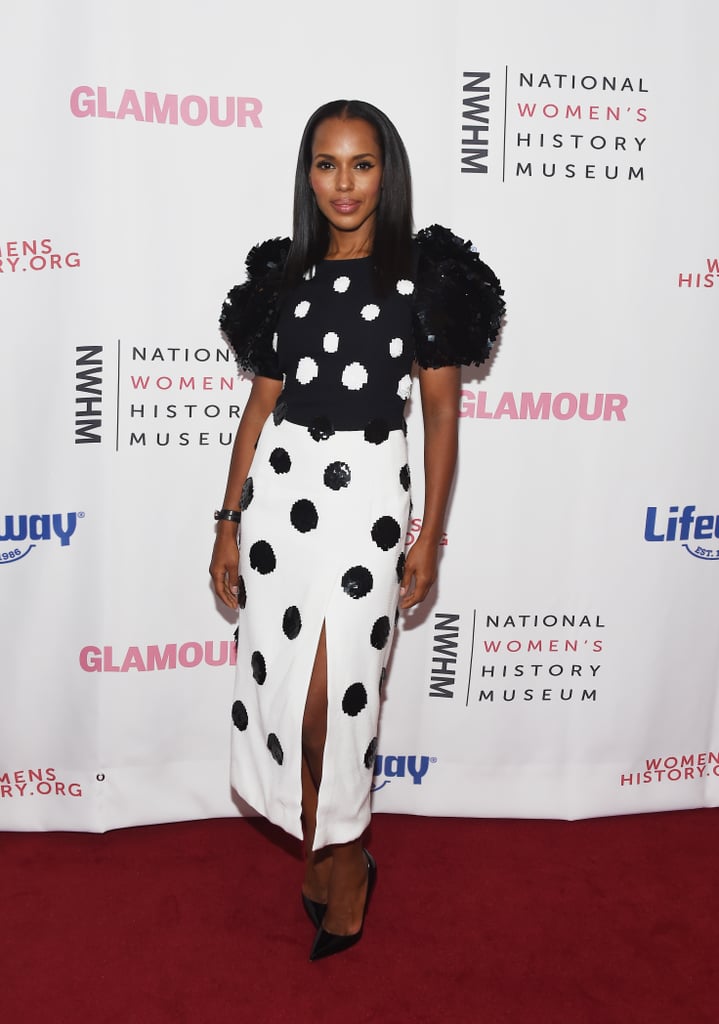 She wore this Carolina Herrera dress beautifully. The patterns and sleeves were different but came together seamlessly.
There Was No Messing With Kerry and Her Florals at the 2017 GLSEN Respect Awards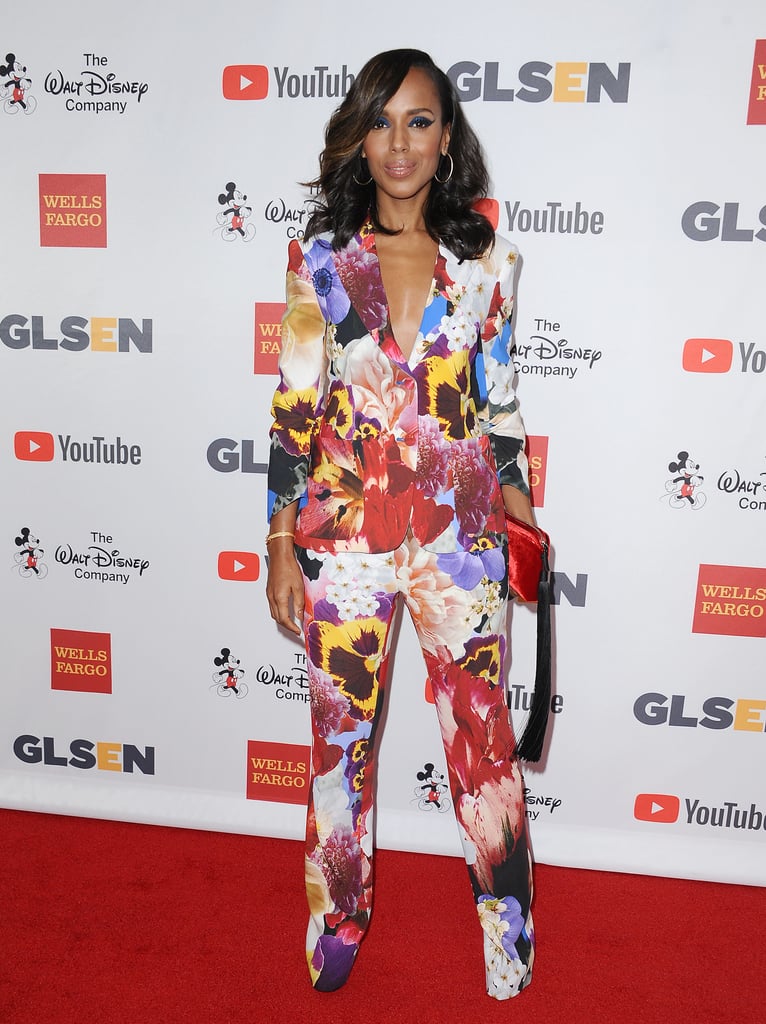 Like a true boss, she wasn't afraid to step out in this matching Roberto Cavalli tuxedo. The bright colors were so much fun.
Kerry Was Officially the Queen of Print Mixing at the 2017 LACMA Art + Film Gala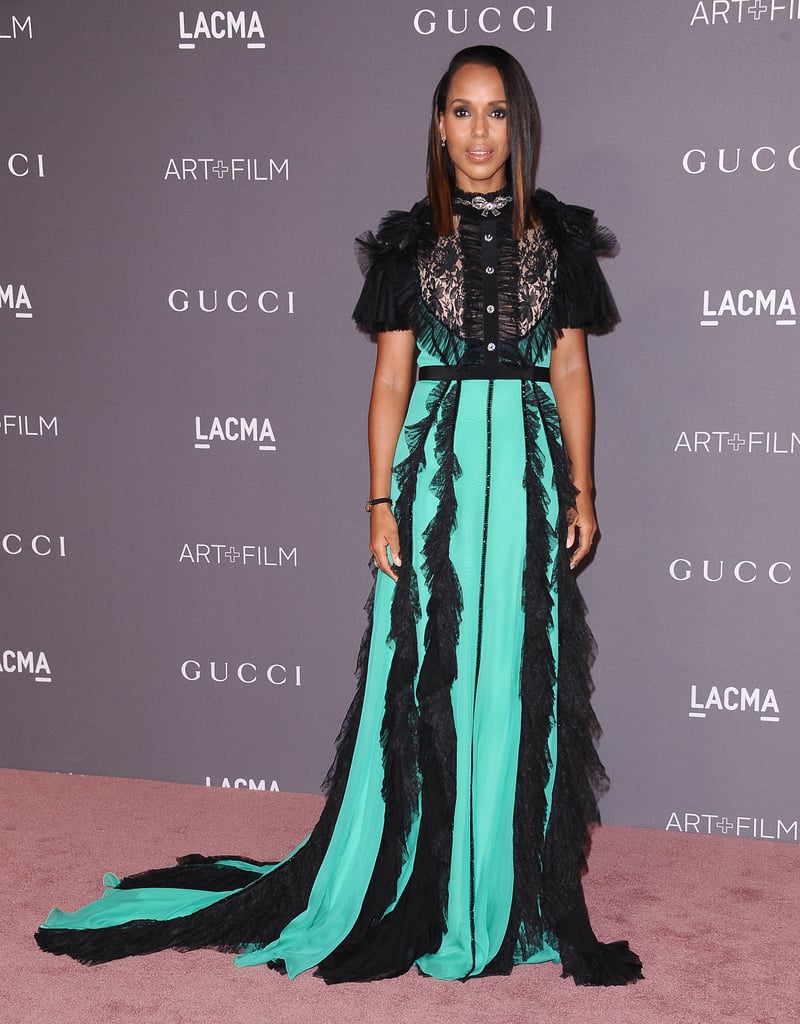 In her best Gucci gown, Kerry rocked lace, tulle, and even a pop of color.
It Was All About the Shoes at the 2017 InStyle Golden Globes Afterparty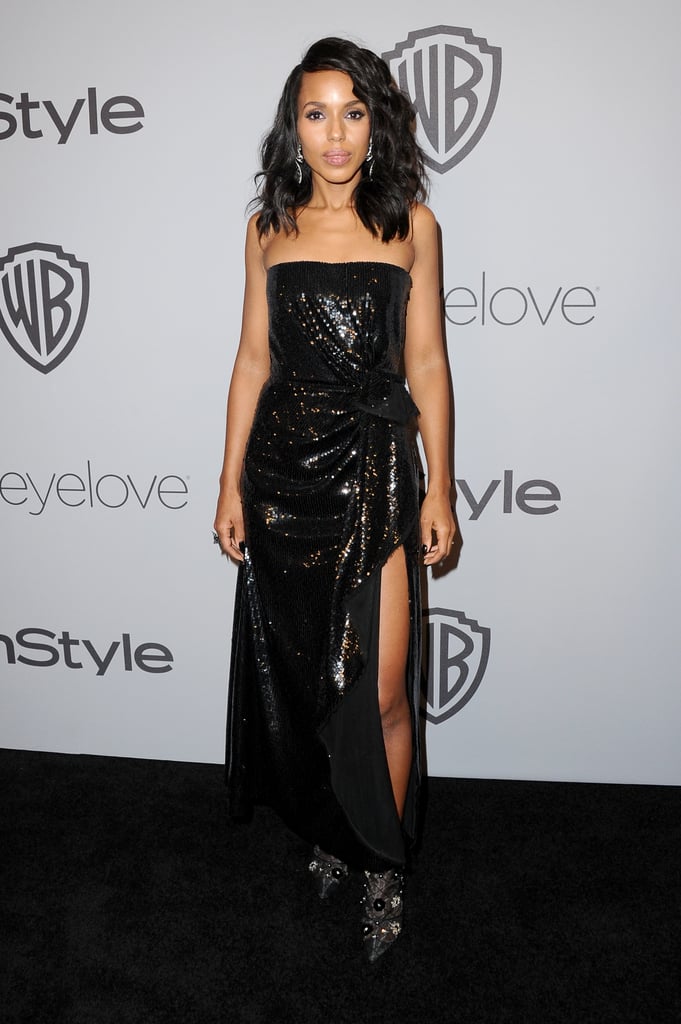 Kerry decided to dress up her Prabal Gurung dress even more with a pair of stunning Roger Vivier mesh ankle boots. It was a great touch.