Should I Dress Up For Fashion Week?
I Wore Leggings to Fashion Week Because I Didn't Feel Like Dressing Up, and It Was Liberating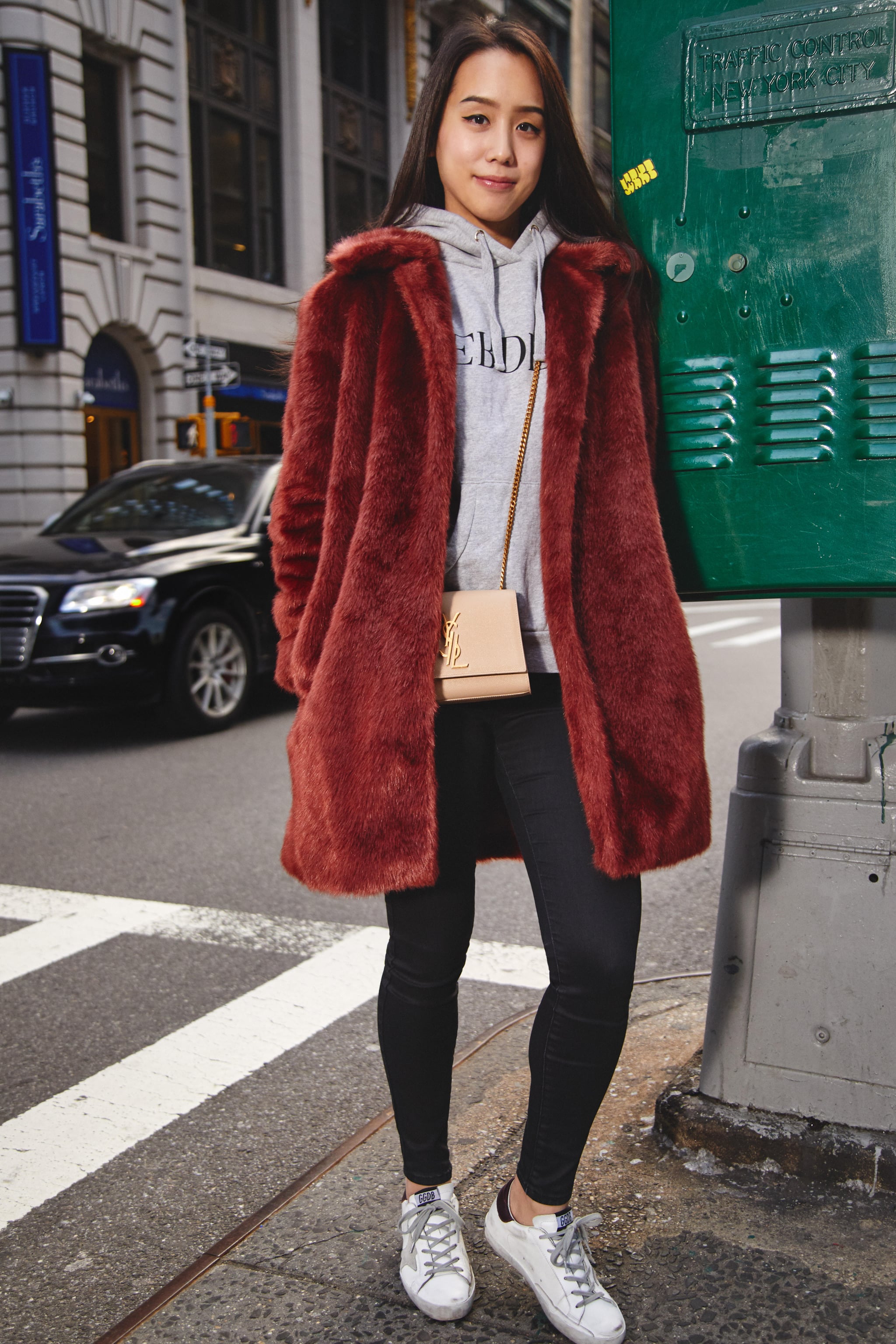 For fashion girls, getting dressed up for New York Fashion Week is like a rite of passage. There's pressure to look good at shows, especially if you're sitting front row, and to be harmonious with the stylish crowd. I mean, there's the chance you could potentially run into Anna Wintour! And what if that run-in feels like a scene out of The Devil Wears Prada? You know, like when Andy Sachs awkwardly meets Miranda Priestly for the first time. I kept all those notes in mind while picking out outfits for shows last year. But this season, something changed. I didn't give a sh*t about dressing up.
That's not to say I went to shows in sweats (I thought about it), but I wasn't going to stay up until midnight picking out a look or spend my weekend creating seven "Fashion Week-worthy" outfits. I decided to dress like myself this season — to be genuinely satisfied with what I already had in my closet. I did not ask designers or brands to borrow clothes, though fashion editors are notorious for doing this ahead of Fashion Week. (I did, however, borrow combat boots, only to participate in a fellow editor's photo shoot.) But I most definitely didn't buy new pieces just to wear to shows.
What was my motive? I wanted to prove to myself that my everyday style isn't "bleh" and that I don't need to dress up for shows to have fun. (If you thoroughly enjoy doing that, though, all the power to you.) I wanted to simply go appreciate a designer's collection without making the day all about me and my outfits. I think many women beat themselves up over not "having anything to wear" out of fear of repeating separates, but if you have invested in quality pieces that you feel good in, who cares if they're not statement-worthy?
So while my coworkers were asking each other "What are you wearing?" and "How should I style this?", getting excited over their new fashionable finds, I sat there, saying, "I don't know. I think I will wear leggings one day."
This idea isn't exactly out of the box if you've been following the athleisure trend. Celebrities like Kendall Jenner and other street style stars have made leggings, and by extension, joggers and track pants, trendy again, rocking them with crop tops, sweaters, and sporty sneakers. Brands like Adidas have capitalized on the athleisure uniform and labels such as Off-White and Vetements show that casual streetwear looks are now the norm, not the exception. So with the approval of these major industry players, I wore my usual attire of sweaters, jeans, and hoodies to the shows.
To take the work out of creating outfits, I even let my boyfriend dress me for a day, thanks to a genius plan devised by my fellow editor, Nikita. I also repeated clothes and accessories and didn't give that a second thought. In fact, I wore the same Topshop coat so much, our photographer politely suggested that maybe I leave it out for our final round of outfit photos. I nodded and LOL-ed to myself.
My looks were admittedly not the most exciting to street style paparazzi, hungry for those "OMG" outfit shots — they let me walk on by without taking a single snap — but that was completely OK with me. I still felt confident, happy, and at ease as I walked alongside ladies who were definitely dressed to impress in the latest designer gear. I felt liberated to be wearing whatever I wanted and I rode that high every day to shows.
On one of the final days of Fashion Week, I did wear my Zara leggings, as promised, with a black sweater and a leather jacket. I rocked this outfit while sitting front row at Anna Sui and I have never felt more comfortable at a show than I did then.
The best part? I don't think anyone remembered the outfit I wore. (Granted, I wasn't someone of Blake Lively's caliber sitting front row, though I'd challenge her to rock leggings to a show one day, too.) All the guests busily 'grammed Gigi and Bella Hadid on the Anna Sui runway and were too enamored by the Fall '18 collection to notice a girl in the front row wearing leggings. In my opinion, that's the way it should be.