Twitter Response to Ivanka Trump Skipping Headscarf in Saudi
Here's Why Ivanka Trump's Decision to Skip the Headscarf in Saudi Arabia Is Important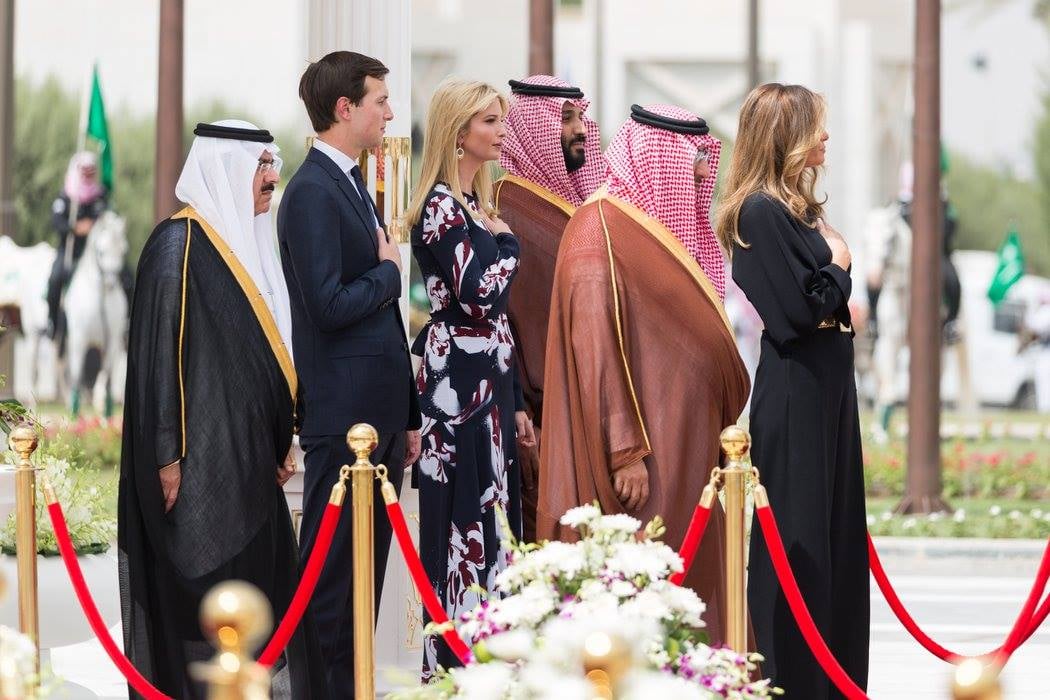 First Lady, Melania Trump, decided to forgo the headscarf while meeting the king of Saudi Arabia in Riyadh on Saturday. So did President Trump's beloved daughter, Ivanka Trump. If you're reading this wondering, "so, what's the big deal", let us tell you that their choice of dress is notable because Donald Trump criticized the then first lady, Michelle Obama, for making the same decision in 2015.
Many people are saying it was wonderful that Mrs. Obama refused to wear a scarf in Saudi Arabia, but they were insulted.We have enuf enemies

— Donald J. Trump (@realDonaldTrump) January 29, 2015
The two women definitely have the right to wear whatever they want, because unlike Iran, a Hijab is optional in Saudi Arabia. Both women did skip the headscarf but were conservatively dressed in long pants and dresses. Many notable female leaders have eschewed the cover-up in recent years, including British Prime Minister Theresa May, former Secretary of State, Hillary Clinton, and just recently, German Chancellor, Angela Merkel.
The decision had Twitter users mainly very supportive of both the women, however, some users did point out how hypocritical Trump was being—something which seems to come rather easy to the president.
Seems Saudi men dont know too much about engaging with beautiful, sophisticated, graceful women who are ALSO powerful
Uncomfortable!#Ivanka pic.twitter.com/xOhFQNX9Aq

— Redeemed Suzy (@suzydymna) May 20, 2017
Criticized for not wearing headscarf in Saudi Arabia: Michelle Obama.

Not criticized: Ivanka & Melania Trump.

Draw your own conclusions.

— wesmorgan1 (@wesmorgan1) May 20, 2017
#بنت_ترامب This Hashtag is showing (trending) up in #SaudiArabia because of @IvankaTrump shows you how popular a women is whithout a #hijab. pic.twitter.com/rh41DsFAZk

— Milo Yiannopoulos (@MiloYiannopfans) May 20, 2017
When you live in Saudi Arabia and see a woman's hair and ankles for the first time. #Ivanka #Trump pic.twitter.com/LNLK88z4PO

— Paul Felder (@PaulFelder) May 20, 2017
Advances will be made toward women's rights with the presence of Melania & Ivanka Trump & other women leaders in Saudi Arabia this trip. pic.twitter.com/3SLrNVN0UK

— DeplorableNoMoreable (@joyreaper) May 20, 2017
Melania & Ivanka Trump in #SaudiArabia in long, covered dresses respecting local sensibilities, courtesy @Abunass3r pic.twitter.com/EBre9S4ckH

— Office Of AQ (@Office_AQPk) May 20, 2017
Ivanka and Melania Trump follow in the footsteps of Michelle Obama and forgo a headscarf.

Obligatory old Trump tweet for the occasion... pic.twitter.com/ZcGPpP6c7J

— Sarah Browning (@sarahbrowning8) May 20, 2017
When asked why the Trumps went without the scarves, the White House told CNN that they were not required to wear them.
Not that we are surprised, but what do you think of Trump's hypocrisy? Tell us all your thoughts below and see his upcoming schedule.
Image Source: Official White House Photo Shealah Craighead