I Channelled Zendaya's Style For One Week In Dubai
I Dressed Up Like Zendaya For A Week, And Here's How It Went
So, let's get one thing straight. Zendaya is stylish – like really stylish. At just 23 years old, she has become a fashion icon in her own right – designing for Tommy Hilfiger, sitting FROW at fashion week, and just outright owning the red carpet. I, on the other hand, am not. While I like to think I have style (humble, I know), I haven't quite topped Zendaya. For years, the world has admired her fashion choices from afar so, we thought, it was about time they come closer to home. We at POPSUGAR ME couldn't think of a better way to ooze Z's style than to try it out for ourselves. Yep, that's right. I spent a whole working week dressed like Zendaya Coleman. And, here's how it went:
First off, Zendaya and I have slightly different body types; she's taller and more petit, while I'm slightly curvier. When it came to choosing which looks to replicate, we wanted variety - Zendaya on a night out, Zendaya on a chilled Sunday, Zendaya on the red carpet – you get the gist. So, for my big debut, we went for Zendaya at Paris Fashion Week.
Day 1: Parisian Chic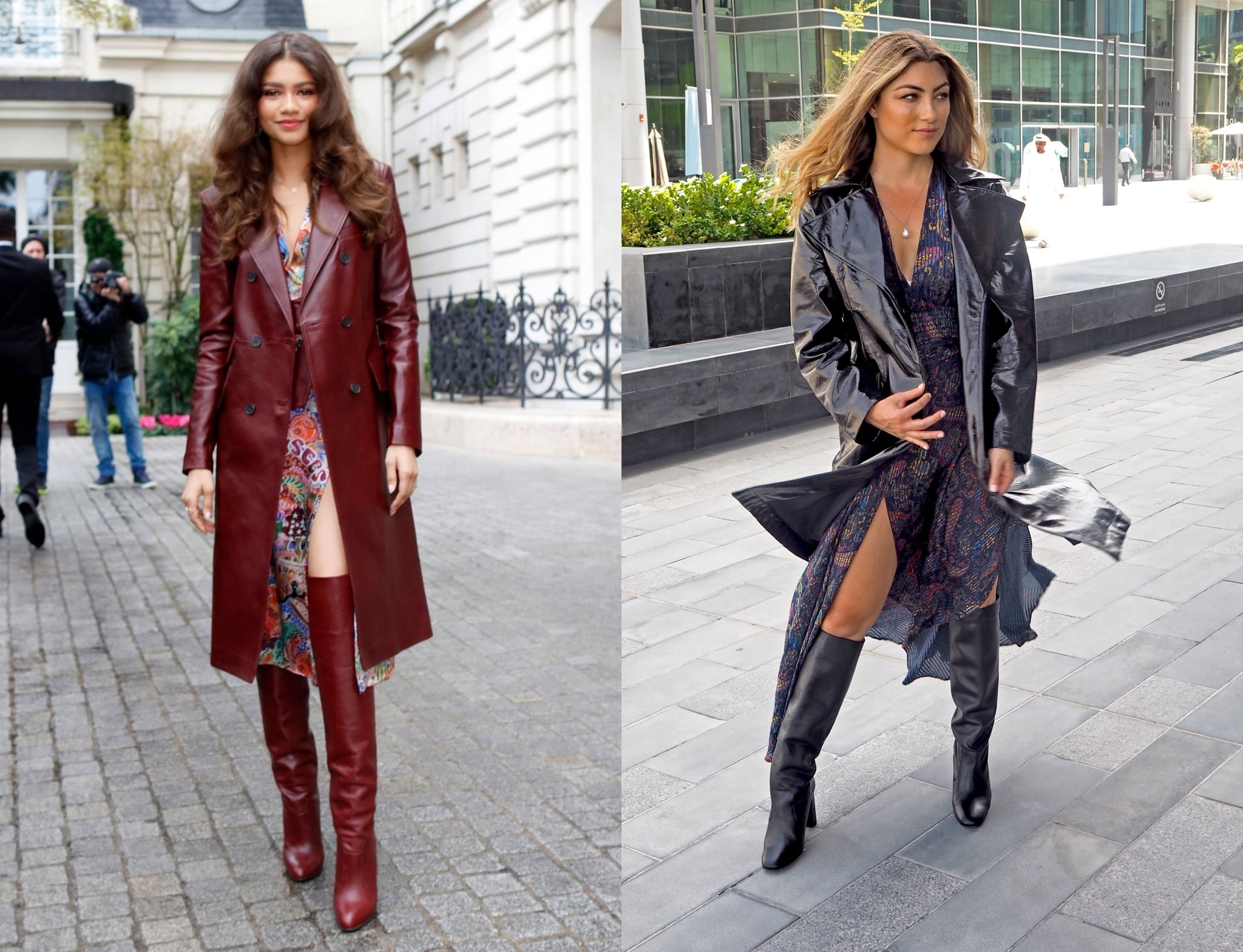 Product credit: Mango jacket, Maje dress, Mango boots

When I walked the halls of POPSUGAR ME HQ, people were feeling it. "So glam, you look like a superstar!", one of my coworkers said. They weren't wrong. (Again, humble). The black thigh-high boots paired with the faux-leather trench coat made me feel a million bucks. My favorite part of T outfit was the thigh-high slit in the dress. It offered me the perfect combination of having my legs out, without being too overexposed. The fabulous boots had just enough room to peep out. The look was very 70s – an era I seldom, in fact never, venture to. Why? Because I never thought I could pull it off! Never mind strutting the streets of D3 in a PFW inspired ensemble, I wanted to be sitting front row at the TommyXZendaya runway, just like she was.
Day 2: Cool and Casual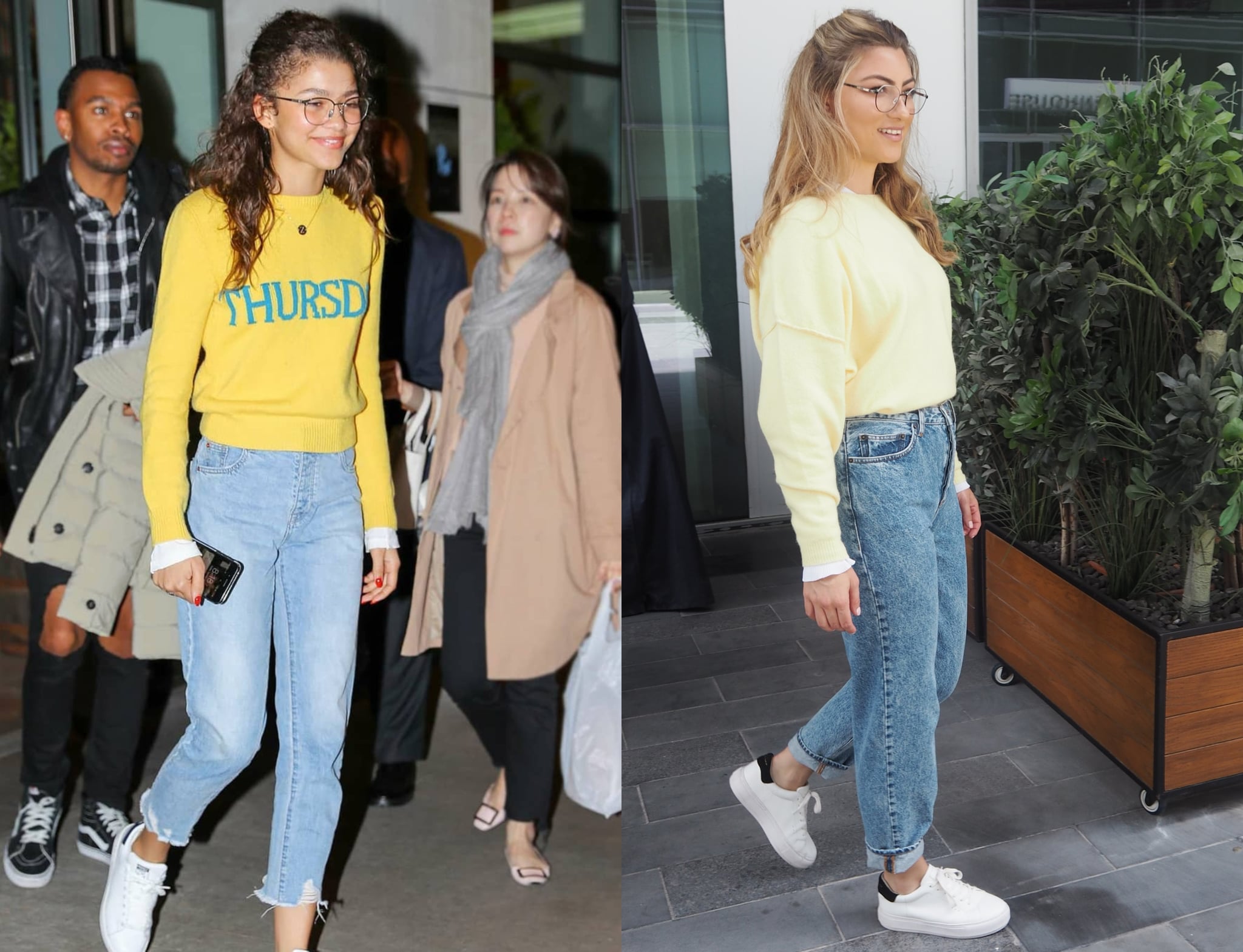 Product Credit: American Vintage jumper, American Vintage jeans, Kurt Geiger trainers, Guess glasses.
For my second day in Zendaya's closet, I went for a more relaxed look. And honestly, nothing's more relaxed than a sweater and sneakers. Around two years ago, Zendaya was papped wearing this chilled ensemble and, it's still more relevant than ever. Class, style and comfort, winning! The coolest part of this look was, of course, the white-hot sneakers and clear glasses. As someone who has no use for glasses, apart from shades, and whose terrified of wearing sneakers out of fear of looking too casual, I was enthralled. Who knew a simple combination of mom jeans, a yellow sweater (I never wear color, either), and clear specs could make me feel so made up, yet look so effortlessly chic. Was I officially a cool-girl? Maybe not. But did I feel like one? 100 percent.


Day 3: Daring in Denim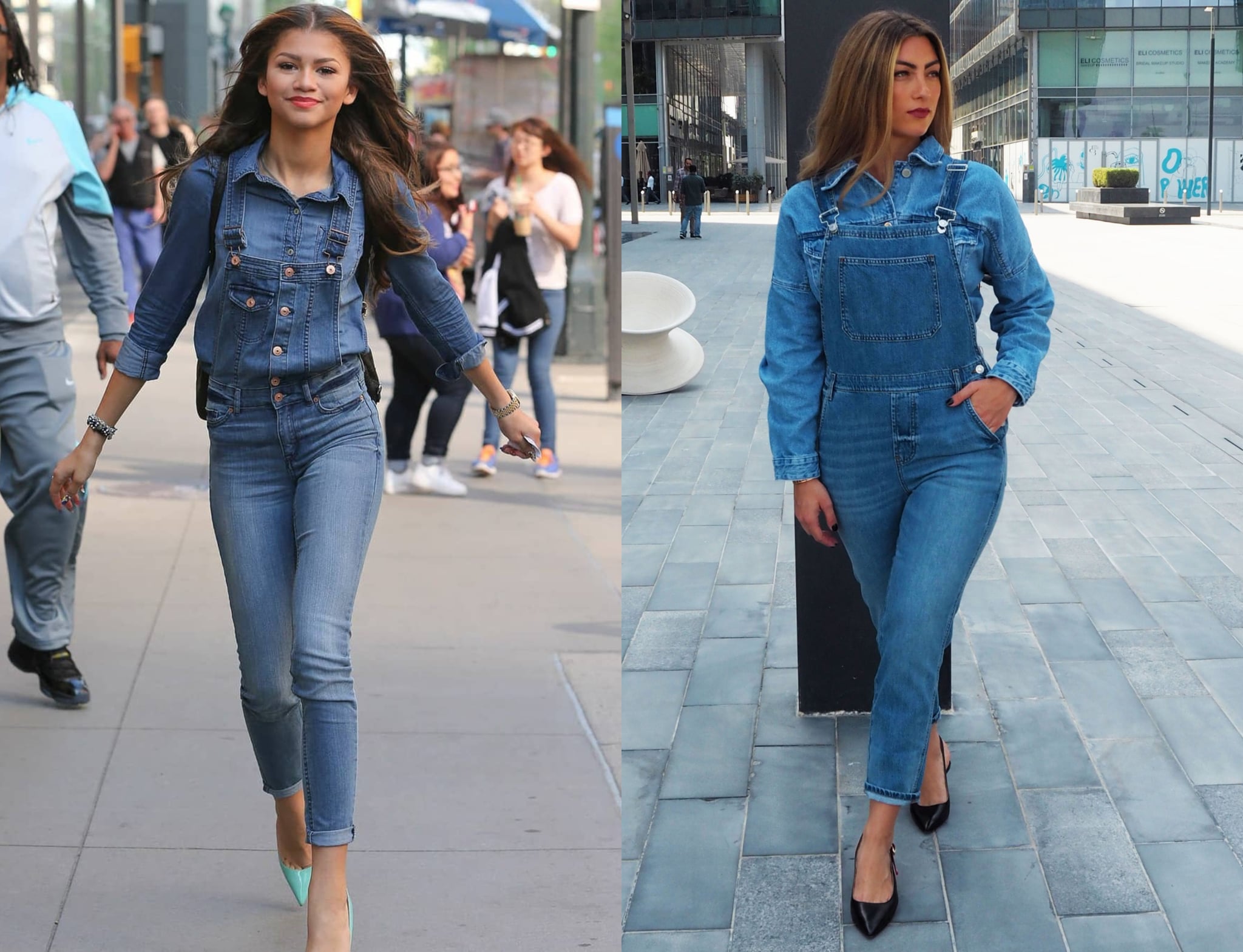 Product Credit: Mango denim overalls, Zara denim jacket, Bally court heels.
On the third day, I took a step back in time to 2014 and went for the infamous double denim. Previously fashioned by style icons like Kim Kardashian, Kate Hudson, and JLo – to name a few, it was now my time to shine. I threw on denim overalls, as well as matching long-sleeved shirt, and a pair of court heels, then hit the streets of D3, hoping to look somewhat as good as Zendaya did. Unfortunately, the outfit, for me, was contradicting for lack of a better word. I felt chic, yet restricted. Stylish, yet dated. As an advocate for double denim, this look left me disappointed. The overalls were cute, yes, but they made me feel like I was dressing way too young for my age (in fairness, she was only 18 when she sported this look). I often throw on jeans and a denim jacket to create that effortless cool-girl vibe, but this just wasn't cutting it. I felt neither comfortable nor contemporary, which led me to believe it could be down to one of two things: 1) it's actually not true what they say, denim really can go out of style or, 2) we should leave the denim overalls to the youngsters. I vote the latter.

Day 4: White Out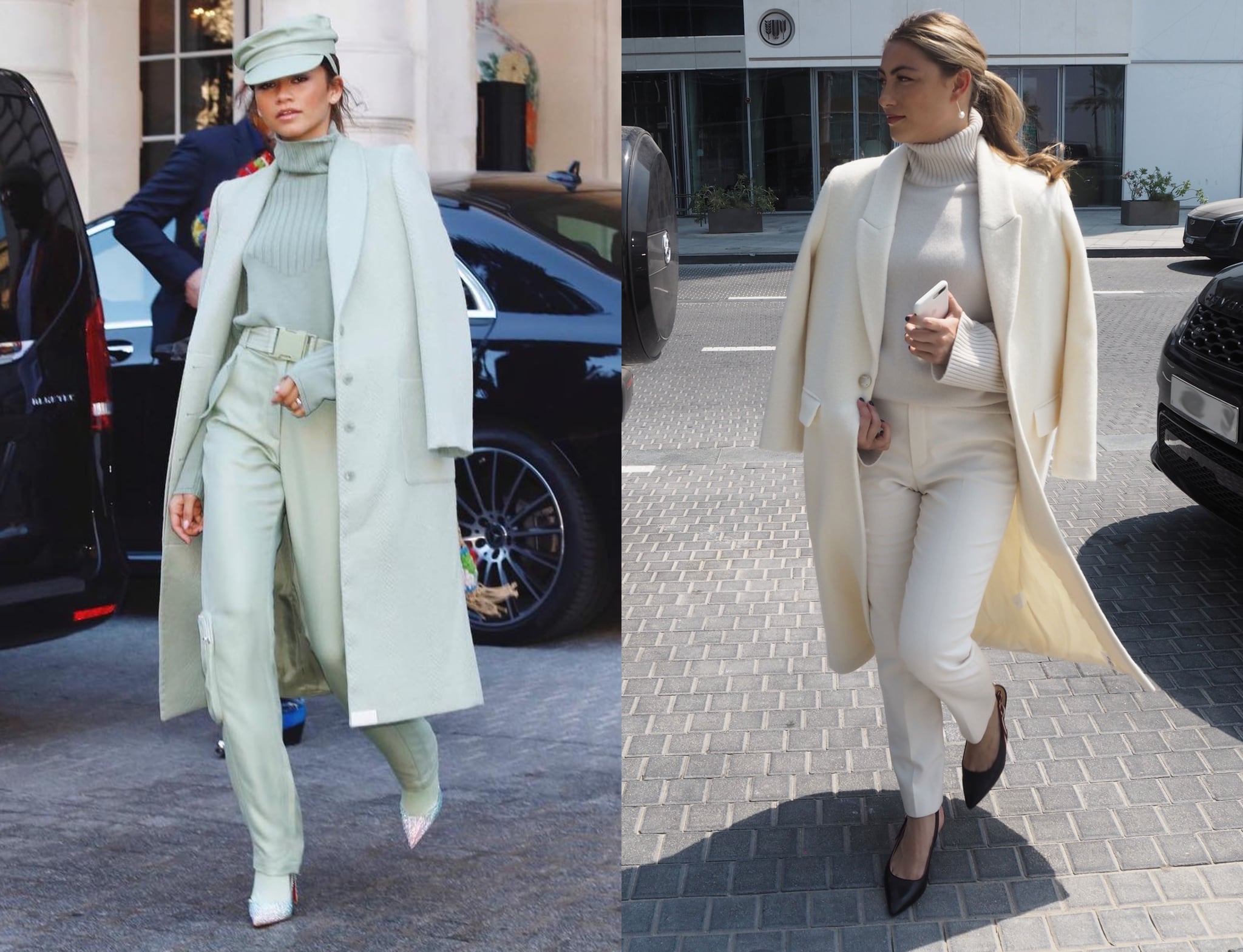 Product Credit: Mango coat, Paul Ka trousers, Cos roll neck jumper, Bally court heels.
Not going to lie, this look was my favorite look. Something about the tailored suit pants and double-breasted jacket draped over my shoulders made me feel empowered – like a businesswoman on a mission. To emulate the look as well as possible, I needed a slick sidewalk and I needed it pronto. So, with the help of the Mercedes Benz and Range Rover parked behind me, along with the backdrop of one of D3's fancy restaurants, I was almost there. It was the utterly chic ensemble that did the rest of the work. Although I give this one a solid 10, I do have to mention that I was two degrees short of a heatstroke. Wearing a cashmere jumper and a wooly coat in 35-degree heat is a struggle that no one should ever have to endure. So, save it for the winter, folks. Either way, it came there to slay and, that's exactly what it did.
Day 5: Dress is Best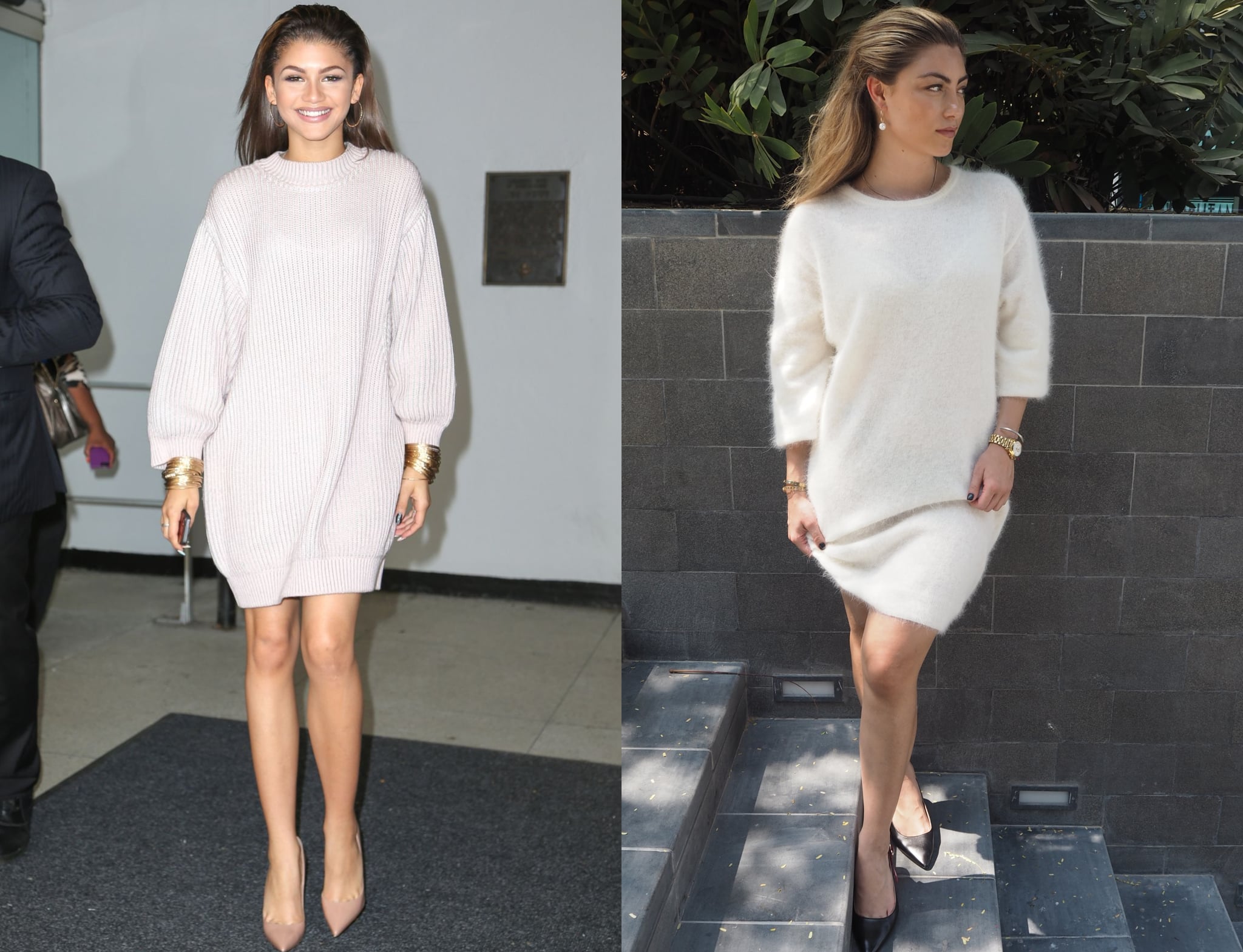 Product Credit: American Vintage sweater dress, Bally court heels.
For my final look, I went for something easy, and by easy, I mean an outfit consisting of only two parts; a sweater dress and a pair of effortlessly elegant court shoes. While I may not be as long-limbed as Zendaya, this look was a dream. Not only was it easy to put on, it was easy to wear. The oversized aspect of the sweater dress meant that having my legs on show did not feel as daunting. My body and arms had room to move (especially great for those bloated or all round "meh" days). For me, this simple look reiterates the notion that less really is more. Signed, sealed, and slayed!

All in all, my five day long experiment of dressing like Zendaya was a ball. It's truly no wonder that she oozes the class she does wearing such high brow kit. I have certainly been inspired to up my fashion game more color is a must and court heels are essential! Dressing up as one of fashion's most prolific it-girls may sound daunting, but it was actually surprisingly fun, and I've got to hand it to myself: I felt good. And, that's the main thing, right? Who cares if I strutted around Dubai Design District looking silly. Trying out ZC's style file was a guaranteed confidence boost for sure. So, for that, thank you, Z.