Is it just us, or is it the cutest thing when an onscreen couple is also an offscreen couple? Lili Reinhart [1] and Cole Sprouse [2] play Betty Cooper and Jughead Jones on the hit CW show Riverdale [3], and they make a pretty sweet and stylish pair. Although they keep their relationship very low-key, with few red carpet appearances together, when they do show up together, they show out as well.
Lili and Cole were an item on Riverdale [4] before they were dating in real life. Their characters, Betty and Jughead, really won us over as one of the show's power couples with their dangerously curious adventures into clearing the skeletons from Riverdale's shady closet. In reality, they're a bit more quiet about their high profile romance. Despite being an item since 2017, they've only had a handful of red carpet appearances together. The best glimpse we've gotten of their great coordinating style has been at the 2018 and 2019 Met Galas, a few premieres, and their off-duty street style (which is truly impressive).
We can't help but notice that Lili and Cole have adopted some of their characters' key styles from Riverdale. Lili often wears a sweet, Betty-approved palette of white, yellow, pink, and blue. On the red carpet, she's often styled quite traditionally feminine, wearing gowns with ruffle and lace, and the occasional tailored suit. When Cole steps out, he's often in a very Juggy black, or dark-washed tailored suit, and once in awhile goes for a bold fashion choice, like a lace overshirt, graphic-printed button-down, or a satin bomber jacket.
Ahead, are the strongest fashion moments from the real life Betty and Jug.
Lili Reinhart and Cole Sprouse Airport Style in Los Angeles, California.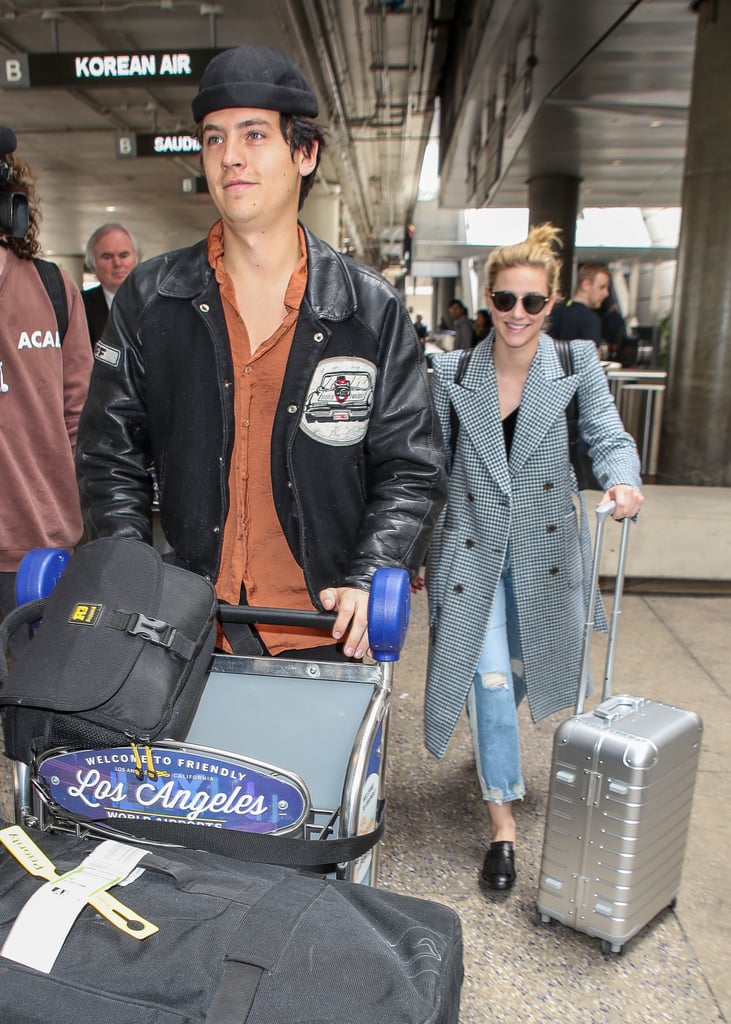 Lili and Cole's off-duty style reminds us of something Betty and Jug would wear. Cole's leather jacket and black beanie is totally a Jughead look. Meanwhile, Lili's smart overcoat and loafers complement Betty's preppy style, but Lili looks way cooler.
Cole Sprouse and Lili Reinhart at the 2018 Met Gala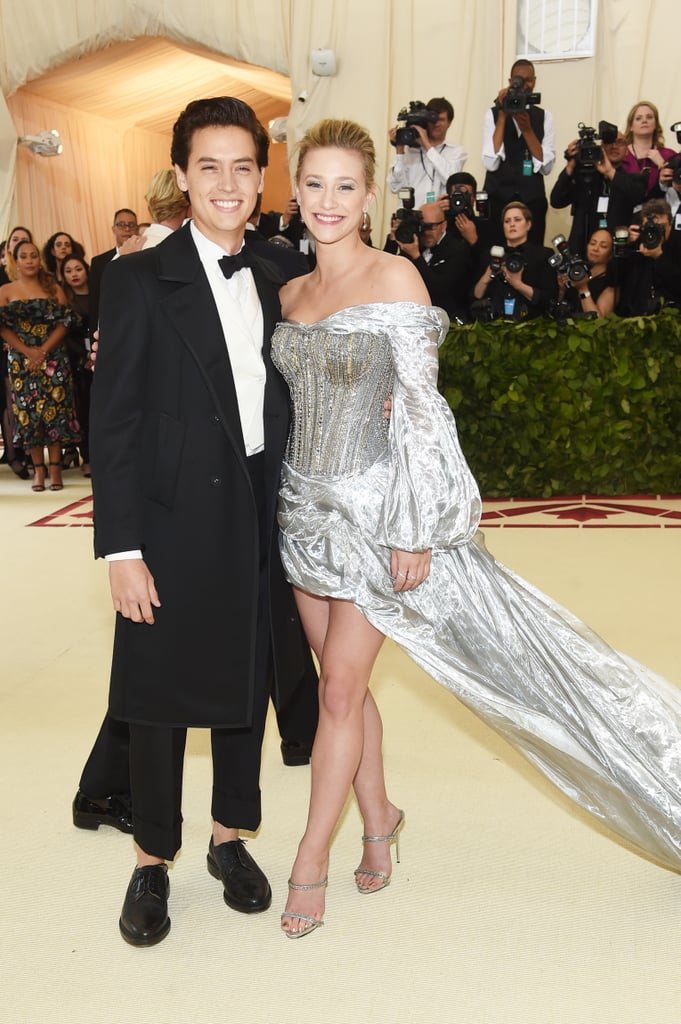 Lili wore a silver, off-the-shoulder H&M designed gown with Giuseppe Zanotti heels and Featherstone jewelry for the Costume Institute's 2018 Met Gala, Heavenly Bodies: Fashion & The Catholic Imagination, while Cole wore a classic black suit.
Cole Sprouse and Lili Reinhart at the 2018 Teen Choice Awards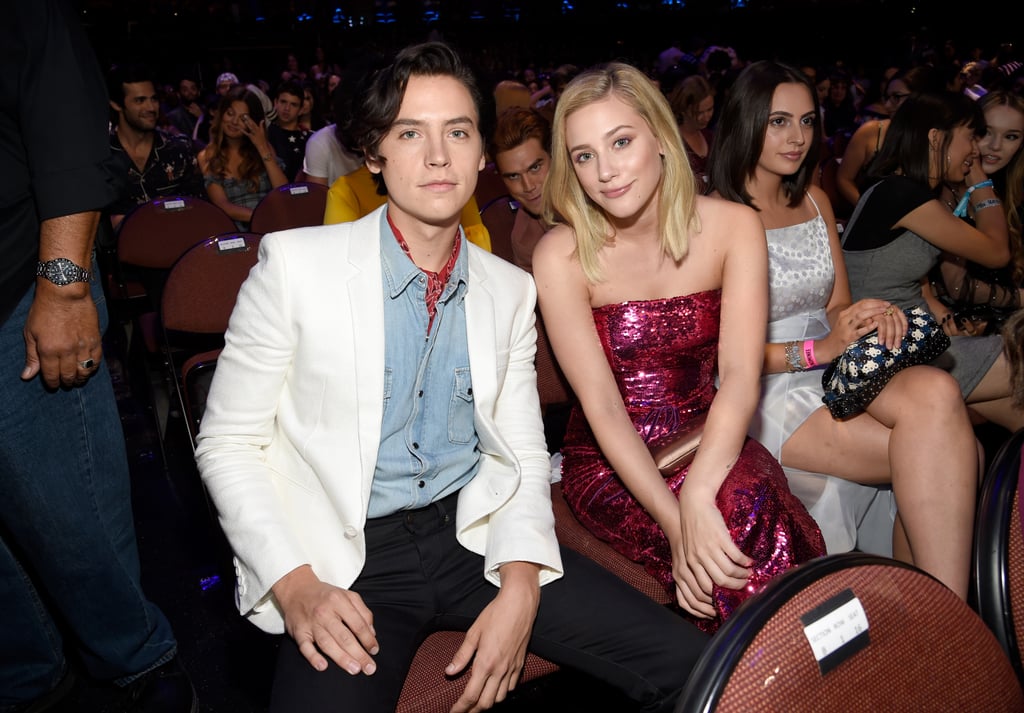 Is that Archie Andrews? Lili wore a pink sequined Monique Lhuillier dress and Olgana Paris shoes to the 2018 Teen Choice Awards alongside Cole, who rocked a Western-inspired look comprised of navy trousers, a denim shirt with a red bandana-printed neckerchief, and a crisp white blazer.
Lili Reinhart and Cole Sprouse at the premiere of Five Feet Apart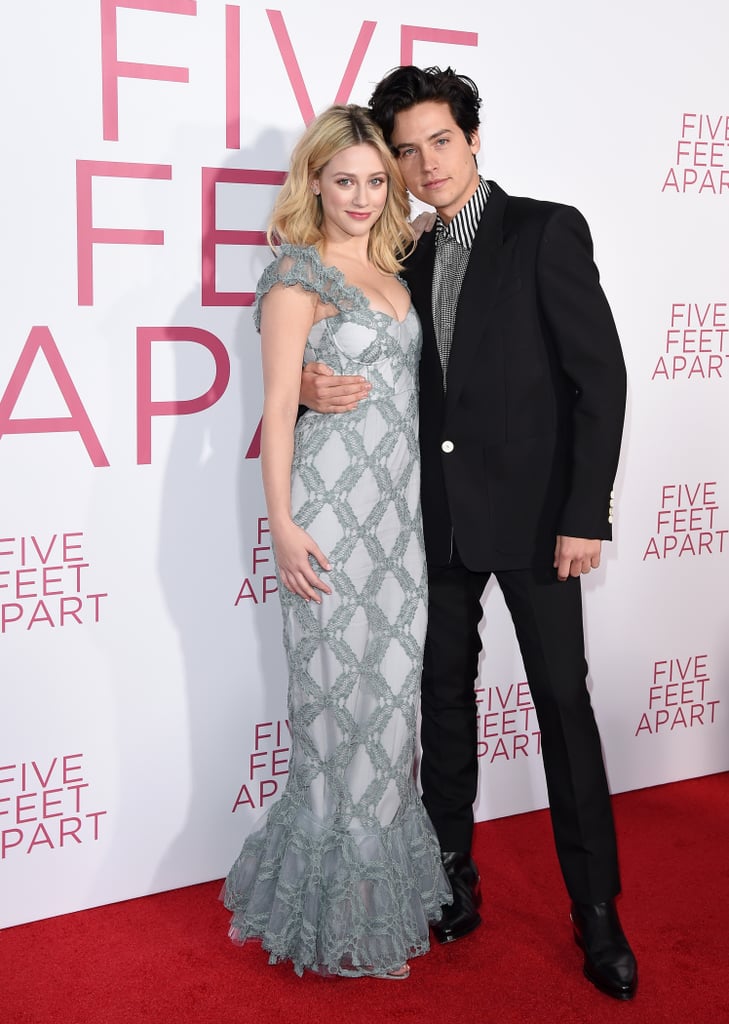 This was a sweet moment. Lili went to support Cole's movie premiere wearing a lacy Brock Collection gown, Chloe Gosselin shoes, and Jennifer Meyer jewelry. Cole kept it minimal in a black single button suit paired with a black-and-white striped undershirt.
Cole Sprouse and Lili Reinhart at the 2019 Met Gala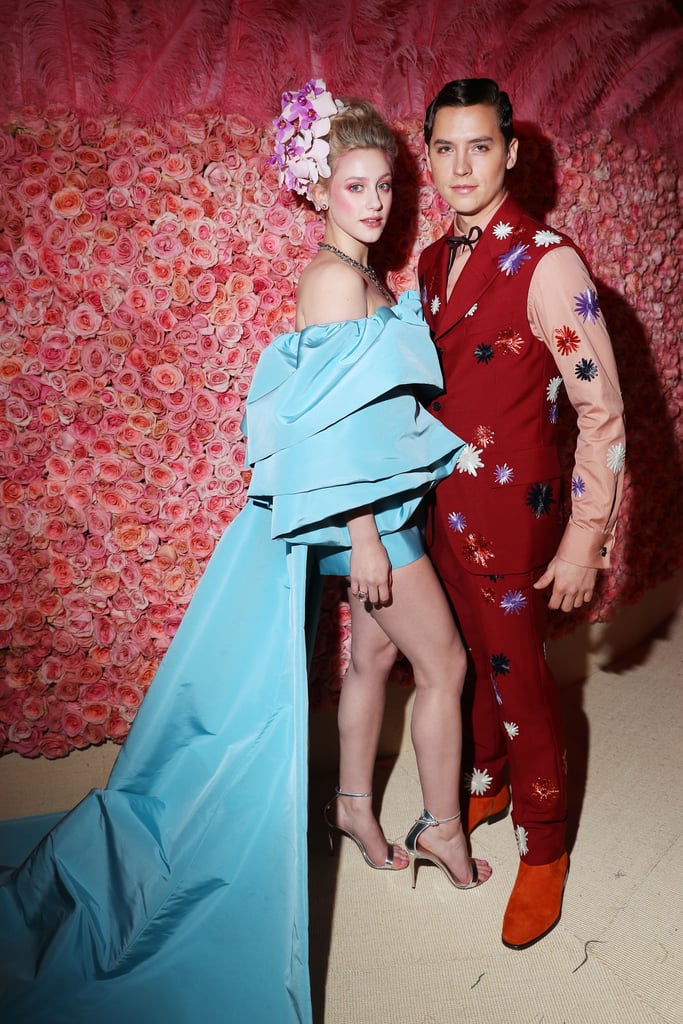 In 2019, Lili went for another off-the-shoulder look with a long train. This time, she chose a custom Marie Antoinette-inspired light blue Salvatore Ferragamo ensemble with Fred Leighton jewelry for the 2019 Met Gala, Celebrating Camp: Notes on Fashion. Cole went for a Pinocchio-inspired oxblood sleeveless suit with floral embroidery, orange Chelsea boots, and a neutral undershirt.