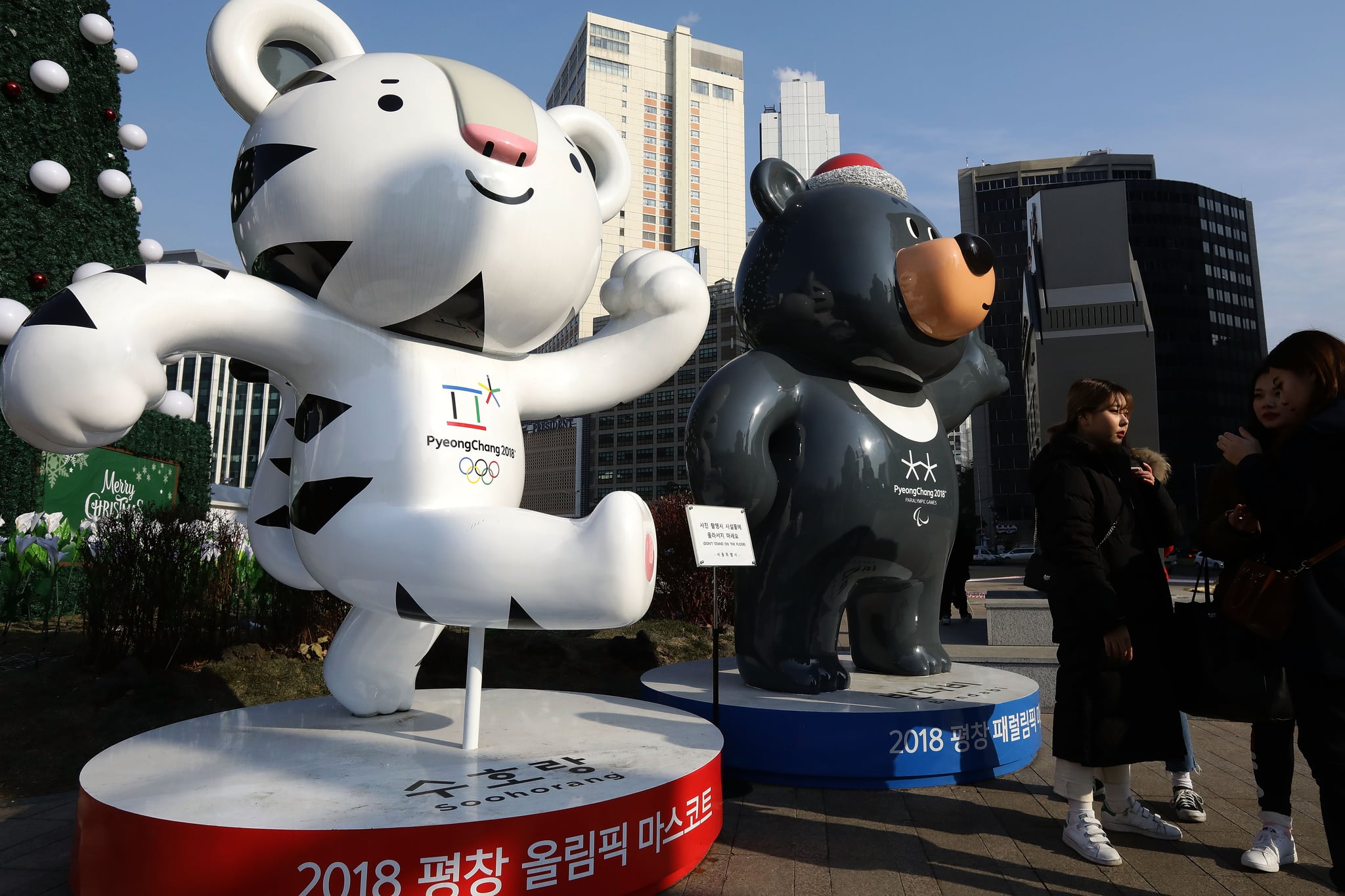 The Olympics are upon us, and this year, it's not Ryan Lochte's green hair that has everyone in awe — it's the Pyeongchang, South Korea, mascot. "Soohorang," the bubbly white tiger, was selected as the official 2018 Winter Olympics mascot almost two years ago, but now that the Games are upon us, he has eBay prices soaring and gift shop lines growing. According to the official Olympic.org website [1], there was a lot that went into the decision, as the tiger "has been a familiar figure in Korean folk tales as a symbol of trust, strength, and protection."
Not only does the color portray the Winter feel, but the white tiger is known for protecting its country and its people, which in this case are the athletes from all over the world. "Sooho" is "protection" in Korean. As for his color-contrasting wingman in the photo above? Meet Bandabi, a black Asian bear and the mascot for the 2018 Paralympic Winter Games [2]. The dynamic duo will have athletes and attendees lined up for selfies, especially after members of BTS posed with the mascot [3].
🐯💜 #평창올림픽#수호랑🏅 pic.twitter.com/Bn4UyucdlL [4]

— 방탄소년단 (@BTS_twt) January 9, 2018 [5]
"It's a beautiful animal, strongly associated with Korean culture," Gunilla Lindberg, Chair of the IOC Coordination Commission for the 2018 Winter Olympic Games, said about Soohorang. "It also symbolizes the close link between the Olympic Winter Games and the natural environment. I'm sure the new mascot will be very popular with Koreans and people around the world."
And boy is she right! The Soohorang and Bandabi toys are already blowing up on eBay [6], just like Vinicius, the 2016 Rio mascot, did not too long ago. We can't wait to see Soohorang and Bandabi in action when the games begin on Feb. 8.