Avocado Mac and Cheese
The Secret Ingredient to This Lower Calorie Mac and Cheese: Avocado
We combined two of our favorite things — mac and cheese and avocados — to create a new favorite thing! This avocado mac and cheese has all the cheesy goodness of one of our favorite comfort foods, but we've reduced the calories and increased the beneficial monounsaturated fats. Those are the ones that help fight belly fat. Watch the video and see how easy this dish is to make!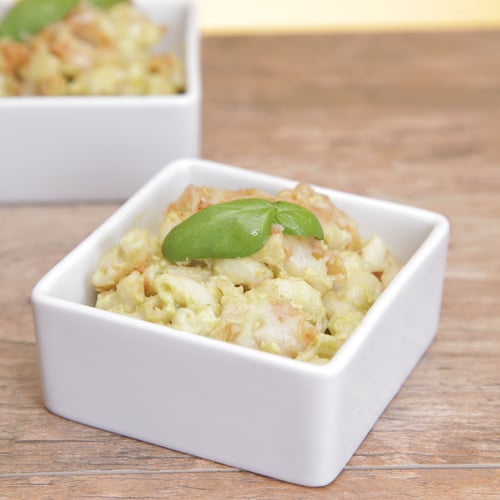 Avocado Mac and Cheese
From Nicole Iizuka, POPSUGAR Food
Ingredients
2 cups whole-wheat macaroni, cooked
1/2 teaspoon coconut oil
1 tablespoon almond flour
1/8 teaspoon salt
2 ripe avocados
1 lime, juiced
1 clove garlic, minced
1/4 cup goat cheese (which is a great lower calorie cheese!)
1/4 teaspoon red chili flakes
1 tablespoon basil, chopped
1/4 cup skim milk
1/4 cup low-fat mozzarella, shredded
Directions
Cook macaroni until al dente according to the instructions on the package. Drain and set aside.
Preheat oven to 350°F.
In a pan over medium-high heat, melt coconut oil and toast almond flour and salt until browned and crispy. Remove from heat and set aside.
Into a food processor, add avocado, lime juice, garlic, goat cheese, red chili flakes, basil, and skim milk. Puree until fully blended. Pour over macaroni and mix until coated. Place macaroni into an oven-safe baking dish and sprinkle the top with mozzarella and toasted almond flour. Bake for 7 to 8 minutes, or until cheese is melted. Serve warm.
Information
Category

Main Dishes

Yield

4 to 6 servings