Burj Club Gym and Spa at Dubai's Burj Khalifa Review
I Worked Out at Dubai's Plushest Gym…and Got a Taste of How the Other Half Live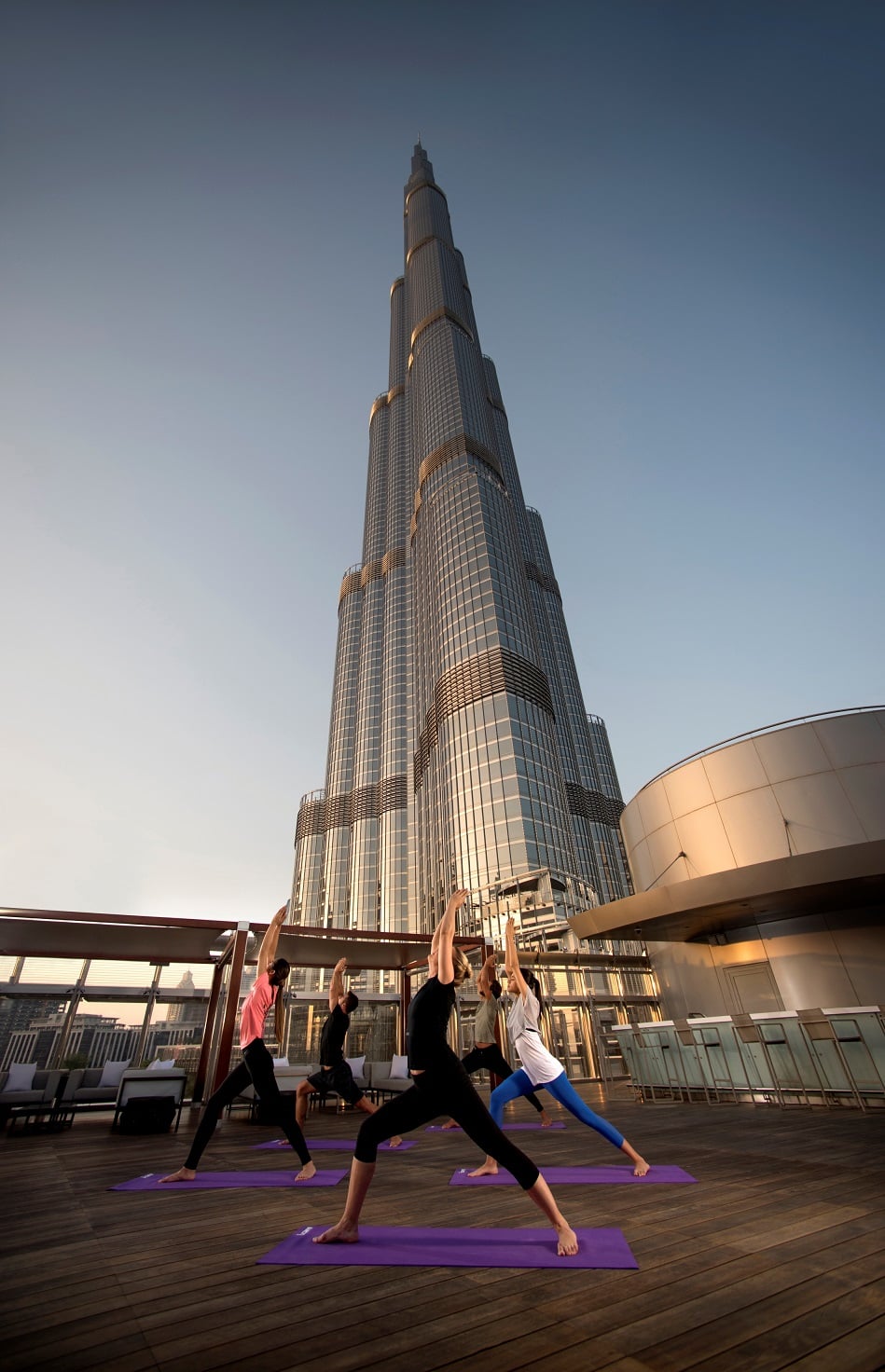 When I was invited to work out at The Burj Club, I couldn't refuse. Who could say no to a health club at the heart of the world's tallest building? The swanky full-service health center aims for the same iconic status of its home in the Burj Khalifa, after all.
Spanning over five levels, it's a high-end version of apartment amenities we all wish we had, but at a Burj Khalifa scale and price tag.
The center is home to an Olympic-size indoor pool (who wants to swim in the summer heat?), fitness center, spa, and relaxing rooftop restaurant. For the fortunate residents of the Burj, it's a short trip down the world's fastest elevator for a quick dip in the pool or burning off a few calories. But to the rest of us, the club offers a brief respite of a health resort without the trip out of town.
The outdoor pool comes with a soundtrack to the dancing Dubai Fountains and looks up at the building's glimmering record-breaking LED facade - a mesmerizing view at night. So it's not a bad back yard residents have had for the last few years, but now non-residents are being welcomed to enjoy the Burj Club for the day. Beware though, it's AED375 to work up a sweat on a weekend and AED275 on a weekday, pool time not included.

Day pass-holders get to use all the usual facilities and machinery of the gym, plus refresh with refrigerated Aqua Panna water and perfectly-shined apples. And who doesn't like to listen to the birds singing in the rainforest or dance in a Caribbean thunder storm (lightning flashes included) while in the shower? On top of that, the spa changing areas really do have everything a girl could need to glam herself up post-gym. One out of five levels is dedicated to ladies only, which caters well to the local clientele, but is it all really worth the money?
Well, six months' fitness membership alone costs AED10,500 per person and there's an additional AED5,100 just for swimming access. That price doesn't include classes with Les Mills though - a brand you'll find in many gyms in the Emirate, leading classes like Body Pump, CXWORX and RPM. I must admit that while taking the latter class with views of the Downtown Dubai, there's motivation right there to cycle to the max. If it means handing over more cash to burn more calories, it might be worth it for some people.
In my case though, using a facility like this was simply a treat and only that. Yes, it made going to the gym seem like less of a chore but at such a cost it's probably best suited to jet-setters on a layover for the day or those who can actually afford to live inside the Burj Khalifa. If you can't keep up with the high-flying lifestyle, perhaps a membership at the Burj Club doesn't make that much sense to the rest of us.
And with that choice, here's hoping my best body yet doesn't mean having to live with a slimmer bank balance.