Can I Ride in the Front Row at SoulCycle?
Front Row in a Sports Bra: How I Accomplished My SoulCycle Resolution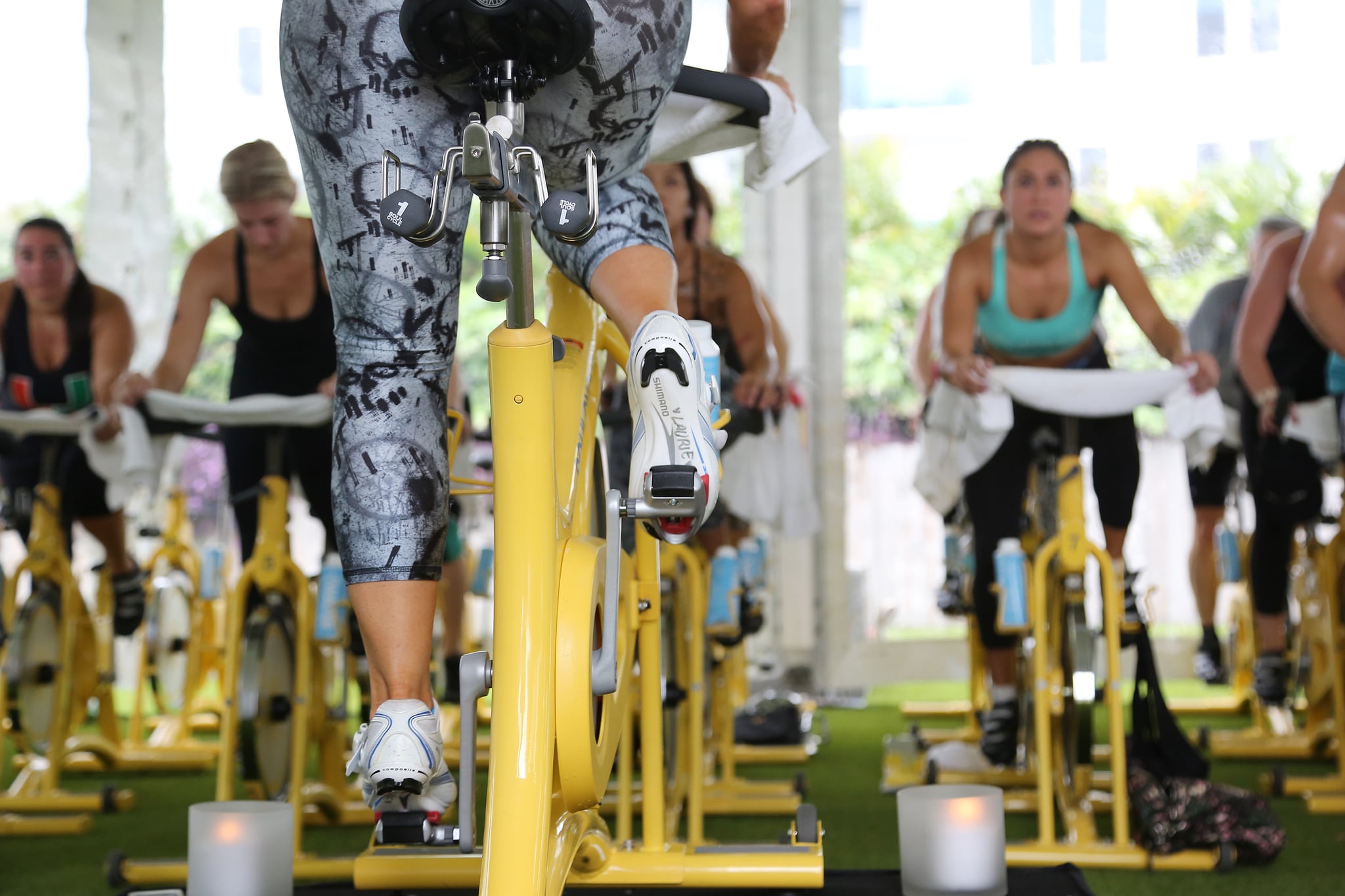 Confession: I am a SoulCycle addict. I love everything about it. I love the dim lights, the thumping club music, and the instructors who look like sweaty Greek gods. But more than that, I love that it made me reexamine working out. It taught me that working out wasn't a chore, but a pleasure and a privilege — a 45-minute brain break from my busy, hectic life, a time for me and me alone.
People spoof the boutique fitness class all the time, but I would argue don't knock it until you try it. (Hey, even celebrities are obsessed!) I go once or twice a week as a treat, and I think it not only keeps me fit but also sane. There is a great sense of community and a complete lack of judgment.
That's why when I sat down to write my intentions for 2018, I wanted to include my favorite workout. Though I go all the time, riding in the front row at SoulCycle has always seemed like such a daunting feat. Front-row riders are the best of the best, and the instructor relies on them to keep the rhythm and tone. Riders in rows further back will follow the front row, so they are literally the leaders. Moreover, front row means the instructor has eyes on you. Of course, they don't put any pressure on the riders, but it's impossible not to want to do a good job when your favorite instructor is watching.
In a place where I feel so supported and loved, why was I fearing being judged?
So riding front row was the first part of my resolution. The second part of my resolution came to me while I was going to class with a friend. I looked at some fit women walking through the studio, wearing just leggings and a sports bra. I sighed to my friend and wistfully mentioned I wish I could just wear a sports bra. Her reply surprised me: "Um, actually anyone can. There isn't a body requirement — you just have to feel comfortable!" Of course, my friend was right. In a place where I feel so supported and loved, why was I fearing being judged? I knew I had to prove to myself that I, too, could be confident enough about my body to bear all, so I decided the second part of my resolution would be to ride wearing just a sports bra.
In preparation for riding front row wearing just a sports bra, I spoke to Paula Markey, one of my favorite instructors and all-around dream girl. Paula reminded me that SoulCycle isn't about what's on the outside. It's part of being healthy and happy and having a well-balanced, mindful life. "Working at Soul has made me realize it's not about how you look, but it's all about how you feel," she told me. "I eat healthy because my body needs proper fuel, but I also eat cheese and love wine." (See, I told you, total dream girl!) "I don't own a scale because I know I work hard six days week," she said. "Once you feel good, that energy exudes out of you and you end up looking good."
I was so nervous, but when I pulled off my hoodie, there were no gasps or stares.
I knew Paula was right. SoulCycle has always been more about feeling my best than looking my best, and fulfilling my resolution would be the ultimate testament to that. I finally picked a day to fulfill my resolution — of course, going to one of my favorite instructors and bringing along some friends with me. I was so nervous, but when I pulled off my hoodie, there were no gasps or stares. It was a great reality check when no one in the studio batted an eyelash that I was wearing a sports bra despite not having abs!
The truth is, I loved riding front row. It was a total rush. And despite all my worrying, I kept up with the music and stayed on beat. But it didn't matter. SoulCycle isn't about showing off or looking incredible, it's about feeling great and doing something that makes you feel better. The room is dark because it really doesn't matter what anyone looks like; no one cares if you're wearing a sports bra or a onesie, because they're just happy you're there.
Resolutions should be about making yourself feel better — more confident, happy, and comfortable with yourself — and that's exactly what mine did! Though I won't be riding in the front row every week, it's great to know that I can if I want to. I'm excited to challenge myself this year — inside the Soul studio and beyond.