DIY SoulCycle Grapefruit Wake-Up Candle
DIY SoulCycle Grapefruit Wake-Up Candle
From Mona Zavosh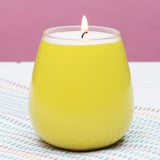 Ingredients
1 15-ounce stemless wine glass
Yellow spray paint (or paint of choice)
4 cups soy wax flakes (about 15 ounces)
80 drops grapefruit essential oil
10 drops orange essential oil
10 drops lemon essential oil
5 drops ylang-ylang essential oil
Candle wick
Popsicle sticks
Clips
Directions
Place your wine glass inside a large box and spray-paint it yellow. Allow the paint to dry for 15 minutes and spray again for a thicker coat. Set aside for 1 hour.
After 1 hour, gently remove your wine glass from the box. Use a glue dot to affix your candle wick to the center of the glass.
In a large glass measuring cup, melt your soy wax in the microwave in 30-second intervals until completely melted.
Once melted, allow the wax to cool for 5 minutes. After 5 minutes, stir in the essential oils. Pour the wax into your prepared glass. Use two popsicle sticks to center the wick.
Let cool for at least an hour. Remove the popsicle sticks, trim the wick, and enjoy!
Information
Yield

1 candle

Total Time

3 hours, 59 minutes, 59 seconds