Dark Chocolate Vegan Nice Cream Pops
Dark Chocolate Vegan Nice Cream Pops
From Mona Zavosh, Glow by POPSUGAR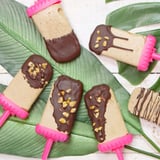 Ingredients
2 medium organic bananas
1/2 tablespoons organic creamy unsalted peanut butter
1/4 organic vanilla bean, seeds scraped out
2 ounces organic 74% dark chocolate
1/2 tablespoon organic filtered coconut oil
1/8 teaspoon instant espresso powder
Sea salt
1/2 ounces peanuts, chopped
1/2 ounces dark chocolate covered cacao nibs
Directions
Peel and slice the bananas and place on a sheet tray lined with wax paper. Freeze for at least two hours. Place the frozen bananas, peanut butter, and scraped vanilla seeds in the food processor.
Blend until mixture is smooth. You will need to stop the food processor a few times to scrape down the sides to ensure a creamy consistency.
Divide the ice cream evenly into the 4 popsicle molds. Tap the mold a few times on the counter to eliminate any air bubbles. Place one popsicle stick in the center of each mold. Freeze for at least 2 hours.
Just before taking the popsicles out of the freezer, place a glass bowl over a pot of simmering water. Add the 2 ounces of chocolate, coconut oil, espresso powder, and a pinch of sea salt to the bowl. Using a small spatula, stir the mixture until the chocolate has melted and is shiny and smooth.
Take the popsicles out of the fridge. Hold each mold in your hands for a few seconds to help release the ice cream from the mold. Gently slide a kitchen knife into the mold to help release the ice cream, then pull the popsicle out. Using a spoon pour the chocolate sauce over half the popsicle. While chocolate is still soft, sprinkle a teaspoon of chopped peanuts or cacao nibs on each popsicle. Yum!
Information
Category

Desserts, Ice cream

Cuisine

Other

Yield

Serves 4