Decongesting Shower Bomb
From Mona Zavosh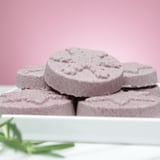 Ingredients
1 tablespoon sweet almond oil
2 teaspoons witch hazel
30 drops eucalyptus essential oil
20 drops peppermint essential oil
10 drops rosemary essential oil
1/2 cup baking soda
1/4 cup citric acid
3 tablespoons fine sea salt
3 tablespoons arrowroot powder
1 teaspoon beet powder
1/2 teaspoon spirulina powder
Special tools: snowflake molds
Directions
Wash and thoroughly dry a snowflake soap/chocolate mold and set aside.
In a mixing bowl, mix the almond oil, witch hazel, and essential oils.
In a separate bowl, whisk together the baking soda, citric acid, sea salt, arrowroot powder, beet powder, and spirulina powder. Break up any lumps with your fingers. Slowly add the wet ingredients to the dry ingredients and mix with your hands until the liquid is evenly distributed; it should look like wet sand.
Place 1/4 cup of the mixture inside each snowflake cavity, pressing down firmly. Transfer the molds into the freezer for 30 minutes to set. Once frozen, remove from the molds and allow them to air-dry overnight before packing them up. Place on the shower drain to breathe easier!
Information
Yield

4 shower bombs