Emirati Cycling Revolution
Everything You Need to Know About the The Emirati Cycling Revolution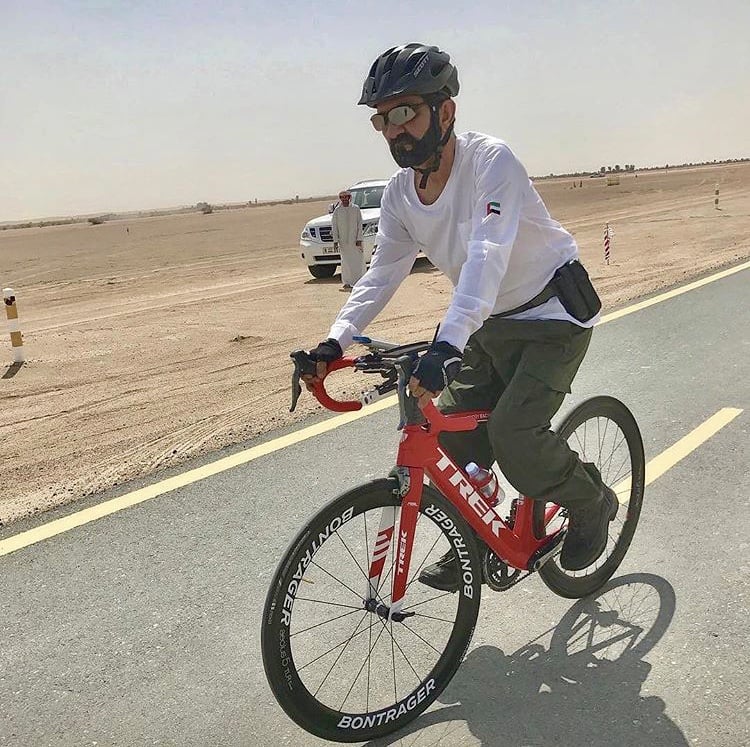 Since the launch of the 90km Al Qudra cycling track, and H.H.Sheikh Mohammed Bin Rashid Al Maktoum having been spotted on a bicycle, both recreational and competitive cycling have become increasingly popular with the Emirati community. I met with Emirati athlete Ahmad Alfahim to learn more about cycling in the UAE. He's one of the owners of Bespoke Ride triathlon training center in Dubai, and a member of the Bespoke Ride Emirati cycling team.
PopSugar: How did you get into cycling? Have you always been into sports?
Ahmad: How I started cycling is a long story as it was almost an accident. Let me start from the beginning. In 1994 at the age of 14 I discovered my passion for speed sports. For years, I competed in motor cross and jet skiing until I had a motor cross accident and broke my back in 3 places. I took a year off, which gave me time to focus on completing my MBA from Coventry University in the UK.
PS: Did you ever get back on a motor bike again?
Ahmad: I did in 2009. Unfortunately, I crashed again and after that I gave up motor cross completely. A few years later, I was introduced to endurance horse racing – a popular sport in the UAE. As the rider's weight can affect the performance of the horse, I started cycling to lose weight. It turned out I actually enjoyed cycling and entered the Dubai Desert Triathlon. This competition consists of a 5km desert run, 50km cycle and a 40km horse ride. I enjoyed the running and cycling and decided to pursue triathlons.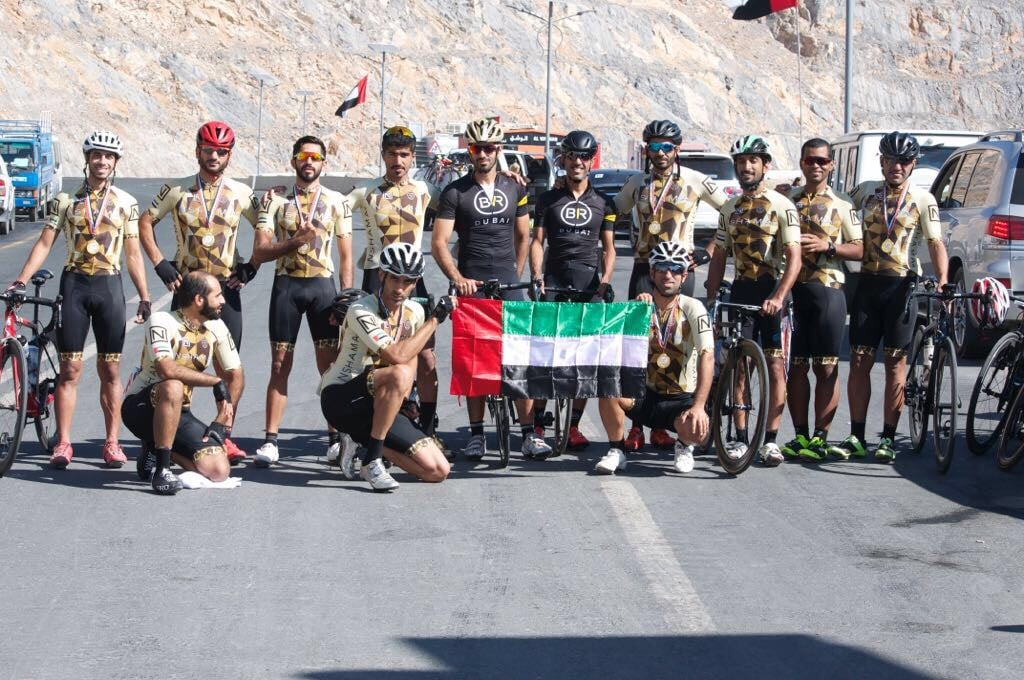 PS: How did you form your cycling team?
Ahmad: It started when the Sheikh Mohammed Bin Rashid Social Emirati Cycling Race was announced in February 2016 with AED 1 million in prize money. You're only allowed to enter this race if you're a team of 5. I didn't belong to a team, and I'd only found out about the race 3 days before race day, so I asked around and contacted other Emirati cyclists. Most of us didn't know each other and we all met on the day of the race. Surprisingly we worked very well together – we were like a team that's known each other for a long time. We ended up winning that race. It was unbelievable. Since that day we train together as a team and we've all become very good friends.
PS: Tell me about your training schedule?
Ahmad: I train twice a day, five times per week. During the summer months, I start at 4:00 or 5:00 in the morning. During winter, I start at 5:00 or 6:00 and it's usually one of the three disciplines: cycling, running or swimming followed by strength, balance and core training - this is very important to keep injury free. It's important to have a great coach. My coach Joao Arteche creates my training programs for me and guides me to reach my highest potential.
PS: How important is your diet?
Ahmad: Diet is one of the most important elements for improving your performance. The right nutrition mix of carbohydrates and proteins we use during training and after for recovery is key. The difficult part for me is the preparation as I'm always hungry. Sometimes I skip eating the right nutrition and eat unhealthy to feed my hunger.
PS: What's the next race you're working towards?
Ahmad: I'm involved in both team triathlons and cycling events, so I have races almost every weekend, but of course there is always an important race to work towards. I just finished the Bahrain Ironman 70.3 and there's the Dubai Ironman 70.3 coming up in February.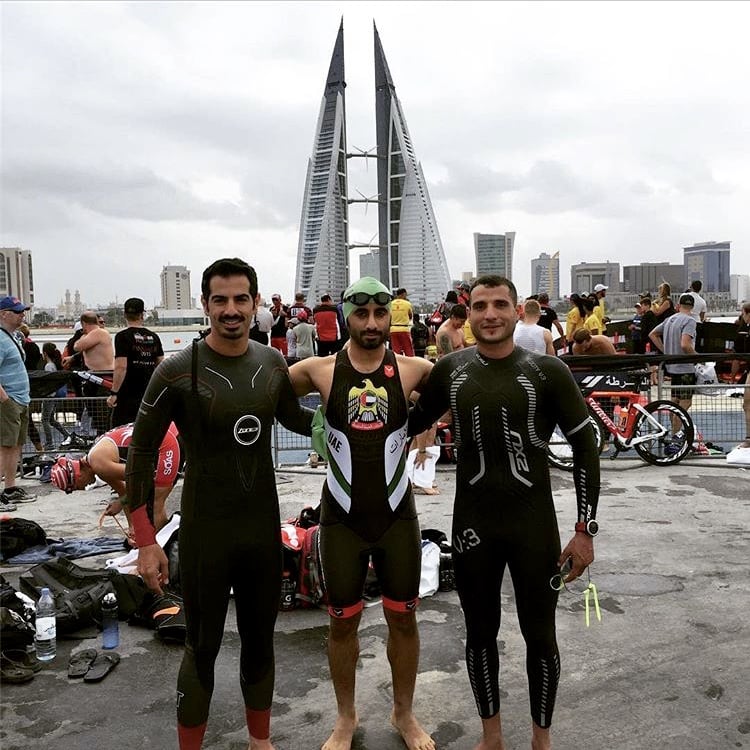 The Bespoke Ride cycling team is competing again in the Sheikh Mohammed Bin Rashid Cycling race on December 7th. This race is important for us as it's a competition between locals and our goal is to win again. I'm also working towards the Epic Cape. It's an 8-day race where we do more than 2,000 kms on mountain bikes through the South African mountains and the jungle. It's one of the toughest mountain bike competitions in the world I am working hard as I'll be the first Emirati to participate. I will increase my training to 25 hours per week.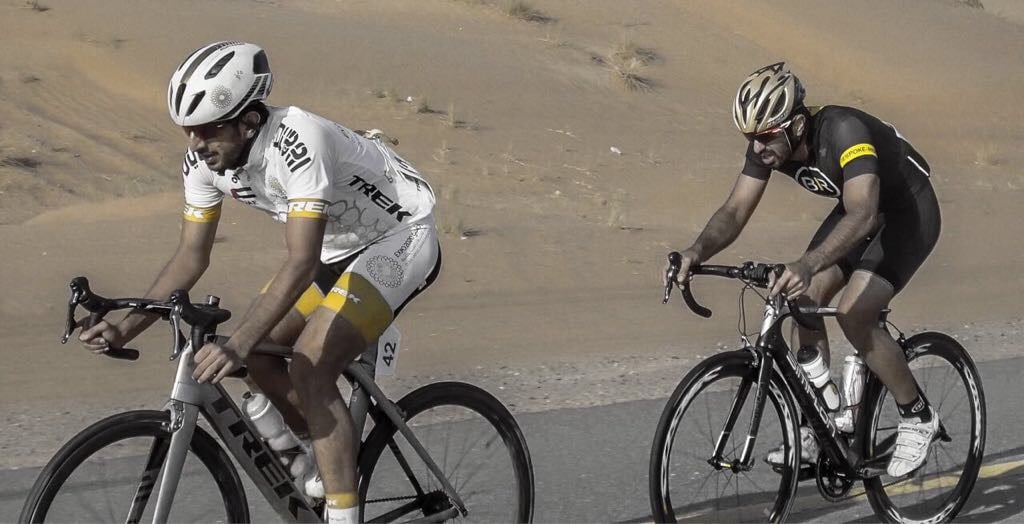 PS: What advice would you give to others who want to get into cycling?
Ahmad: Cycling is one of the most amazing and addictive sports I've ever come across. Anyone can start cycling. I've been into many sports but nothing comes close to cycling. It's an addictive and fun sport that has so many benefits. I love traveling to different countries with my bike. You learn about different cultures and meet interesting people through the cycling community. It's one of the things that keeps me going with cycling - I can travel and do my sport anywhere in the world.
At the same time if you are a competitive person and you like cycling you can also satisfy that. If you want to cycle on a competitive level, you need to work hard. It's not only physical but also mental. I had to completely change my lifestyle. Before I started cycling, I never woke up before 7:00. Now, sometimes I wake up at three at 3:00 to prepare myself for a 4:00 ride in Al Qudra. Now I sleep early and I eat well. This lifestyle has helped me become a better person. Cycling and triathlon training requires a lot of discipline if you want to improve and make it to the podium.