First Female Emirati to Participate an Ironman
Meet the First Female Emirati to Participate in the 70.3 Ironman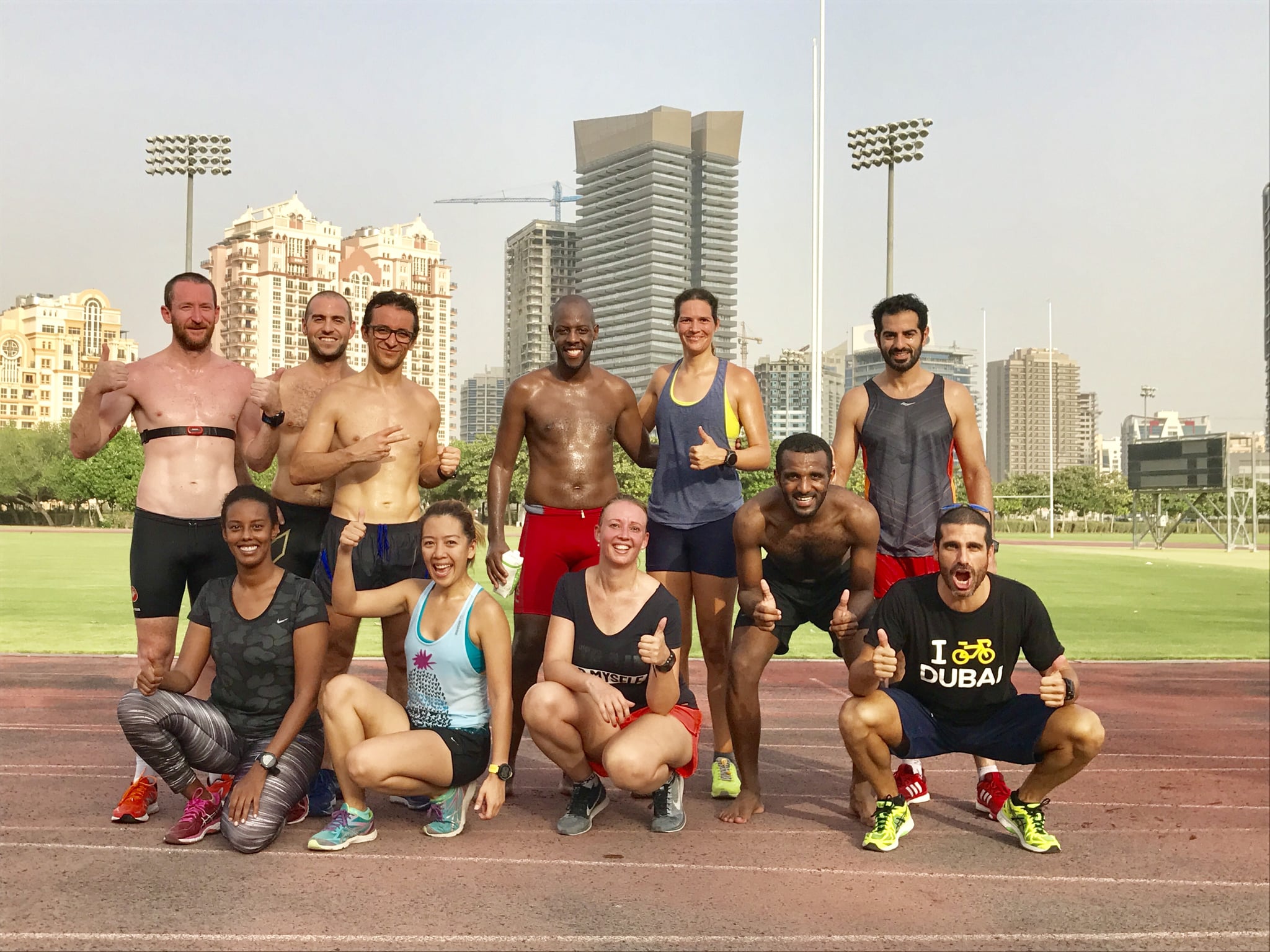 Nasra AlHairy's fitness journey is remarkable to say the least. The 33-year-old was obese, weighing 85kgs, and on the verge of being diabetic. In the span of 3 years, she's completely changed her lifestyle and is currently training with triathlon coach Joao Artechet to compete in the Bahrain 70.3 Ironman in December. We're following Nasra on her journey to the 70.3 Ironman in a 3-part series.
PopSugar: How did you get into fitness?
Nasra: I wasn't into fitness growing up. I was obese. I was fat. I was 85kgs and I wanted to lose weight so I tried personal training sessions, but it wasn't working for me, so instead I wanted to try running. A personal trainer told me I can't run. Running is not for me, as it's not in my nature. I was so depressed hearing this, and I was completely frustrated. I came across a lady on Facebook who gives cycling lessons, and decided to try that!
PS: Like spinning classes?
Nasra: No, not spinning. Bicycle riding lessons - I didn't know how to ride a bike at age 31! I became good friends with a lady in my cycling class named Gloria. I told her about this personal trainer who said I can't run, and she was furious! She said: "Everyone can run! You have legs, you can run". She invited me to train with her in Mamzar Dubai. We started walking fast, then jogging slowly, then back to fast walking and finally a bit of running. Within 2 weeks I could run 3km! I was motivated and I told her I wanted to lose weight, she told me: "Don't think about the weight, it will come off. Just focus on the running". Those words were stuck in my head, and I knew that I wanted be a runner!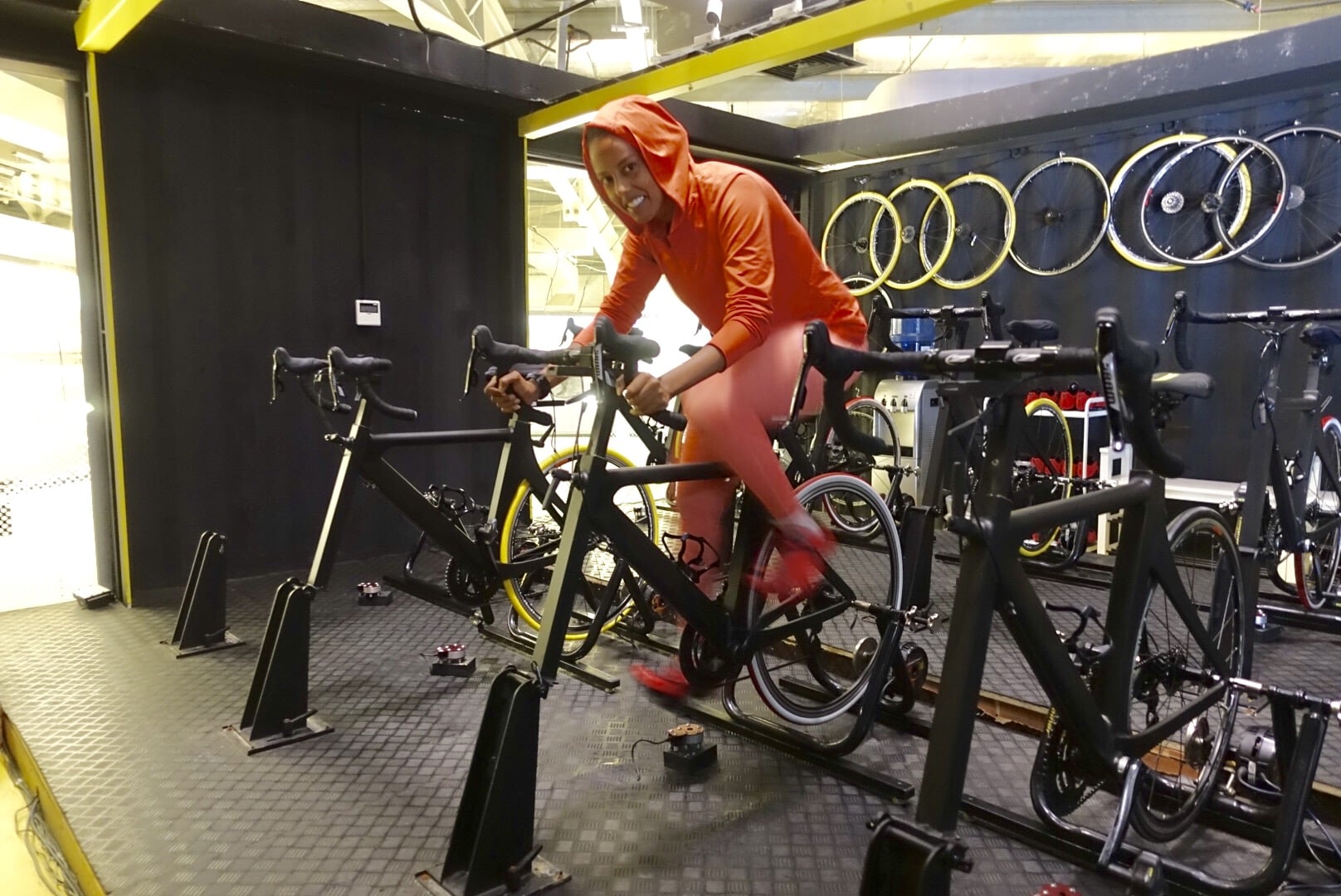 As my running pace increased, I joined a faster running group and started training for half marathons, and marathons together. One day they were talking about TriDubai. I had no idea what a Triathlon was. I was intrigued by a competition involving swimming, cycling and running, but I didn't know how to swim. I actually had a phobia of water, which took me one year to get over this fear!
PS: So, you didn't grow up swimming at the beach with your family?
Nasra: No. I'm the youngest in my family of 7 siblings, and I'm the only one who never wanted to swim. Actually, my mother was an ex-GCC swimming champion, but growing up I didn't want to swim. She was disappointed that I couldn't swim, but now she's so happy and very supportive.
PS: How do you find time to fit in all of the training?
Nasra:I recently stopped working as my job was stressful and I want to put all of my energy into improving my health and fitness level. I'll go back to working later.
PS: What do your friends think about your training?
Nasra: Most of them think I'm crazy. They think suffering. Also, they're sad they don't to see me much anymore, as I'm always training. They don't understand what I'm gaining from this. I try to explain the benefits and that I'm doing this for myself.
PS: What are some of the challenges so far?
Nasra: Mentally, you have to open the blockage and filter out any negativity. I wasn't raised knowing to push my limits, so I need to learn this. I hear negative comments from people in my community, which is sad but I try not to let it affect me.
PS: What motivates you?
Nasra: I want to look back on my life and know that I've worked hard to achieve what I believed was impossible for me. I want my future kids to see what I've achieved, and be proud. I'm building the base for my future family. I want them to be healthy and as fit as possible. My father had diabetes and high blood pressure, and obesity runs in my family. I don't want my kids to inherit this, and I'm using myself as a positive example. I'm building my healthy life and it's a process. Also, training in 3 different sports (running, cycling and swimming) is amazing. I really enjoy it.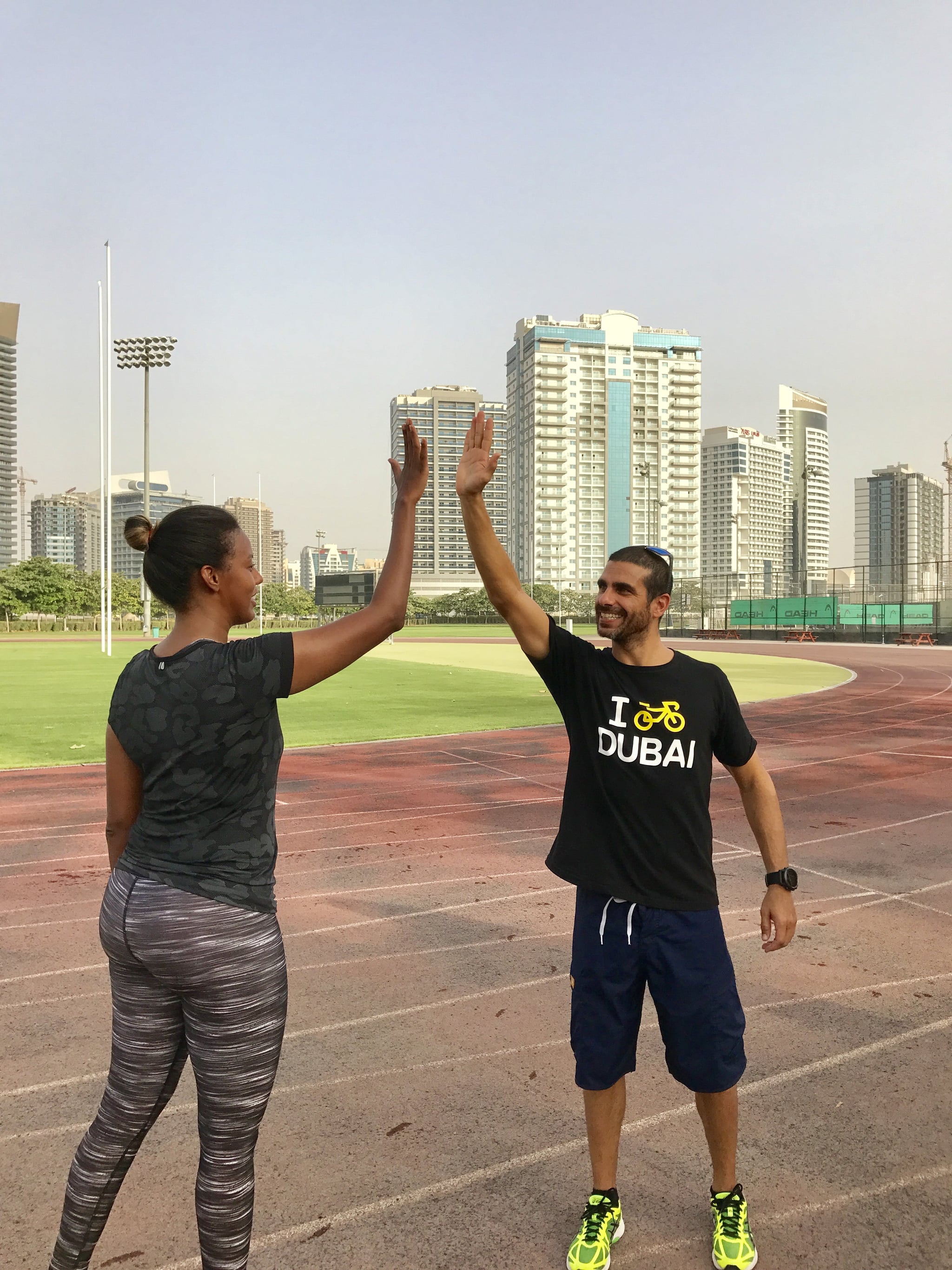 PS: What's your training schedule?
Nasra: I train every day. Joao doesn't give me breaks, but my body is adjusting to it. To give you an example, a typical day we start at 5am either running or biking at Meydan or Bespoke Ride. Joao writes my training schedule and it's uploaded to the Training Peaks app. My training durations increase as my fitness levels improve. It's the best way to build endurance.
PS: Can you use your training knowledge from marathons in triathlons?
Nasra: No, everything I know about marathons I have to forget for triathlons. When you do the transition from swimming to the bike and from the bike to running, it takes practice as you have to be fast. It takes 10 minutes for my legs to recover and adjust. At the moment, it takes me 4 minutes to transition from the bike to running. You need to learn how to use your energy properly.
Check back soon for part two!