Galaxy Yogurt Bark To Keep You Full and Fit
Galaxy Yogurt Bark To Keep You Full and Fit
Recipe by Mona Zavosh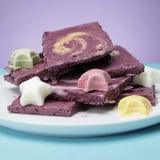 Ingredients
Blueberry Acai Layer
1 cup Greek yogurt
1 100-gram pack unsweetened organic acai puree
1 ½ cups organic wild blueberries
2 tablespoons freeze-dried blueberry powder
1 tablespoon raw organic honey
Matcha Layer
¼ cup Greek yogurt
½ teaspoon matcha green tea powder
1 tablespoon organic raw honey
Turmeric Layer
¼ cup Greek yogurt
¾ cup frozen pineapple
¼ teaspoon turmeric
1 tablespoon organic raw honey
Strawberry Layer
¼ cup Greek yogurt
⅓ cup frozen organic strawberries
1 ½ tablespoons freeze-dried strawberry powder
2 teaspoons organic raw honey
½ cup dry toasted sliced almonds
2 tablespoons honey Greek yogurt
Directions

Process each of the 4 layers of the bark separately using a clean blender or food processor each time. Place each layer in a separate bowl.

Line a 9 ½"x13" baking sheet with wax paper. Sprinkle almonds evenly on the baking sheet. Spread the blueberry acai yogurt on top of the almonds. With a teaspoon, place 2-4 tablespoons each of the matcha, turmeric, strawberry, and honey yogurt mixtures on top of the blueberry acai yogurt. You will have a little extra left. Using the back of a wooden skewer, swirl together all the different yogurt mixtures until you get the look of a galaxy far, far away. Sprinkle the top of the bark with extra blueberry powder and whole freeze-dried blueberries. Optional: add yogurt mixture to star ice cube mold to create shapes. Freeze for 2-3 hours.
Break the bark apart and top with more freeze-dried blueberry planets and blueberry galaxy dust.
Information
Category

Snacks, Kids

Yield

8 Servings