Guacamole-Stuffed Chicken
Guacamole-Stuffed Chicken
Mona Zavosh for Glow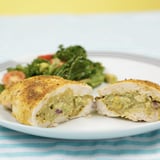 Ingredients
Chicken
2 organic skinless, boneless chicken breasts, butterflied (1/2 pound each)
2 tablespoons organic coconut oil, melted
Cilantro leaves
Spice Mix
2 teaspoons ground cumin
1 teaspoon garlic powder
1 teaspoon onion powder
1 teaspoon dried oregano
1/2 teaspoon smoked paprika
1/4 teaspoon turmeric
1/2 teaspoon sea salt
1/4 teaspoon freshly ground black pepper
Guacamole
1 small Hass avocado
1 1/2 tablespoons fresh lime juice
1 1/2 tablespoons red onion, finely chopped
1 1/2 tablespoons organic fire-roasted corn, frozen
1/4 teaspoon cumin
1/4 teaspoon smoked paprika
1/4 teaspoon garlic powder
1/4 teaspoon sea salt
Pinch of freshly ground black pepper
Directions
Preheat oven to 400°F degrees.

Cut open the avocado and remove the pit. Finely score the avocado and scoop out the flesh into a mixing bowl. Add the remaining guacamole ingredients and mix well.

Place butterflied chicken breast into ziplock bag and seal tight. Take a mallet and pound chicken breast until flattened.

Place a piece of parchment paper on a 12"x16" baking pan. Brush the parchment with coconut oil. Place flattened chicken breast on the parchment and brush with coconut oil. Sprinkle 2 teaspoons of the spice mix evenly. Add 1/4 cup of guacamole to one side of the chicken and place a few cilantro leaves on top of the guacamole.

Fold over the other side of the chicken and roll to enclose the guacamole center. Secure openings with 2-3 toothpicks (securing with toothpicks is not totally necessary, but it does help keep the guacamole inside).

Brush the top of the chicken with more coconut oil and sprinkle with 1 teaspoon of the spice mix. Fold over the parchment and repeat for each chicken breast. Use a separate sheet of parchment for each individual chicken breast on the same baking pan.

Bake the chicken for 15 minutes, then unfold the parchment to allow the chicken to bake uncovered for 5 more minutes. Remove from the oven and allow the chicken to rest for 3-5 minutes. Remove the toothpicks.

Add ingredients for salad to bowl and mix.

Plate baked chicken, add side salad, and garnish with more cilantro leaves — enjoy!
Information
Category

Main Dishes

Cuisine

Mexican

Yield

2 servings

Total Time

44 minutes, 59 seconds