If you're in the market for some new healthy dinner recipes, you've come to the right place. Whether you're vegan, vegetarian, gluten-free, or even Paleo, there are a number of delicious dishes in this long list of 75 that will satisfy your dietary preferences and your palate. Don't stay stuck in that healthy dinner rut one more night; start scrolling, and get cooking!
— Additional reporting by Leta Shy and Jenny Sugar
Rainbow Quinoa Salad
This beautiful veggie-packed quinoa salad [1] is under 350 calories, offering 13 grams of protein and seven grams of fiber. Any vegetarians or vegans looking for a protein-rich recipe to support weight loss will fall hard for this salad.
Calories: 331
Roasted Sweet Potato and Black Bean Burrito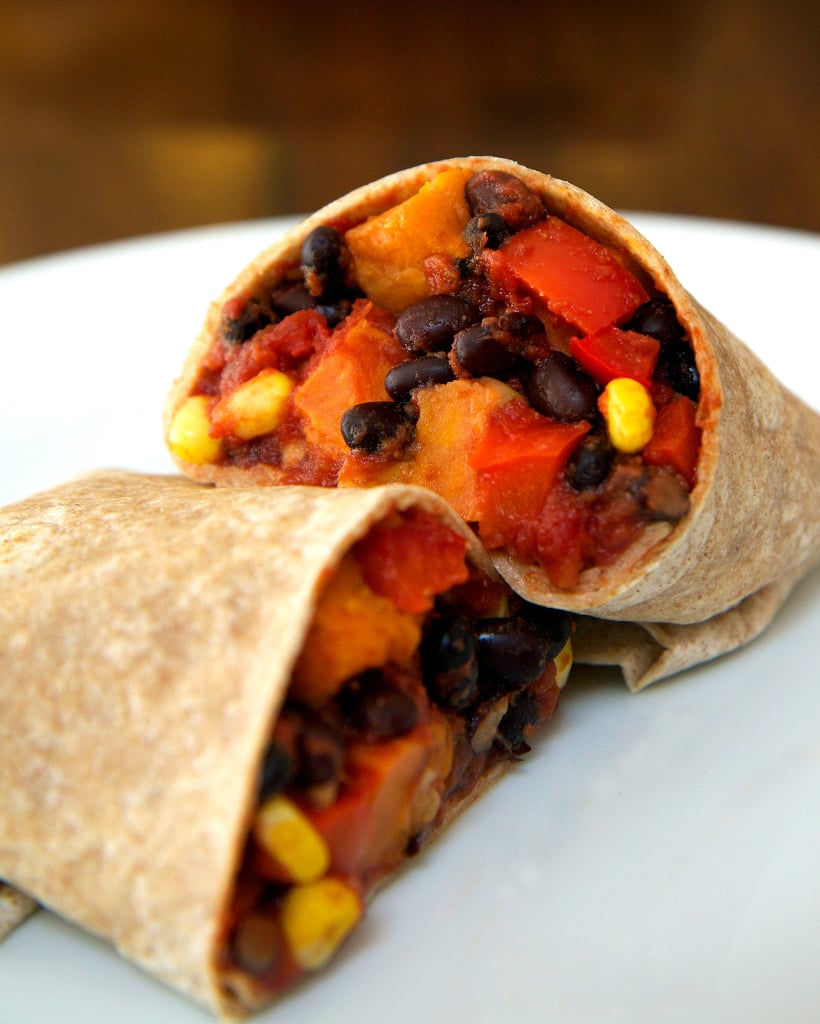 Roasted sweet potatoes swirling with tender black beans and corn, succulent red peppers, and juicy tomatoes wrapped in a warm whole-wheat tortilla make this one delicious and gratifying meal [2]. It is under 500 calories and offers almost 15 grams each of fiber and protein.
Calories: 471
Blueberry, Quinoa, and Kale Salad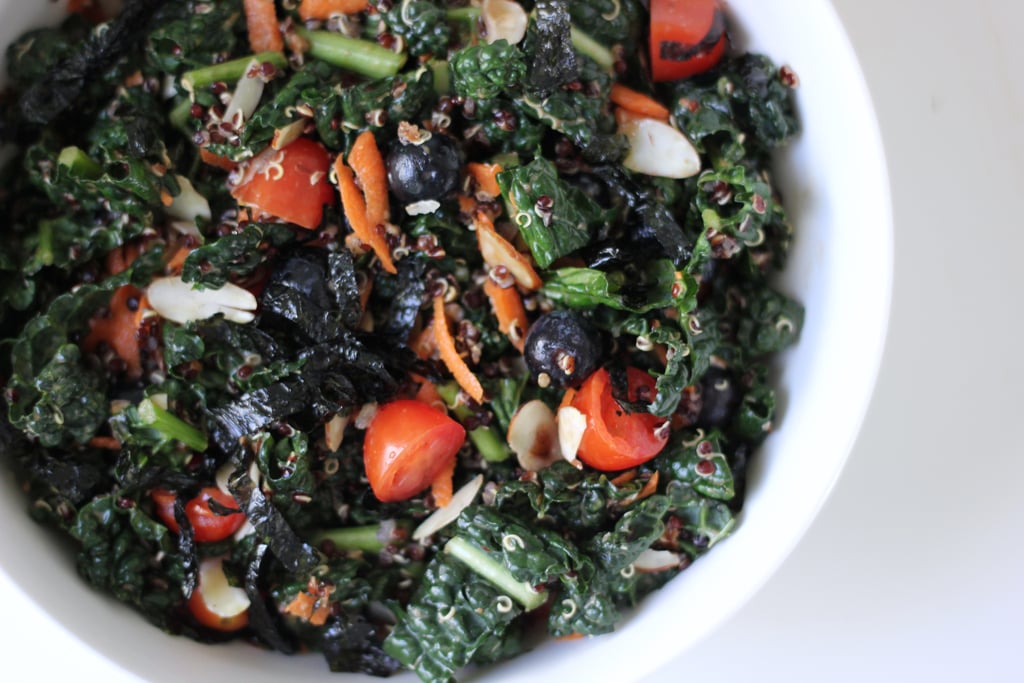 This colorful salad [3] has a bit of everything: blueberries, carrots, tomatoes, almonds, nori, kale, and quinoa, all blended with an Asian-inspired soy ginger dressing. Talk about eating the rainbow!
Calories: 377
Toasted Quinoa and Cabbage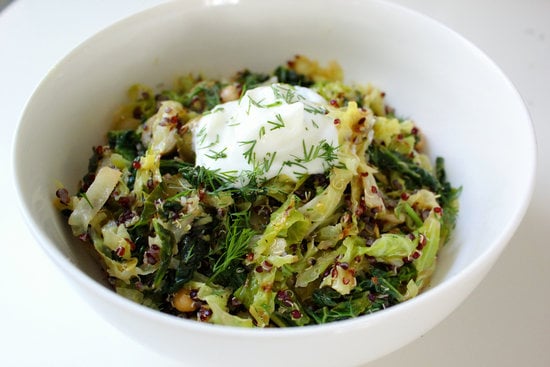 If you need a break from a weekend of heavy meals, then make this digestion-aiding lemony toasted quinoa and wilted cabbage [4] dish.
Calories: 348
Indian-Spiced Curry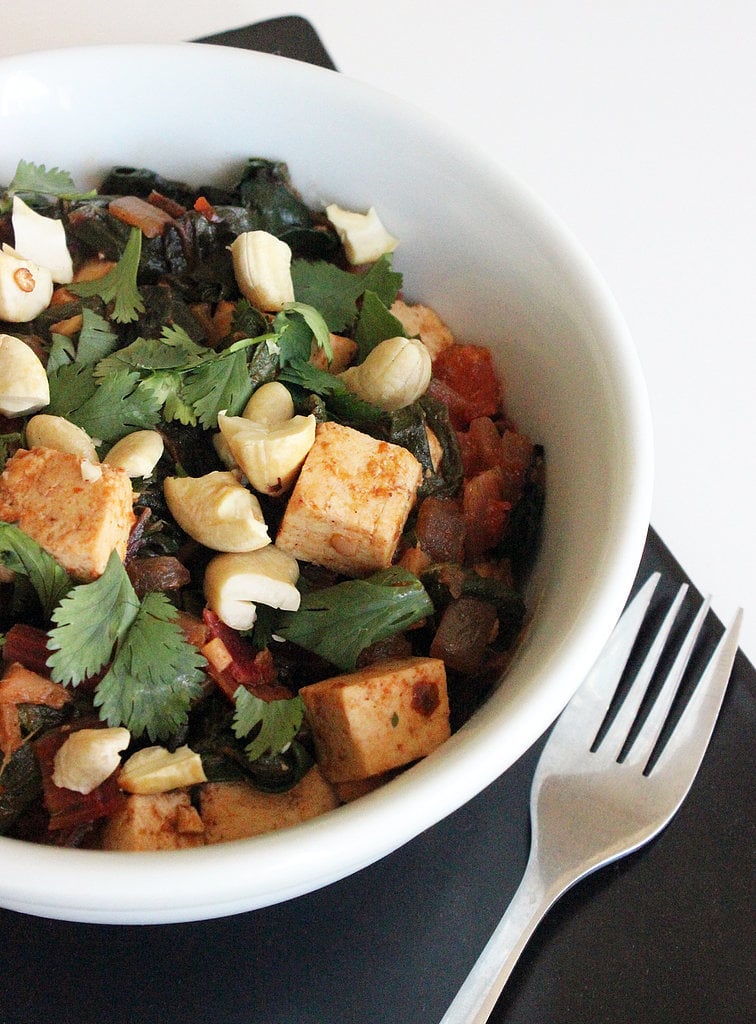 A bowl of this Indian-spiced tofu and chard [5] has the protein and fiber to keep you satisfied. Even better, the combination of turmeric and ginger gives this recipe both metabolism-boosting and anti-inflammatory properties. It's one of my favorite ways to refuel my body after a challenging yoga class.
Calories: 222
Paleo Stuffed Peppers
For a warming, quick supper, look to these Italian-style Paleo stuffed peppers [6] for inspiration. With just a few ingredients and less than 30 minutes, you can create a fresh, clean meal with more than 30 grams of protein.
Calories: 285
Cauliflower Rice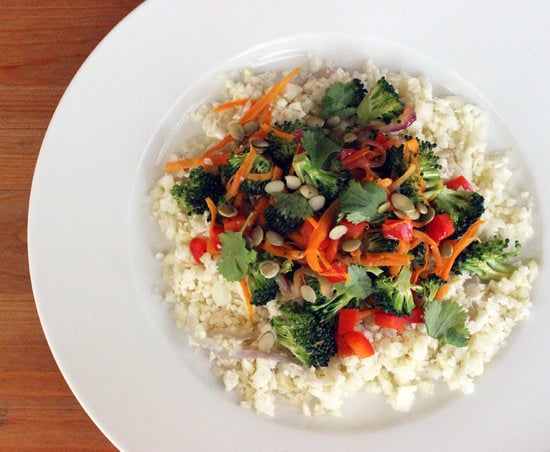 Fried rice should definitely not be on anyone's healthy-eating menu, so get the taste — and kill the cravings — with this Paleo-perfect cauliflower fried "rice" [7] recipe instead.
Calories: 278
Hemp and Cabbage Detox Salad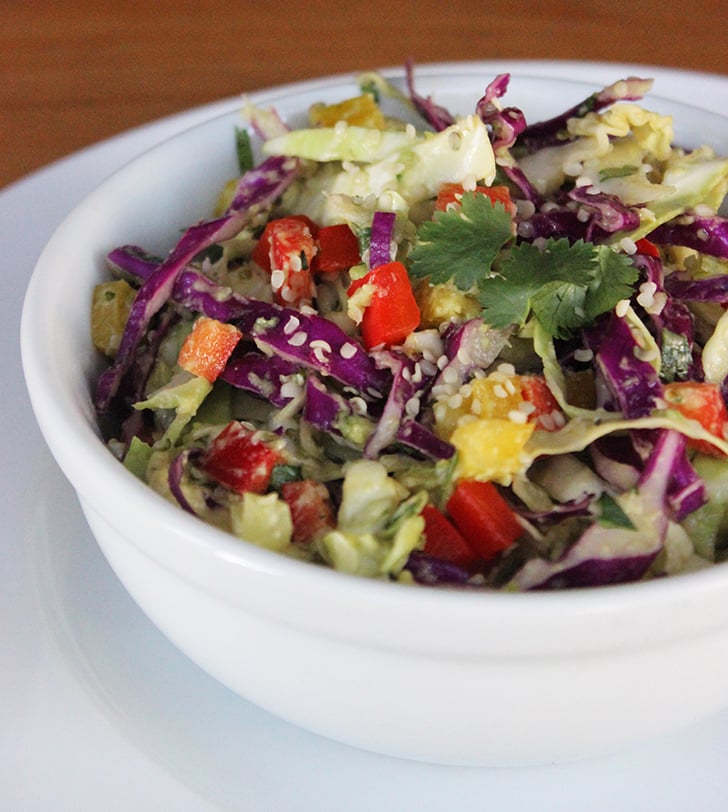 If you're on the hunt for a quick and tasty detoxifying recipe, this crunchy cabbage and hemp salad [8] is for you. If you haven't tried them yet, it's time to give hemp seeds a try. They're a great source of omega-3s and vitamin E for vegans and vegetarians, and the combination of the cold-pressed oil and seeds in this recipe gives this fresh salad a nutty flavor you'll love.
Calories: 381
Penne Alla "Not-Ka"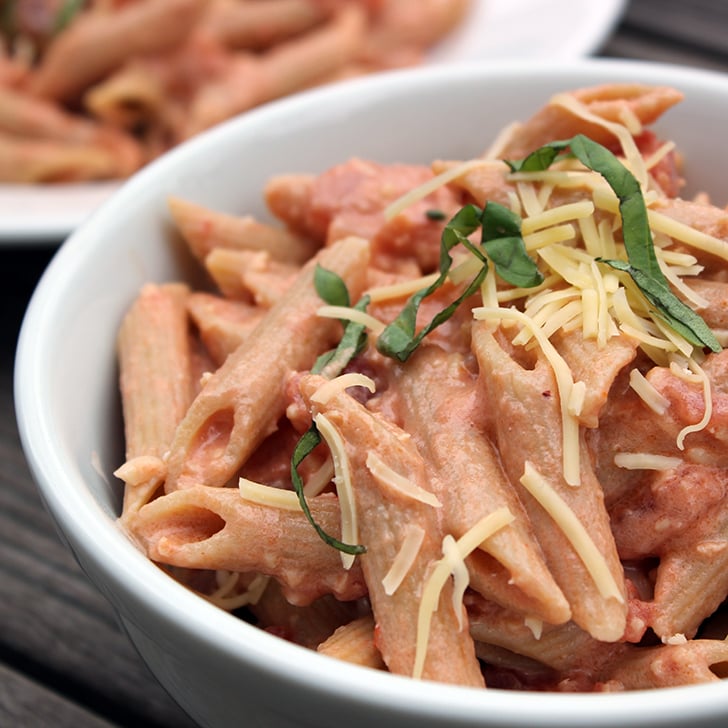 Penne alla vodka is an Italian staple that heavily lays on the cream and calories. Even without the booze and significantly less dairy thrown into the pot, this penne alla "not-ka" [9] brings the same tangy flavor and comforting texture indicative of the original.
Calories: 324
Chirashi Bowl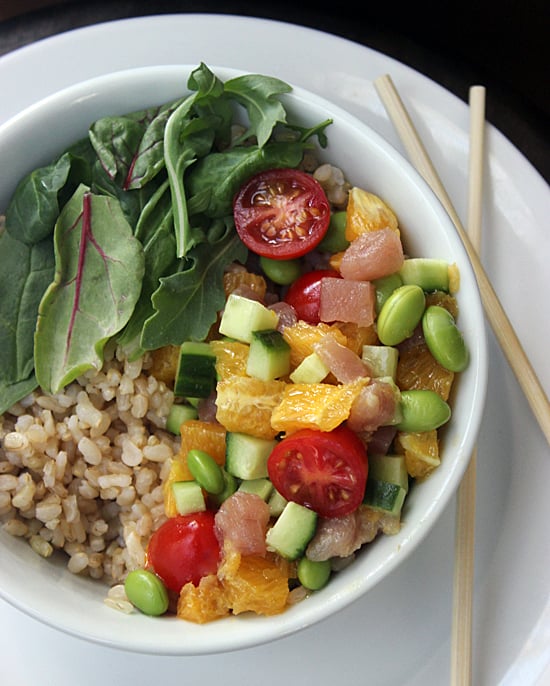 A light, refreshing meal is perfect for hot days. Try this chirashi bowl [10], made with fresh vegetables, brown rice, and sushi-grade tuna, to cool off in the heat.
Calories: 403
Vegan Bean Salad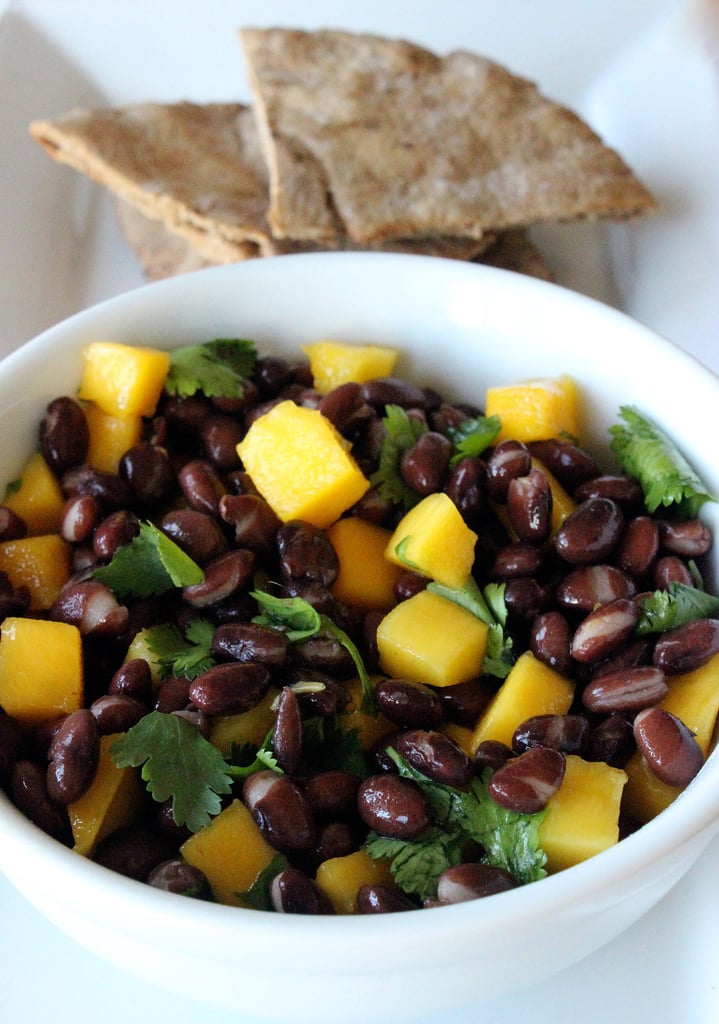 After a hard workout, this vegan bean salad [11] is the perfect, protein-packed refreshing meal. It has more than 13 grams of fiber and nearly 17 grams to fill you up and help your muscles recover.
Calories: 349
Avocado Shell Salad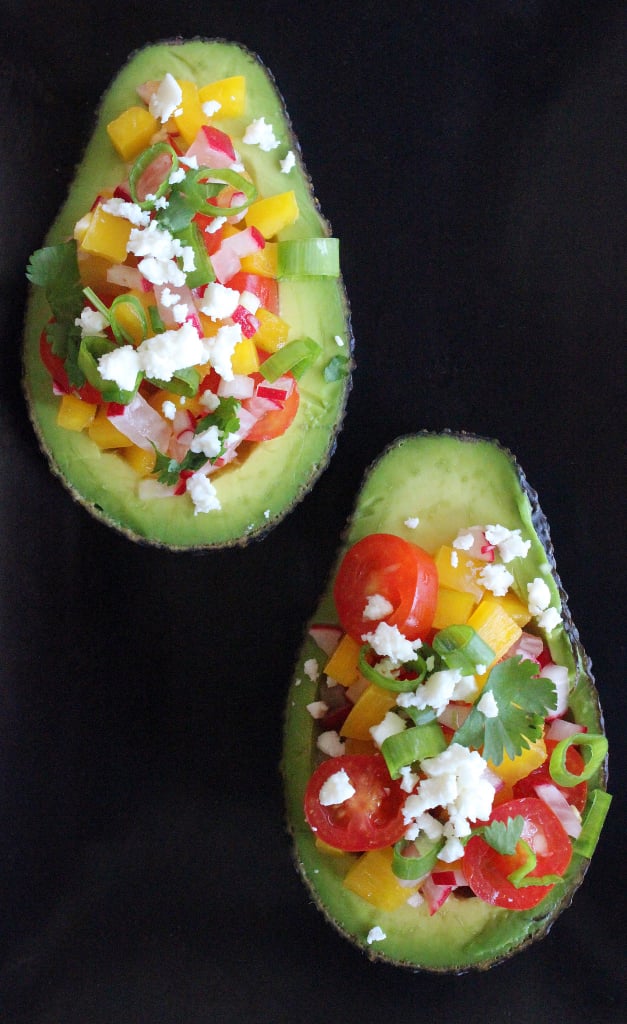 No need for the oven for this refreshing dinner: avocado shell salad [12]. It has 60 percent of your recommended fiber for the day, aids in digestion, and may even diminish belly fat [13].
Calories: 468
Red Pepper and Lentil Bake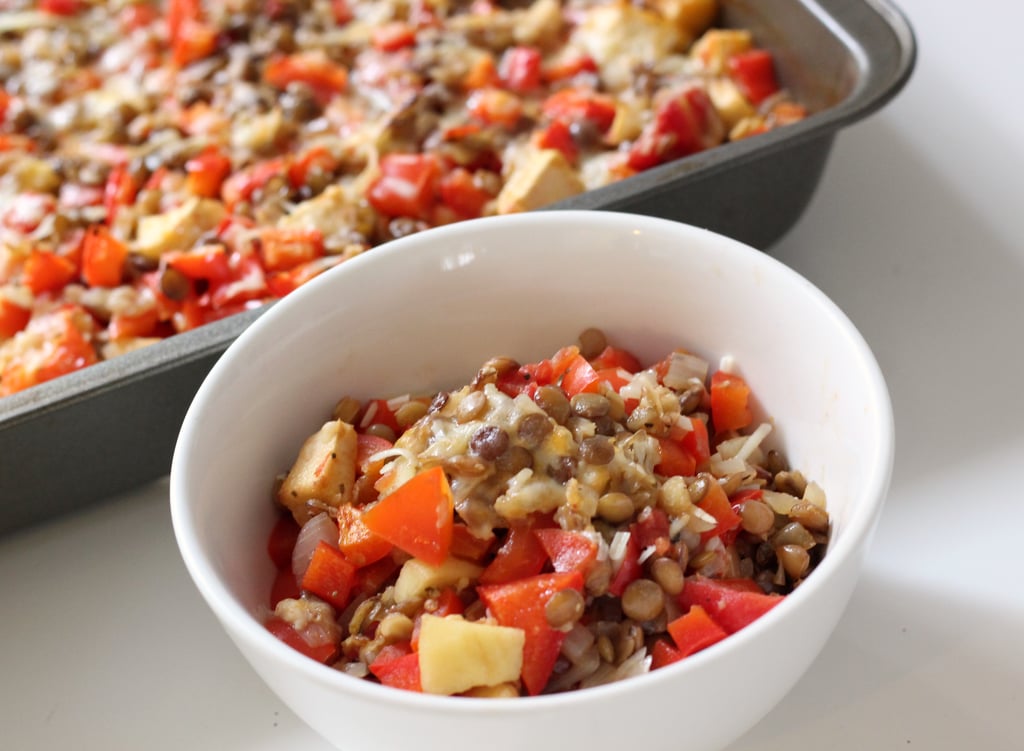 High in vitamin A, vitamin C, and fiber, red bell peppers make a perfect accompaniment to protein-rich lentils in this low-calorie recipe. Even better news? You'll be surprised at how large an under-250-calorie portion of this cheesy red pepper and lentil bake [14] really is.
Calories: 233
Zucchini Noodles Aglio et Olio
For those days when you're craving nothing but pasta, reach for a huge bowl of this garlicky zucchini pasta dish [15]. A sprinkle of almond meal instead of breadcrumbs takes this recipe over the top.
Calories: 257
Santa Fe Vegetable Soup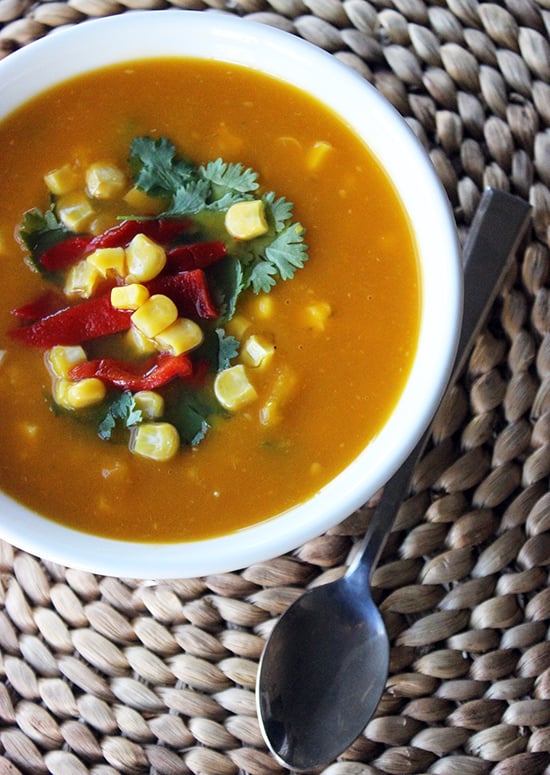 This Paleo-friendly vegetable soup [16] simmers nicely in your slow cooker for dinner — be sure to make enough for an easy lunch the next day. While this recipe uses shredded chicken and chicken stock, you can substitute them with more beans and vegetable stock for a vegetarian dish that still packs in the protein you need to fight fat.
Calories: 321
Egg White Frittata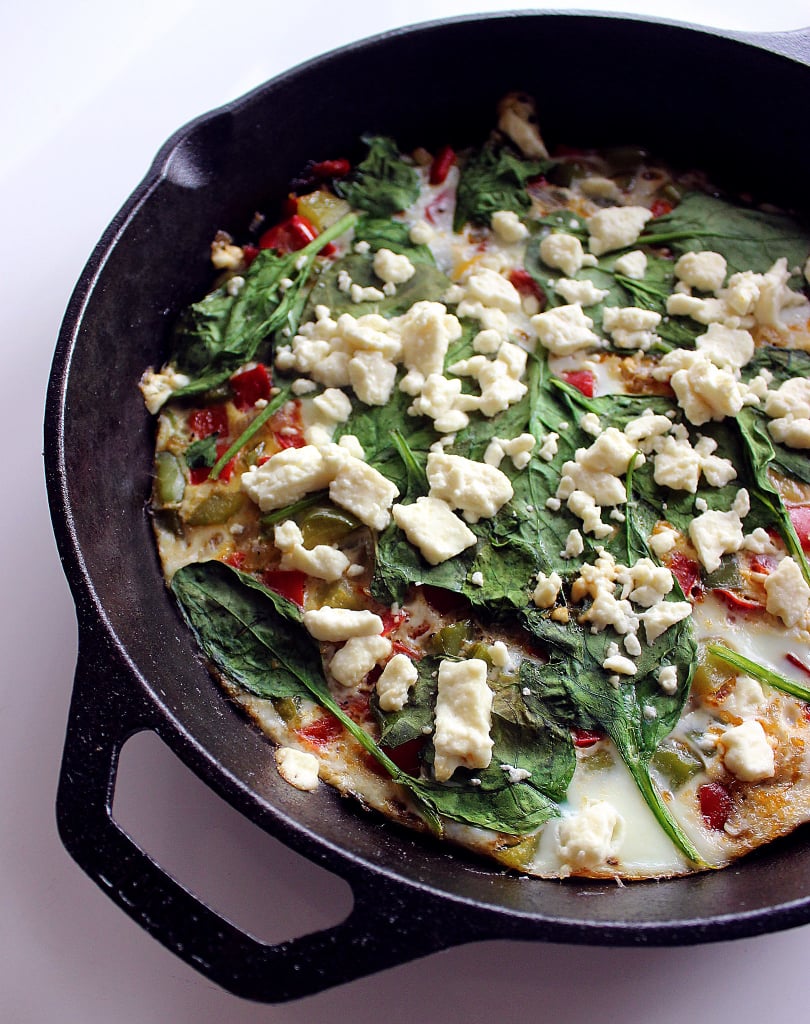 Classic Mediterranean ingredients like peppers, onion, and spinach bring texture, flavor, and nutrition to the dish, while egg whites and feta provide over 20 grams of protein to this low-calorie frittata [17] that actress Lea Michele [18] loves any time of day.
Calories: 300
Paleo Pad Thai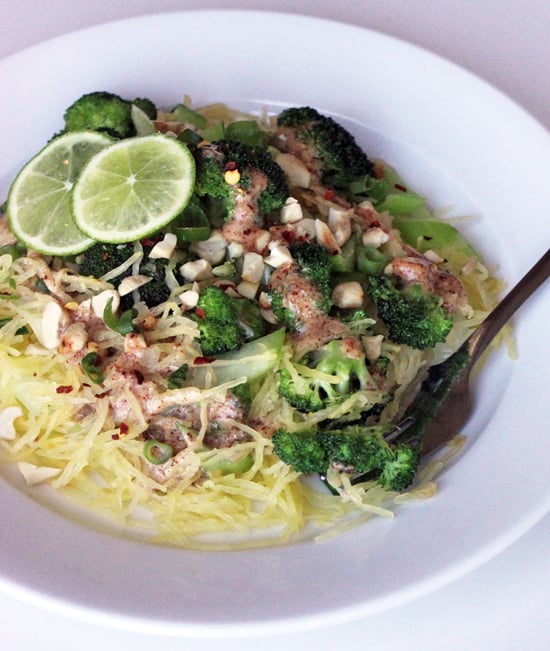 No need for takeout; this low-calorie, noodle-free Paleo pad thai [19] is waistline-friendly and just as tasty. It uses spaghetti squash instead of noodles to save on calories. This lower-carb riff on the classic rice noodle dish has over 300 percent of your recommended vitamin C and vitamin A for the day, more than 50 percent of your calcium, and over 30 percent of your iron.
Calories: 367
Healthy Chicken Salad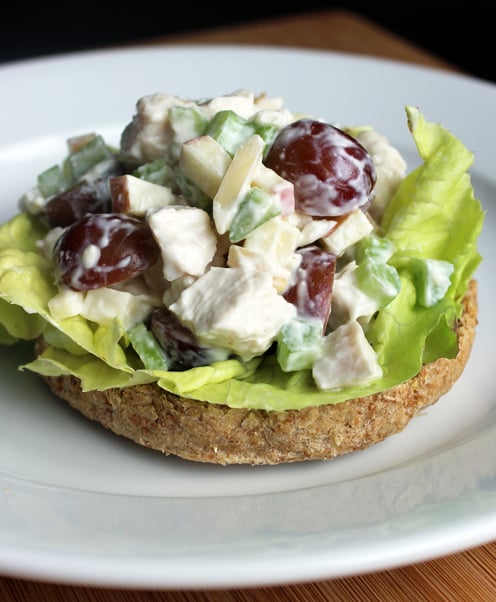 Traditional chicken salad clocks in at 500 calories, but this healthy chicken salad [20] is 139 calories a serving. The secret? A simple swap of Greek yogurt for mayo. Serve with one or two slices of bread (like wheat bread, 220 calories [21] for two slices).
Calories (with two slices of wheat bread): 359
Pumpkin Bisque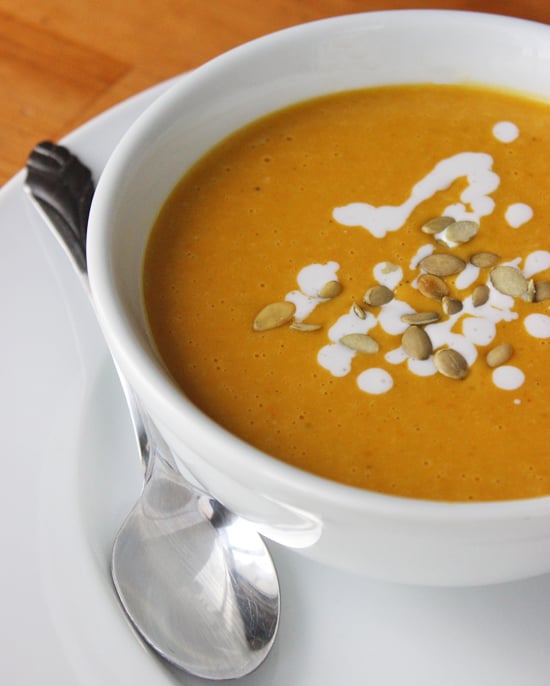 Even if you're cutting back on dairy, it doesn't mean you can't enjoy a hot bowl of comforting soup. This light pumpkin bisque [22] gets its creamy and rich texture from a secret ingredient.
Calories: 202
Spicy Shakshuka
With more than 20 grams of protein and nearly 40 percent of your recommended fiber for the day, this 350-calorie meal [23] consists of perfectly poached eggs swimming in a fragrant and spicy tomato sauce bath. To amp things up in the nutrition department, garbanzo beans are added for even more protein, while swiss chard adds vitamin A, vitamin C, and iron. Both the cinnamon and red pepper flakes bring some serious fat-fighting spice to your plate!
Calories: 339
Spaghetti Carbonara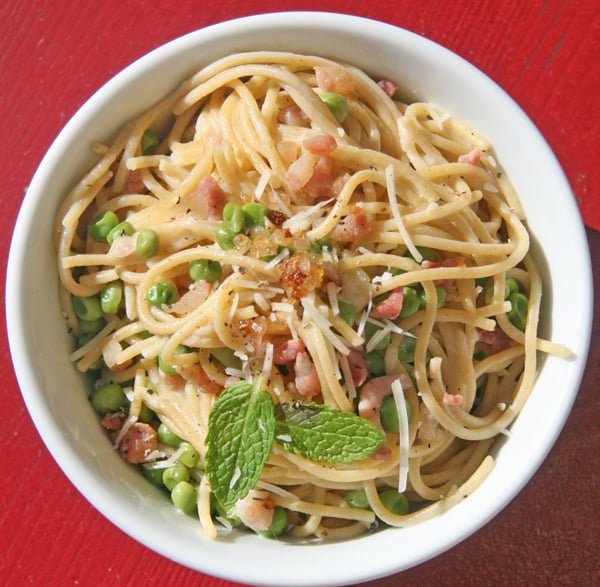 Lighten up traditional carbonara with this whole-wheat spaghetti carbonara [24] made with low-fat milk and, yes, a healthy dose of parmesan cheese.
Calories: 376
Sweet Potato Pizza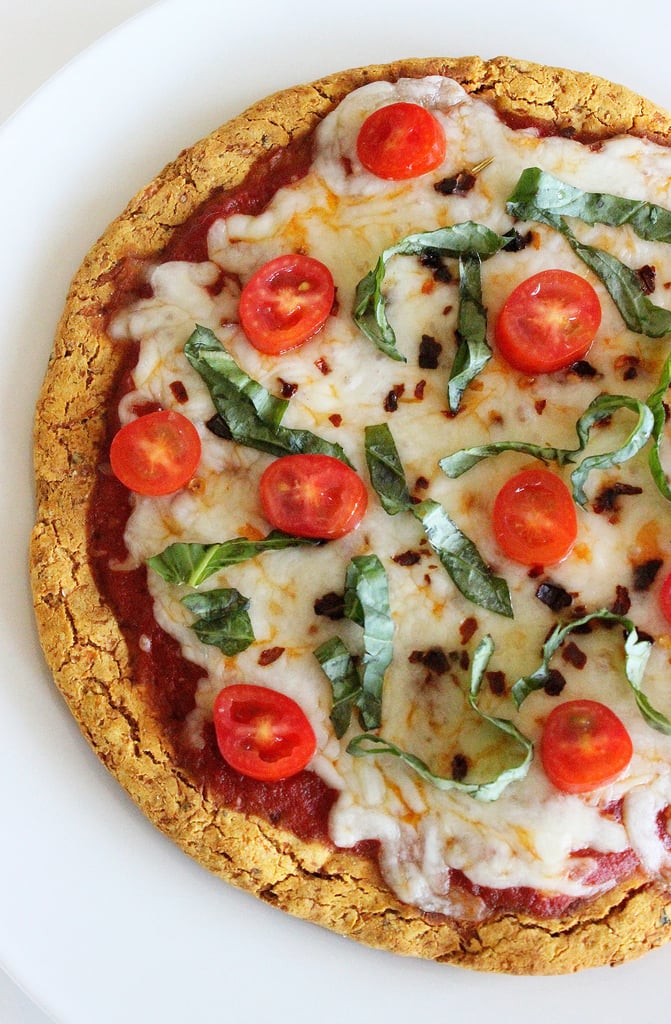 Cut the carbs but not the comfort with this high-protein, vitamin-A-rich sweet-potato-crust pizza [25].
Calories per serving (half a pizza): 351
Not-Tuna Salad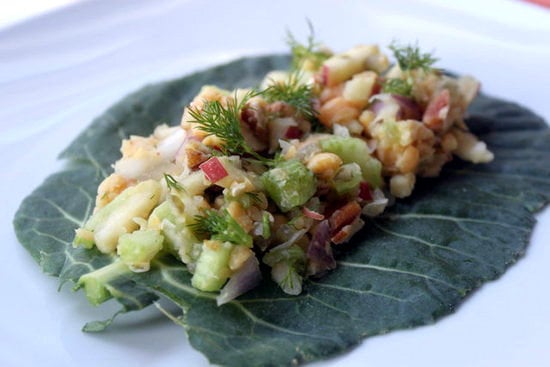 For a taste of Spring in the middle of cold weather, spruce up your salad with this protein-rich not-tuna salad [26] fortified with an entire can of garbanzo beans, aka chickpeas. The pecans and apple pieces give this dish a crisp, fresh feeling.
Calories: 188
Paleo Carrot Pasta
Go to bed without the bloat with another bowl of healthy "pasta." This Paleo carrot pasta [27] is comforting and filling without making you feel stuffed.
Calories: 478
Broccoli Cheddar Soup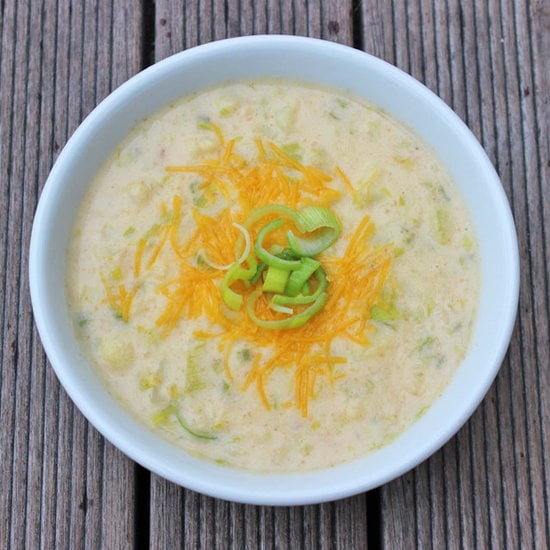 A hearty bowl of creamy cheddar soup can soothe the soul, but it's not always so great for the waist. This healthy cheddar soup recipe [28] keeps the texture you crave but nixes calories by using cauliflower to create a creamy soup base.
Calories: 247
Paleo Meatballs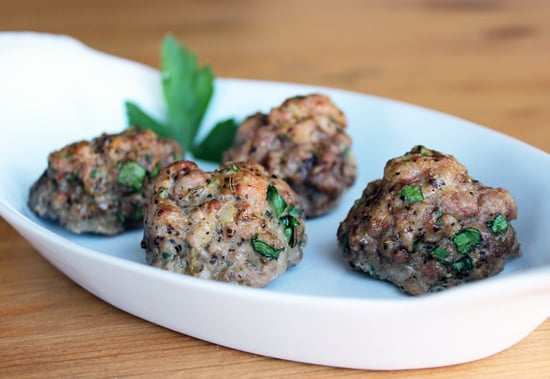 Serve these Paleo meatballs [29] on a salad or bed of zucchini noodles, and you'll still hit your under-500-calories goal.
Calories: 244
Tofu Scramble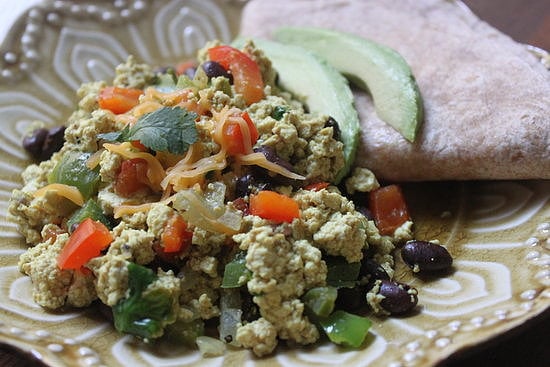 Versatile, quick, and perfect for breakfast, lunch, or dinner, a basic tofu scramble is a great go-to meal. This vegan tofu scramble [30] brings the Southwest to your table, fast.
Calories: 135
Broccoli Slaw Pasta
This cheesy, garlicky "pasta" [31] from healthy chef Hungry Girl is the best of both worlds — it is just as fast to make as any simple pasta dish and doesn't come overloaded with carbs. And since it's a similarly low-calorie and low-carb pasta alternative as spaghetti squash (one whole bag of broccoli slaw is only 100 calories and five grams of carbs) without all the prep, it's perfect for any gluten-free girl on the go.
Calories: 134
Two-Bean Sweet Potato Soup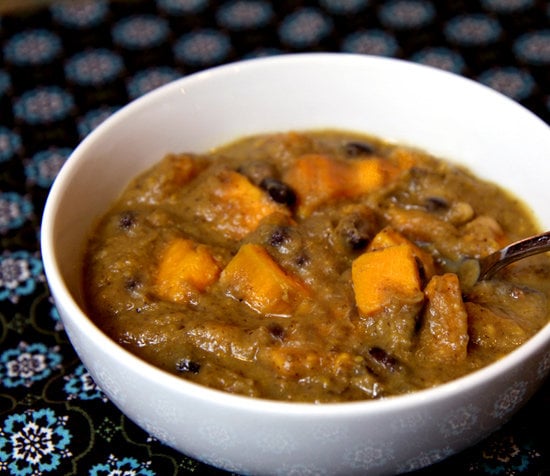 Take a twist on classic black bean soup, and opt for low-calorie black and white bean soup with sweet potatoes [32]. This hearty soup makes a delicious Fall supper, and it's a high-protein lunch for work, perfect if you're getting in a midday strength-training session!
Calories: 288
Ginger-Carrot Soup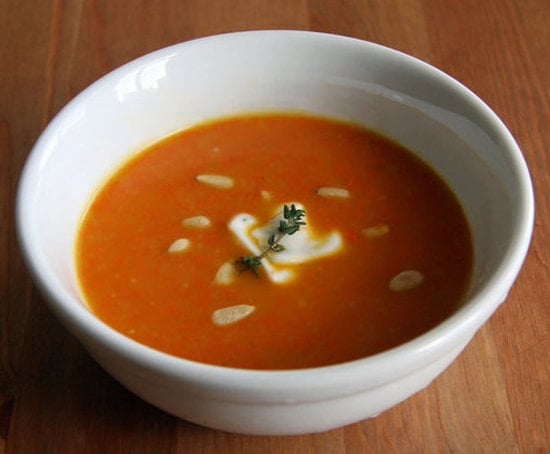 A bowl of this detoxifying ginger-carrot soup [33] is high in vitamin A, vitamin C, and manganese, which aids digestion.
Calories: 262
Chickpea Curry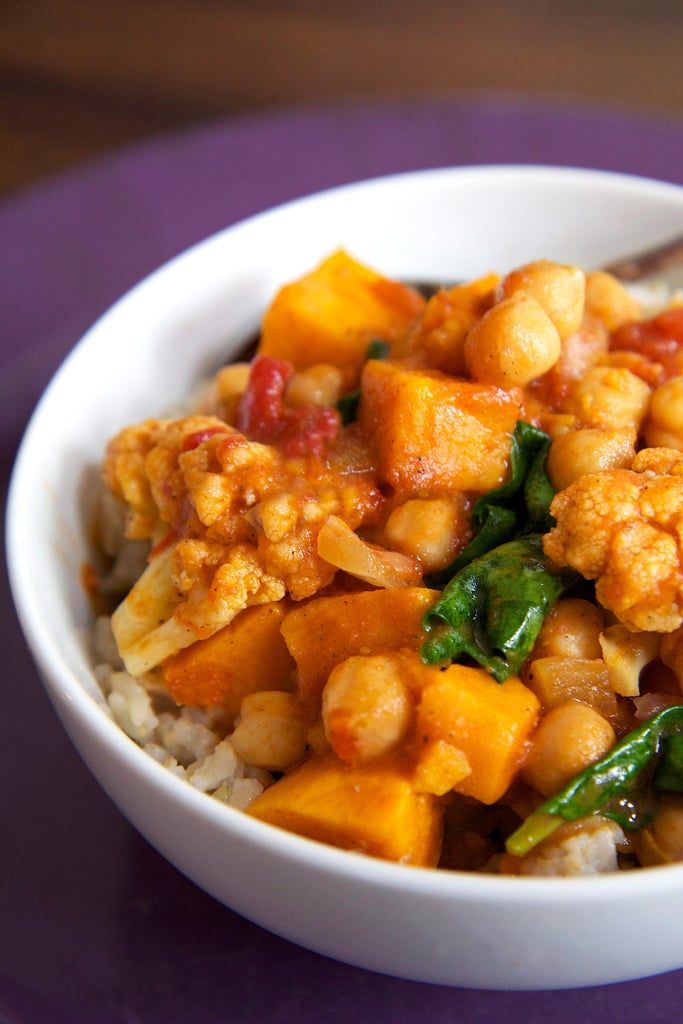 When you're craving Indian food at home, cook up this nutrient-dense chickpea and sweet potato curry [34] instead of picking up takeout that's loaded with cream and butter. This vegan recipe is rich in protein, fiber, and flavor.
Calories: 397
Quinoa Pizza Bites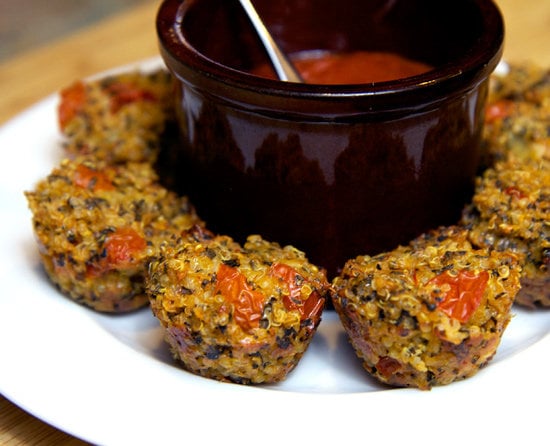 If you're craving pizza, opt for these quinoa pizza bites [35] instead. This nutritious treat features the goodness of the whole grain packed with fiber and protein with the flavors of your favorite Italian dish. They're a great snack or special party appetizer, but a plate of these can make a great dinner instead of dialing in takeout.
Calories (for six bites): 288
Panko-Crusted White Fish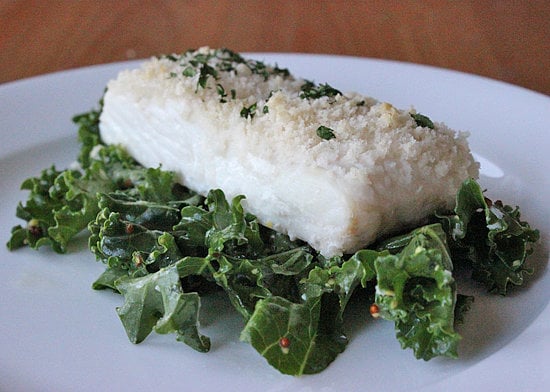 This protein-packed, simply prepared panko-crusted white fish recipe [36] is the perfect post-workout dinner.
Calories: 442
Split Pea and Sweet Potato Soup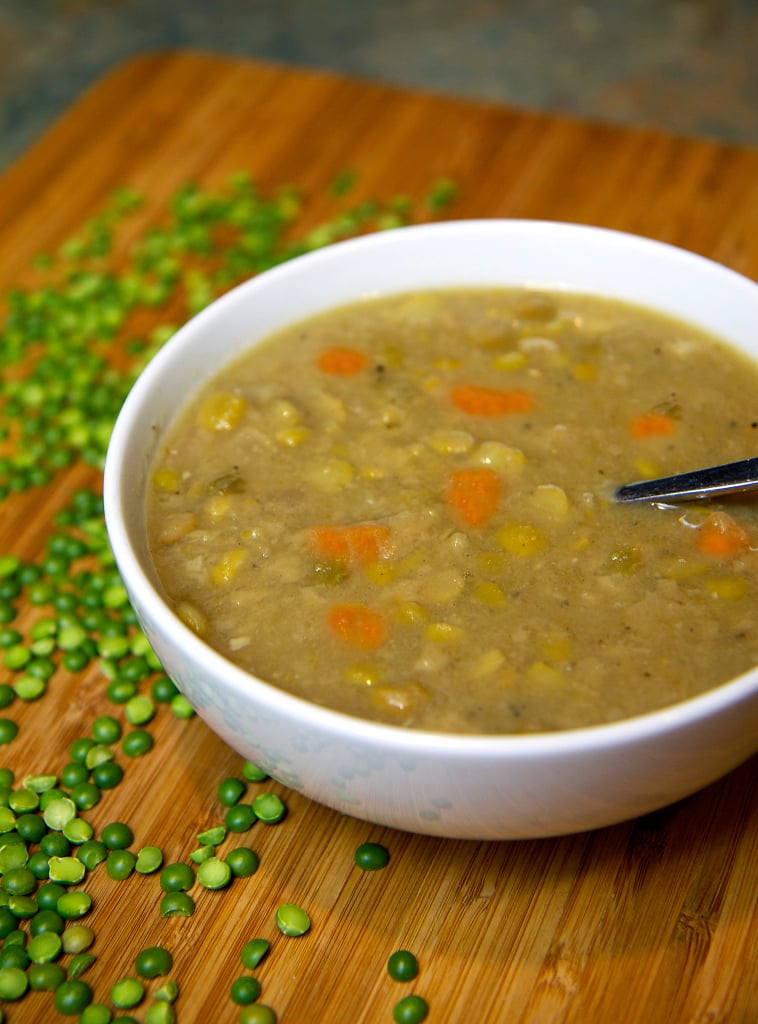 Savory, smooth, and hearty, traditional split pea soup is made with ham hocks to give it that signature salty flavor. But you can easily omit the meat and make the soup with celery and sweet potatoes for a delicious vegan twist [37].
Calories: 254
Polenta and Beans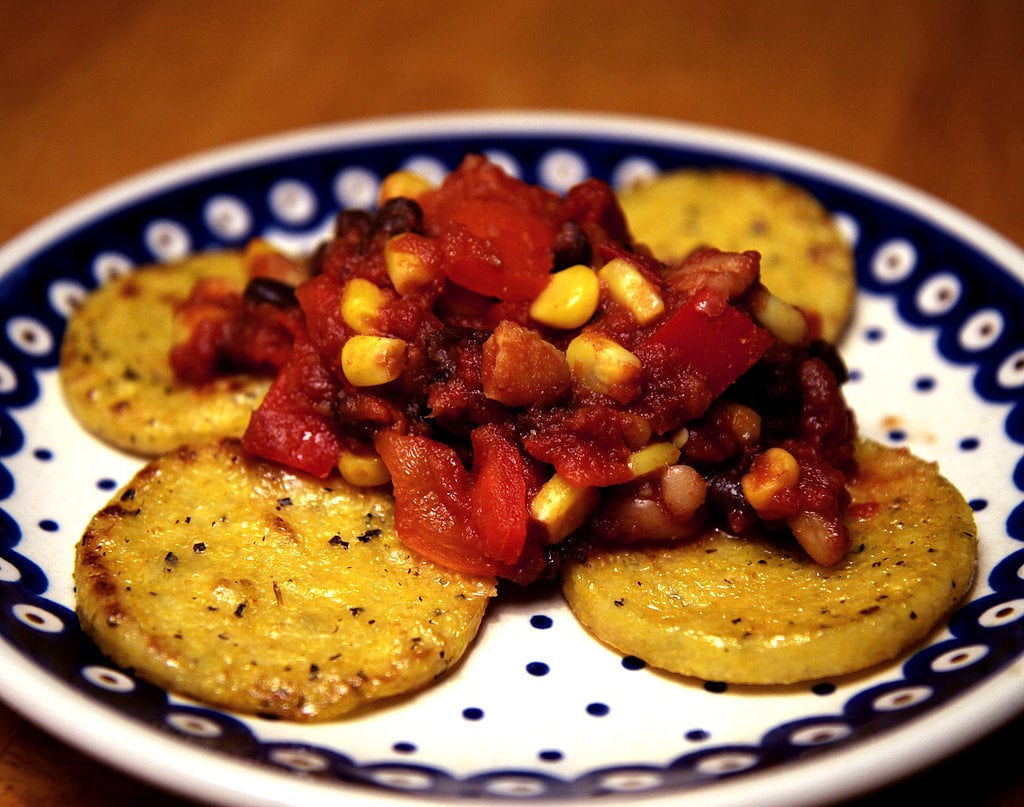 If you're ready to get creative at dinner, let vegan polenta and beans [38] come to the rescue. It's a filling and spicy meal that offers more than 10 grams of vegan-approved protein for under 300 calories.
Calories: 284
Coconut Curry Butternut Squash Soup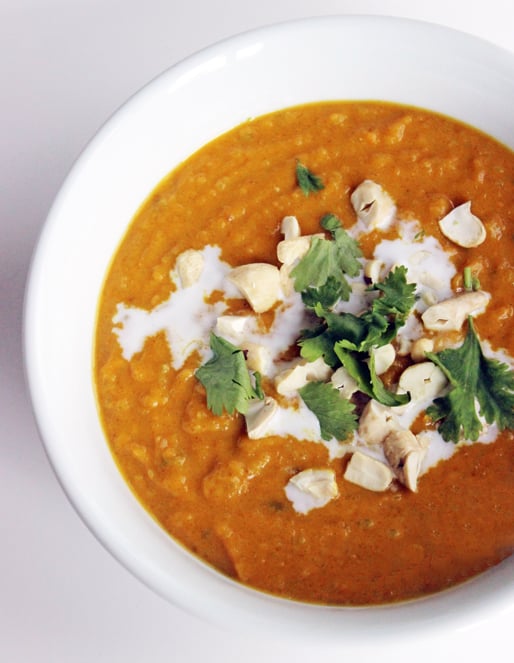 This comforting, creamy coconut curry butternut squash soup [39] is cream-free and the perfect way to add a few metabolism-boosting spices like cumin and turmeric to your diet.
Calories: 372
Taco Salad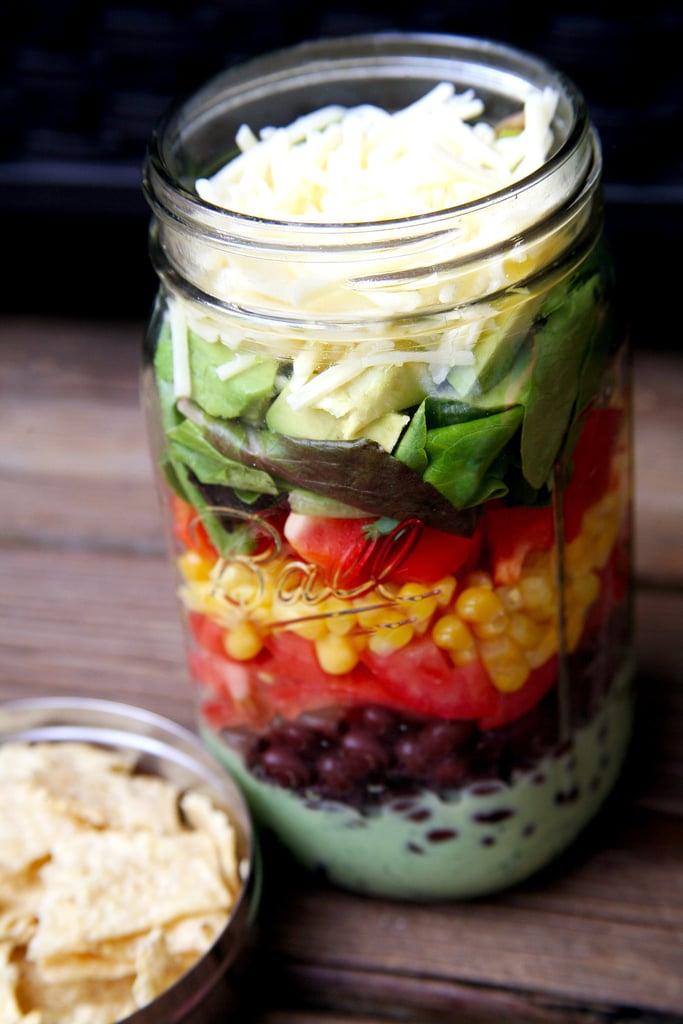 The homemade cilantro-lime dressing gives this taco salad [40] a fresh and zesty flavor perfect for the warmer weather. The layered ingredients also offer almost 25 grams of both protein and fiber. This is a great dinner when you need something fast after a hectic day: prep in advance and store in your fridge for a ready-to-go dinner.
Calories: 468
Low-Cal Spaghetti in White Wine Sauce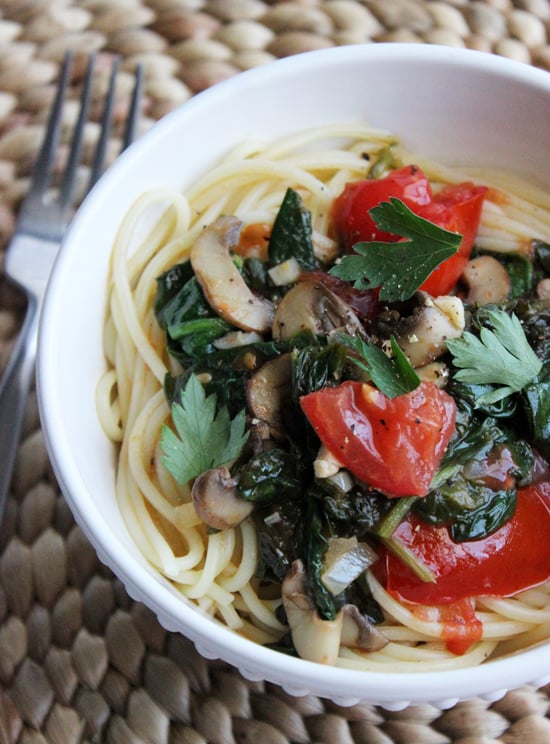 There's no need to drench pasta in heavy cream, butter, and cheese to create a satisfying supper, and this vegan-friendly spaghetti recipe [41] is proof. Fresh produce keeps this saucy recipe low in calories but rich in vitamins A and C.
Calories: 228
Vegan Split Pea Soup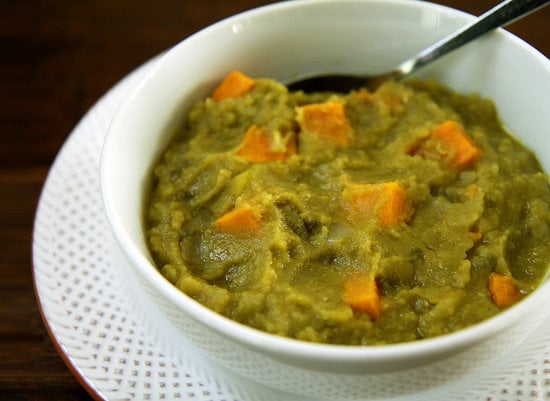 One-pot meals like this vegan split pea soup [42] definitely don't lack dimension. With plenty of spices and sweet potatoes, a large bowl will fill you up for hours.
Calories: 326
Thai Peanut Soba Noodles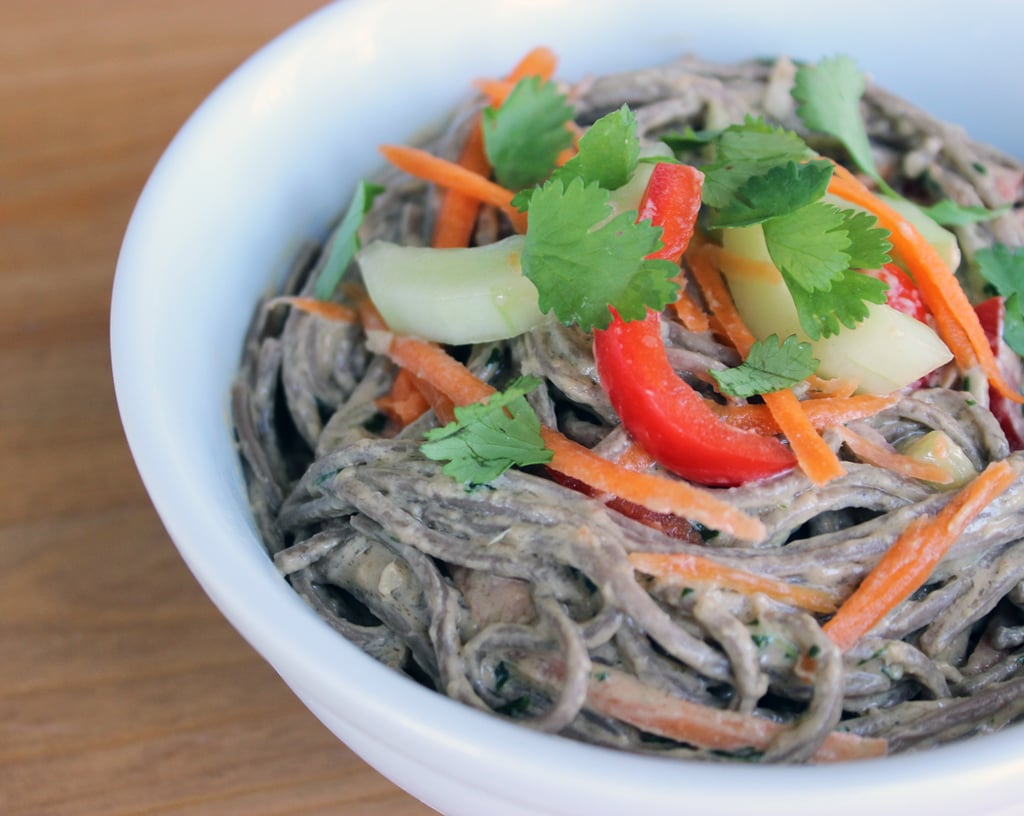 Make this Thai-inspired soba noodle salad [43] for dinner, and enjoy it for lunch the next day. The flavors develop with time, making this protein-rich and fiber-full cold dish perfect as leftovers.
Calories: 424
Asian Cauliflower Fried "Rice"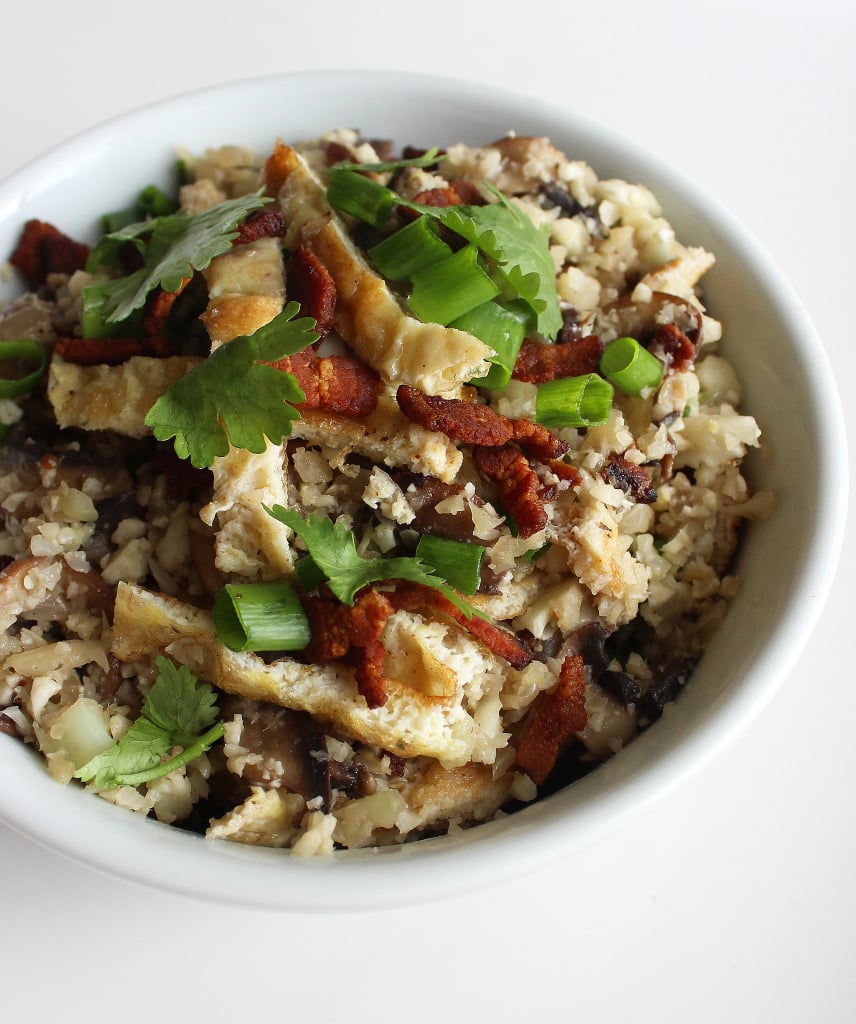 Unlike the greasy Chinese takeout typical of most restaurants, this veggie-packed Paleo "rice" [44] skips the food coma and leaves you feeling satisfied and energized at the end of your meal. The combination of textures and flavors in this comforting Asian-inspired recipe is spot-on, and the blitzed cauliflower easily subs in for rice — you might even trick some picky eaters at your table with this one!
Calories: 230
No-Mac and Cheese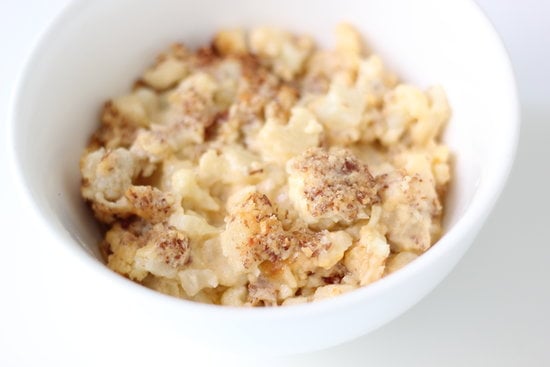 What's the secret to making a pasta-less mac and cheese just as irresistible as the classic? Cauliflower, the perfect vehicle for a cheesy, creamy sauce made from cheese, coconut milk, butter, and coconut flour. While this gluten-free no-mac and cheese [45] is under 400 calories, note that it's high in saturated fat, so enjoy this comforting dish in moderation.
Calories: 376
Lemon Tuna Salad
Substituting lemon and olive oil for mayonnaise makes for a lighter, brighter tuna salad [46] that's perfectly in line with the Mediterranean diet. Tuck yours into a pita, or serve it on top of a bed of fresh greens.
Calories: 323
Crockpot Mexican Chicken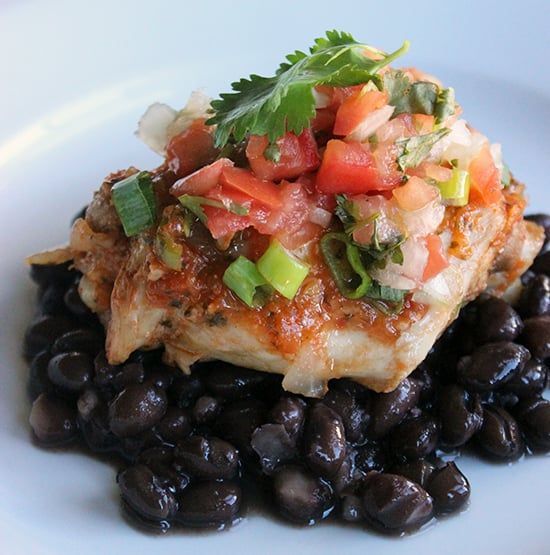 For a healthy, protein-rich meal that doesn't rely on dairy for flavor, try this delicious Mexican-style chicken crockpot recipe [47] full of fresh ingredients. This preparation results in an absolutely delicious, fall-off-the-bone piece of meat.
Calories: 381
Turkey-Spinach Burgers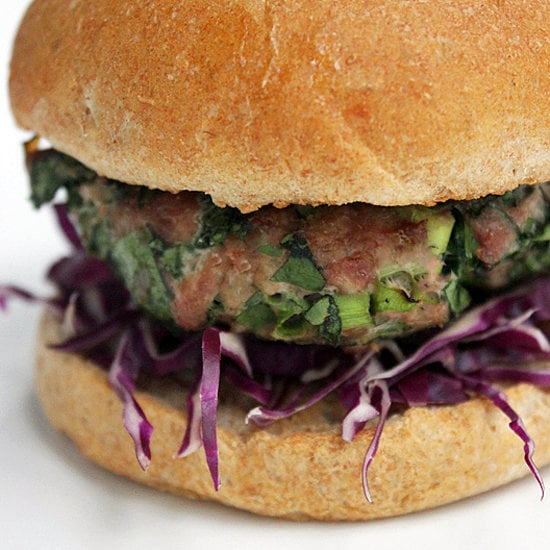 If you're over the standard meaty turkey burger, try this lighter, greener baked variation [48]. Lean ground turkey cuts out nearly half the fat of traditional recipes, while a slew of scallions and spinach amp up the vitamin C, vitamin A, and iron.
Calories (including one whole-wheat bun): 261
Baked Chicken Parmesan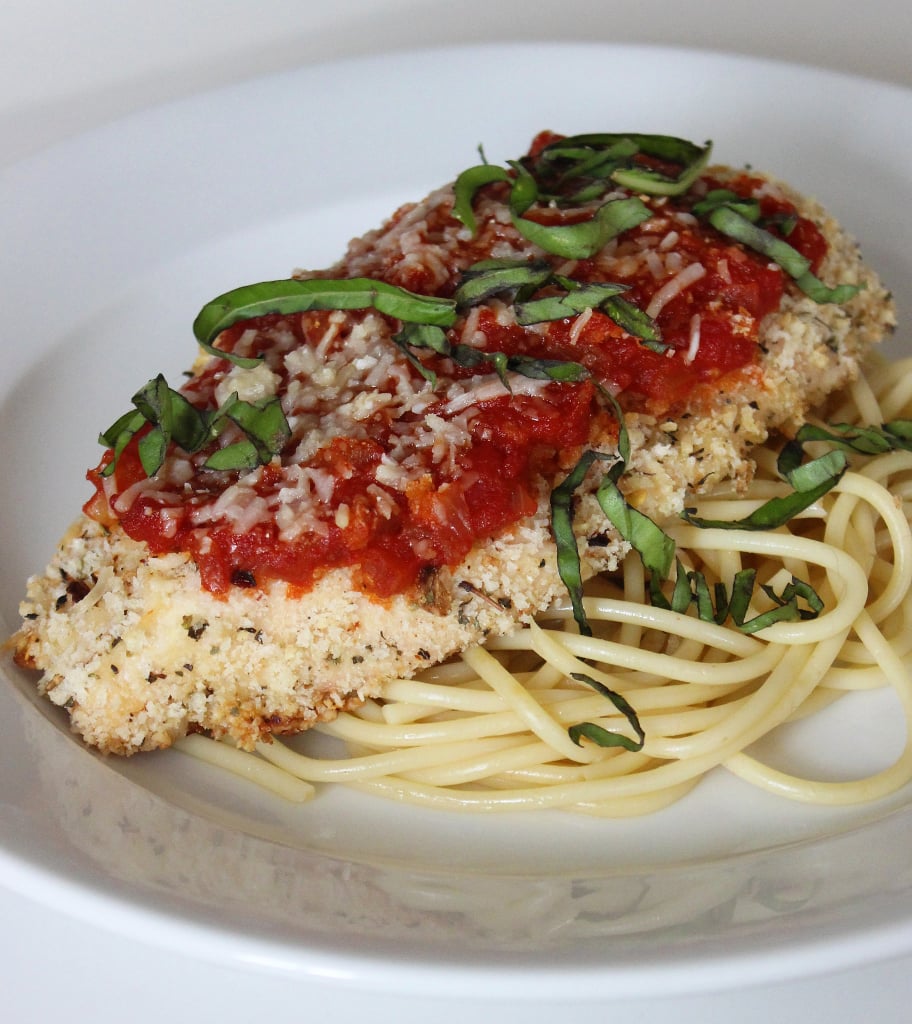 If your idea of comfort on a plate is an oversize portion of chicken parmesan, this guilt-free recipe [49] needs to make an appearance in your kitchen. With a whopping 47 grams of protein per serving, this 357-calorie dinner will fuel your body with quality nutrition — and keep you from dialing in takeout for yet another night!
Calories: 357
Spicy Sweet Potato Salad
High-fiber sweet potatoes in this spicy salad recipe [50] can regulate blood sugar and help you lose weight, while a spicy, antioxidant-rich red pepper and jalapeño dressing ties everything together.
Calories: 270
Spaghetti Squash Mac and Cheese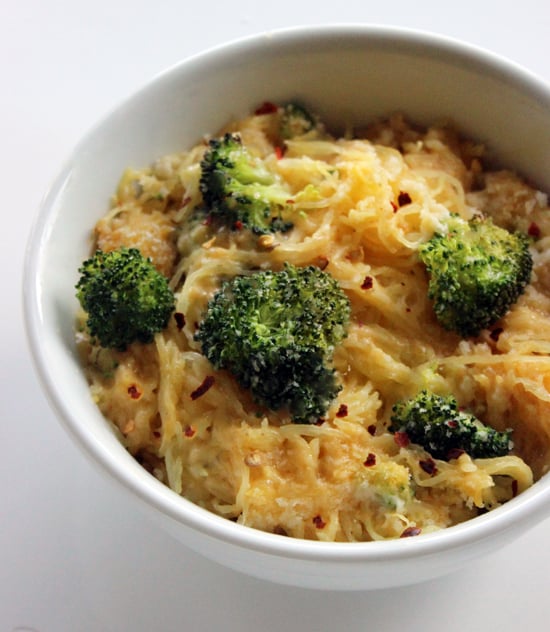 If you're looking to lighten things up the next time you dig into a comforting bowl of mac and cheese, opt for this twist on tradition that amps up the nutritional value as it cuts back on calories and carbs. Versatile and nutrient-rich spaghetti squash lays the base to this recipe [51], while broccoli adds more vitamin A.
Calories: 296
Citrus Chicken Salad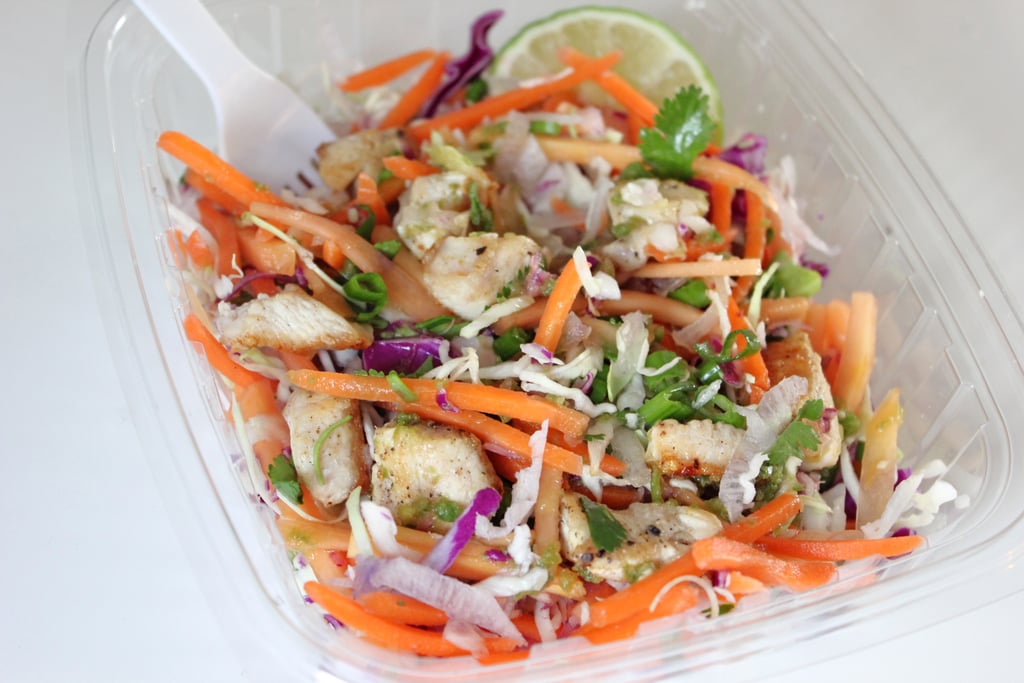 This version of Trader Joe's citrus chicken salad [52] tastes better than the original and is just as low in calories. A mix of digestion-relieving cabbage and papaya and hydrating, antioxidant-rich daikon — along with a tangy, Thai-inspired citrus dressing — makes for a flavorful, filling dinner that's high in protein and low in fat and calories.
Calories: 223
Cauliflower-Crust Pizza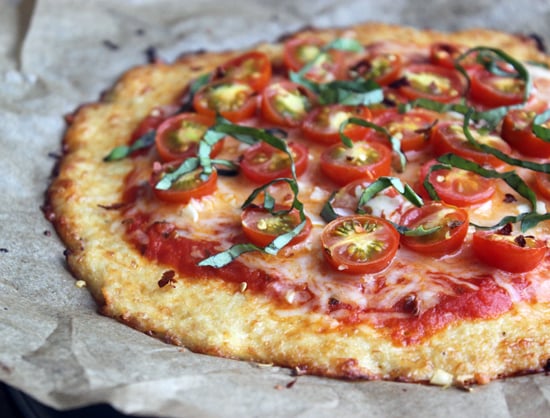 Yes, you can eat half a pizza without guilt. This cauliflower-crust pizza [53] features a gluten-free crust and fresh tomatoes, skim mozzarella cheese, and basil leaves for a healthy take on a classic.
Calories: 272
Sweet Potato Burger With Creamy Avocado Spread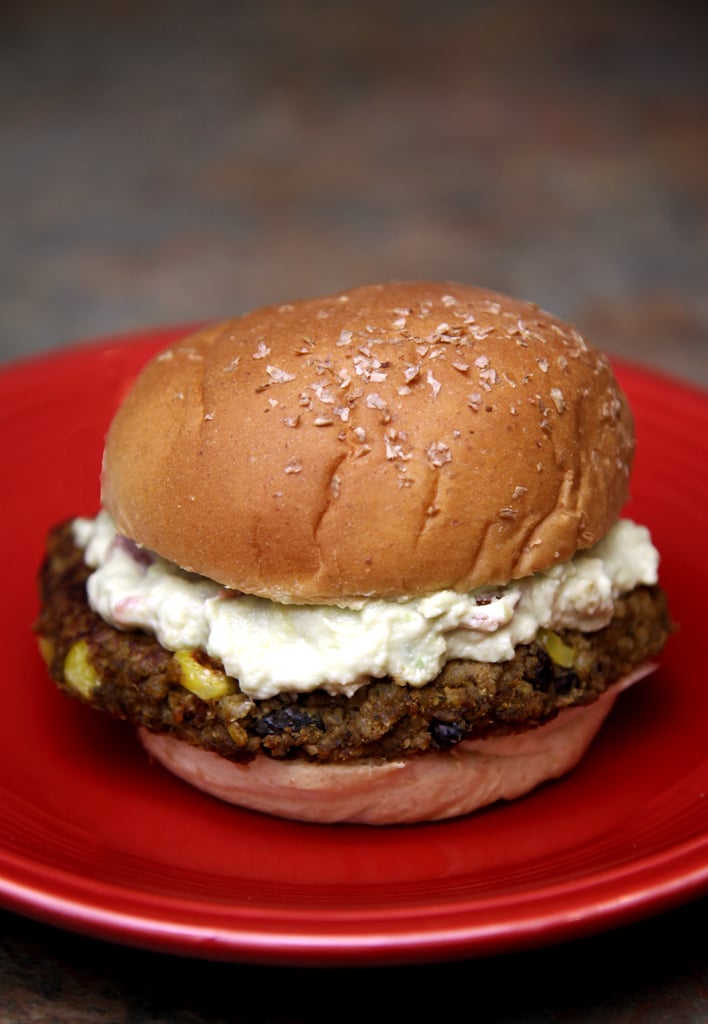 So robust in flavor, these hearty veggie burgers [54] are made with the goodness of sweet potatoes, black beans, millet, and corn. The creamy avocado sauce on top adds the perfect touch.
Calories: 367
Oven-Fried Chicken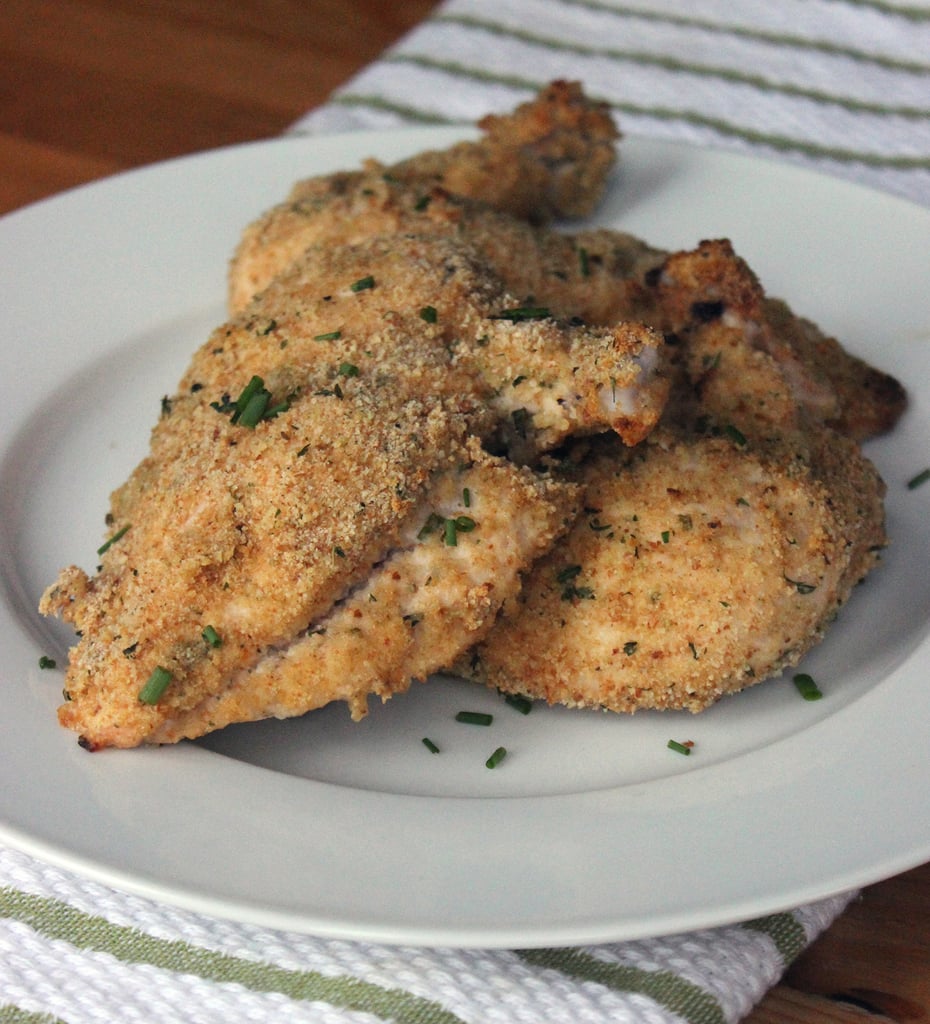 Fried chicken is the definition of Southern comfort, but just one piece can weigh in at over 700 calories. Skip the classic, and opt for this lower-calorie, just-as-delicious fried chicken alternative [55] that's baked in the oven.
Calories: 335
Spicy Cauliflower Lasagna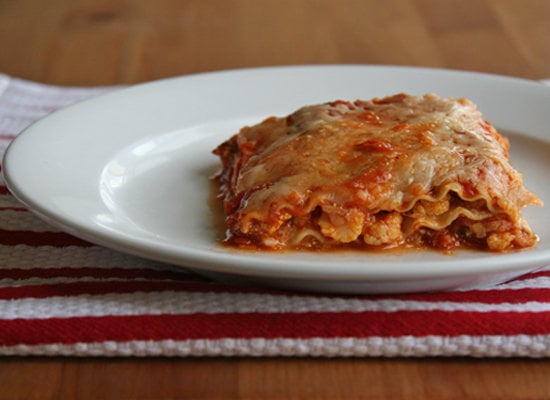 Red pepper flakes, cinnamon, and roasted cauliflower give this healthy version of lasagna [56] amazing depth of flavor.
Calories: 324
Sausage, Apple, and Butternut Squash Stuffing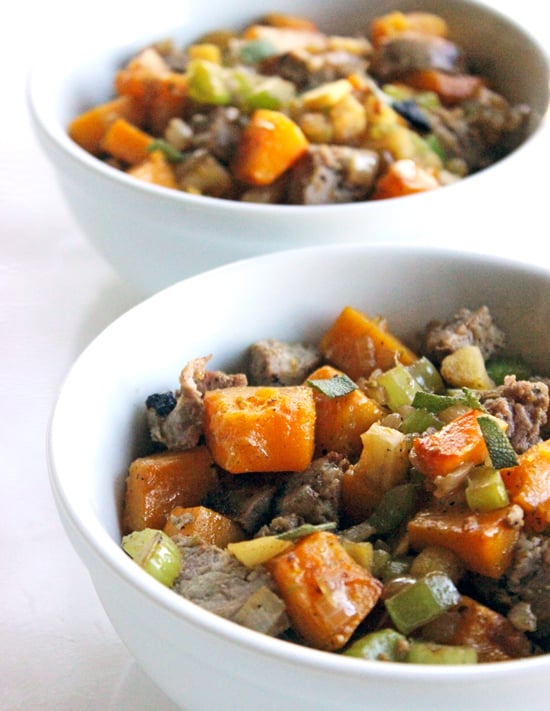 Who says stuffing has to be saved for Thanksgiving? This sausage, apple, and butternut squash stuffing [57] makes for a protein- and nutrient-rich dinner any cool night!
Calories (for one-fourth of the recipe): 358
Roasted Roots Soup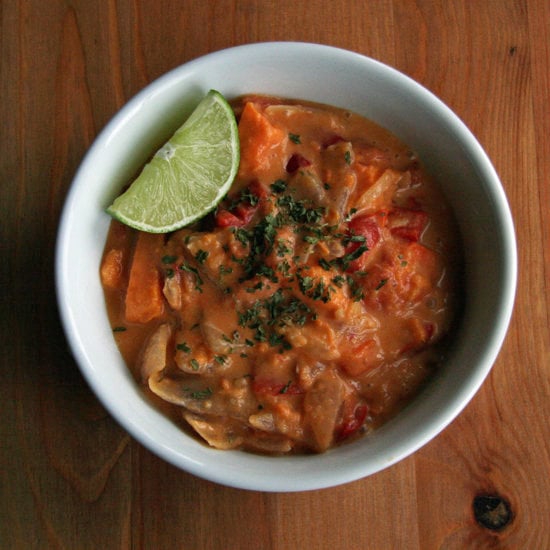 This roasted roots soup [58] plays up the natural flavors of the produce and simmers it all in a coconut bath. Sweet potatoes, carrots, onions, and fresh ginger are all used in the recipe — a perfect medley of complementary (and healthy) root veggies.
Calories: 267
Eggless Kale Caesar Salad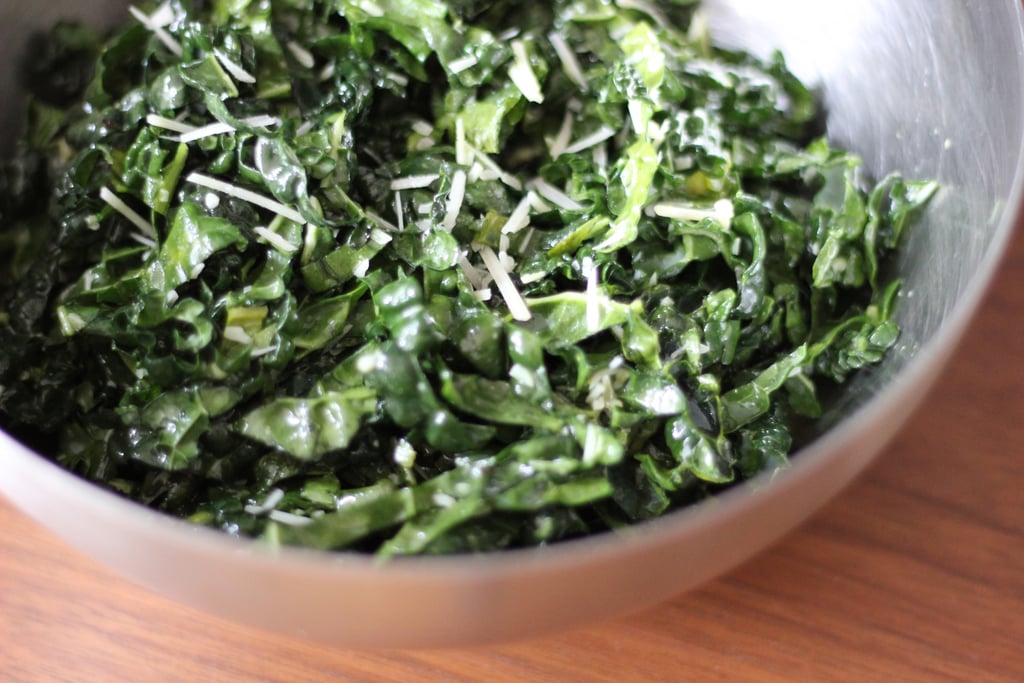 For just the same addictive taste as the original with an added bonus — vitamin-A-rich superfood kale — opt for this lighter caesar salad [59] dressing instead. This recipe omits the egg yolk and a lot of the cheese for a lower-calorie dressing that tastes exactly like the classic. Using kale instead of romaine lettuce increases the nutrients, adds texture and flavor, and allows the salad to keep in your fridge without going limp.
Calories: 175
Spicy Chicken Chili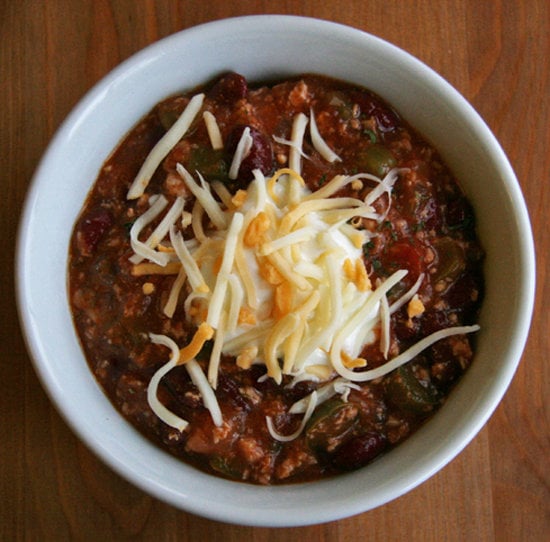 Substituting ground chicken for beef in this spicy chili recipe [60] brings the same traditional flavors and textures of the classic you crave — just lightened up for your healthy diet.
Calories: 324
Baby Kale Sesame Salad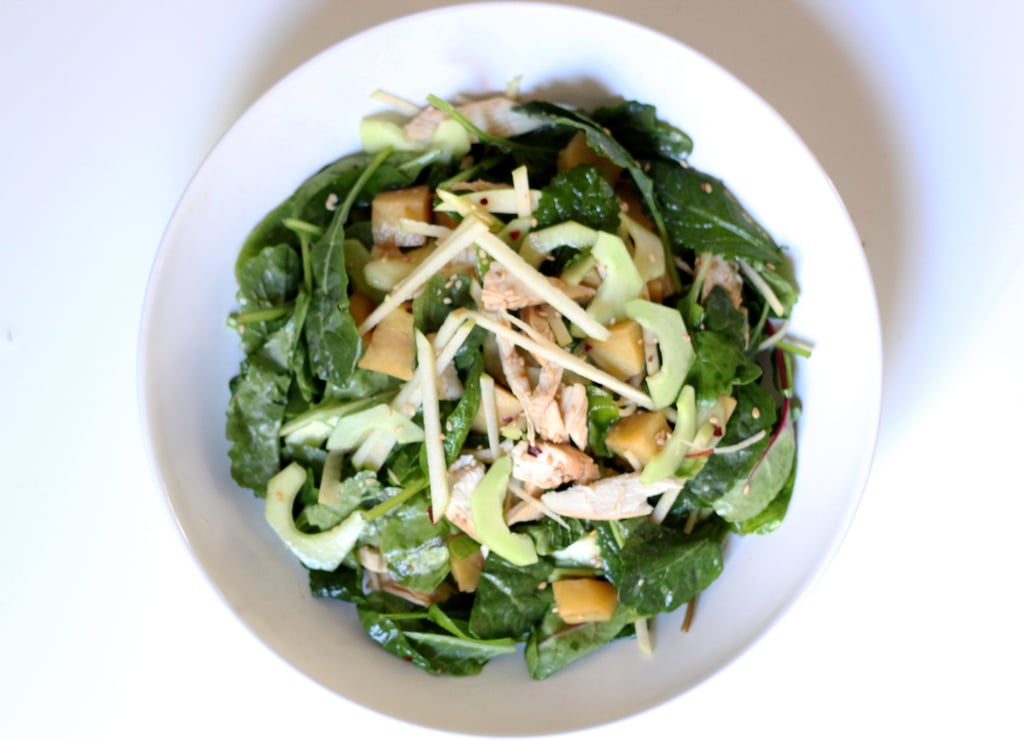 Kale may be a nutritious powerhouse, but its flavor is anything but timid. If you're tired of making soups, smoothies, and salads from the dark green roughage, baby kale makes an excellent alternative. The little leaves are tender, are mild in flavor, and don't require the prep (chopping and massaging) required for their more mature counterparts, but they still contain the disease-fighting nutrients you need. Baby kale, baby spinach, and chard make a perfect delicate combo for this sesame chicken salad [61].
Calories: 414
Raw Veggie Salad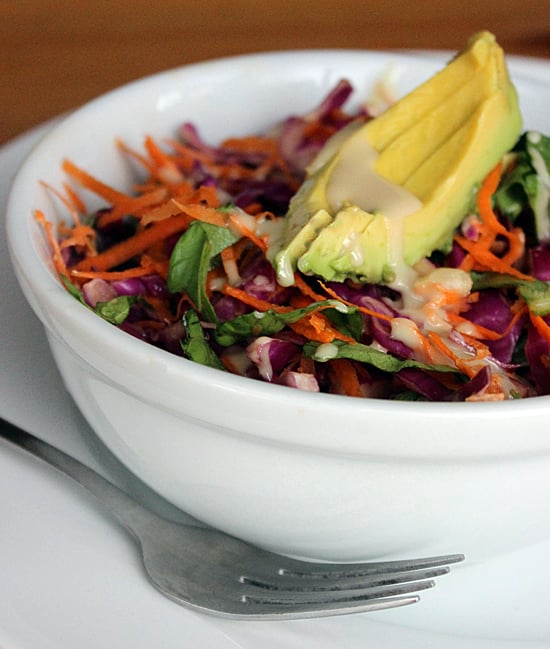 High in fiber, vitamin C, and vitamin A, this raw rainbow salad [62] adds color and flavor to any meal. The water content in romaine works to hydrate your body, while the high fiber content in the red cabbage and carrots aids in healthy digestion, making it a great addition to any long-term weight-loss or shorter detox plan. Add avocado, quinoa, or lean protein to bulk up this salad for a satisfying dinner.
Calories (with dressing, including a quarter of an avocado): 275
Cream-Free Potato Leek Soup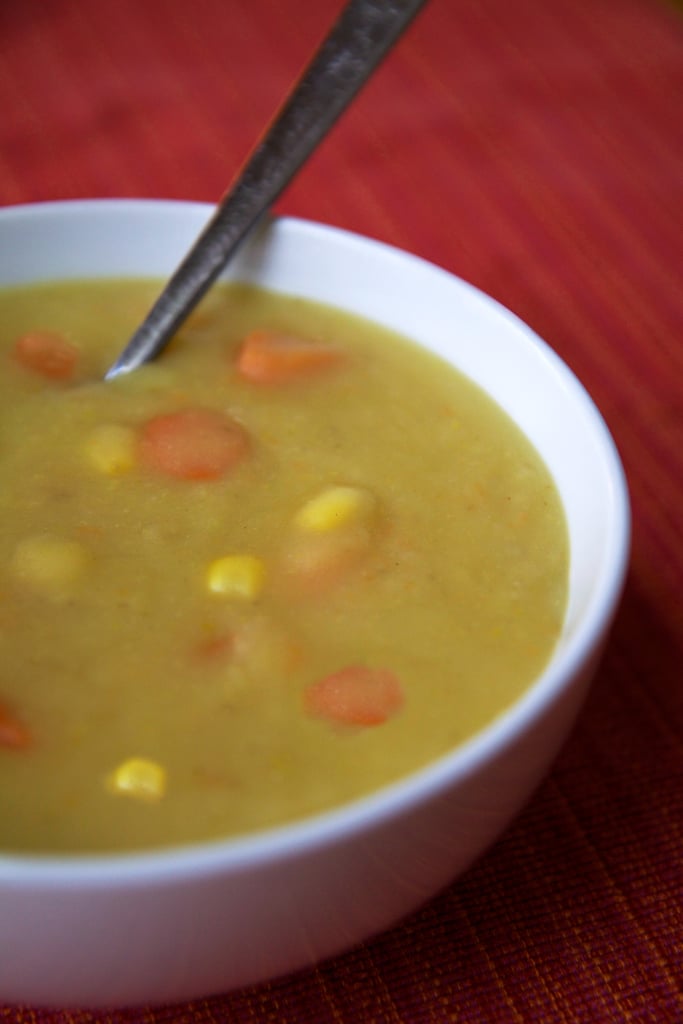 You can do without the butter and cream of the classic potato leek soup recipe and go for this dairy-free potato leek soup [63], made velvety smooth from pureed beans and potatoes instead.
Calories: 255
Apple Cabbage Detox Salad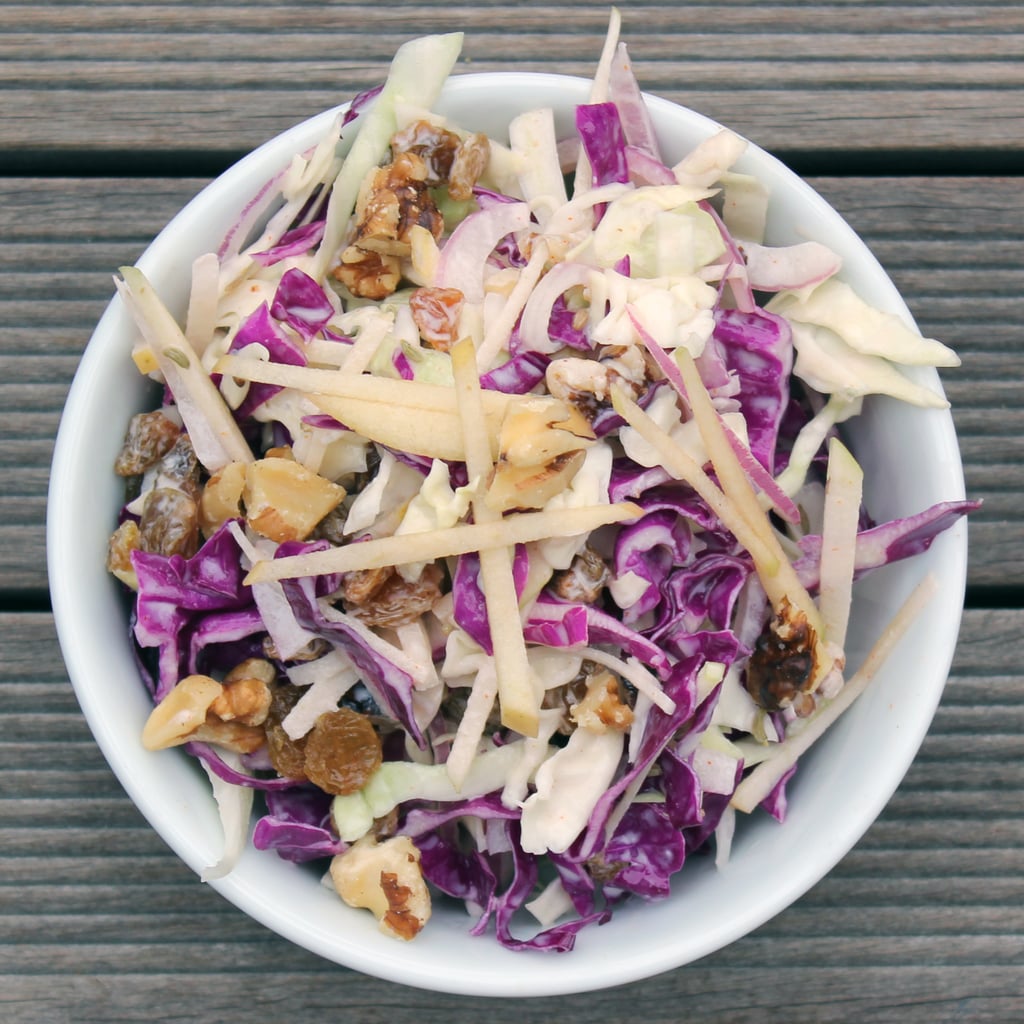 For a lightened-up take on classic coleslaw, whip up this detox salad [64] instead. Apples marry with the dynamic duo of red and Savoy cabbage, combining for a fiber-filled meal that aids in digestion. The addition of fennel seeds adds to the fiber factor, plus a kick of cayenne boosts your metabolism.
Calories: 289
Quinoa Burgers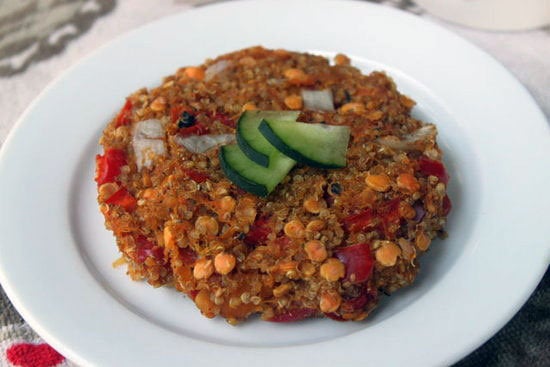 Forget about defrosting that frozen veggie patty for dinner when your fresh, at-home version is waiting in a handful of ingredients you may already have. This quinoa burger recipe [65] makes four fresh patties, so you can prepare for the week in advance.
Calories (per patty): 202
Vegan Bolognese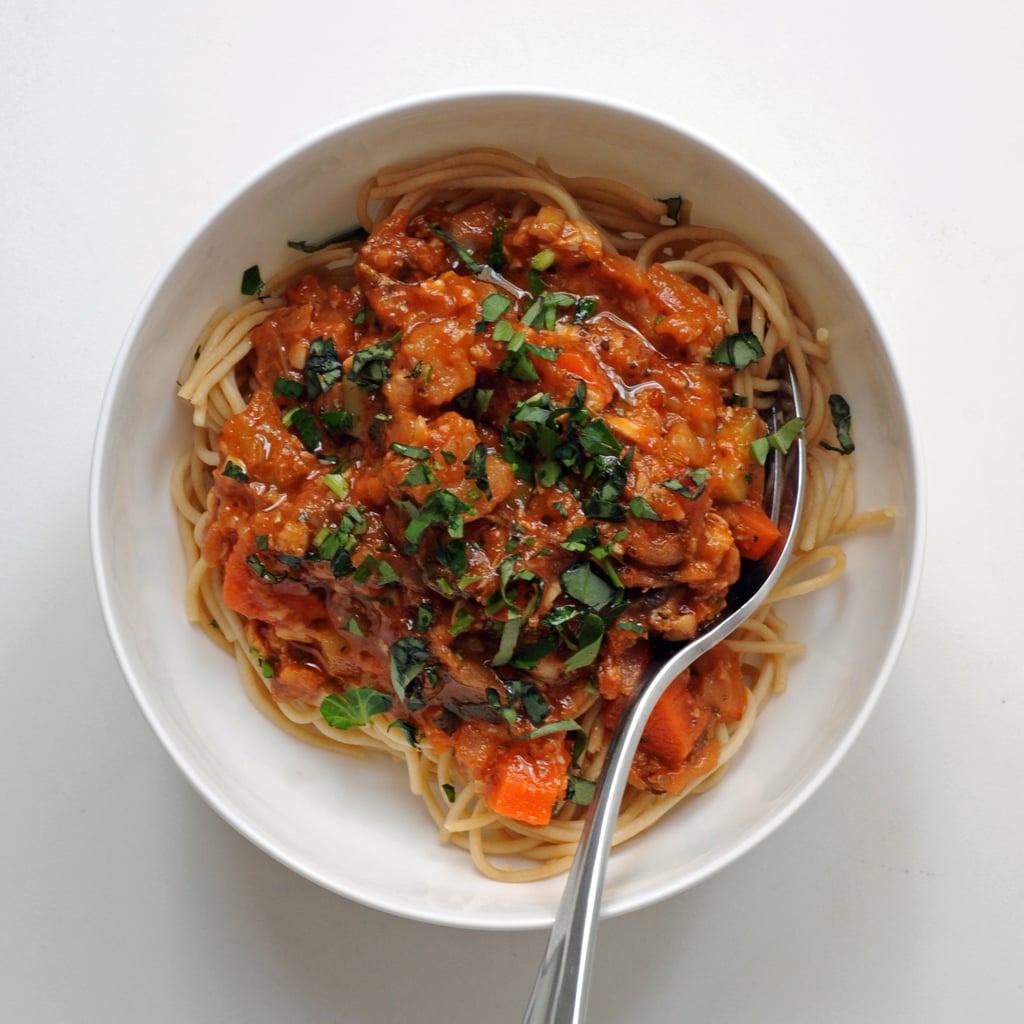 A comforting bowl of spaghetti bolognese is often what's needed after a long day (or any day, really). Loading up on beef, however, can leave you feeling heavy and tired. Solve this problem — and cut back on calories, fat, and cholesterol — with this recipe for vegan bolognese [66].
Calories: 257
Mexican Tempeh Quinoa Salad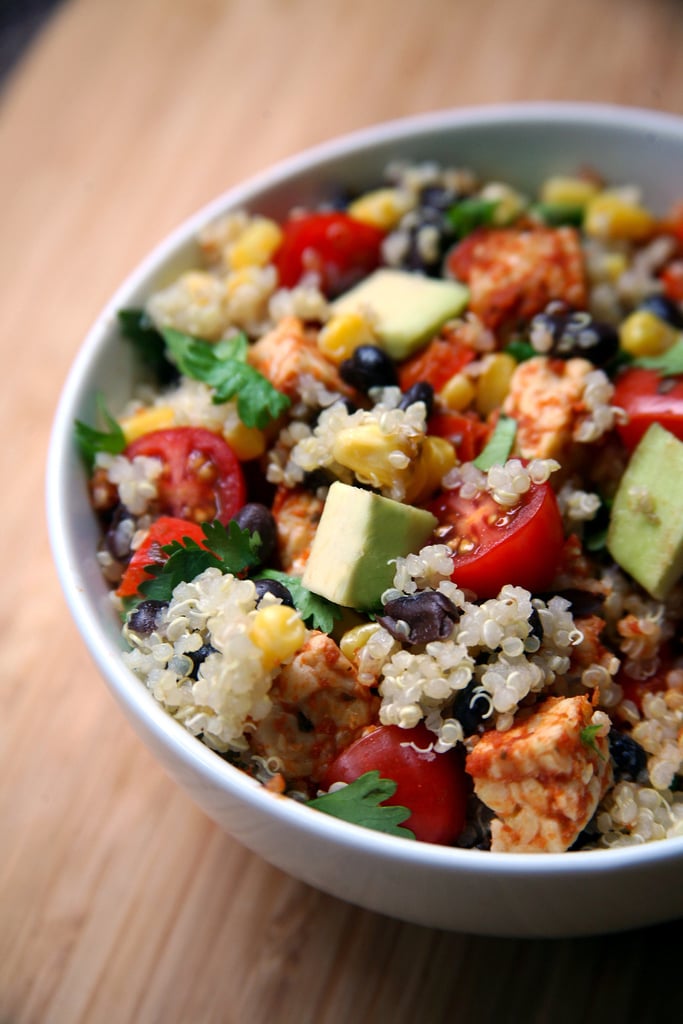 Made with cumin, cayenne, fresh lime juice, and cilantro, this Mexican tempeh quinoa salad [67] offers the zesty, fresh flavor you're craving. In one bowl, you get a crazy amount of nutrition — almost 10 grams of fiber and 17.4 grams of protein.
Calories: 188
Veggie and Hummus Sandwich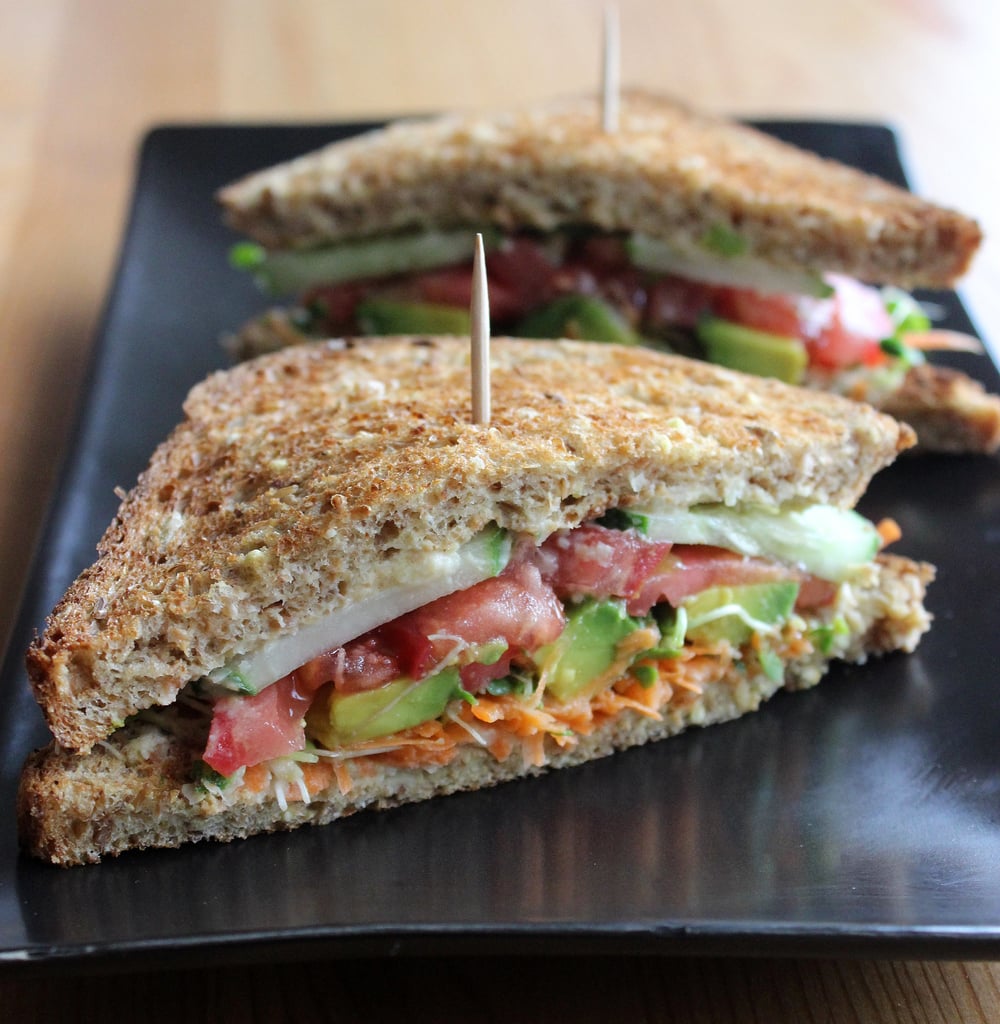 If you're tired of a vegan-friendly sandwich that doesn't satisfy, prepare to build the best veggie sandwich [68] ever. Hummus and avocado provide the fiber and protein you need to stay fueled, and layers of tasty veggies offer crunch, flavor, and important nutrients your body needs.
Calories: 336
Butternut Squash Mac and Cheese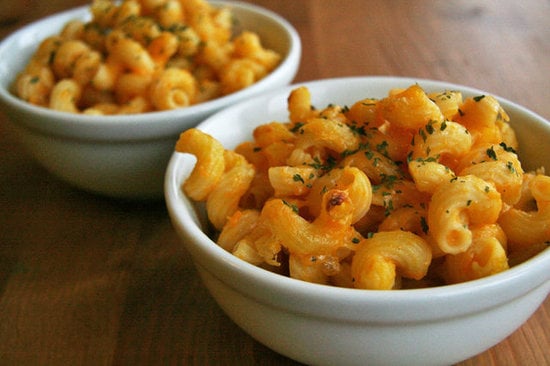 Yes, you can have delicious, healthy mac and cheese. This version [69] owes its low calorie count — and appropriate orange hue — to pureed butternut squash.
Calories: 285
Low-Cal Fettuccine Alfredo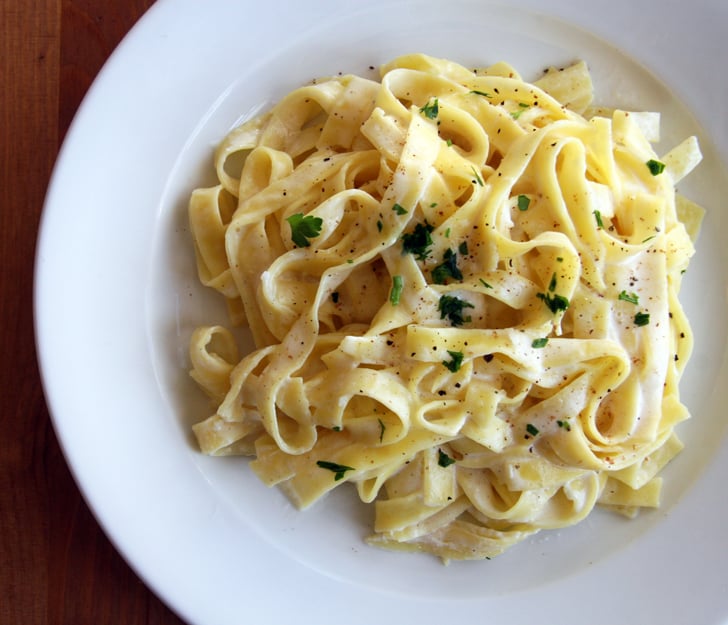 This fettuccine alfredo [70] dramatically lightens the load by making wise (low-fat) dairy choices that don't affect the flavor or texture and by skipping the butter altogether. And it's fewer than 350 calories per serving!
Calories: 332
Turmeric-Spiced Mushroom Pilaf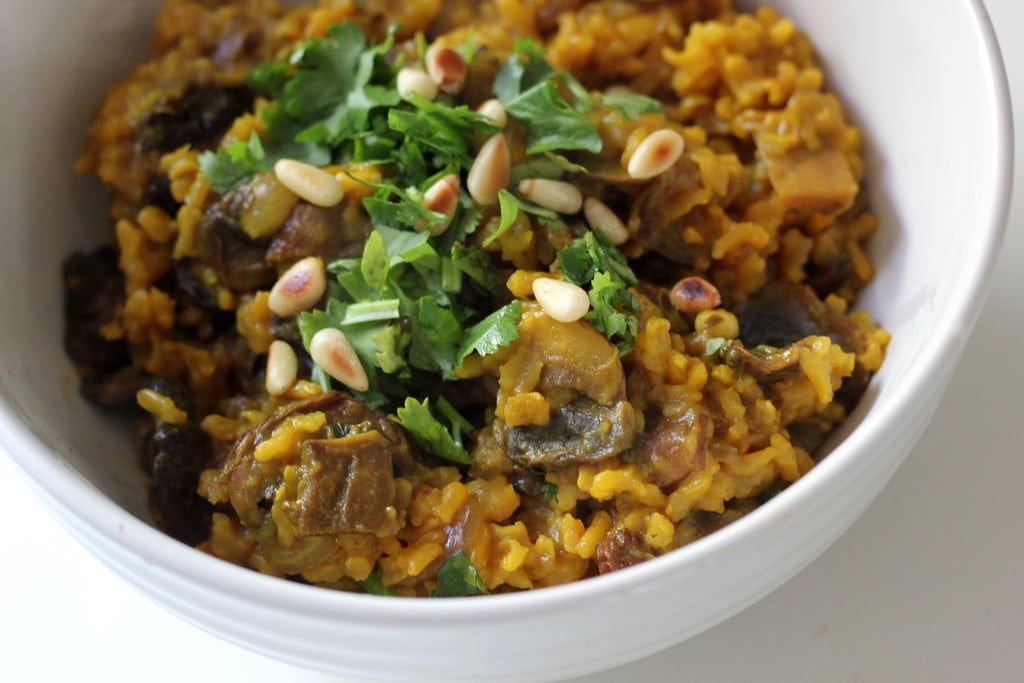 Turmeric might just be a superspice: it's been known to boost immunity, relieve digestive discomfort, and possibly prevent disease. This turmeric-spiced mushroom pilaf [71] is made with a generous dose of turmeric added to a brown rice and mushroom mixture. The result is a mildly spicy, satisfying one-pot meal that helps you feel your best.
Calories: 201
Tortilla-Less Soup
A spicy low-carb "tortilla" soup [72] that's ready in 20 minutes? Sign us up. Since there are so many flavors in this comforting Mexican soup recipe, you won't even miss the high-calorie, high-carb strips of tortilla.
Calories: 194
Sweet Potato, Chickpea, and Quinoa Burger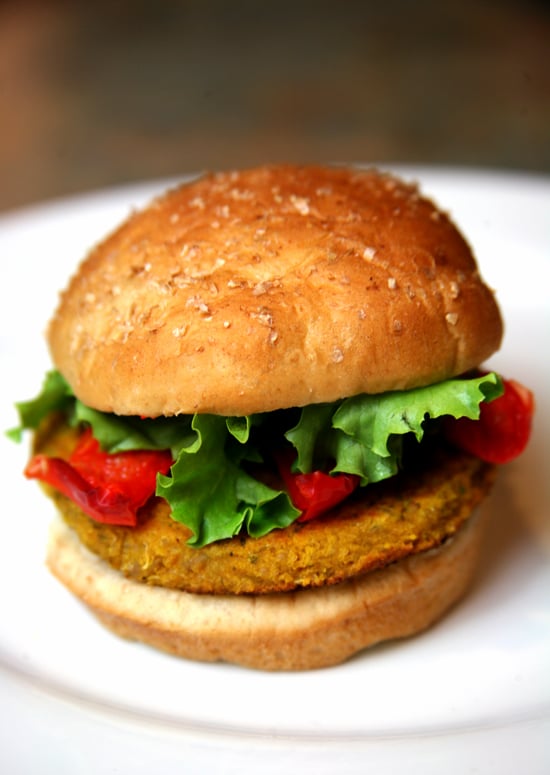 This sweet potato, chickpea, and quinoa veggie burger [73] is perfectly spiced and completely satisfying. At 202 calories per patty, you can add a 120-calorie whole-wheat bun and lettuce, tomato, and ketchup (34 calories [74]) and still come in at well under 500 calories.
Calories (with bun and fixings): 356
Gluten-Free Veggie Pasta Bake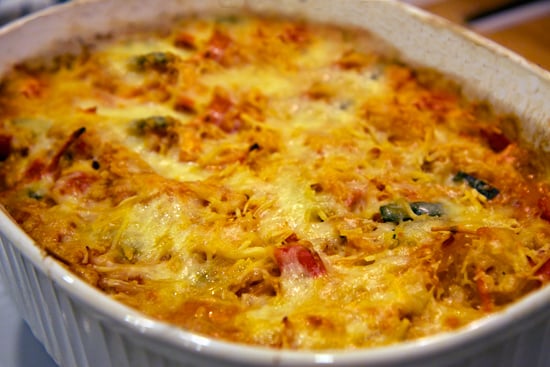 Using a mix of veggies like zucchini, spaghetti squash, and others instead of penne means you can load on the cheese and still enjoy a low-calorie, ooey-gooey, cheesy bowl of steamy pasta. Even better? This veggie pasta bake [75] is gluten-free.
Calories: 208
Creamy Flat-Belly Soup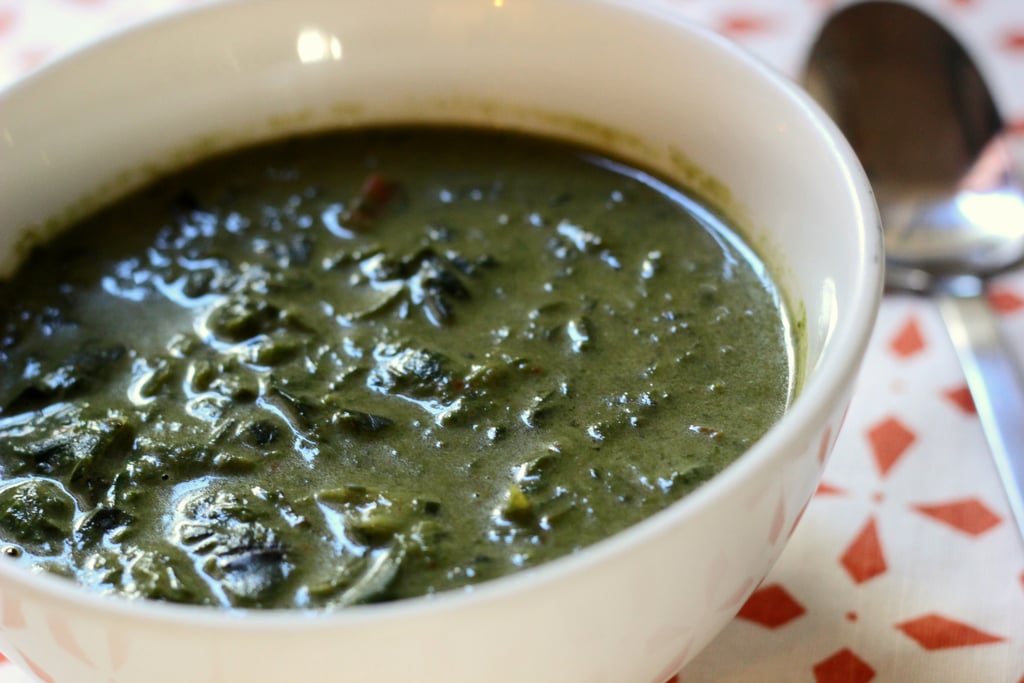 If your digestion needs a reset, opting for high-fiber, antioxidant-rich foods will help you feel better from the inside out. This creamy chard and spinach soup [76] is easy to make and full of belly-relieving nutrients. Leafy greens, almond butter, and bell pepper will help soothe your stomach and shrink your belly. Adding a touch of low-fat cream cheese turns this soup into a creamy concoction without adding a lot of calories.
Calories: 194
Roasted Sweet Potato and Quinoa Salad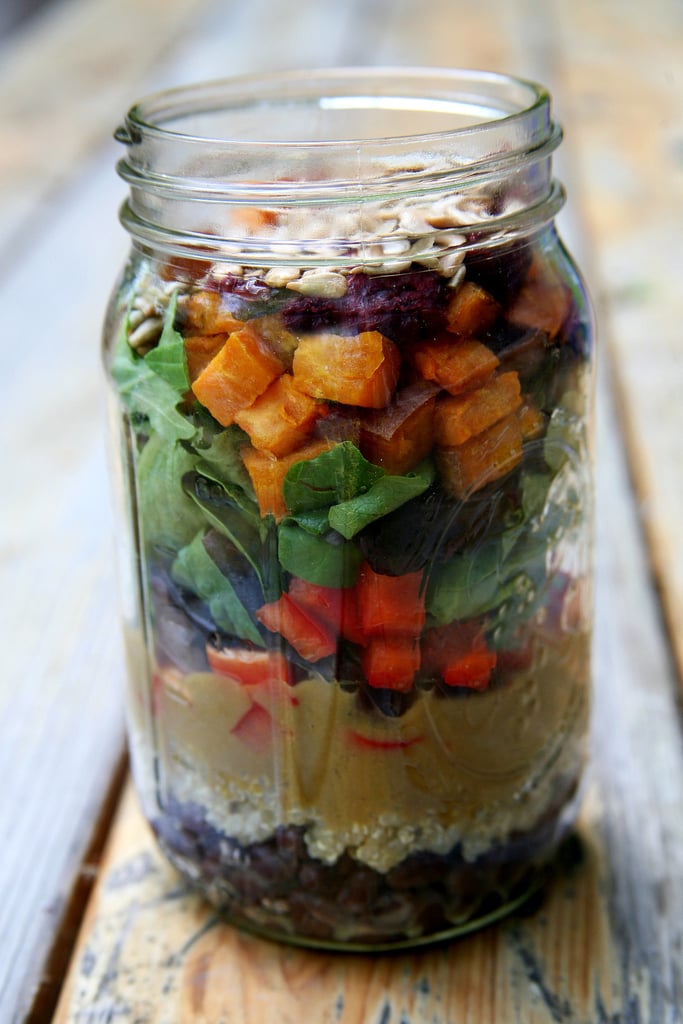 Make your dinner extra fiber-licious and filling with this sweet potato and quinoa salad [77]. Beyond being loaded with fiber to help move things along, those roasted sweet potatoes can help regulate your blood sugar and help you lose weight [78]!
Calories: 484
Meatloaf Muffins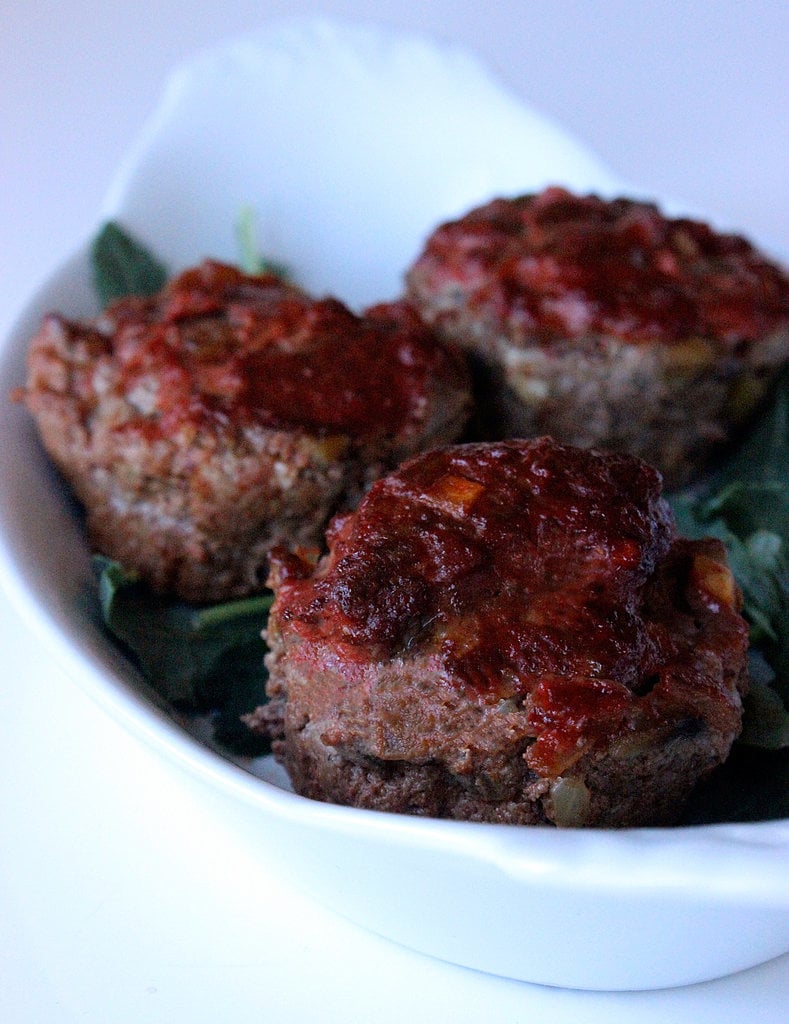 Meatloaf and muffins may sound incompatible, but they make sense when they come together in this dish [79]. High in iron and protein, these meaty Paleo muffins are perfect for any low-carb eater looking for tons of energy in a small serving — each 139-calorie muffin has over 18 grams of protein!
Calories (for two muffins): 278
Cumin-Spiced Lentils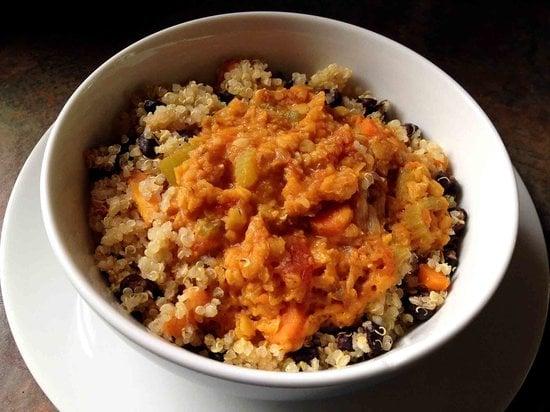 Settle in with a large, comforting bowl of cumin-spiced lentils [80]; packed with protein and fiber, this gluten-free meal satisfies no matter how hungry you are.
Calories: 370