How to Do a Push-Up With Shoulder Taps
I'm a Trainer, and This Is the 2-in-1 Move I Use To Strengthen My Arms, Back, and Abs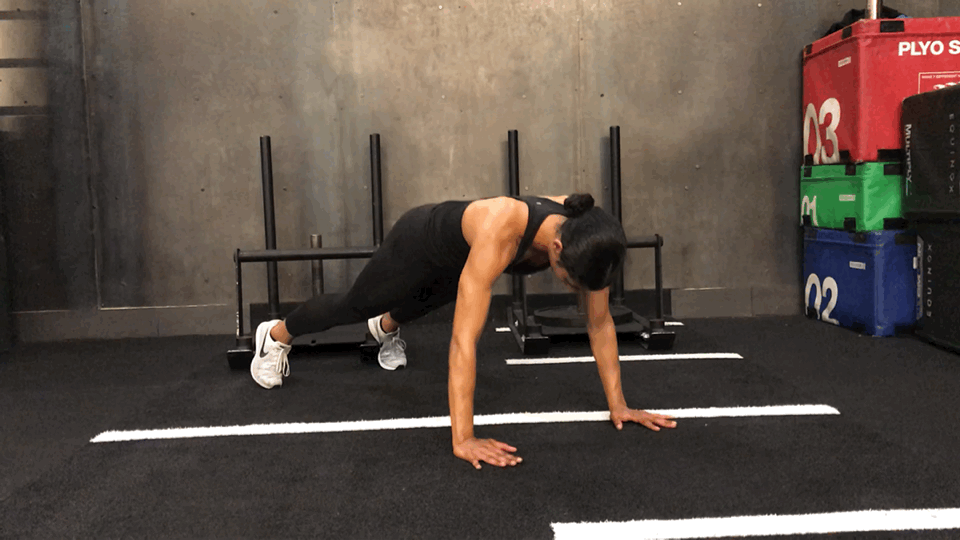 As a trainer I'm often looking for ways to save time in the gym, and progress classic exercises — like squats and push-ups — to continue to challenge myself and my clients during workouts. One of those progressions I've come to love over time is a push-up with shoulder taps. I love programming this exercise into workouts because it strengthens your arms, shoulders, back, chest, and abs all at once. Your muscles will be firing up after a few reps, and consistently doing this exercise will help to improve your upper body strength.
Here's how to do it:
Come into plank position with your arms and legs straight, shoulders above the wrists.
Take a breath in, and as you exhale, bend your elbows out to the sides and lower your chest toward the ground. Stop as soon as your shoulders are in line with your elbows. Inhale to straighten the arms.
Maintaining a plank position, lift your left hand and tap your right shoulder. Place your left hand back on the ground. Repeat with the right hand. Keep your hip bones pointing towards the floor to prevent rotating your torso. This counts as one rep.
Complete two sets of 10 reps.
If this is too difficult, perform the push-up with your knees on the floor.
Click here for more health and wellness stories, tips, and news.
Image Source: POPSUGAR Photography / Tamara Pridgett