How to Use the Leg Press Machine
Don't Let Gym Equipment Intimidate You — Here's How to Use the Leg Press Machine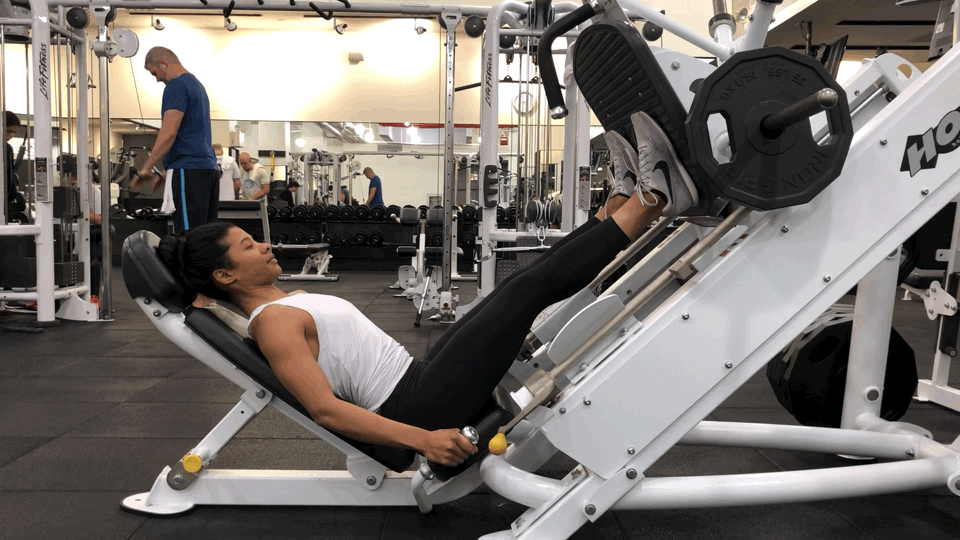 Machines definitely get a bad rap at the gym, but when used correctly, they can help you improve your overall fitness levels and strength. One machine that's great for increasing your lower-body strength, but can be insanely intimidating if you aren't familiar with how to use it, is the leg press machine.
The leg press machine is hard to miss — it's that big thing sitting in the middle of the gym floor — and this is your guide on how to use it.
How to Use the Leg Press Machine
Before getting started, add weight to the machine; 25- to 35-pound plates on each side is a good starting point. If this is too heavy or too light, feel free to adjust the weight.
Sit on the seat, and place your feet hips-width apart on the footplate.
Once your feet are in place, press the footplate with both feet as you simultaneously disengage the safety latches on the side of the seat with your hands.
With your feet still on the footplate, bend your knees, letting the footplate come toward your body. Once your knees are at a 90-degree angle, press the footplate up and straighten your legs. Be sure not to lock your knees.
This counts as one rep. Complete three sets of 10-12 reps.
Once you've completed a set, press the footplate and engage the safety latches.
Image Source: POPSUGAR Photography / Tamara Pridgett