How Using a Konjac Sponge Can Help You Avoid Skin Breakouts
Is This the Secret to Avoiding Post-Workout Breakouts?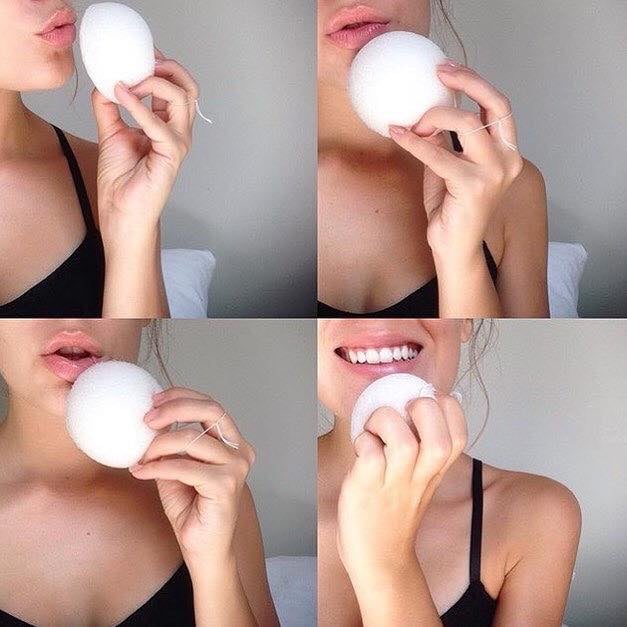 There's no doubt that working out is good for you but sometimes there's no getting around what sweating can do to acne-prone skin.
While it's best to shower away the moist breeding ground for bacteria as soon as you can after exercise, immediate help could be at hand with this nifty little beauty buy.
It might be worth investing in a Konjac sponge, made from the 100% alkaline plant root from the volcanic hills of Jeju Island in South Korea.
Apparently the palm-sized sponge can help clear your complexion better than a regular washcloth thanks to it's gentle exfoliating qualities and ability to deep clean pores when infused with clays or charcoals.
While that may or may not be true depending on who you ask, the protective layer of water that forms on the outside once saturated makes it a gentler way to cool down and remove grease when you've got bikram yoga on the schedule.
As well as covering the hairline to stop greasy products dripping onto the face, carrying a Konjac sponge around in a travel bag like this one from The Konjac Sponge Company could be what saves your skin.
The biodegradable pieces come in a range of shapes and sizes and can be purchased for different types of skin including sensitive, oily, mature and babies.
Celebrities like Angelina Jolie, Victoria Beckham and Miranda Kerr are said to be fans of Konjac sponges, which can be used for between four and 12 weeks.

To keep the contents of your gym bag dry, pick a travel version up at stores like Holland and Barrett, The Organic Café, Make Up Etc., and The Change Initiative for AED95.
Image Source: The Konjac Sponge Company