Jet Lag Tips For Long Haul Flights
How I Beat Jet Lag After Crossing 9 Timezones and Traveling 12 Hours
When I had the opportunity to travel to Amsterdam earlier this month, I was ecstatic. But as I started to plan my itinerary, the getting-there part began to worry me: the trip consisted of long travel days, a nine-hour time difference, and I was only going to be in Amsterdam for five days. Since I wasn't there for very long, the last thing I wanted to do was waste time in bed or feeling like a zombie. Given how massive the time difference was, I also couldn't wrap my brain around how I could really avoid the pitfalls of jet lag.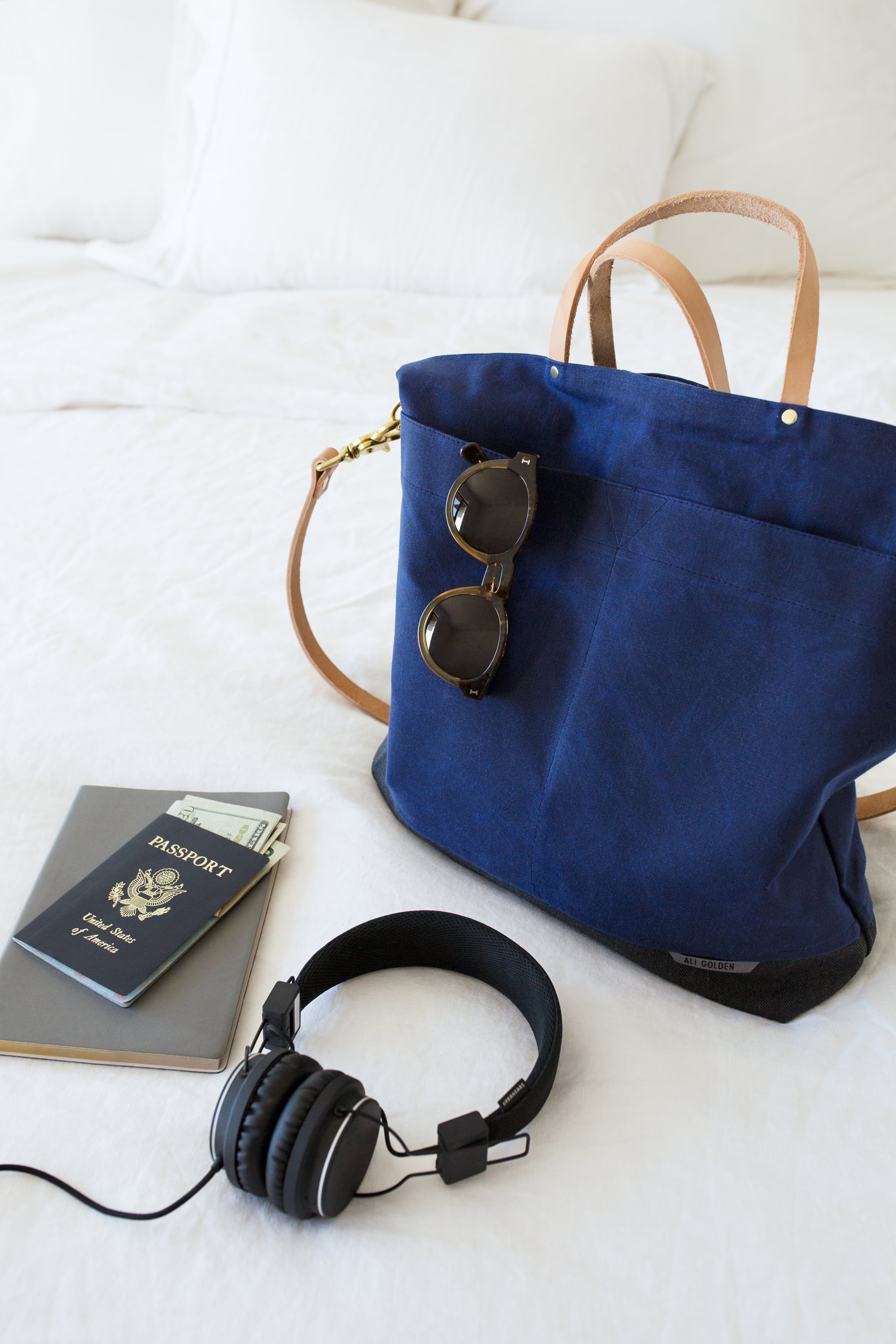 Not to be deterred from the challenge, I started laying the groundwork for adjusting to Amsterdam time while still in San Francisco, and it worked — brilliantly, in fact! I felt better my entire stay in Amsterdam than I do when flying to the East Coast. By doing a few key things to prep me for my long-haul trip, I avoided the headaches, mood swings, sleep deprivation, and other health issues that often come up when traveling.
Before Leaving
Light training: Since I realistically couldn't myself on Amsterdam time while still in San Francisco, I decided to try light therapy. I had read about it in a few different places as a successful way to train circadian rhythm to get onto a different schedule. The simplified science behind it: by exposing the body to bright or dim light at specific times during the day, you can reset your biological clock. If it sounds complicated, but luckily there are apps that do the work for you.

I used the Entrain app, which was developed by the University of Michigan Mathematics Department. By inputting my current sleep/wake schedule, where I lived, and where I was traveling to, it gave me a schedule to follow for the week leading up to my trip of the optimal times I should be in bright daylight or lowlight conditions. This might have involved wearing sunglasses indoors a few times, but I was game to try anything that worked.

Self-care on overdrive: Since traveling across several time zones can do a number on your health because of sleep deprivation and the sheer number of germs living on every surface of an airplane, I kept things pretty healthy leading up to my trip. This translated to staying hydrated, active, and eating as clean as possible. I also made sure I was getting plenty of sleep — basically anything I could do to help my body build up strength to the downsides of jet lag.
During the Flight
Strategic sleeping: It was during the flight that I started to train myself to get a little closer to what time it was in Amsterdam. Instead of staying up reading or watching movies, I forced myself to get a short nap in around the same time it was lights out in Amsterdam. While I wasn't able to completely pass out for a solid night's rest, with the aid of melatonin, I did get a few hours in. On that same note, I also forced myself awake to better adjust to the time change, even though it was 2 a.m. where I was traveling from.
Skip the booze: Upside of international flights: alcohol is free. Downside: flying already leaves you feeling bloated, dehydrated, and sleep-deprived; adding alcohol only exasperates these issues. Instead of a bottomless glass of champagne, I decided to stick to water. Doing so helped me sleep better on the flight and also helped keep my energy levels up once I landed.
Upon Arrival
Get moving: When I finally landed in Amsterdam, I was beat. While I definitely could have passed out and slept the day away, I had a yoga class scheduled scheduled with Tara Stiles at the W Amsterdam (our host for the trip). By the third Downward Dog, I felt my energy coming back to me, tension melt away, and my body unwind from the long day of travel. After class, Tara told me that she always makes a point to do yoga after traveling — even if it's just a few poses. It helps to get the blood flowing, wake up the mind, and help relax tight muscles, she said. If yoga isn't for you, opt for a quick run at the hotel gym or an in-room circuit workout.
Adjust to local time: Whenever I travel, I do my best to adjust to local time — whether that means turning in for the night or sightseeing for the day. This allows me to acclimate sooner, meaning I am not wasting a single minute of the trip. I also will use a little caffeine or a sleeping pill if needed — but be sure to keep things in moderation if you go this route.
Image Source: POPSUGAR Photography / Sheila Gim