Kayla Itsines Dubai Fitness Challenge Interview
I Sweat With Kayla Itsines IRL and Here's What Happened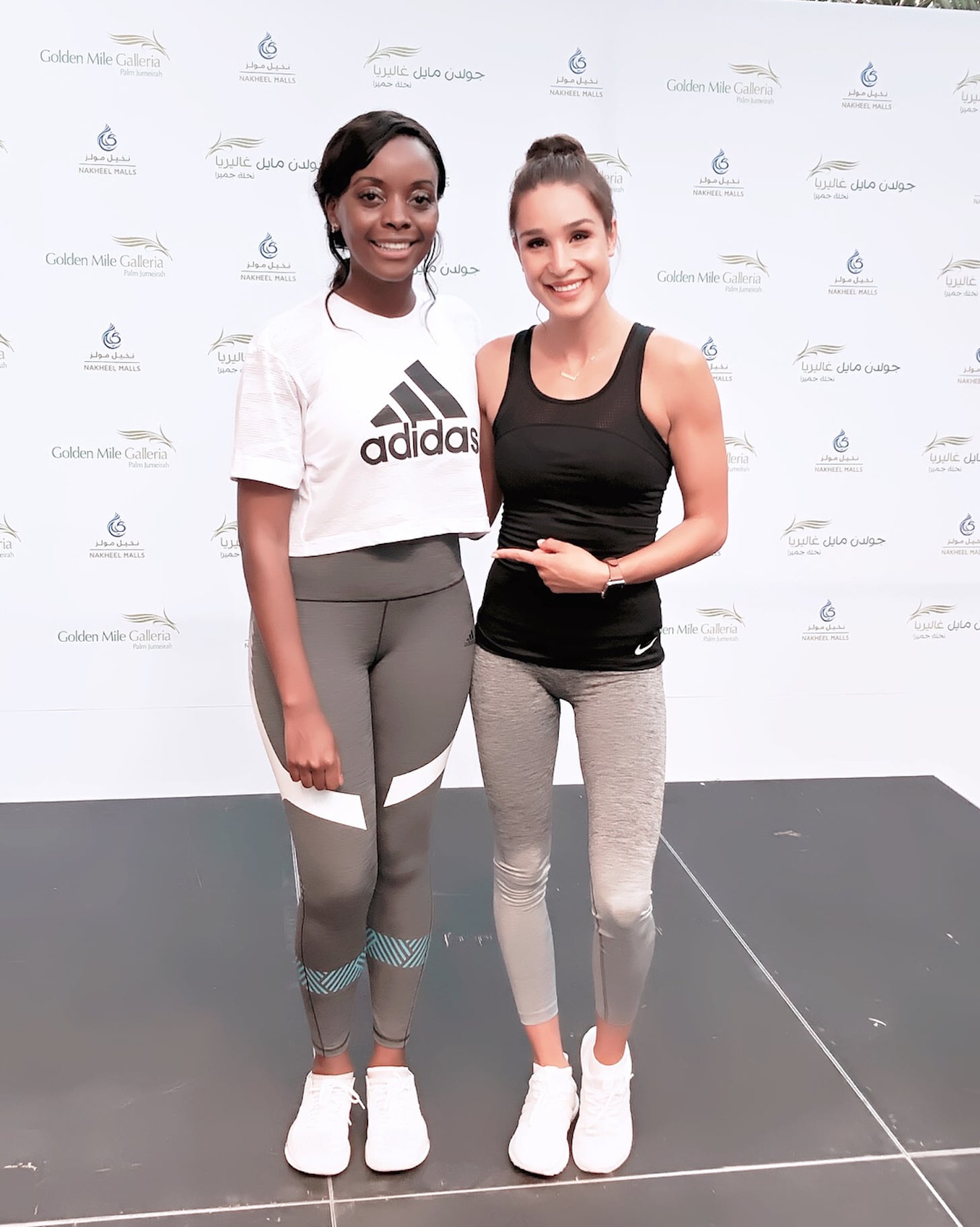 It's not every day you get to work out with one of the biggest fitness icons of our time. Back in 2014, Kayla Itsines became huge on Instagram after posting images of her clients' body transformations, at the time not even realizing the platform was public, let alone that people could follow her account.
Since then the Australian-born personal trainer has risen to global fame and although I'd been in contact with her before (in 2014 I interviewed her, probably via Twitter, back in the UK), three years later we finally met.
"If you ever see my original Bikini Body Guide PDF, it's picture of a cartoon girl holding a weight. Using Paint, I've written 'e-book out now' in my own writing and put on my Instagram page. I've deleted now because I was so embarrassed. I wish I hadn't," she says mocking how unprepared she was for fame. I had seen it, she emailed it across to me for free just as her brand was about to become a phenomenon but I never completed it. "That sounds like something I'd do," she told me.
These days people are using their Apple watches to work out using her Sweat With Kayla app and have seen their bodies change for the better once they complete her two-month guide, working out for just 28 minutes per day and following a healthy eating guide devised by her sister, Leah. "I won't forget your name," she tells me, before complimenting my Adidas ensemble. "It's the same as my sister's."
Kayla admit she has no idea what she wanted to do with her life as she came to Year 12 in school and had to make a decision. Even her Greek mother thought that personal training wasn't sustainable. "What are you going to do when you're 60? She told her." While going to university to become a PE teacher she did a PT course on the side before putting university on hold and never going back. She became popular in Adelaide, first noticing she had 250 followers and it grew organically from there.
The day before she was to make her Dubai Bootcamp debut as part of the Dubai Fitness Challenge, a select group of us were invited to help her release at the Golden Mile Galleria on the Palm Jumeirah island. While I'd experienced working out in the heat before, she admitted she had no idea whether the program she does during appearances around the world would work in the UAE. Since it was her first proper time, only stopping off in Dubai to take a picture with someone and hop back on a plane, the winter sun was a shock.
She warmed us up with 30 seconds each of star jumps, mountain climbers, high knees and outwards snaps jumps. Sounds easy but when done with perfect form and on repeat, it's a killer. "For anyone who hasn't done my workouts before, it's really hard," she refreshingly admitted. I knew I wasn't that out of shape. Kayla gave us easier versions of the exercises to do and harder versions for those who are advanced. Think double pulse squats, snap jumps, alt lunges, leg raises, plank touches, ab bikes, split push ups, high planks an commando moves. Phew!
As her boot camps are with a wide mix of people of various ability levels, she doesn't conduct them infer 7-minute circuits like her BBG. But we did build up to doing one seven-minute circuit in the end.
To help up get there we practiced outwards snap jumps, jump squats, snap push ups, straight-leg sit ups, lay down burpees and mountain climbers for two minutes each (which felt like a lifetime!). To make it more fun and encourage us to push ourselves she slit us into As and Bs. As you can imagine, you really stick out when like a sore thumb you're not doing the same move as the person next to you, she could (and passersby) could see exactly who was slacking off!
We ended the session with a seven-minute circuit that combines almost all the exercises we'd done, except for the warm up. Finishing off with a good stretch where she explained how to get rid of sore, tight and painful areas.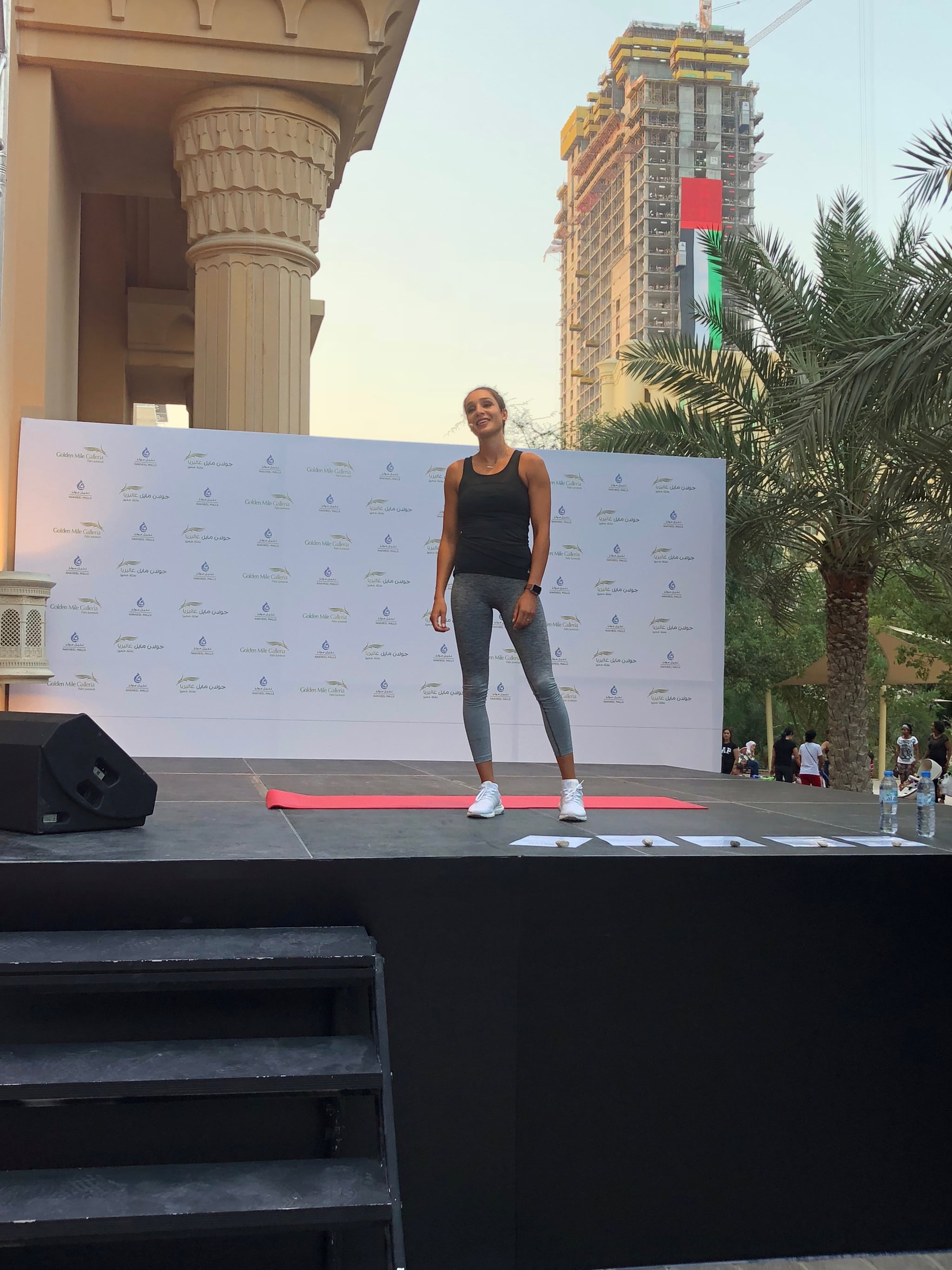 "Sore necks are from straining from doing ab exercises," she told us. "You can learn to put a small pillow behind your neck or lift your head a little bit higher and put pressure more onto your abs. It also comes from dropping [while doing push ups] if you lift your head up and stare right in front of your hands you stop your neck from hurting."
Kayla added: "Sore lower backs come from tight hamstrings. Stretch out your hamstrings and glute muscles and it will stop your lower back pain."
For sore shoulders, "you have to learn to keep your wrists and shoulders in line. Take the pressure off, tense your glutes and your abs."
Despite telling me she wasn't sure many people would show to her workout the next day as she hadn't had the chance to promote it much herself, 2,000 arrived the next day, filling up the running track with their yoga mats.
But there are downsides to her success. She revealed as she started growing some of her family stopped talking to her. "The first amount of money we ever got, I paid off my parent's house. One of my family members came up and said you should pay off all of our houses. I was so sad because she should come up and say thank you so much and congratulations. You need to learn who your friends are, who's there for you, who loves you and who's there for the ride."
Good food and the gym is the first thing she finds when she lands in a new country, and thinking that way keeps her on track. But there's no way she would exercise seven day a week otherwise she risks injury. "I workout three days a week, maybe four and I walk every day apart from one day a week," she said, describing Dubai as he ideal workout spot. "I'm Greek, I eat bread, rice, fruit. I have a balanced diet and lifestyle."
In fact, the hotel buffet was of the first things she experienced after landing and she didn't feel bad about indulging in a plate of desserts because she's experiencing the culture of a new country. Eating for her is about spending time with family and a slice of cake doesn't mean subsequently working off with a 40-minute walk.
She doesn't believe in using protein powders, instead encouraging women to eat what they need and recommends having a coffee before exercising rather then drink pre-workout formulas.
Kayla's workouts are certainly enough to put men through their paces but she says she'll never create a guide for guys. "I would not know how to train a guy. I find it intimidating. I'm very hands on and I don't want to [touch guys]." Kayla admits her program works for women because she knows how girls think but she loves seeing men come to her boot camps. "I hope that Toby [her fiancé] one day is about to find a guy trainer to do something with Sweat."
Despite her creating her brand when she was only 22 years old, she's popular with women up to around 50 years old too. With that, I leave our meeting with hope that if "BBG Grandmas" as she jokingly calls them, can do it, so can I. Looks like it time to dust off my vintage Kayla Itsines BBG folder and get back on the program.