Kevin Love Essay on Mental Health
An NBA Player Opened Up About His Midgame Panic Attack — Here's Why It's a Big Deal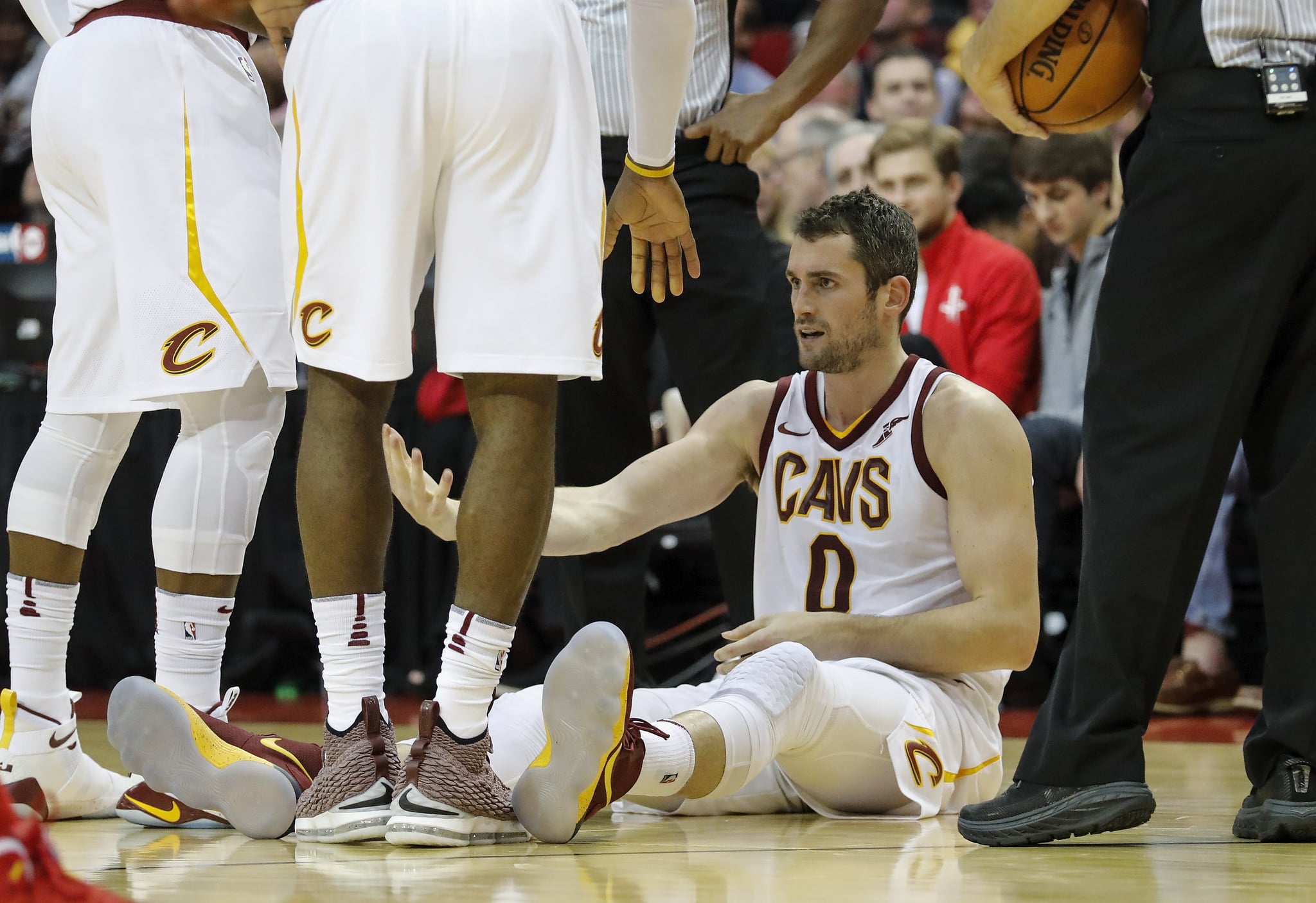 At 29-years-old, Cleveland Cavaliers player Kevin Love experienced his first panic attack midway through a game. While NBA fans are no stranger to a group of doctors rushing the court to check on a twisted ankle or a player leaving the game holding onto the shoulders of team doctors, this wasn't publicized like a physical injury. Kevin did not treat his mental health with a press conference or photos of an x-ray on social media like he would with a broken bone. He kept his suffering a secret and wanted it to stay that way. But that's the problem with emotional and mental health: many are afraid to admit they're hurting or ask for help because they don't want to appear weak. And for professional athletes, when you are literally paid to be strong for a living, mental health is not a frequent locker room discussion, presumably.
"I'd thought the hardest part was over after I had the panic attack. It was the opposite," Kevin wrote in a moving essay in The Players' Tribune. "Now I was left wondering why it happened — and why I didn't want to talk about it. Call it a stigma or call it fear or insecurity — you can call it a number of things — but what I was worried about wasn't just my own inner struggles but how difficult it was to talk about them. I didn't want people to perceive me as somehow less reliable as a teammate, and it all went back to the playbook I'd learned growing up."
"To me, [mental health] was form of weakness that could derail my success in sports or make me seem weird or different."
And that's when it all changed. He realized he couldn't just brush off the painful and scary panic attack that caused him to leave the game and go to the hospital as if it were just a bruise. It was deeper than that, and it put the concept of mental health in complete perspective. The Cavaliers helped him find a therapist, and it was time to face the things he was always told to leave outside the arena.
"So for 29 years, I thought about mental health as someone else's problem," he wrote. "Sure, I knew on some level that some people benefited from asking for help or opening up. I just never thought it was for me. To me, it was form of weakness that could derail my success in sports or make me seem weird or different."
Kevin understands how strange it is being in the NBA, with professionals treating just about every little thing in his life — his jump shot, his diet, his muscle movement, his teamwork — but why didn't he think to treat the things weighing on him outside of basketball? Mental health is so important, and it needs to be a fluid conversation that we take as seriously as treating a physical injury.
You go to the dentist when you have a toothache and have an MRI to find out the exact cause of joint pain, but why aren't we seeking help for the one thing that matters most? Why are we so afraid to see a therapist when we're struggling emotionally? The stigma around mental health needs to disappear. Thousands of kids look up to players like Kevin, and by talking about issues other than trade deadlines and the playoffs, the players are doing their jobs as role models. Because Kevin's not just a five-time All-Star with a championship ring — he's a human being like all of us.
You go to the dentist when you have a toothache and have an MRI to find out the exact cause of joint pain, but why aren't we seeking help for the one thing that matters most?
Kevin closed his essay with the most important statement: "Everyone is going through something that we can't see . . . The thing is, because we can't see it, we don't know who's going through what and we don't know when and we don't always know why. Mental health is an invisible thing, but it touches all of us at some point or another. It's part of life."
"Mental health isn't just an athlete thing. What you do for a living doesn't have to define who you are. This is an everyone thing," he wrote. "No matter what our circumstances, we're all carrying around things that hurt — and they can hurt us if we keep them buried inside. Not talking about our inner lives robs us of really getting to know ourselves and robs us of the chance to reach out to others in need."
Kevin decided to write this essay after Toronto Raptors player DeMar DeRozan shared his struggles with depression just a week prior. He wrote that after playing against DeMar for years, he never knew that he was struggling and that just proves how little professional athletes are speaking about this. "It really makes you think about how we are all walking around with experiences and struggles — all kinds of things — and we sometimes think we're the only ones going through them," Kevin wrote. "So I'm not saying everyone should share all their deepest secrets — not everything should be public and it's every person's choice. But creating a better environment for talking about mental health . . . that's where we need to get to."
Kevin and DeMar aren't the first NBA players to speak out on mental health, but the league does seem more open to hear what players are saying. In 2012, NBA draft pick Royce White, who had been open about having generalized anxiety disorder during his debut season with the Houston Rockets, became an advocate for the need of a mental health policy in the league. He wanted the team to recognize his condition in his contract and be able to have his own therapist, rather than the team staff and be able to drive (instead of fly) to away games whenever possible because of PTSD. The league was not ready to have that conversation at the time, and he ended up sitting out the entire season. With more players speaking up about this currently, there is an urgency that even the commissioners can no longer ignore.
These players are just the start. There's a shift in the conversation about mental health in the NBA happening right before our eyes. All it took was one person to share something he's been keeping to himself at work for years, like a lifting a weight off his shoulders, and it has players applauding him and some even saying "same." Just one day ago, Washington Wizards player Kelly Oubre Jr. opened up about his feelings of anxiety and depression as a basketball player.
Just because the conversation of mental health in professional sports has been shushed for years does not mean it didn't exist, but now the floor court is open and it's time for tip-off.