Low-Sugar Crustless Apple Pie
All the Flavor of Apple Pie Minus the Crust
This deconstructed apple pie is way easier to make than rolling out a double pie crust! Plus you save calories and cut carbs by skipping the crust. Plus, the caramel sauce is dairy-free. Watch the video to learn the how to make this delicious dessert, then check below for the recipe.

Low-Sugar Crustless Apple Pie
From Nicole Iizuka, POPSUGAR Food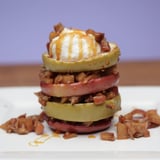 Ingredients
1 1/4 cups apple juice, divided
3 apples
1 teaspoon cinnamon, divided
1 teaspoon nutmeg, divided
1 tablespoon coconut sugar
1/4 cup pecans, crushed
Directions
Preheat oven to 350ºF and line a baking sheet with parchment paper.
In a small saucepan over medium heat add 1 cup of apple juice and simmer for 25 to 35 minutes, or until the juice has reduced into a thick syrup. Remove from heat and set aside.
Core apples. Take 2 apples and slice horizontally into 1" planks. The core should be in the center of each slice. Arrange apple slices on baking sheet. Sprinkle with cinnamon and nutmeg. Bake apples for 18 to 24 minutes or until softened and slightly browned.
Small dice remaining apple and add to a clean saucepan over medium heat with the rest of the apple pie spice, 1/4 cup of apple juice, and coconut sugar. Cook for 8 to 10 minutes, or until apples have softened and liquid has cooked down. Remove from heat and add in pecans.
Assemble by laying down an apple slice and top with a spoonful of filling. Add another slice and spoonful of filling until you've reconstructed your apple. Top with a generous spoonful of your favorite dairy-free whipped "cream" and a drizzle of apple juice caramel.
Information
Category

Desserts

Yield

2

Total Time

59 minutes, 59 seconds