Mountain Extreme Dubai
Why Dubai's New Rock Climbing Workout is the Challenge Your Body Needs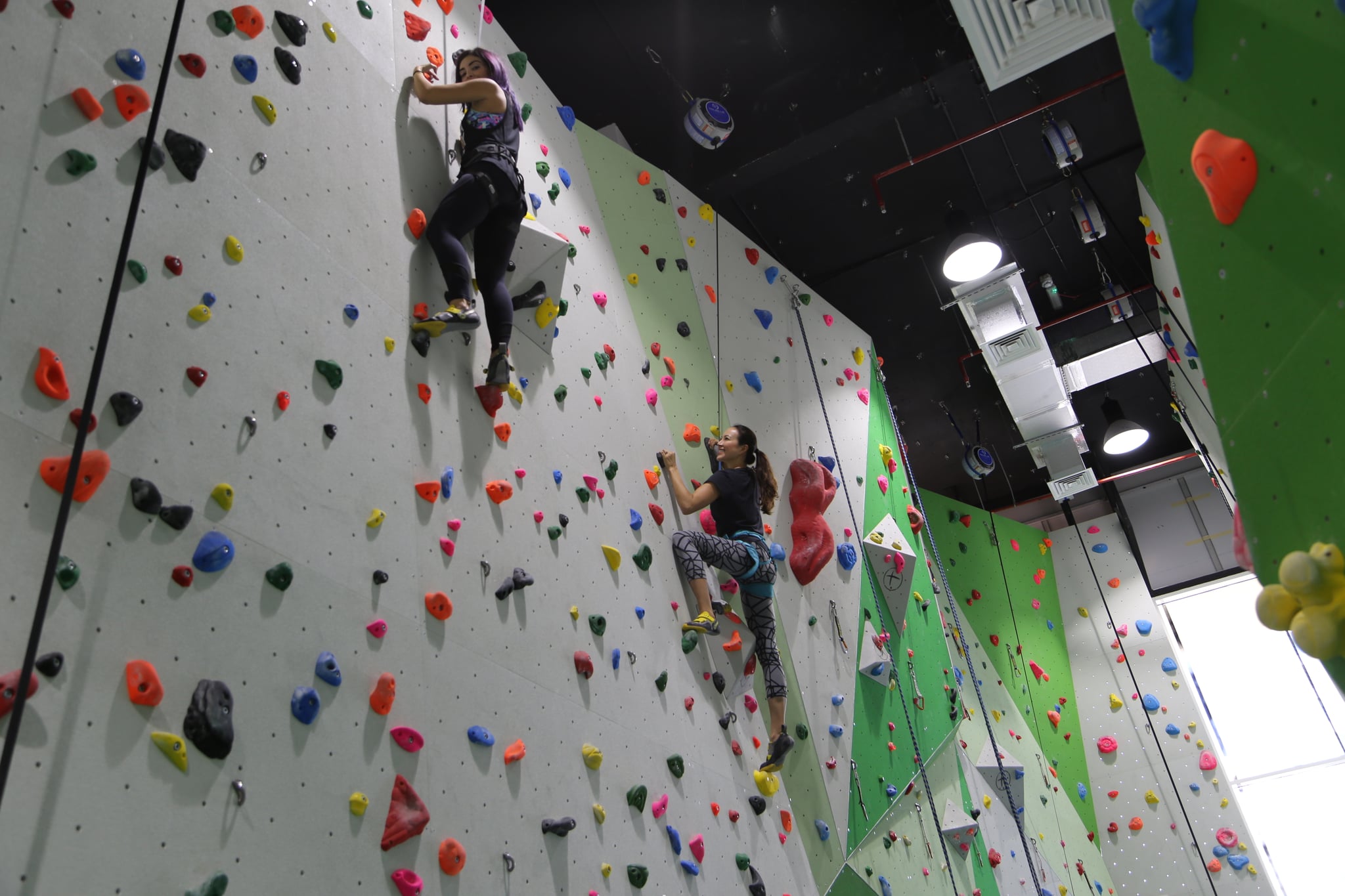 Mountain Extreme is an indoor rock climbing center that recently opened in Dubai's Business Bay district, with a second center set to open in the summer. The founders John and James Falchetto are brothers and climbing enthusiasts. I caught up with John to have a climbing lesson and to find out if climbing could be added into my regular fitness regime.
To begin, I was given rock climbing shoes, which are about two times smaller than your regular shoes. They're made with suede and rubber to help you grip. They're essential and you can borrow a pair or buy your own and leave them at Mountain Extreme.
Once I had my safety harness on and my shoes on, I was hooked to a safety rope and I set off on my path. There are different colored rocks that represent the level of difficulty. You can follow different courses within the 4 climbing walls, however it's easy to get sidetracked along the way. I went with a medium level, which was challenging. You have to set your path first and know which rocks you plan to target. If not, you could get stuck with a lot of small rocks that are difficult to grip for a novice like me. After about 10 minutes I reached the top. Getting down was the most difficult part. I was afraid to let go and kick off the wall to descend back to the ground. After some encouraging words from John, I let go and it was fine.
Overall, I found it challenging as I was using muscles I didn't know I had. It's a good workout and a good way to train your mind. If you're not a fan of heights, this is a great way to overcome your fear.
If you're completely new to rock climbing, John is a great teacher. He's an extreme climber who started climbing as a child back in France and has climbed extreme mountains from Canada to Iran. James' back ground is more focused on equipment. He setup TRAKS in Dubai, a company which specializes in training for rope access work and equipment. They actually train all the workers you see hanging on the side of buildings cleaning windows.
Mountain Extreme welcomes all ages and levels including children ages 4 and up.
Cost:
Day Pass | AED 100
1 month Pass | 800
Annual Membership| AED 3,500
10 Visit Pass | AED 900